This is part of a series about Disney World with kids.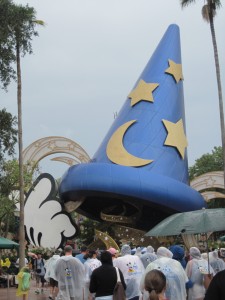 Since we initially weren't going to buy park hopper passes, and only had three days, we were trying to decide between Hollywood Studios and Animal Kingdom. Some said they spent two days in Hollywood Studios on each trip, and others said Animal Kingdom was their all-time favorite. We were stumped. In the end, we got the park hopper passes (long story) and didn't have to decide. We split the day between the two parks.
The result? While we liked many individual things about Hollywood Studios, we did not love the park. We can sum it up with this: not enough rides, too many shows. After a few hours, the kids actually said "can we stop seeing shows? We want to go on rides." But there weren't more rides for them to go on. Next time: we'll plan the whole day for Animal Kingdom and skip Hollywood Studios.