This post has been updated for 2011.
It's time for the Macy's Thanksgiving Day Parade. If you want to be one 3 million on-site viewers, you'll want to do some research first. Jersey Kids has some places for you to start. And once the parade is over, we have ideas for what you can do in New York City.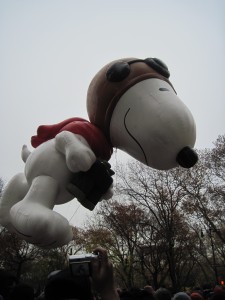 Where to watch:
It's most congested around Macy's, at the end of the route. The parade starts at 9 a.m. but takes about 90 minutes to get to Macy's. The performers apparently don't stop along the way to perform, but do in front of the viewing stand. Most suggestions we got are to get to your viewing spot at 6:30 a.m. and wait in the cold like idiots. Look for us! We'll be those idiots. Best viewing spots are in the 60s and 70s along Central Park West. You can watch the balloons get deflated right by Macy's. So if you're late, maybe head over there.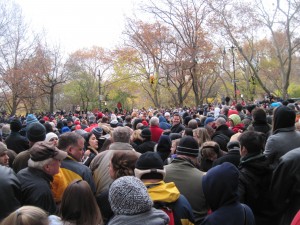 To drive or not to drive?
Traffic is supposed to be terrible getting into the city on Thanksgiving (not to mention parking issues), so if you can, take the train.
What to do in New York City on Thanksgiving Day?
In spite of the parade being headlined by Macy's, the actual store is closed until midnight (just before Black Friday).
That list includes tourist sites and exhibits like CSI: the Experience (get deals on CSI: the Experience here), Madame Tussaud's Wax Museum, the Bodies exhibit at South Street Seaport, Ripley's Believe it or Not in Times Square, Circle Line Cruises, ice skating at many rinks including Rockefeller Center (the tree won't be lit yet), the Empire State Building, the Central Park Zoo, the New York Aquarium, and the Statue of Liberty and Ellis Island are open. Check NewYorkology for a complete list. I've posted discount deals for Madame Tussaud's, Ripley's Believe it or Not, Bodies and others here.
See a Broadway show Thanksgiving night. Some shows are running 8 p.m. performances.
The Rockettes Christmas Spectacular has shows at 2, 4:30 and 8:30 p.m.
Big Apple Circus has a show at 2:00. The TKTS booths are open 3-8 p.m. at Times Square, South Street Seaport 11 a.m .to 6 p.m.
See a movie. Theaters around the city are open.
Go bowling – there's a new Bowlmor in Times Square open on Thursday.
Look at holiday windows.
Whole Foods (or at least the one in Columbus Circle) is open until 3 p.m., if you want to grab a quick meal or pick up something to bring as a gift.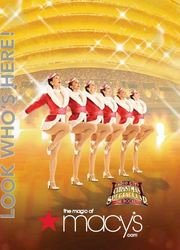 More ideas? What do you like to do in New York City on Thanksgiving? Any parade tips to share?