New York City is such a great place to visit in December. If you're going to New York City with the kids, here are our ideas for what to do to make it festive.
Of course you'll want to see the tree at Rockefeller Center.
Just outside you'll find Sak's Fifth Avenue, with sparkling snowflakes (coordinated to music) and window displays. Also with winter window displays: Lord & Taylor, Bloomingdales, Barneys, Macy's and more.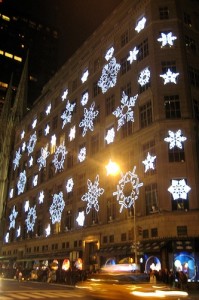 ICE SKATING
Rockefeller Center has a tiny rink, but it's so picturesque. Enter from 5th Avenue, between 49th and 50th. Skating is first-come, first-served and you can skate for as long as you stay there. Expect waits up to 90 minutes, unless you skate in the weekday mornings. They're open on Christmas Day.
Bryant Park – skating plus various entertainment events. Open through February, 2011, until 10 or midnight daily. It's at Bryant Park between 40th and 42nd Streets and 5th and 6th Avenues. The entrance is by 40th Street.
Wollman Trump Rink in Central Park – varied hours (and cash only!). For details, check the website or call 212-439-6900. Enter at Central Park South (59th Street) and 6th Avenue. Follow the footpath to the rink – about 2 minutes walk.
SHOPPING
With the kids, the big stores to hit will be the new Lego store at Rockefeller Center (620 Fifth Avenue), Nintendo World (10 Rockefeller Plaza), and the American Girl Place (5th Avenue at 49th Street).
HOLIDAY SHOWS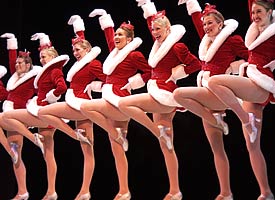 The Radio City Christmas Spectacular featuring the Rockettes is such a tradition they run three shows most days.
Elf is now on Broadway. It didn't get the greatest reviews, but kids probably wouldn't care about that.
Cirque du Soleil's Wintuk is in its final season in NYC. This winter-themed family show closes January 2nd. On the Wintuk website, buy one ticket at full price, get a second ticket for $25 for select performances through this weekend (December 12). Or get 30% off kids' tickets. For the first show each Sunday, come an hour early and you can interact with the performers, get your face painted, take photos and do winter crafts.
Your kids may think Donny Osmond is only famous from Dancing with the Stars, but you know better. Go see Donny & Marie – a Broadway Christmas, while it's still here. It closes December 30, 2010.
Not a Christmas show, but the Big Apple Circus is in town and reviews are fabulous.
What are your favorite holiday things to do in NYC???
Tell us here, or on Facebook.