The Statue of Liberty is often cited as the first thing that immigrants saw when coming into New York's harbor on their way to Ellis Island. It's probably the top thing on list to see during a visit to New York. And for good reason.
The United States was not the intended recipient for Lady Liberty. The statue was originally conceived as a lighthouse for Egypt's Suez Canal. But the Egyptians rejected it. Private citizens, part of the Franco-American Union, along with some companies, later decided to give it to the United States for its centennial. And after a lot of research on where to put it, fundraising for the pedestal, and other hubbub, here it is. Of course that's the brief explanation. You'll learn more about it on Liberty Island.
A trip to the Statue of Liberty and Ellis Island is rife with logitics. You can get a lot of information about the statue elsewhere . I'm going to focus on how to see the Statue of Liberty and Ellis Island – with kids.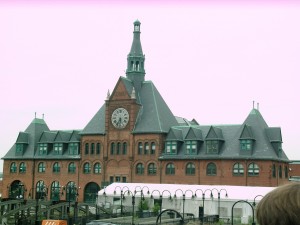 Since it's on an island, you need to take a ferry there. You might not know there are two ports, one at Battery Park in New York City, and one at Liberty State Park in New Jersey. We left from the New Jersey side, from a picturesque old train station that used to host commuter trains. Those living in New Jersey but working in New York would take the train to its terminal, then catch the ferry across the harbor.
You'll be screened before boarding the ferry – with an airport-style x-ray machine. You can bring food and drinks with you, and they're available for purchase on the boat and on Liberty Island.
I'll talk about Ellis Island in a separate post.
How long should I plan for the Statue of Liberty?
Plan an entire day to see the Statue of Liberty. Even with timed ferry tickets, you'll still have lines and more lines. And then lines again. The ferry company estimates an average 30 minute wait to get onto a ferry from Battery Park, and 15 minutes from Liberty State Park in New Jersey. You'll also wait in line to catch the ferry between islands. And if you leave Battery Park or Liberty State Park after 2 p.m., you only have time for one of the stops.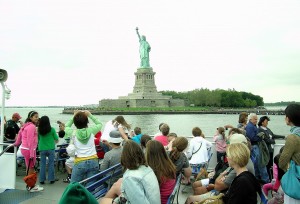 The Statue of Liberty ferry schedule is online,  and it changes by the season. Not surprisingly there are fewer ferries in winter – which makes a difference if you have to be somewhere later in the day.
How to get Pedestal/Museum tickets – You get your ferry tickets from Statue Cruises, the National Park's official vendor. The ferry ticket admits you to both Ellis Island and to Liberty Island, where the Statue of Liberty is.
You can't get into the Statue of Liberty's pedestal and museum without reserved tickets. You'll need to show these tickets when you enter the screening tent, so don't bother getting in line outside the screening tent without them. You can check the dates on the Statue Cruises website to see if pedestal and museum tickets are available when you want to go. Even if they're not, you might still get them at the dock that day, since they set some aside for same-day purchase.
The pedestal and museum reserved tickets are the same price as the ferry tickets.
How long does it take to get into the Pedestal and Museum?
If you're on a limited schedule, I'd advise you to get in line for the pedestal before exploring Liberty Island, so you don't have to rush through. After you're done, you can use your extra time to walk around the island.
You cannot bring your backpack, large purses, food or drinks into the Statue building. They have tiny rental lockers available for $1-$2 each in the tented gift shop next to the screening area. Try to have some single dollars available so you don't have to bug the cashier for change, when she's trying to sell trinkets to the masses.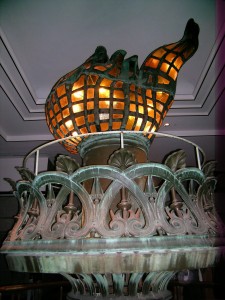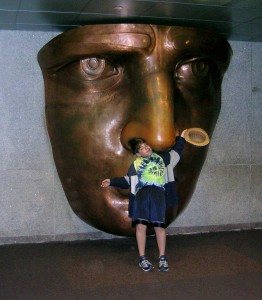 The line for screening take awhile. We went with reserved tickets in summer and it took us at least 45 minutes to get through screening. When we went back in winter (when there were hardly any other visitors), it still took 15 minutes to get through – even though we went straight into the tent. They'll harp on you to get rid of any food and drinks. And you'll need to take everything out of your pockets and remove your jacket. Shoes can stay on. They use a walk-through "puffer" machine that blows a puff of air at you. You'll enter the puffer machine 1-2 people at a time (kids can often go with a parent).
The museum is interesting. First thing you see is the original flame. Further on, you'll see a life-size replica of the Statue's face and her toes (great Kodak picture spots), and samples of the metal frame holding up the statue. You'll see Statue of Liberty-inspired souvenirs from the ages, and memorabilia from the statue's unveiling.
Then you walk up the pedestal stairs (there are a bunch of them) to peer into the innards of Lady Liberty. You can also walk around the top of the pedestal and get some great views of Manhattan.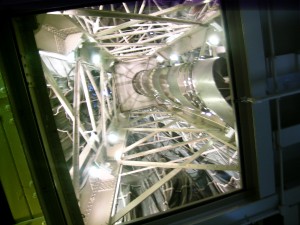 Can we see the crown?
You need to plan far in advance for crown tickets, because they are limited, though you can reserve them up to a year in advance. Only three groups (of 10 people) go up each hour, because the staircase is so narrow. You can see online if any are available for the dates you want. The crown reopened July 4, 2009, after a long spell when it was closed (thanks to 9/11). If you're lucky enough to find a date that works for you, with crown tickets available, you can book up to 4. Each ticket holder has to be at least 4 feet tall and able to walk the stairs themselves (i.e. no babies and toddlers).
Don't try begging the park system workers to let you into the crown. We tried. They won't do it – and will be fired if they do.
You'll climb 354 steps to the crown, part of it on a tiny spiral staircase. At the top, you won't even have a great view. The windows are about the size of the palm of your hand, and you'll get a small glimpse of Brooklyn. It's about 20 degrees hotter in the statue than outside (and you can't have your water bottle with you). You're only allowed to bring in your camera and any medications. Wallets and keys have to be locked up. The main reason to climb to the crown is to say you've done it. And to say you've been inside the actual statue, not just peeking up her dress.
Here's more info on Statue of Liberty crown questions.
Is it better to leave from New York or New Jersey?
If you have a choice, New Jersey. The lines are shorter and you'll have a better chance of getting reserved pedestal/museum tickets. There is plenty of parking at Liberty State Park, but you do have to pay a parking fee (a flat fee – around $7 a day).
Tips on Seeing the Statue of Liberty with Kids
–Pick up some books on the Statue of Liberty and Ellis Island before you go, giving you something to read and talk about while you wait in lines.
For ages 4-8:
Statue of Liberty and Ellis Island Coloring Book
Emma's Poem: the Voice of the Statue of Liberty
 the Statue of Liberty (American Symbols).
For ages 9-12 (and older): 
Building Liberty – a Statue is Born
hen Did the Statue of Liberty Turn Green?: And 101 Other Questions About New York City
–They sell ice cream on Liberty Island. 'Nuff said.
–There's plenty of room to race around and play tag – a needed diversion after sitting on a boat and waiting in line.
–There are souvenirs galore in the gift shop tent. Good luck getting off the island without buying a stuffed bear dressed up like the statue, or your very own statue replica from China. Reall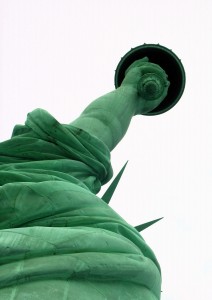 y!
–You can bring food with you, but there's also a cafeteria with the regular kid favorites (hamburgers, hot dogs, pizza). It gets hot and crowded in there, though. If you want to buy food, maybe get a hot dog on the ferry where it's less crowded.
Ferry Route
The boat route from New York City's Battery Park will take you first to Liberty Island, then to Ellis Island and back to Battery Park. If you start in New Jersey, you'll go first to Ellis Island, then to Liberty Island and back to Liberty State Park. Knowing this makes it easier to pick out the right ferry when you're ready to switch islands.
Cost and Tickets
Cost varies slightly. With or without pedestal/museum access, adults pay $12, kids pay $5, and seniors pay $10. Those National Park Passport free passes aren't good here. You're basically paying for the ferry ride. If you also want an audio tour, it costs an extra $7.25-$8. If you're lucky enough to get crown tickets, add on another $3. Order online or by calling LADY-TIX (877-523-9849)
Statue of Liberty Helpful Links
Interesting Statue of liberty Facts:
National Park – Statue of Liberty official website
Ferry and Statue of Liberty Tickets