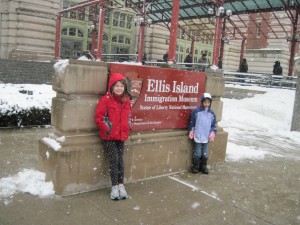 A visit to Ellis Island with kids is emotional no matter where you come from. The facility, which processed 12 million immigrants from 1892-1954, was the first stop for many coming to the U.S. The Statue of Liberty was the symbol of freedom – Ellis Island was the gateway to obtain it. They estimate that more than 100 million Americans have a connection to Ellis Island.
To take advantage of what Ellis Island offers, make sure you have plenty of time to peruse the galleries. The exhibits downstairs are not nearly as interesting as those upstairs. There's plenty to interest even the younger kids.
When you enter Ellis Island, you might even feel like you're an immigrant yourself. After all, those around you speak a multitude of languages and might be wearing outfits traditional to other lands And you come from a crowded boat that you waited in lines to board. Granted, your passage from New Jersey's Liberty Park or New York's Battery Park took only 15-30 minutes (two boat rides from New York, one from New Jersey) and you weren't packed on like sardines, stuck in a dimly lit hold or subjected to motion sickness-inducing waves.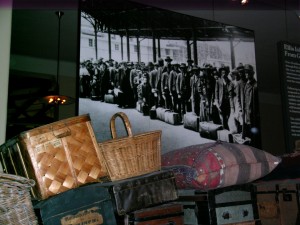 You'll be shuffled inside the building with your fellow boat-mates, unsure where to go and what you'll see. After entering the glass doors, straight-ahead look for the collection of luggage and photos from those early arrivals. It's a perfect teaching moment for the kids – showing how little luggage newcomers brought, and the lines they had to wait in (in heat and cold). Now's a good time to remember your ancestors.
Ellis Island was restored in the 1980s – and if you contributed to the project (or know anyone who did) you can look them up on the computers in the main floor. I found my parents' names and snapped a photo to send them (they had forgotten all about doing this!).
We'll skip the main floor exhibits for now, and head upstairs to the second floor – which I think is much more interesting. Up the staircase you'll find the Registry Room (aka the Great Hall), a beautiful window-filled room, where arrivals took, on average three to five hours for medical and legal exams and processing.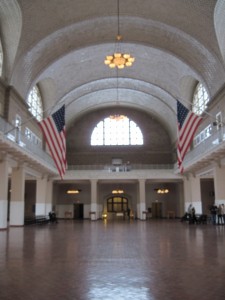 If you had a first or second class boat ticket, you would have been given a cursory screening on the ship and only sent through Ellis Island if there was a problem.
Imagine, though, that you're a third class passenger. While you're climbing the stairs to the Registry Room, doctors will be watching how you climb the stairs to see if you have physical difficulties in any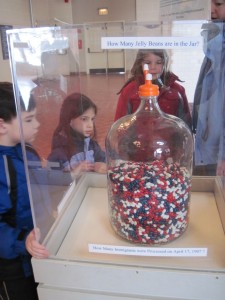 way. They give you a "6 second physical" by glancing at you. They may mark your clothing with chalk, so that the examiners will look more closely at you. The marks might be "E" for ears, "L" for lameness, "PG" for pregnancy, "H" for heart, or more.
A jelly bean jar shows (in Ronald Reagan's favorite beans) the number of immigrants processed on the busiest day there ever – April 17, 1907. The kids tried guessing, but got nowhere near the correct answer: 11,747 immigrants in one day. You can look at a copy of a ship manifest, containing the ship name/date, with passenger data.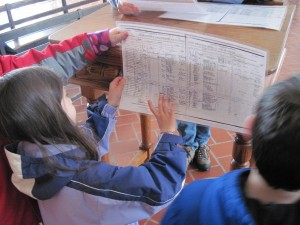 In the adjacent rooms, officials screened out 2% of the immigrants, if they thought the newcomers were physically or mentally ill, criminals, disabled, didn't have enough money to support themselves, didn't have work-related skills, etc.
This exhibit "Through America's Gate" shows what the immigrants experienced inside Ellis Island. Immigrants who were detained could eat in the dining room, at the steamship's expense. Meals might include "pickled herring for the Hebrews" "crackers and milk for the women and children" and a dinner of "beef stew, boiled potatoes and bread." A kosher kitchen was set up in 1911.
Those not detained, just waiting to be processed, could purchase items on their own from the snack bar, including kielbasa for 10 cents, prosciutto for 18 cents, formaggio for 12 cents, sardinen for 12 cents, lemonade for 4 cents, and of course – candy!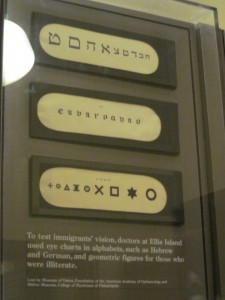 As part of the medical testing, immigrants underwent vision tests using similar letter charts that we use today. Only these charts were in a variety of other alphabets, or used geometric figures for illiterates. In addition to medical testing, the immigrants were tested for reading. The U.S. passed the Immigration Act of 1917, requiring immigrants age 16+ to be able to read at least 40 words in their own language. Samples of the language cards are on display – and of course many figured ou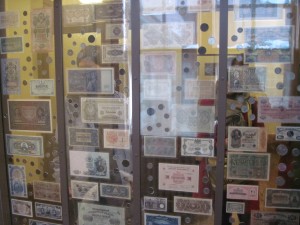 t ways of cheating the system and getting through without being able to actually read them.
Those detained might stay there for health reasons – the island's hospital ultimately had 450 beds, with staff delivering babies, housing mentally ill patients and treating contagious diseases. Detainees might celebrate religious holidays at Ellis Island, provided for the various immigrant aid societies. About 10% were subject to legal hearings, and the hearing rooms are on display as well.
The kids' favorite room was the one with money. They loved looking at the bills and coins from different countries, and tried to pick out which countries the money was from.
We took a quick peak at the third floor, which displayed some of the "treasures from home" that immigrants brought with them. If you could only bring a trunk or suitcase when moving for good what would you bring? We saw a collection of musical instruments, religious items.
Also on the third floor, take a look at the dormitory rooms used for detainees. I can imagine wanting to get off Ellis Island as quickly as possible if I had to stay there.
Ferry Route: The boat route from New York City's Battery Park will take you first to Liberty Island, then to Ellis Island and back to Battery Park. If you start in New Jersey, you'll go first to Ellis Island, then to Liberty Island and back to Liberty State Park. Knowing this makes it easier to pick out the right ferry when you're ready to switch islands.
Cost: Cost varies slightly. With or without Statue of Liberty pedestal/museum access, adults pay $12, kids pay $5, and seniors pay $10. Those National Park Passport free passes aren't good here. You're basically paying for the ferry ride. If you also want an audio tour, it costs an extra $7.25-$8. If you're lucky enough to get crown tickets, add on another $3.
How Long Should You Plan: The National Park Service estimates you'll want two to three hours at Ellis Island. We easily spent two hours there, and could have stayed longer, but we were on a tight schedule. Plan to spend the whole day for your Ellis Island/Statue of Liberty experience if you can. You'll be less stressed, and you can build in down-time for the kids.
Tours: Ranger tours are available. Check the schedules when you arrive.
Ellis Island Books for Kids:
At Ellis Island – A History in Many Voices (for ages 4-8)
Dreaming of America – an Ellis Island Story (for ages 4-8)
Ellis Island (True Books) (for ages 9-12)
If Your Name was Changed at Ellis Island (ages 9-12)
The Orphan of Ellis Island (Time Travel Adventures) (ages 9-12)
For other Ellis Island books for kids, go to the Amazon search box on your right and enter "Ellis Island Kids." (Your Amazon purchases support this website).
More information:
Visiting the Statue of Liberty with Kids
Ellis Island – National Park Service