We first discovered Ralph's when in Staten Island, eating at Denino's Pizza. Ralph's was just across the street. Since we're relative newcomers to the East Coast, the concept of Italian Ices was rather new to us too. Turns out that Ralph's is quite popular in the area, with many NY locations, and many in New Jersey as well. On every trip home from Sandy Hook, we stop at Ralph's, which is heavily represented in the Garden State.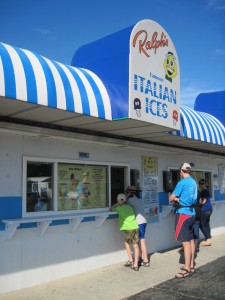 ————————————————
[ad name="Google Adsense"]
————————————————
It's always a toss up between the water ices, the creme ices and the ice cream. Here's why:
Water ice flavors: cotton candy, grape, blue Hawaii, black raspberry, Malibu bay breeze, root beer, red raspberry, sour cherry and strawberry margarita.
Creme ice flavors: cappuccino, canolli, coconut raspberry tart, crazy coconut, cremalata, mocha chip, peanut butter candy bar, peanut butter cookie dough, pina colada, vanilla fudge brownie and more.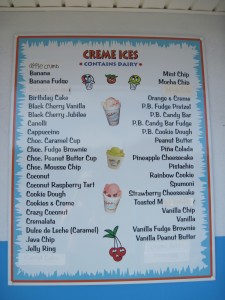 Here's what we ended up with:
2 malted milk shakes (black/white and chocolate), a java chip creme ice, and a brownie sundae. We felt a bit ill after finishing them all.