I took my 11 year old daughter to see Cirque du Soleil's Zarkana at Radio City Music Hall this past weekend. The show closes on September 2, so if you're looking for a show to see soon, go see it. We loved it. (Zarkana heads to Las Vegas next, so you can catch it there. I saw Ka in Las Vegas and loved it. Completely different show and concept).
Zarkana is self-described as an acrobatic rock opera blending circus arts with the surreal. I think that's a decent description. There are some spoilers in here, so don't read the review if you want everything to be new and surprising.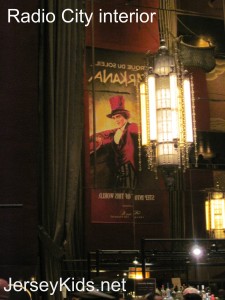 They also describe the story this way: "The story follows Zark, a magician who has lost his powers – and the love of his life – in an abandoned theatre populated by a motley collection of off-the-wall characters and incomparable acrobats. He runs into the Mutants, four sirens as sinister as they are fabulous, who are determined to divert him from his quest."
Okay, I SO didn't follow that storyline and only read this description AFTER seeing the show. Still, I don't think the storyline really matters. Yes, there's a magician in a red hat who makes numerous appearances and he sings a lot (in that fake language that Cirque uses).
————————————————
[ad name="Google Adsense"]
————————————————
Before the show starts, the characters are walking around the lobby and you can take your photo with them.  Something rarely seen in these days of Broadway shows, you can use your own camera and they don't charge you!
While you're seated, before the show starts, the characters are also milling about the aisles and a few are on stage. You're allowed to take pictures until the show officially starts. I wasn't supposed to take the picture below, but did. I'll share it with you. It's the beginning of the show, and some of the performers went to the box seat areas while the organ players played.
In the opening scene, the curtains come up and soon after you see performers dropped down from the ceiling as well as the side wings. They take you by surprise.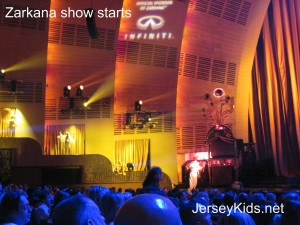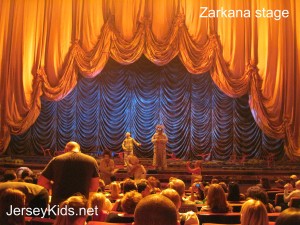 The musicians are revealed part way through the performance, on two halves of a ghostly ship on either side of the stage. They're not on stage the entire performance, but I guess are pulled into the wings.
As expected, the staging was amazing. They use curtains to their advantage, with funky ways of raising or lowering them, and projecting things onto them.
The snake charmer comes out (great costume) and there are snakes projected on the upper and side wings of the stage. They look real.
Staging aside, what's also great about Cirque du Soleil is that they take the standard circus acts and gussy them up so they're artistically presented. Kind of like the way Disney does a theme park, with tea cup rides you can get anywhere, but presented in a way that's special. You can tell the traditional circus acts from the clowns and sideshow characters because the specific acrobatic performers have colorful costumes and no white paint.The sideshow characters are all in white, including their faces. As for the traditional circus acts, you'll see:
-a woman who juggles up to 6 balls and bounces them in funky ways so they return to her. She was a lot of fun to watch (and something I've never seen in any circus show – she dropped them twice).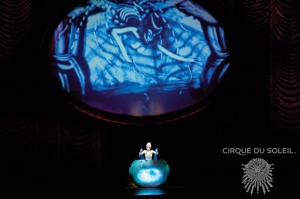 -an awesome sand painter – never seen this before. She rose up from the stage with her glowing bowl and in about 5 minutes, created numerous sand paintings with her hands. A projector beamed the images onto a screen for us to see. We loved that act.
-a woman who did trampoline/balance beam type acrobatics on a hand-held (by 2 men) fabric type strip that was flexible.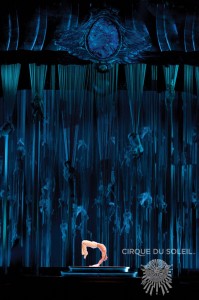 -a creepy guy who was exceedingly flexible and strong (above), who contorted himself into all kinds of handstands. Unfortunately he wore a long sleeve shirt that only came below his pecs, so it kept sliding off in weird ways. Lose the shirt – it was distracting! My favorite part of his act was how he went from the splits into standing position without using his hands – he just slid up from the floor.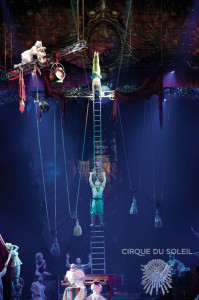 -the ladder act (above), where a strong guy held a ladder (or climbed the ladder while it wasn't propped against anything) while a female performer went higher and higher (sometimes on his head balancing on one leg, and sometimes on top of another ladder he held).
-In another never-seen moment at a circus show, one of the guys doing the hamster wheel (Wheel of Death, Space Wheel, various other names) act fell not once, but twice. He didn't fall off completely, but it was clear he missed a few times. I was glad when he finished the act because I started to really be afraid he'd hurt himself.
And two photos of other acts (below) – the hoops and some acrobatics (with huge burly guys you wouldn't expect to see doing acrobatics, though mostly they were the base/manpower).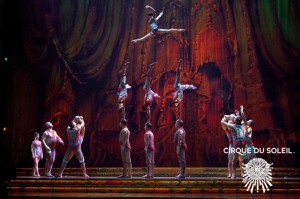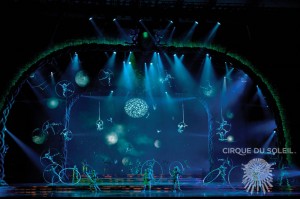 There were many moments of humor, and two clowns (in white) came out to do different acts, including one with an audience participant. She was a good sport and it was hilarious.
IS ZARKANA GOOD FOR KIDS?
The show is definitely good for kids, but not young kids. It has a dark tone to it and can be a little scary. Even my 11 year old was creeped out by one part, where a woman falls into some kind of time capsule thing (reminiscent of something you'd find in Ponyo) and turns into a 6-armed baby with lipstick. Not sure what that was about, but it was creepy.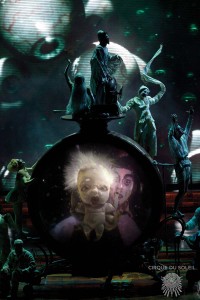 After the show we wandered over to Magnolia Bakery  a block away for a post-show treat (Avenue of the Americas and 49th Street). I didn't know they had special Zarkana cupcakes, but we found them there (and they were delicious). The cupcake is a devil's food cake base, with buttercream frosting (I think a mocha flavor), red edible glitter and a chocolate sign on top. Cost was $3.75.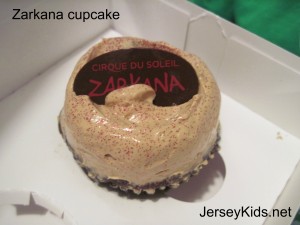 WHERE
Zarkana is playing at Radio City Music Hall through September 2, 2012. It then moves to Las Vegas, starting November 1. (If you're heading to Vegas, here are reviews of Tao, Lavo, Canyon Ranch Spa Las Vegas and the Venetian that I wrote).
IF YOU GO
The show ran about 80 minutes. You can bring drinks/food inside (though probably not outside food/drinks). They sell a combo pack of popcorn and 2 drinks for $15. They also have a bar and you can bring those drinks in as well. No photography during the show. Get there early, since the white-faced actors are milling around the lobby and you can take photos with them. If you have will-call tickets, get there early. Lots of lines.
TICKETS
You can get tickets on the Zarkana site. I've also seen discount Zarkana tickets on deal sites like Living Social. TKTS probably has tickets as well – download their free TKTS app which shows what's on sale that day. Goldstar has discounted New York Zarkana tickets.