We recently spent a romantic weekend (away from the kids!) in Lambertville NJ/New Hope PA. We stayed at the Inn at Lambertville Station, which is right on the Delaware River, looking out over New Hope. (Read 11 Things to Do in Lambertville/New Hope here)
Overall it was a lovely experience, save for the loud, drunk wedding guests parading past our room from 11-11:30 p.m. on Saturday night. See WARNING below.
The hotel is behind a historic station house which is now a restaurant (and two bars). The hotel is not old, but it looks old inside (in a good way). The front desk has a nice looking key pick-up area and gift shop with food, drinks and lavender soaps (the type they have in your room).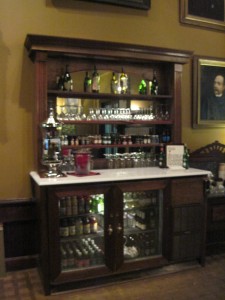 In the lobby there's also a seating area and 'honor bar.' That means you pick out your drink, fill out a slip of paper, and walk 10 feet to your left, where the 24 hour front desk staff enters it into computer. They have mini bottles of liquor as well as semi-crappy wine (Sutter Home in plastic bottles) and beer (Heineken) $5 for the wine/beer/soda. Liquors are $7 I think, and a champagne split is $8. Coffee from the Keurig is $1.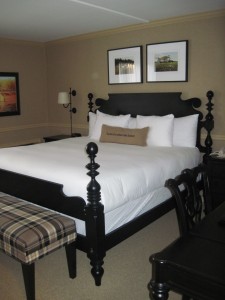 The room was quite lovely, and the bathroom spacious. The bed was comfortable. The bathroom was split, and they offered a nice lavender hand soap (available for purchase at the front desk), along with Gilchrist & Soames toiletries. The bathroom walls were marble.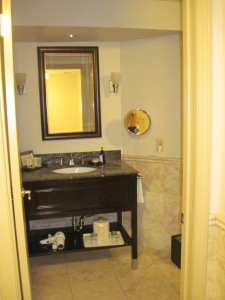 ————————————————
[ad name="Google Adsense"]
————————————————
The room comes with continental breakfast delivered to your room. You choose your time the night before with a weekend window of 6-10 a.m. This includes a newspaper (New York Times on weekends, USA Today on weekdays), a carafe of coffee each, juice, and a muffin of the day. You can get additional selections (oatmeal, yogurt, bran cereal, bagel, fresh fruit) for an additional $2/each. You can also order a bloody mary or mimosa for an extra fee.
You can book your room online for a possible discounted rate, which we did. They told us about a special when we got there, and ended up upgrading. For the additional $30, we got a bottle of wine, 2 wine/beer/sodas from the honor bar, and entrance for two to the Sunday brunch. The brunch is normally $26 or $28, I think, and we were planning to go anyway. It was a no-brainer to upgrade.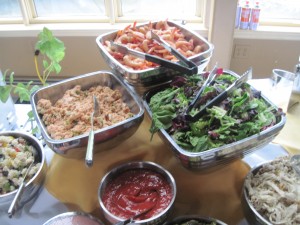 They told us you need reservations for brunch, but it wasn't full. The view was terrific. They had two egg stations, one making omlettes, and one making Eggs Benedict, with turkey, smoked salmon or bacon. They had salads, Belgian waffles, and good desserts as well. Brunch comes with a glass of sparkling wine or a mimosa, and of course coffee or tea.
PROS: The hotel location was great, and parking was included. On summer Friday nights, the Chamber of Commerce sets off a fabulous fireworks display in the Delaware River, just outside the window you see here. There are spots to sit on the banks of the river outside the parking lot. The room was lovely and breakfast in the room was a treat. For the most part, the staff was friendly and helpful (see below).
WARNING: I'd recommend not getting a room on the first floor if the hotel is hosting some kind of event in their Riverside Ballroom. And I'd recommend not getting a room in the back of the hallway (on any floor) if they're having an event there (loud music). Why? Well, the drunk guests leave their party and think nothing of the people trying to sleep in the hotel guest rooms at say, 11-11:30 p.m. Maybe you will be out until all hours and this won't make a difference to you, but we were trying to sleep. I called the front desk, figuring that a hotel employee (catering staff maybe?) could go into the hallway and ask the wedding guests to quiet down and talk in the lobby instead of the hallway outside sleeping guests' doors.
The man at the front desk basically told me that they were leaving the party and it would quiet down. He offered an apology, but not followed up by any action. It was up to me, in my sexy nightie old t-shirt to go into the hallway and ask the drunk people to have some consideration for those of us paying $200+ a night to stay in the hotel. I don't blame the party guests. They were drunk and leaving a party. I don't expect them to be thinking about the hotel guests. I do expect the HOTEL STAFF to be thinking about us, especially when alerted to the problem. Perhaps I'm the only hotel guest to have ever complained about this (I doubt it), but if you run events like this, and the guests all have to parade down the hall where your hotel guests are sleeping, you should have a staff member ushering people out quickly and quietly. It's not that hard and it should be part of the event routine.
I did have a talk with the front desk woman the next morning, who was very kind and apologetic. She recommended I call the manager, who was not in. I emailed the manager and heard nothing back (did you get my email, Tanya Fischer?). Not impressed with how this was handled and it really colored my view of the hotel.
CONS: While the room was made up nicely, there were a few housekeeping issues. There was a dry cleaning tag (not ours) under the bed about a foot the entire weekend, not hard to miss. Also one of the housekeepers left her keys in the room, on our dresser. Unfortunately for her we didn't discover them until the next morning. I hope she was able to get into her house!