Sandy Hook is a great place for those who don't want the boardwalk experience, and want more to do than just sit on the beach. Plus it's only $15 entrance for a whole carload of people. Parking is free and the money goes to the National Park Service. Sandy Hook is a "barrier spit" that's 6-7 miles long, a mile wide at some points, and accessed via bridge.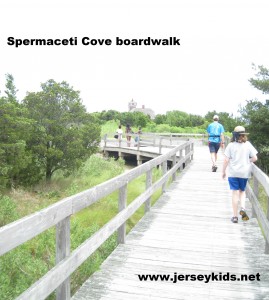 Ride a Bike: Bring your  own or rent one (there's a rental place at Beach B – first right after the pay station). Lots of trails – 7 miles of them starting at the park entrance, out to Fort Hancock at the end.
Fishing: fishing is allowed at all beaches without lifeguards on duty.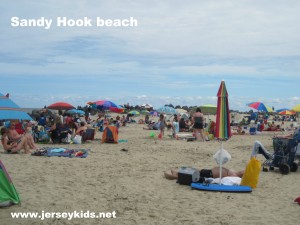 Beaches: The park asks you to stay on marked and life-guarded beaches (there are 5 ocean beaches). There are dangerous rip tides. Also, they have roped off some beach area for nesting animals. Gunnison Beach (on the northern portion of the spit) is apparently one of the largest clothing-optional beaches on the East Coast. The ocean-side beaches all have bathrooms, outdoor showers, parking lots and snack bars
You can also go to the bay-side beaches, which are not life-guarded. The sand is rockier, but the waters are calm, like the beach across from South Beach Area C, and Horseshoe Cove (which is a little tricky to access).
History/Lighthouse:  The land location is strategic, as an entrance to New York harbor. Hence, the government has used it (and the Coast Guard continues to use it) for protection and safety. Fort Hancock operated from around 1874 to 1974, and you can see a lot of buildings and batteries (more than 100 buildings/structures).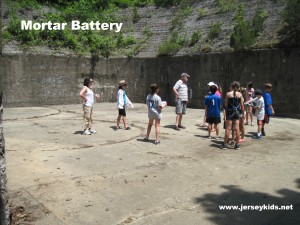 The U.S. Army established it as a "proving ground" in 1874 to test weapons and equipment/supplies. You can still see the  "disappearing battery" where the guns were placed below the ground level in pits. A soldier scoping out the area from higher ground would call out coordinates for the gunman to shoot. According to our guide, the guns were only shot twice – once to test that they worked, and one to see if they were accurate (they were – they sunk a ship). They were so loud and powerful that they would knock out the windows of nearby houses. The area has concrete tunnels that once held guns and ammunition.  Each pit held four mortars which were to fire simultaneously. The shells were each 12 inches and 800 pounds made to penetrate the ship decks.
————————————————
[ad name="Google Adsense"]
————————————————
In the 1950s, it was a Nike missile defense installation (some tours of that are available). Fort Hancock currently houses a magnet high school (Marine Academy of Science and Technology)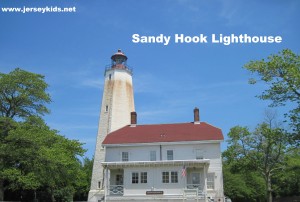 The Sandy Hook lighthouse is the oldest working lighthouse in the country, built in 1764, before we were even an independent country. Shippers wanted to build it for boat safety. It used to be maintained by one person who lived there, raising his own cattle and sheep (and fishing for food too). The lighthouse had carved ledges inside, and a ladder. The lighthouse keeper would climb the ladder, putting the buckets of whale oil on the ledges to bring it up to the top. The lighthouse now has a narrow spiral staircase and no keeper. It runs on electricity. You can tour the lighthouse.
Concerts: during the summer, they have a summer concert series at Beach Area E. It starts at 6 and there's no additional fee. This summer, concerts go through August 22 (August 8 is a rain date). You can find out more by calling (732) 291-7733 or check the Sandy Hook Foundation website.
Camping: if you're with an organized youth group (like Cub Scouts) you can sign up to camp there. You need proof of insurance.
Birding: Look for birds along Plum Island, Spermaceti Cove boardwalk (yes we had a laugh over the name), Horseshoe Cove marsh and North Pond – all along the bay side. Also around the Fort Hancock fields.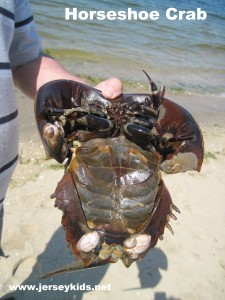 Shells/Crabs: Sandy Hook is a big place for horseshoe crabs, which are prehistoric looking creatures (well they are prehistoric – the earliest horseshoe crab fossils are 450 million years ago!) that are more related to spiders than crabs. These blue-blooded animals are valuable for their blood, which is used to detect and quantify bacterial endotoxins.  New Jersey apparently has one of the largest horseshoe crab populations. You can sometimes see them in the water on the bay side, and you can find their paper-thin moltings on the beach.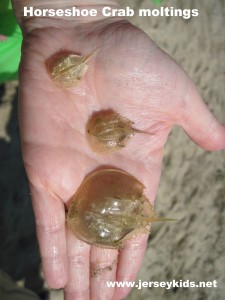 You'll see other shells at Sandy Hook, few of which are all that beautiful. Here are a few you can find (some of these we found at the nearby Atlantic Highlands back near the marina – though they're common to Sandy Hook as well).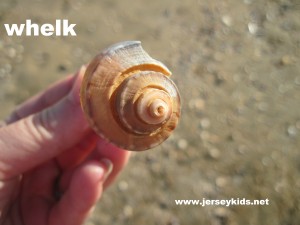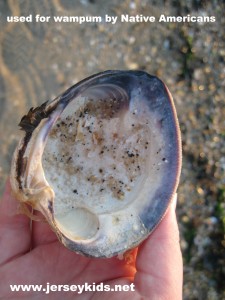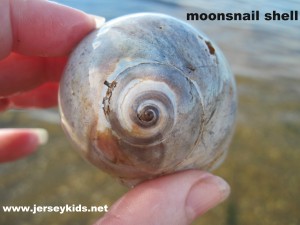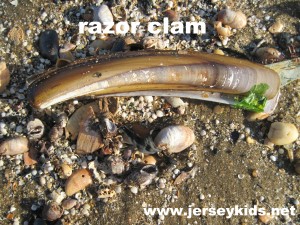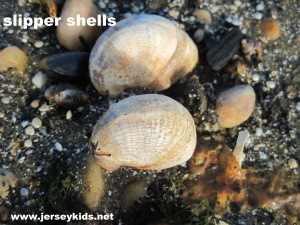 Dining Options: there's a snack stand at the life-guarded beaches. There's also the Sea Gulls Nest restaurant and bar at Area D. Go at dusk to watch the sunset, and participate in their tradition of honoring American veterans and servicemen/women. The owner asks everyone to hold hands and sing God Bless America. It was an interesting experience the night we went, since many of the people there were from other countries. From our outdoor perch, we listened to the folk singer there for entertainment. She was entertaining, but not in a good way. We still talk about how bad she was. Service was slow, the food was adequate, but the view was great.
There are also restaurants on the bay side. Make a right when exiting the bridge out of Sandy Hook.