A few years back, I read an article in New Jersey Monthly about King Sauna in Palisades Park. And my interest was piqued. I love trying new spa experiences, especially after going to one in Turkey. So when the kids were off in camp and I didn't have to worry about what time to pick them up, I drove to Palisades Park.
When you check in, you get a wristband with your locker key and a bar code you use for any purchases. They give you a toothbrush, large shower towel, and a smaller hand towel which you bring with you as you sauna. They also give you a "uniform," pink for women, white for men. They were like scrubs material, but shorts and t-shirt. They flattered NO ONE.
Unfortunately the women's locker room and spa was under renovation, so we were in a much smaller locker room, and the spa (hot tubs, showers, bathing area, steam room) wasn't as nice as the one in the pictures online. That said, they're supposed to have the changes finished this weekend.
Let's start off by saying it was a surreal experience. 90% of the people there were Korean, most of them speaking Korean in there, and then there were those of us who had no clue what we were doing and stood out. But everyone was nice. One woman leaned over at lunch and asked if I was getting a treatment. I told her I was getting a body scrub. "You know you'll be naked, right?" Yes, I knew. I read the Yelp reviews. She told me to sit in the hot tub for 30 minutes before to make the scrub easier.
No matter what kind of map you look at before you go, you will get lost in there. Fortunately they have signs in English. Just follow them and wander around when you get there, so you'll get the lay of the land. There was a customer service desk hidden in the corner on one of the floors. I stopped by there to make my scrub appointment. She found out I was new and gave me a little tour and explanation, and walked me through the restaurant menu as well.
SAUNA
The enormous complex (40,000 square feet) houses 11 co-ed sauna rooms on two floors plus (or including) include the ice room (which actually wasn't THAT cold, but it felt great). The sauna rooms vary in heat and healing powers. Each has a different name/purpose, like the Amethyst room, the gold pyramid, the yellow mud room, etc. The saunas are the main reason most people come to the facility. You sauna hop, resting in between of various chairs.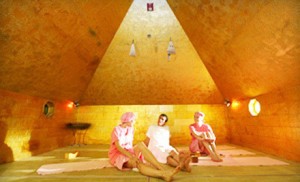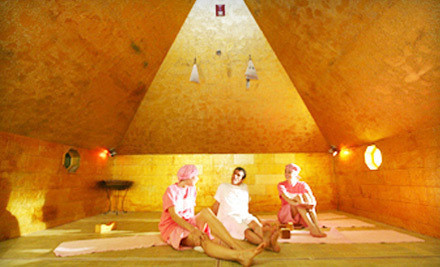 In all public and co-ed areas, you are required to wear your "uniform." You can see that beautiful outfit above, complete with scrub-type cap that some women wore (I didn't get one – not sure why). It's supposed to be quiet, however some of the ladies were quite chatty. The rooms are mostly shaped like igloos and have mini doors you have to duck to get in. Inside you'll find mats to sit or lie down on, and wooden blocks to rest your head. They're quite comfortable for about 5 minutes. Lie down. Sit up. Lean against the wall. Stretch. Meditate. Do what you want in the sauna, but don't forget to breathe.
REST AREAS
There were lots of rooms to relax on chairs (or on the floor), some huge recliners with TV, a room the chess games, and a computer room with wi-fi (they have computers you can use for free). If I had more time, I'd have taken my book out and relaxed there reading.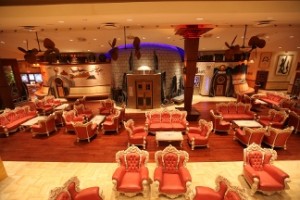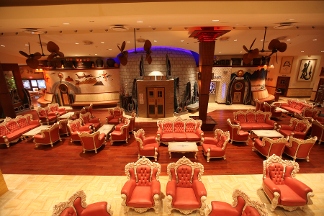 RESTAURANT
They have both a restaurant and a snack bar. The latter sells juice, fruit, dessert (shaved ice with fruit, adzuki beans and syrup – it was okay). Both sell hard boiled chicken eggs which are popular, and apparently cooked in one of the saunas. The restaurant had a range of food – if you're not familiar with it (I wasn't), just get the menu and look at pictures and description. The entrees ranged from $8-14, mostly being $11-12. I chose a spicy noodle dish, only to have the order taker say "do you like spicy? This is VERY spicy." So I chose another noodle dish. "Have you had these noodles before?" he asked. I shook my head. He shook his head. I chose vegetables, fried egg and rice. It came with Korean side dishes of kim chee, potatoes, tiny silver fish, very spicy chiles and a bowl of seaweed soup. Plus a ketchup squirt bottle (chile sauce) and another squirt bottle (sesame oil). The meal was very good and filling. They have carafes of  ice water on the counter for free, which you'll need to replenish your fluids.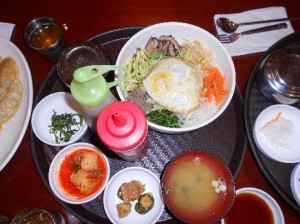 SCRUB/SPA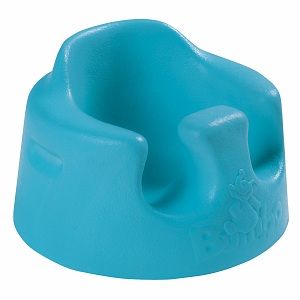 Everything I read made a really big deal about being naked in the area. I have no issue with being naked in a spa, having been in many, from Canyon Ranch in Vegas (and Tucson) to Kabuki Hot Springs in San Francisco. People come in all shapes and sizes, and generally, your body is not so interesting. Yes, there were a few women there in their early/mid 20s who had no cellulite, tight abs and perky boobs. But the rest of us? We're all imperfect.
Inside the wet area of the spa was a row of shower stalls, and banks of seated shower areas, with shower hoses. If you want to sit and scrub, you pick up a seat that looks a lot like a Bumpo baby seat. They have toothpaste, soap, shampoo and conditioner. Anything else you want, you bring it. They sell the scrubbing mitts and cloths there (and I saw a few clothes with the spa name on it you could use).
They also sell facial masks ($4-5). If you don't want to pay for a professional scrub, go with a friend and have her scrub you. Though I would find that awkward.
I tried the steam room and hot tub/cold tub there. Bring your little towel into the steam room to sit on. Lots of women weren't sitting on towels, and that's just gross. The hot tub was very hot and only 2 feet deep. The scrubbing/wet massage ladies were lined up there, five in a row (the renovated spa has 12 tables) donning black underwear and bras as they worked. Sounds sexy? It wasn't, trust me.
My lady saw my wristband number when it was my time (I was hanging out in the hot tub waiting). She beckoned me over (I already watched her soap up the table and clean it off). The table is covered in pink plastic and I had to hold on several times to make sure I didn't slide off like an oiled pig. That would have been quite embarrassing and would hurt as well! The whole process took about 30 minutes. She washed me off with water, doused me with baby oil, and started scrubbing. And scrubbing. It felt good, and rolls of grey dead skin with oil started covering me and the table, and sticking. That was gross. She scrubbed everywhere, exfoliating my boobs (I didn't know they needed it), and even the crack of my tush. No modesty there! I had to lift my legs so she could get my inner thighs. What a view! I'm glad it wasn't that time of the month. She spoke no English, indicating to me that I should turn over, sit up, turn on my side, etc.
After I was scrubbed head to toe, front and back and both sides – TWICE – she rinsed me off, oiled me and indicated I should turn around and scoot to the other side of the table. She shampooed me and I think conditioned my hair. I couldn't see and it was still a little slimy when she was done. But whatever it was smelled fabulous. Then she put a facial scrub on and left it there. After whacking my back a few times with a cupping sound, she handed me my wristband and helped me off the table. I was done.
From there, I showed it all off, got dressed, paid and went home. I'd go back – it was relaxing. My skin is very soft.
IF YOU GO
In addition to reading this you should read the Yelp reviews. Lots of good information and tips there, so you'll feel at little more "in the know."  They have water dispensers on each floor, and you'll need to drink. A lot. You can't bring anything into the sauna other than a towel (no magazine, phone, etc.) but there's a table outside each sauna if you need to leave something there.
The spa is stocked with toiletries, hair dryers, cotton balls, etc. They have combs and brushes, but they are not soaking in anything cleansing, so bring your own. Consider bringing a pair of socks to wear into the hottest saunas. They do sell $2 socks outside the hottest one.
Price: Admission is $45, but you can get a coupon online.  Make sure your email address is on there, or it's invalid. Apparently the valet attendants have $30 coupons as well. At time of posting, other services were:
-Body scrub ($50 plus $10 tip and taxes)
-Scrub and wet massage – 90 minutes – ($80 plus $25-30 tip plus taxes)
-Dry massage (in a separate room) – 60 minutes ($60 plus tip and taxes). The massage room is a separate floor. I read that you wear your clothes during the massage. I took a little peek and there were no doors on the massage rooms, so know that it's not the same as getting a regular massage elsewhere.
-Wet massage (naked in the spa room) – ($50 plus tax/tip)
-Foot massage ($35-60 plus tip/tax) – done in a different room.
Parking: There are two King Sauna lots on Union Street. Parking is free, but you'll leave your car with the valet there, or pull up in front to the valet in front.
Read our review of Island Spa in Edison, the area's newest Korean spa in central New Jersey.