Once was just nominated for a slew of Tony awards: Best Musical, Best Book of a Musical, Best Performance by a Leading Actor in a Musical, Best Performance by a Leading Actress in a Musical, Best Direction in  a Musical, Best Choreography, Best Orchestration, Best Scenic Design of a Musical, Best Lighting (and Best Sound Design) of a Musical.
What makes Once different? When you enter the theater, you'll notice something different from every other Broadway show. The stage is not only lit, it's populated with the actors and musicians playing music (which started about 15 minutes before the official showtime). You'll also see other people up there – audience members. Yes, you can go on stage before the show (and during intermission) to listen to the music and buy drinks at the on-stage bar. And you can bring those drinks (wine/beer in plastic cups with lids and straws) back to your seat. I would love to have taken a photo but they were making a lot of announcements prohibiting photography, even before the show started.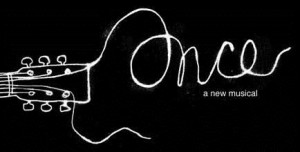 Aside from the stage crew booting the audience from the set, the only sign that the show had actually started was they finally dimmed the audience lights. No curtain was drawn, no announcement made. In fact, the musicians stay on stage during the entire performance, sitting in chairs along the side of the stage.
————————————————
[ad name="Google Adsense"]
————————————————
The Staging and Music – The musicians sometimes played from the sidelines, and sometimes they walked and even danced around the stage to choreography while fiddling and playing their music. It was fun to watch (with the exception of the painful scene where Girl is wearing headphones and dancing next to two other women – that was just awkward). What was even more interesting is that these musicians are actors who have starred in numerous Broadway plays, but they were great musicians as well. Their listed credits included Broadway and off-Broadway shows, not musical gigs.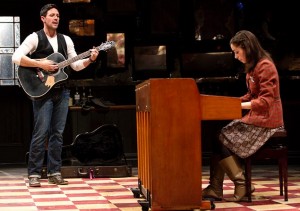 There were some funny moments when Girl is speaking in English, but the Czech translation appears on the stage, as if it's actually the opposite. Still, it conveys the message that she's speaking in a different language, while you don't actually have to read supertitles.
Impressions – I really enjoyed the show. I didn't see the movie so I couldn't make comparisons, but it's helpful to go in with no expectations. The music was wonderful, as was the refreshing staging. It was an intimate evening (it didn't seem like the theater actually holds the 1,078 it apparently does) and I was glad I went. The Once music is just as wonderful (maybe even more so with the accompaniment and performance aspect) as it is from the original recording).
I was accompanied by a professional arts-critic friend who was dying to see the show, and she really didn't like it. She thought it was better as a cabaret type show off-Broadway. She didn't feel it was polished enough or interesting enough for the Big White Way, and not worthy of the $100 we paid for our tickets. She also didn't think the accent of Girl was convincing, and that her character sounded cartoonish, and more of a caricature of an Eastern European than a real person. Our other companion thought she sounded like Latka from Taxi. I'm not sure I know what a convincing Czech accent sounds like, but I did find Girl funny and endearing.
Characters: The show is not heavy in character development, which I guess isn't surprising given that the leads don't even have names (Guy and Girl). Guy is totally hot (Steve Kazee), by the way. Even by the end, you don't have a sense of the real lives of the characters other than some superficial details that are not subtly revealed in the dialogue. Girl (Cristin Milioti) is adorable, funny and intense with her odd mannerisms and speech, but you also don't really know who she is inside. It makes for a less satisfying experience.
Is Once appropriate for kids? It wasn't inappropriate for kids, but aside from the music, I'm not sure they'll love the actual story. There was no kissing, nakedness or sexual acts alluded to aside from (spoiler alert) one scene where Guy asks Girl if she'd like to spend the night, and then there's an allusion to sex. And one other scene where a musician talks about going to bed with one of the Czech women. Otherwise, nothing cringe-worthy with watching withkids. They use the "f" word once (but it's said in an Irish accent so it's a little less understandable). There is a young girl in the show, and it's always fun to see an adorable 7 year old on stage. No kids under age 4 are allowed.
The differences between the movie and the play? I haven't seen the movie, but I did read a summary. There are some differences in the details of the show, but the gist is the same and the fabulous music is the same.
Once runs about 2 hours 30 minutes, including intermission.
Once on Broadway tickets and discount tickets: Once Broadway tickets start at $59.50.. Broadway Box has discount Once tickets (which may/may not be less expensive than through the regular website). You can check TKTS booths on the show date to see if they have seats at up to 50% off. The TKTS app (free on itunes) or Android will tell you what's for sale without you having to visit (though to purchase the tickets you need to go to a booth).