We returned from 3.5 day trip to Disney World in early February. Here are our Disney World tips to make your trip easier.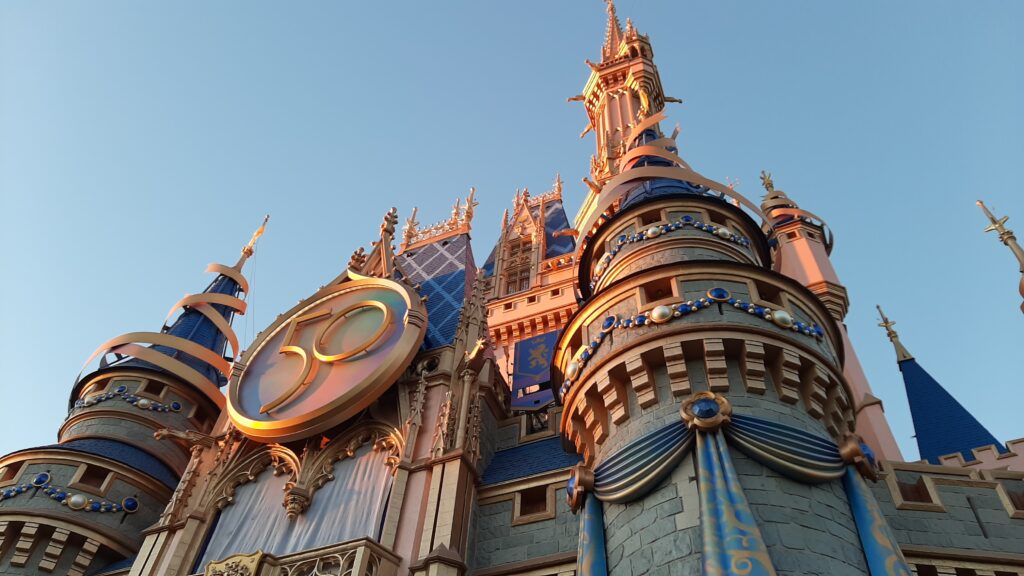 Disney World tips for Magic Kingdom fireworks: You don't have to stand in the mosh pit in front of Cinderella's Castle, or pay for expensive dessert packages to have a great view of castle fireworks. We stood on the bridge between the circle in front of the castle (the one with the Walt statue) and Liberty Square (close to #37 and #38 on the map). We got there less than 10 minutes before the fireworks. It was not a mob scene. It was not very crowded at all. And we got a great reflection of the castle in the water too.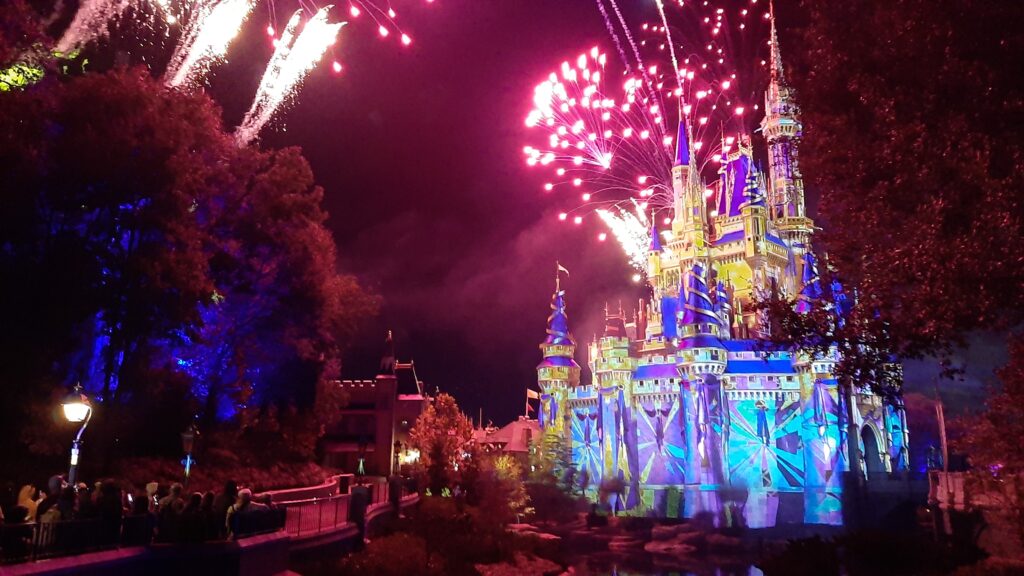 Disney World tips for a half-day: We had two half-days in Magic Kingdom. We got a lot more done in the afternoon/evening than we did in the morning/mid-day trip. Plus we got the fireworks.
Disney World tips for Epcot fireworks: Again we wanted to avoid the crowds. We stood on the walkway under the monorail and were happy with the view. Again, not crowded and we could see the fireworks and most of the light show.
Disney World tips for the security entrance: The only time we didn't get pulled for security was the time we left our backpacks at the hotel. Why didn't we get pulled? Those damn Disney "I'm celebrating" buttons/pins we put on the backpacks. We were told those set off the metal detectors. We were also told to take our camera battery packs (and eyeglass cases) out and to hold them in front of us when going through the metal detector, so as not to set it off. We did this the time we didn't have our backpacks and it seemed to work, though it looked stupid.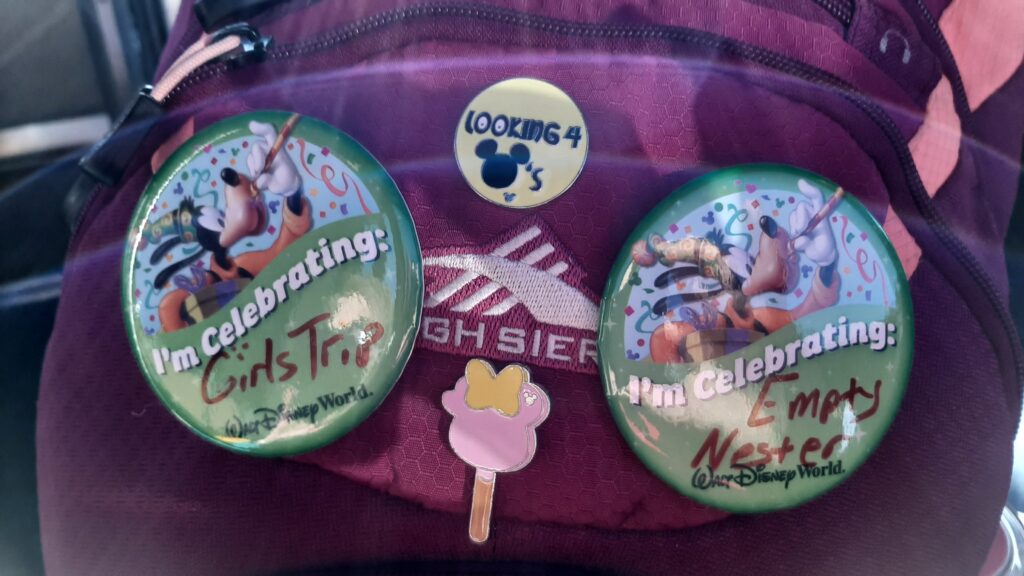 Disney World tips for pin trading: This was my first pin trading experience. My friend bought a pack of 25 pins on eBay for $25. They did seem to be new and actual Disney pins (they're individually packaged in tiny plastic bags). This was a great way to do pin trading for not much money. You can find pin trading locations on the Disney website. They allowed us to trade 2 pins at each location. But if you're with a family and not everyone cares, the person who cares can trade more pins as the rest of the family stands there. You keep the pin backing and just trade the pin. Our hotel (Kidani Village) had pin trading at the front desk/baggage area too. They had different protocols for pin cleaning, for COVID. For some, the exchanged pins went in a box to be cleaned later. Others just wiped them down.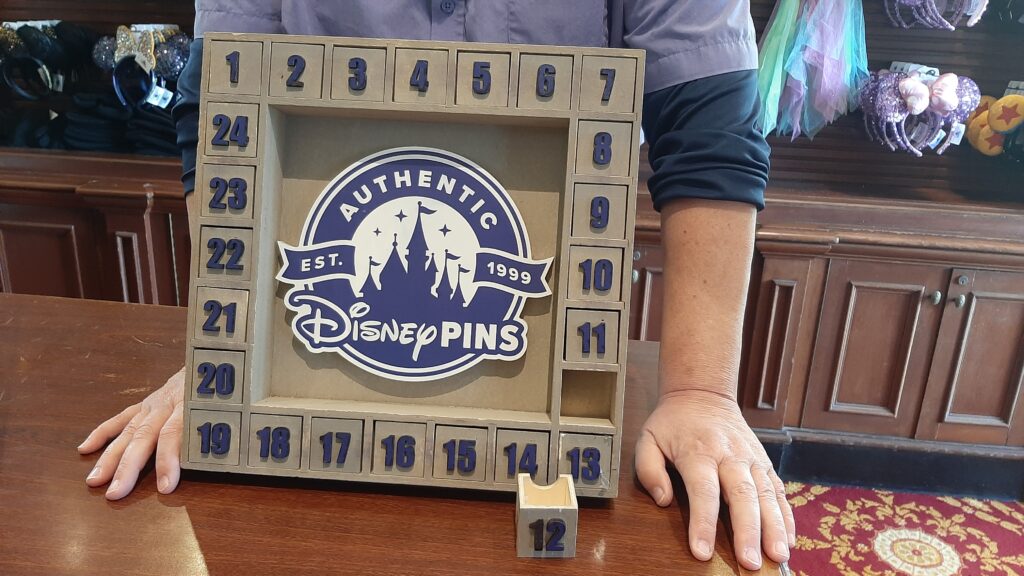 Facial recognition at Disney World: It's very very creepy, but Disney uses facial recognition on the rides. That means if you're using their PhotoPass or Memory Maker, your ride photos will appear in your account without you having to do anything. If they don't appear, you can check with the photo stores or guest services to ask about it. You'll also get other people's ride photos in your account, so know that it happens. The ride photos are much less exciting during COVID because you have to wear a mask on most rides. It's amazing that they can still recognize your face while wearing a giant mask. When you get off of Buzz Lightyear, they do have the photo area, where you used to enter your email address and have it sent to you. Now, you find your photo and press the button below it, and it will be added to your account. It's a little confusing though, because the line doesn't go straight down. So I added some photos to our account from other people. Oops.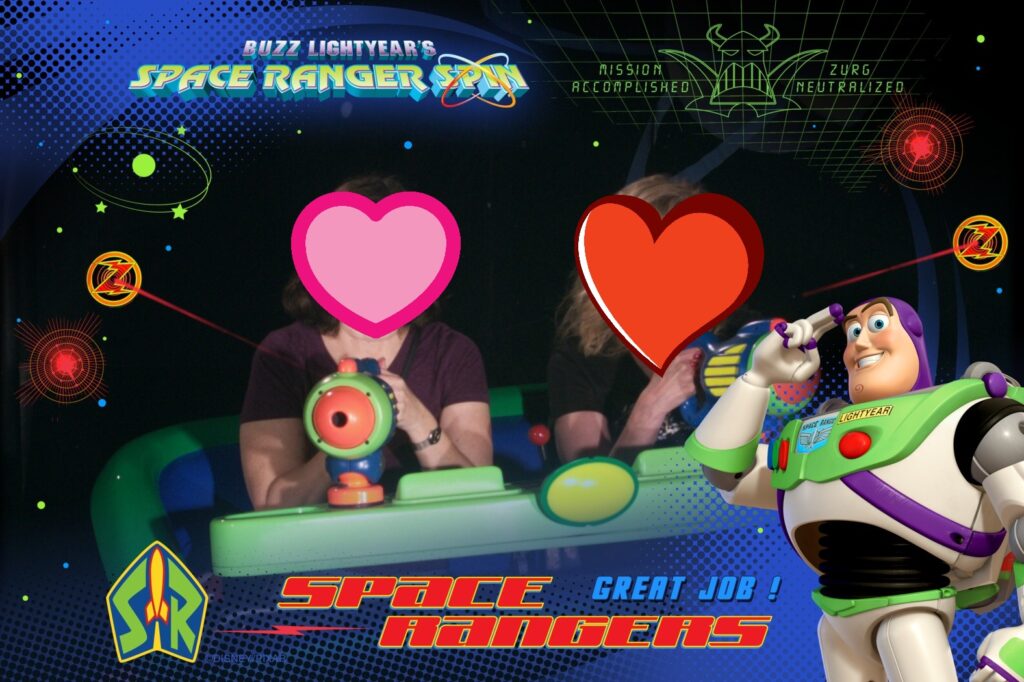 It's a Small World: At the end of the ride, look on the right where they have some goodbye signs. They will post names of people in the boats to say goodbye to. Also look for the scary clowns. We saw a few of them. WTH?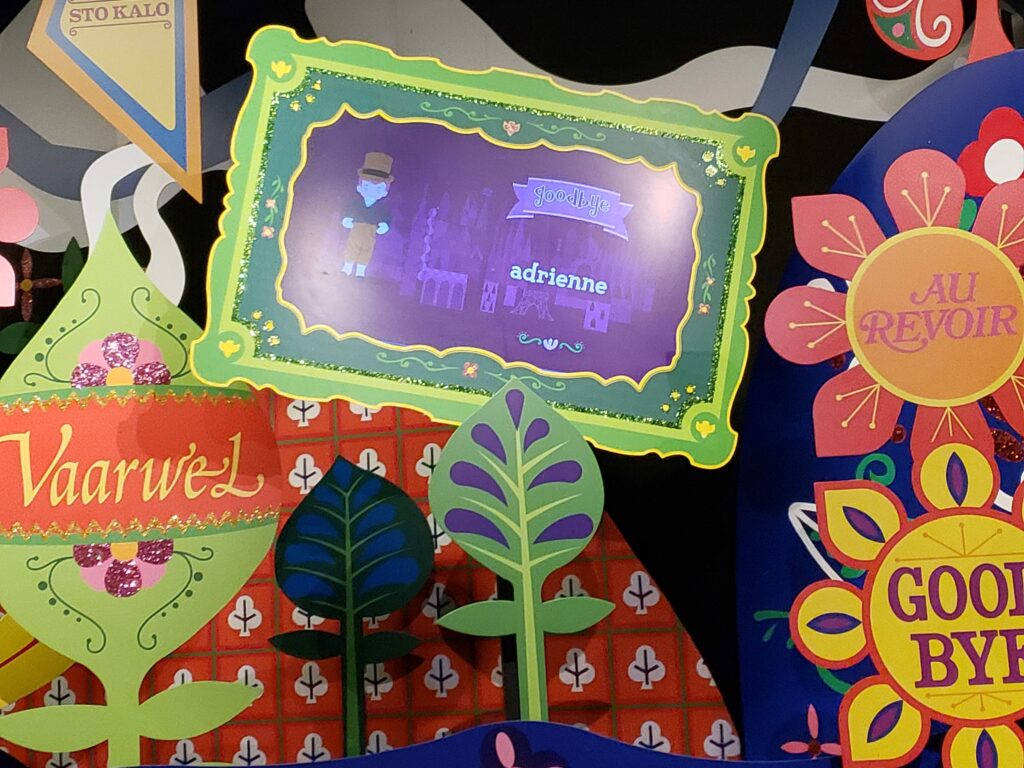 Disney World tips for Individual Lightning Lane purchase: If you don't get the Individual Lightning Lane (these are the ones you purchase) first thing, try again throughout the day because they add more. Also if you purchase an Individual Lightning Lane and it breaks down during your return time, you can come back at any other time during the day. Or go to Guest Services and ask for a refund. When you purchase, the person purchasing will be charged for everyone getting the ILL. The people must all be associated with your account.
Disney World tips for Memory Maker Activation: If you purchase a Disney World PhotoPass or Memory Maker, you have to activate it online when you're at the park. You'll still see your photos in the app without activating it, but there will be a watermark on them until you activate it. You have about a month to download all the photos after your trip. The people associated with your account will not have access to the unwatermarked photos. So download them and share them with your friends/family or give them the password to your account when you leave, so they can download them.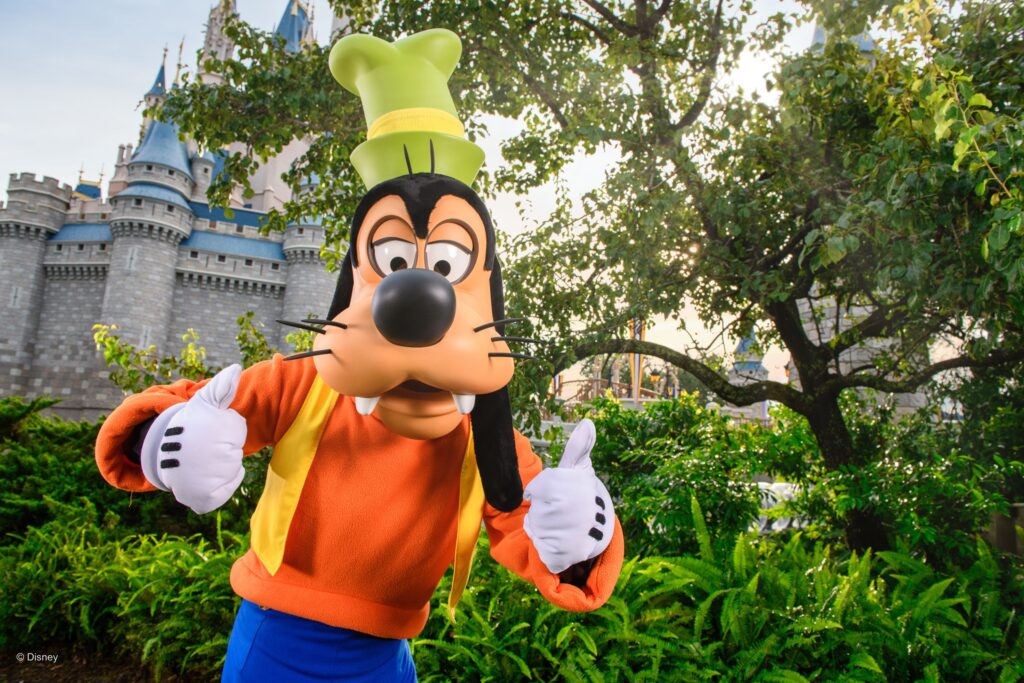 Is the Memory Maker worth it? It depends on you. The Disney World PhotoPass is $69 for one day, and the all-inclusive Memory Maker is $169 in advance for multiple days (this is the price on the app) but $199 while you're there (and $199 in advance on the website – so buy through the app more than a few days before you go). We got a lot of group photos taken by park photographers during our 4 days at the parks, and they are some of our favorite photos. You could easily have someone else take a photo with your phone or do selfies as well. They have Magic Shots where you are holding Tinkerbell, holding Chip (the teacup), with Star Wars planes flying above you, etc. They are stupid but fun.
Mobile order: Mobile order is awesome! If you know what you want, you can schedule it to be ready at any time, without having to wait in long lines. When you're ready for your food, you click "I am here" and then they'll have your food ready for you soon after.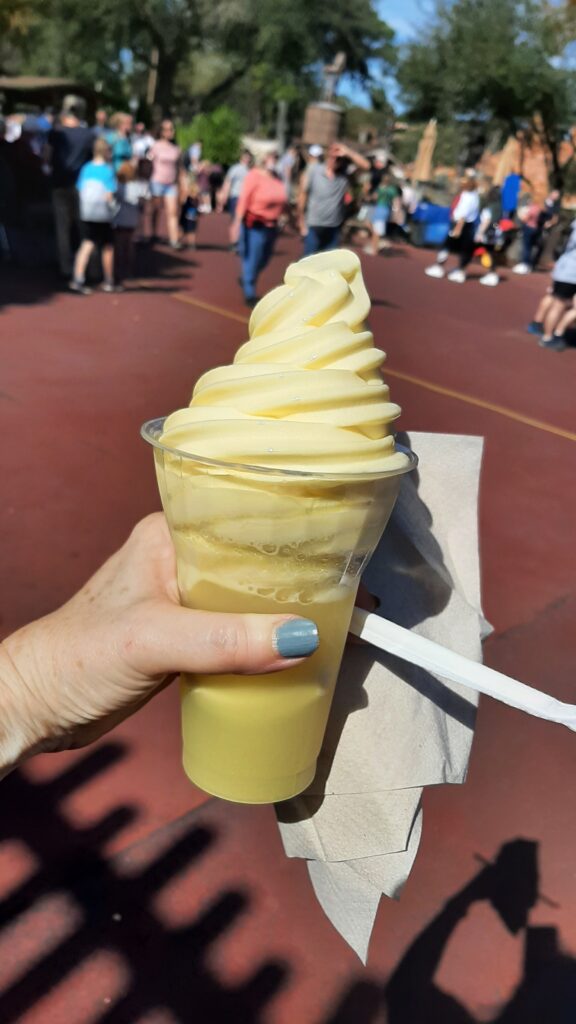 Disney World tips for restaurant reservations: Making restaurant reservations is half the stress in planning a Disney trip. We played it by ear most of the time. Closer to the date/time, you can look on the app and see which restaurants have reservations available near you.
Disney World tips for Oga's Cantina: We tried really hard multiple times to get reservations for Oga's Cantina in Hollywood Studios. We finally got them – at 9:45 pm. The park closes at 9:00. We were worried about getting our Disney bus back, and we managed to get an earlier reservation. How? We checked into the cantina outside, and asked if we could go earlier. They said they'd text when they had availability. We got into the Cantina instead at 8:30. That was much better for us. You get 45 minutes in the cantina. No substitutions for food/drinks. It's all batched, meaning premade. That makes the bartenders' job easier. Try the Fuzzy Tauntaun which has numbing foam on top. The foam and numbing sensation is really bizarre. If they serve something in the souvenir mug, know that you can get it for less without the mug. Oga's Cantina has some booths and then standing bar area. They don't guarantee you a seat. Also there is no bathroom at Oga's.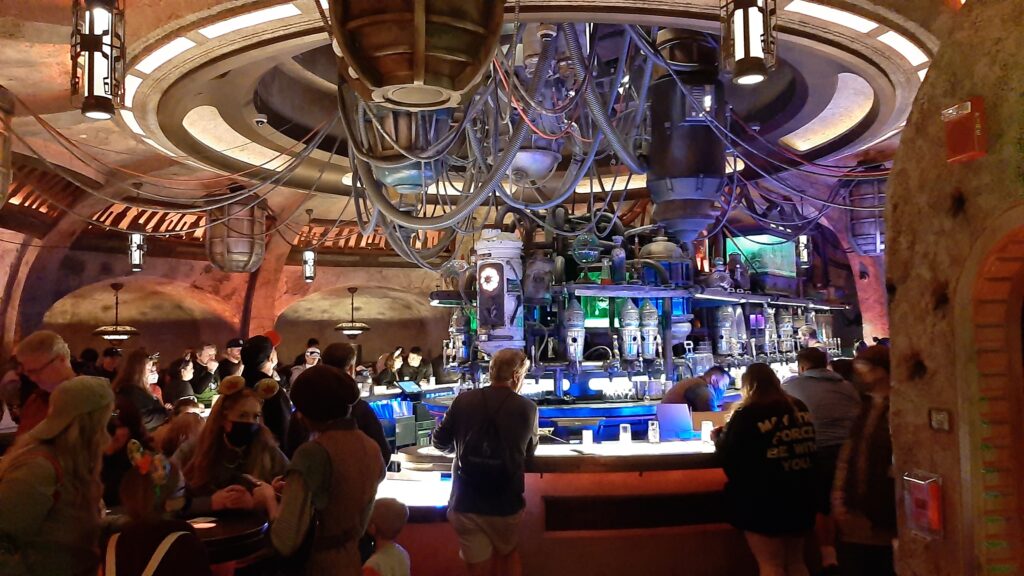 How late does the Disney World bus run? The buses run 1.5-2 hours after park closing. That means you can walk around the park (and sometimes shop) while the crowds have left. For us this meant walking through Galaxy's Edge at night when it was virtually empty. That was MAGICAL and one of our favorite experiences of the entire trip. We saw some lightsabers lit up in the night, but basically it was like a ghost town and so fabulous.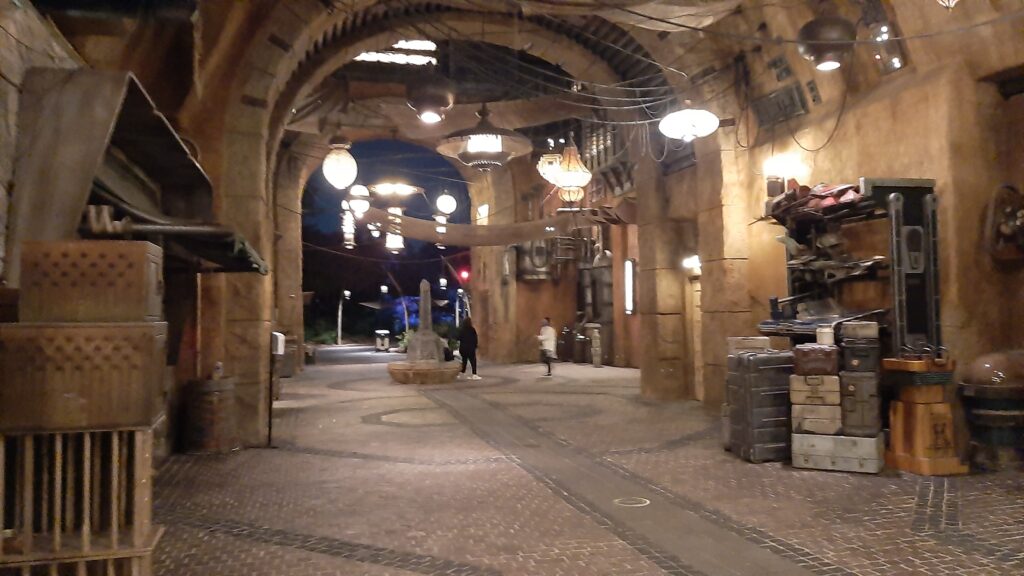 Disney World tips for characters: With COVID, the characters are now behind a decorative fence. You can still take pictures and you can still pose, but they will be behind you. The characters still made a lot of effort to interact with the guests and pose for pictures. The good news is you can do this without having to wait in lines.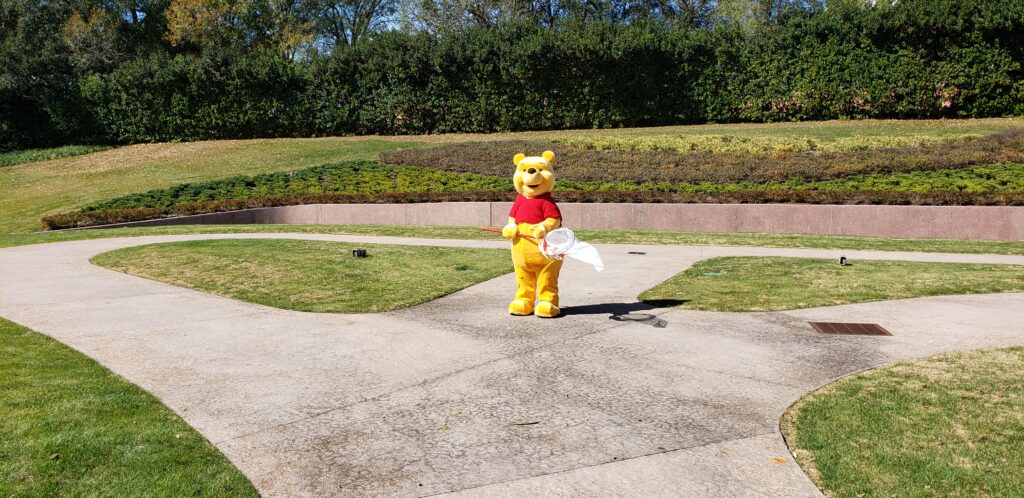 Disney World tips for buying Disney clothing: Consider doing some of your Disney clothing shopping ahead of time. I bought sweatshirts for my group at the Disney website at 62% off. We saw the same sweatshirts in the park stores – full price.
Disney World tip for Cinderella's Castle: Don't miss the gorgeous mosaics inside the walkway through the castle. They are stunning.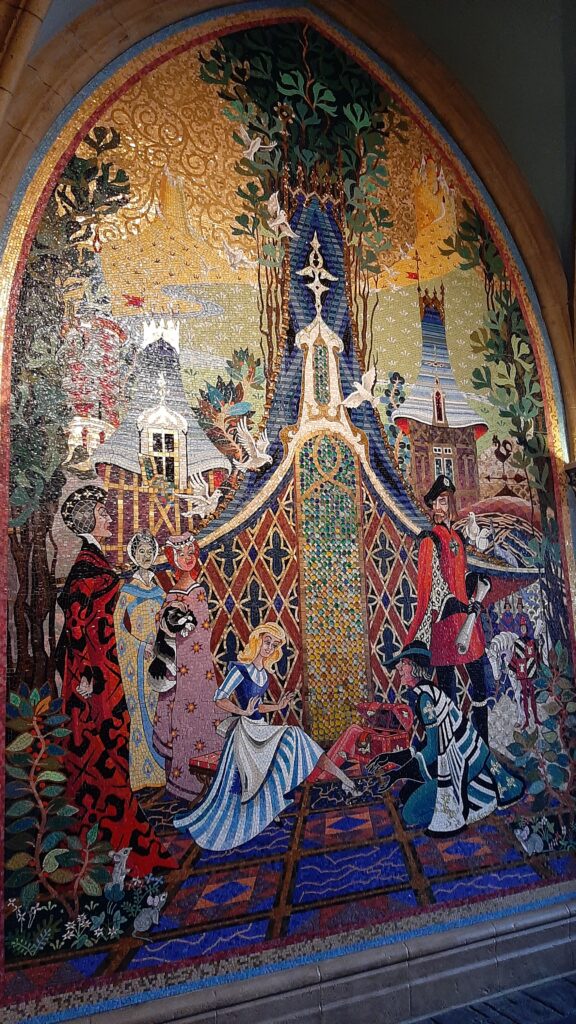 Don't save your favorite rides for the end: The rides break down. They do. Don't save your favorites for the end of the night if it's your only day there. Test Track at Epcot closed at 6:30 the night we were there – and we didn't have time to get over there (we had a DAS advanced selection for 8-9 pm, and a DAS day-of selection). We missed it, and I saw on Facebook that several other nights it was closed at 6:30 too. Slinky Dog? It broke down before our 8 pm window. We had a DAS for Rise of the Resistance and were planning to go in the evening. It wasn't working (we did go earlier in the day, so we were glad we did).
Ginger cookie: If you are at Epcot (Germany) during the winter, get the ginger cookie with the salted caramel buttercream in the Werther store. I think they're gone now (they are seasonal). YUMMMMMY.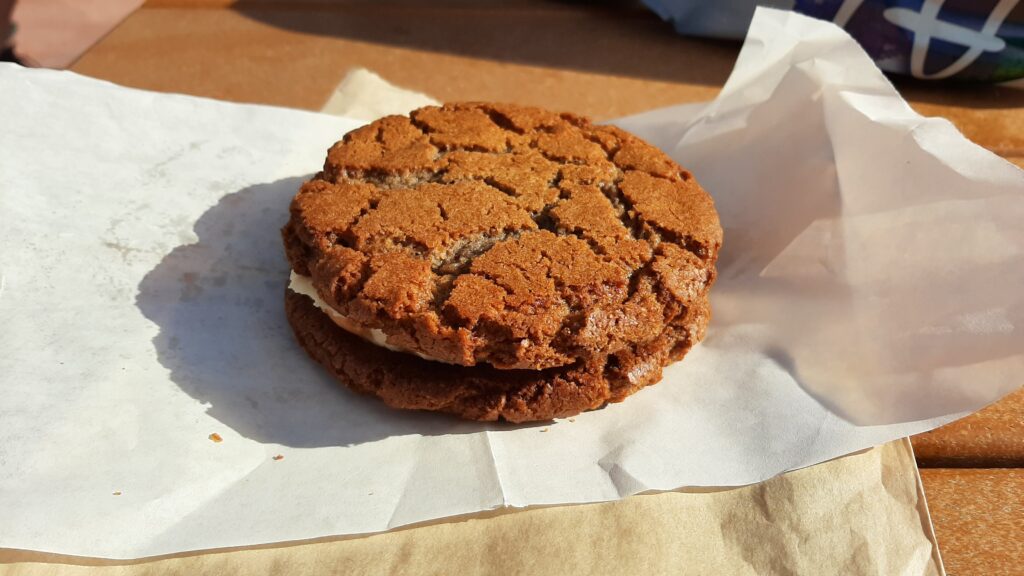 Free soda at Epcot: Check out the Coca Cola store in Epcot. They have free samples of sodas from around the world. You serve yourself. I didn't like any of them, but it was fun to try them.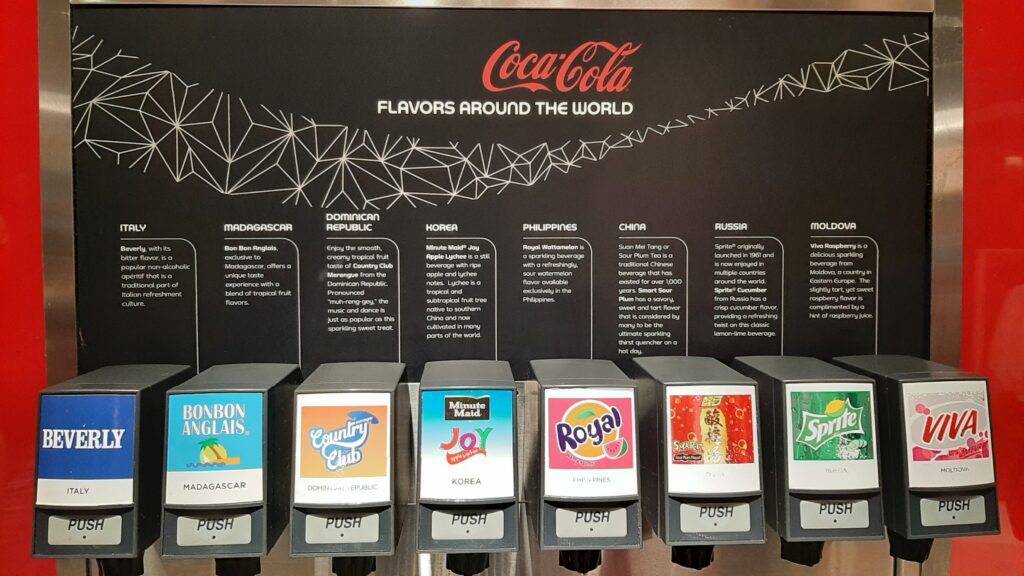 The parades are smaller: During COVID, there are no longer big parades. There are cavalcades – a 2 car procession with characters. The good news is you don't have to wait in crowds for them.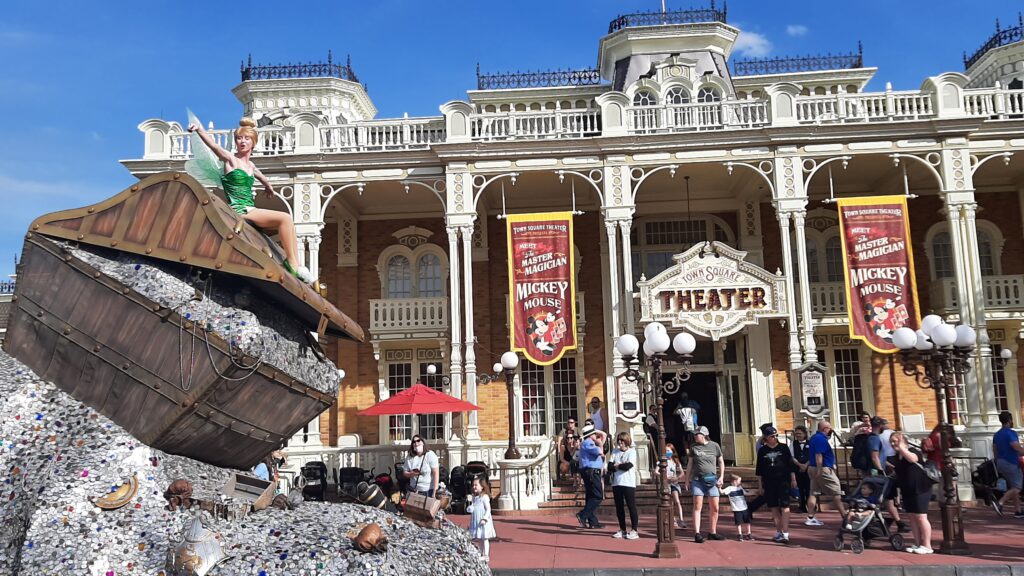 It's super crowded: We went during what is normally the least busy time of year (end of January/early February). It was CROWDED. And we're hearing all kinds of stories of park crowding as February continues. There is a pent-up demand from the pandemic, so expect more people than usual when you go.
Adults in Disney costume? Don't do it! Don't dress up in Disney costumes, like a princess or wearing full-on Star Wars gear. We were told that teens and adults are not allowed to be fully decked out in Disney costumes. It's a liability for Disney because they don't want guests confused and thinking you're an actual Disney cast member. It's bad for their brand. They will talk to you and potentially kick you out.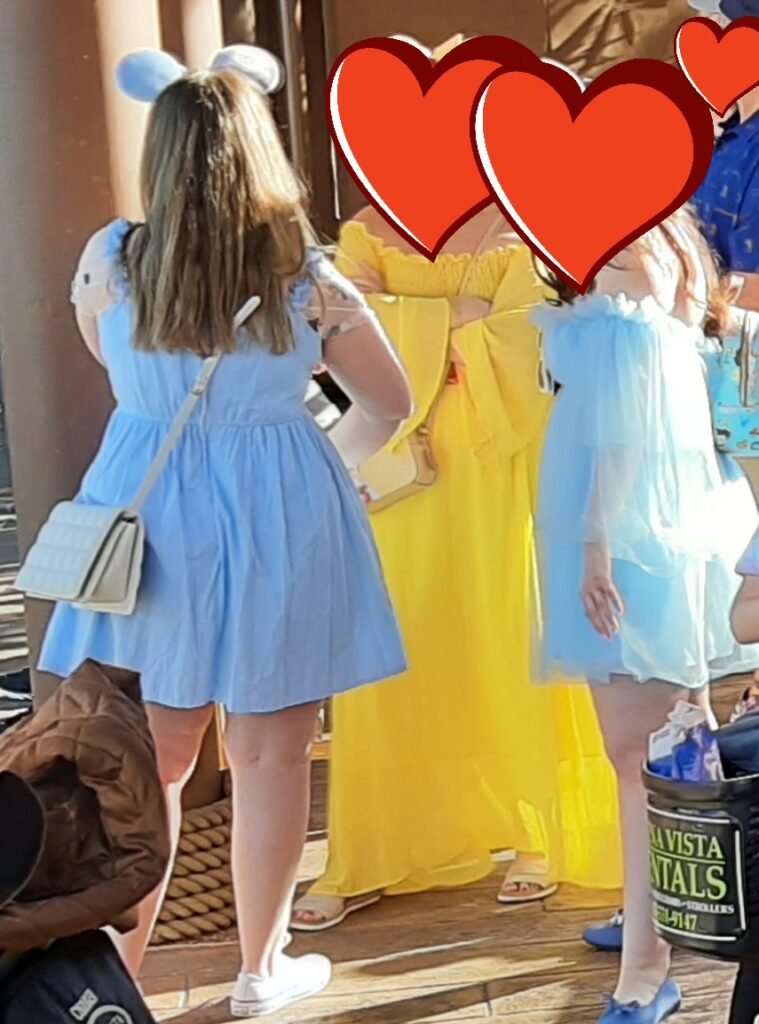 Talk to the people working there: They have interesting lives! Some are there for just a few months in between school or jobs. Others are there for the long haul and love what they do. We had great conversations with our servers at Oga's Cantina and at the Italian restaurant at Epcot, and with some of the ride attendants.
Disney World tips on Disney gift cards: If you bring Disney gift cards to pay for things, do not just add them to your account and keep no paper record. Why? If you want to pay for a restaurant dinner using two cards, the waiter will need to take your phone and scroll through to each of the cards. That's not so easy for them to do, and you're not allowed back where the credit card machine is. Bring the actual cards or a printout of them if they are electronic, to make payment easier.
Disney World tips for visiting with a disability or getting a DAS pass: We have an extensive post about visiting WDW with a DAS and learning how to get a disability pass.
Do you have other Disney World tips? Please share them in the comments!