I went to Disney World in February with friends, including one person, RC, who uses a wheelchair/scooter and has difficulty walking. Does Disney World offer disability passes? Definitely. RC qualified for the Disability Access Service (DAS) at Disney World and we were not sure what to expect during the registration process or while we were there. This post will help explain the DAS pass at WDW and how to use it. You'll find info on how to register for the DAS pass Disney World at the bottom.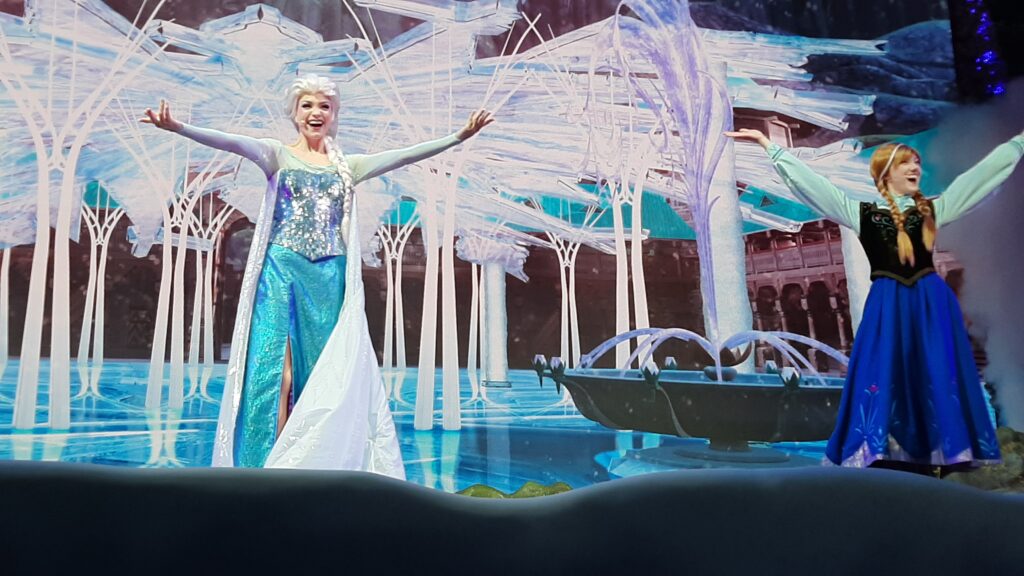 What disabilities qualify for DAS at Disney World?
Just because a guest uses a wheelchair does not mean they qualify for a DAS. "DAS is intended for Guests who have difficulty tolerating extended waits in a conventional queue environment due to a disability," it says on the Disney website. What to say to get a DAS pass at Disney? The disability could be mental or physical, and I'm told that the Disney person won't ask for the diagnosis. But they will ask why the person can't wait in lines. Some people with ADHD or autism qualify for DAS.
What to do after you qualify for a DAS pass Disney World?
Before you even try getting the video interview, here's what you should do:
Have your Disney World tickets and reservations for each park.
Link your accounts to the people you're going with on the website or My Disney Experience app.
Have a list of your top attractions at each park so you can book the advanced ride reservations (which is done via chat after you qualify for DAS pass Disney World). You can book rides or shows listed.
Note that each park has two rides that do not qualify for advanced ride reservations with DAS. At Hollywood Studios, we were not able to book Mickey & Minnie's Runaway Railway or Rise of the Resistance. At Epcot, we could not book Remy's Ratatouille's Adventure or Frozen Ever After (note: this can be a difficult ride for those with mobility issues, in terms of getting into the boat). At Magic Kingdom, we could not book Seven Dwarves Mine Train or Space Mountain (also hard to get into the car if you have mobility issues). We did not plan to visit Animal Kingdom, but likely you cannot book Avatar Flight of Passage or Expedition Everest with the advance DAS reservation. What do these rides have in common? Ding ding ding! They are all Lightening Lane attractions that people can PAY to book. More on that later.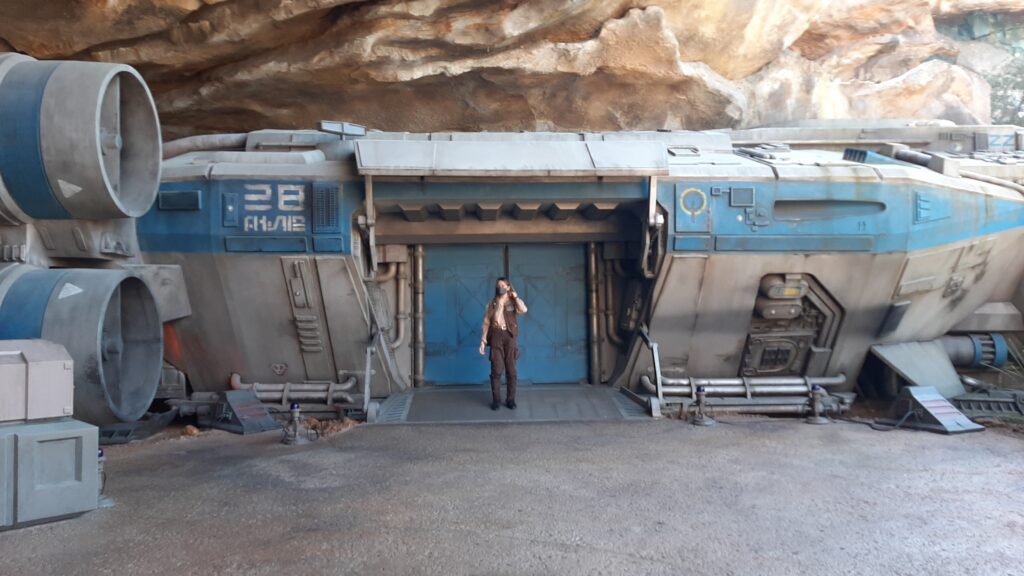 How many people can be associated with the DAS at Disney World?
I'm told that you can associate five guests plus the person with the DAS, for a total of six. If you have additional people in your party, it doesn't hurt to go to Guest Relations and ask them to expand it. We only had 4 total in our group.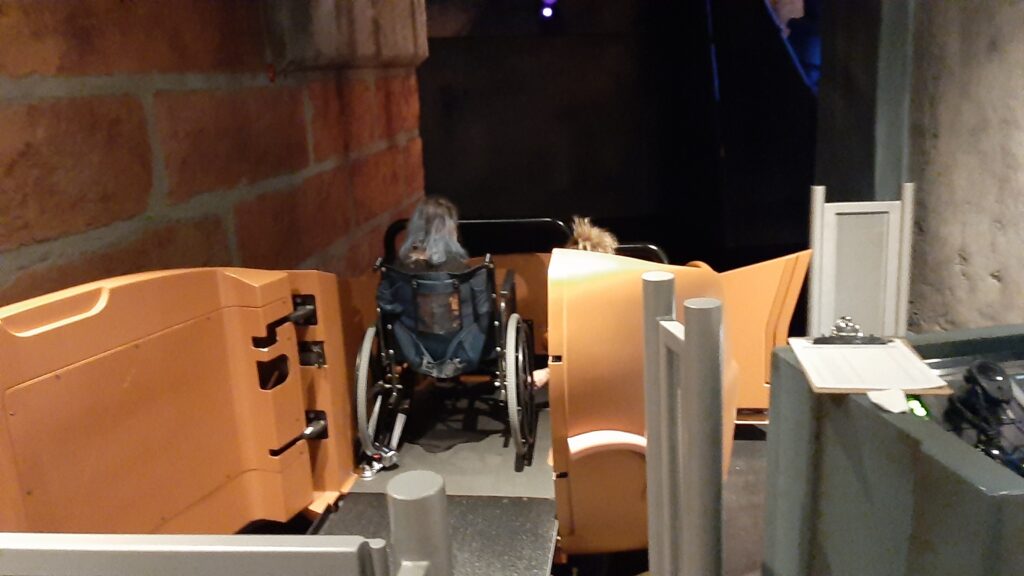 How DAS advanced reservations work at Disney World
If you register in advance, you'll start out with up to two advanced selections for each park. Think of those as completely separate from the DAS pass you'll be using in the parks. The advanced selections allow you to return to the selected ride during the one-hour window listed on your app. You must return in that one hour, or they may not honor the reservation. Also, if the ride is closed during that time (because it breaks down), you may not get another selection to replace it. Slinky Dog Dash was broken during our 8-9 pm window and we were out of luck. Test Track was closed during our 8-9 pm window at Epcot. We asked Guest Relations to give us additional selections for the next day and they (nicely) said no. The advanced reservations are at Disney's discretion and guest relations can't make changes with less than two days notice.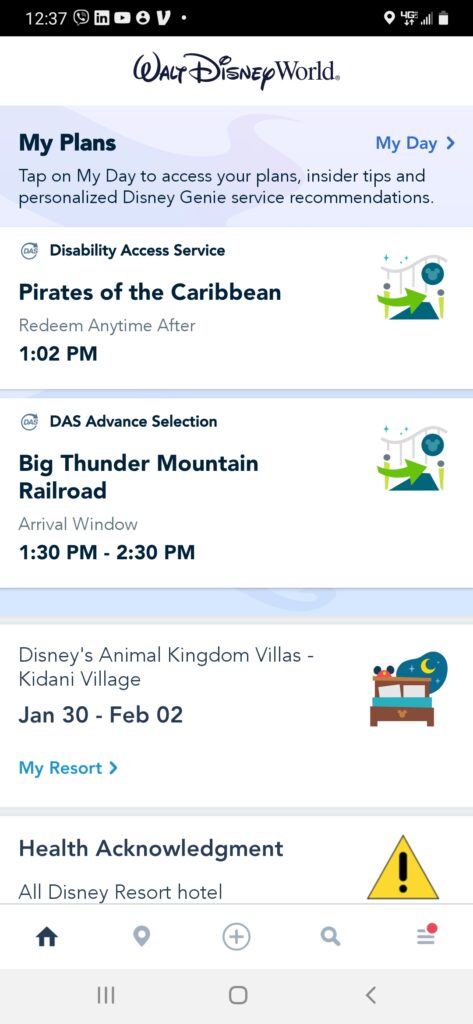 What the DAS does at Disney World
At WDW, the DAS allows you to avoid the physical line and wait in a virtual queue. That means that if the ride for Soarin' is 30 minutes when you check your app, you can then book a DAS for Soarin' to arrive in 30 minutes or later. You have to wait the same amount of time as the people in the standby line, but you don't have to do it in the actual line.
How do you use the DAS pass at Disney World?
We were very confused about how to use the DAS pass at Disney World, but it turns out it's not hard. Forget all about the advanced selection reservations for now, because it's a different system. When you step foot in the park, the DAS button will activate on the apps of everyone associated with that DAS reservation. Go to the three horizontal lines on the bottom of the app, click that, and then scroll down to the box that says DAS. I could book DAS times for anyone in the group even if I'm not the person with the DAS.
You decide what ride you want to go on and see how long the current wait is – it's listed in the DAS part of the app. You do not choose a return time. Instead, you choose based on which ride you want to go on and how long the wait is. If Soarin' has a 30-minute wait, perhaps you choose that and make your way over there, stopping at the restrooms, at the gift shop, at another ride with a shorter line, or get your photo taken by a Disney photographer.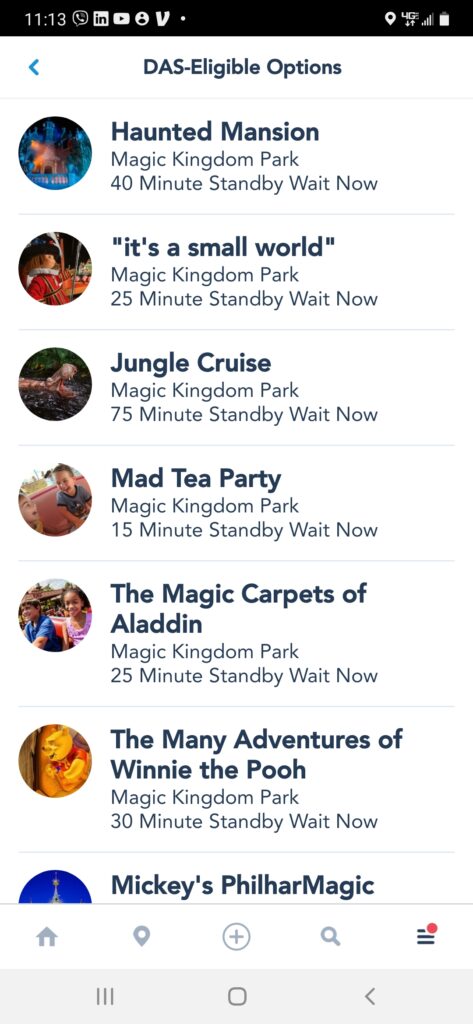 You can return to Soarin' to use that DAS any time until closing. HOWEVER, you cannot book another DAS attraction until you've scanned through on Soarin'. Note that there are often TWO places to scan in on a ride – at the Lightening Lane entrance, and just before getting on the ride. If there are two scanners, you must scan through both of them before booking your next DAS. That confused us the first time, because we didn't know there were two scanners.
Does everyone have to go on the ride if associated with a DAS?
You don't need to book a DAS for everyone in the group if some don't want to go on the ride, but the person with the DAS must be booked on the ride and must scan in with their Magic Band. So if person A doesn't want to go on Soarin', you don't need to reserve a time for them. But RC must scan in for Soarin' if the rest of us want to go on it using the DAS.
Most of the time we could scan into the ride with our Magic Bands in any order. But several times were told by the cast member that RC had to go first.
Do I need to book a paid Individual Lightning Lane if I have the DAS?
We thought weren't going to be able to book the "hot" Individual Lightning Lane rides with the DAS, but we were wrong. Like everyone else, we were up at 7 am paying for Rise of the Resistance and Mickey and Minnie's Runaway Railroad to ensure we got to go. Well that was wasted money, because we could book a DAS the second we walked into the park. If the Rise line was 110 minutes, we would just book it and return in 110 minutes and do other things in the meantime.
With the DAS you will use the Lightning Lane entrance. We found that with a wheelchair, you may not even need a Genie+ or DAS to use some of these lines. Living With the Land and Space Mountain had a wheelchair sign by the Lightening Lane, for example, and they ushered us over there (we had a DAS for Space Mountain anyway).
Do you need a Genie+ with the DAS?
We debated about getting the Genie+ before we went. We heard you could stack the rides and really maximize your time. We decided to wait, and we're glad we did because we didn't need Genie+. Genie+ is a whole other blog post (that I'm not writing). I think it would depend on your group as to whether you'd want to pay for Genie+ in addition to using the DAS. We found we were able to go on all the rides we could handle (unless they were closed) with the DAS. Also with the Genie+, you can only book each attraction once. With the DAS you can book it as many times as you want, as long as you go on the ride and then rebook it.
How were the attractions if you use a wheelchair?
Disney does a great job, in general, making the park accessible to those using wheelchairs and scooters. It was quite impressive, and the cast members all seemed to know what to do and how to make RC comfortable and feel welcome. She was asked at each ride if she could transfer (i.e. get out of the wheelchair or scooter and get onto the ride).
Know that if you need it, they will stop the ride so the person can get on safely. They will not rush you. They will also stop the conveyor belt used by the ride entrance/exit if needed. Just ask. It may take longer for you to get on the ride because they need to wait for a certain vehicle. On Haunted Mansion, that was Doom Buggy #1. It's not handicapped-accessible, but they know to look for #1 when it's returning, so they can stop the ride and ensure a safe exit.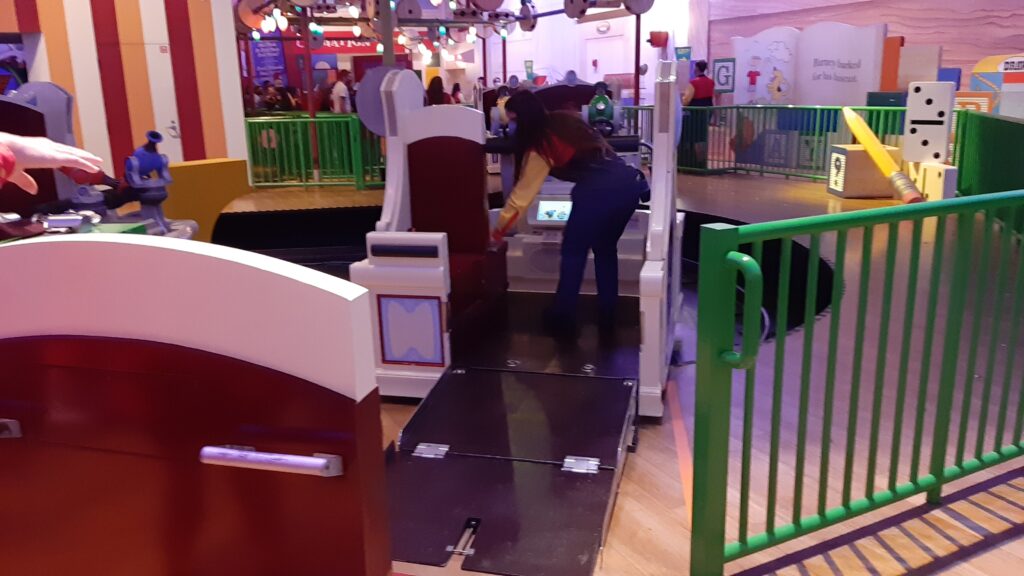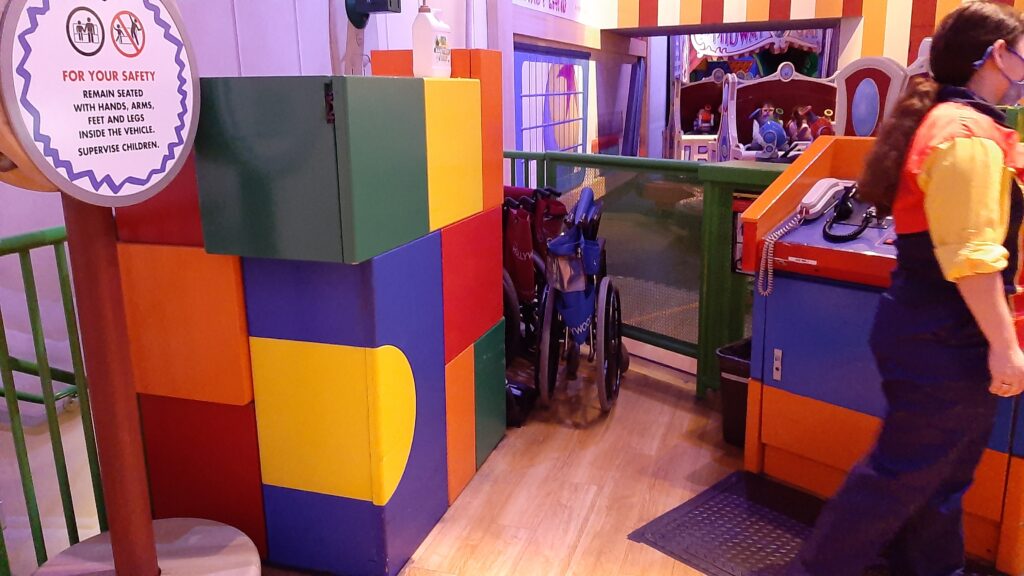 Some rides accommodate wheelchairs. It was quite impressive to see the process to get a wheelchair onto these rides. Living With the Land and It's a Small World each have a boat you can go on with a wheelchair. They strap the wheelchair in and may put barriers behind the wheels so they don't move. Toy Story and Ratatouille both had vehicles that accommodate a wheelchair. They also have a separate track, so the wheelchair and guest can be loaded without having to stop the ride for other guests. You leave the scooter at the loading area and transfer to a WDW wheelchair for the ride. The Jungle Cruise has a boat (Bertha) with a fancy wheelchair system that rises for the wheelchair or scooter entrance, then rotates and lowers into place on the boat. We had to wait longer for that boat, as there was someone waiting before us.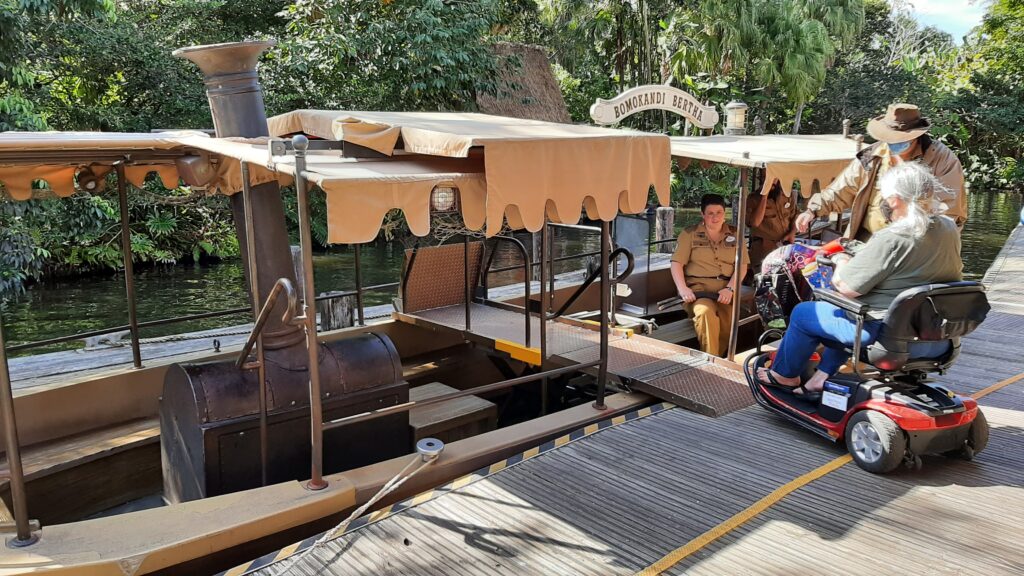 If you get to the front of the ride and realize you can't or don't want to go, they will escort you out, so don't worry about that. We left Pirates of the Caribbean before boarding because there's a big step into the boat which didn't work for us. We got a bit of a behind-the-scenes tour through the employee area.
Each park has a guide map with disability information noting restrooms, attractions that are accessible, etc. You can find that when you enter the park.
Wheelchair v. scooter for the DAS pass Disney World
There's a lot of ground to cover in the parks, so consider renting a scooter. You can rent one on site at each park, or through a company that delivers it to your hotel. Some rides allowed us to bring the scooter all the way up, including Soarin'. Once RC was in her seat, the scooter sat to the side until the ride was over. Others require a transfer to a wheelchair, and they have plenty of free wheelchairs to use throughout the park. Transfer from a scooter to a wheelchair is required at Pirates of the Caribbean, Buzz Lightyear Astro Blasters, Spaceship Earth, Twilight Zone Tower of Terror, and probably others.
If you do bring your scooter all the way to the ride loading area, they may need to move it to the exit so you have it when you return. Ask them if they need the key. Most of the time they'll move it in neutral and don't need the key. Put the key in a safe place!
Have a DAS? Be nice to the cast members
Of course this is good advice ALWAYS. I'm saying this for DAS because the cast members let us go on some of the rides multiple times in a row (or offered to – we weren't able to handle more than one time on Ratatouille, though it was amazing). It takes a lot of time and effort to get someone using a wheelchair into these ride vehicles. If there's no one waiting, why not let them go again, right? That's how we rode Toy Story three times in a row. Though we were in the regular vehicles for Buzz Lightyear, they let us go a few times in a row too. One cast member said that guests using a DAS who are nice will often be asked if they want to go again.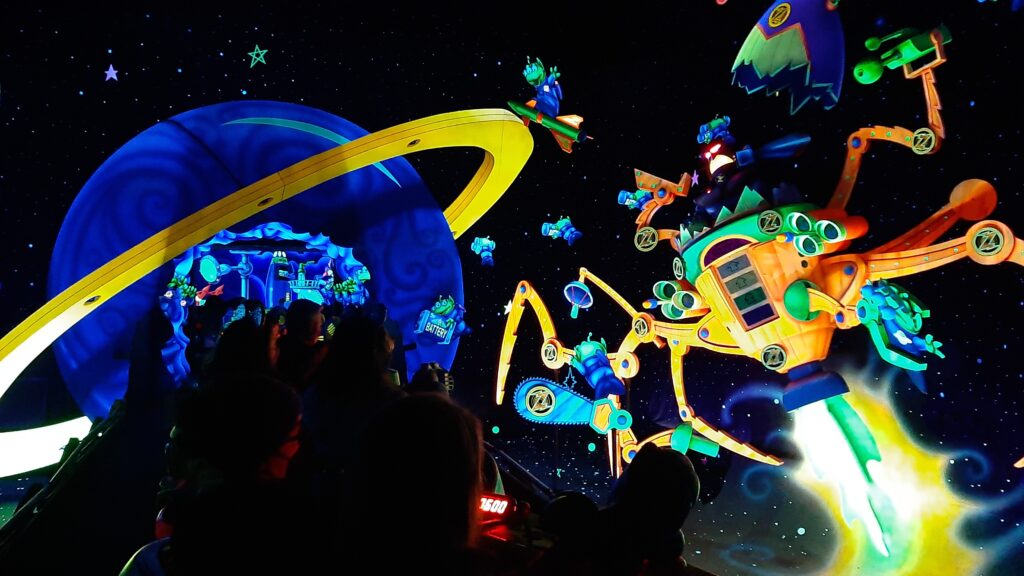 How long does the DAS pass Disney World work?
The DAS is valid for up to 60 days, according to the Disney website.
Things to know when using a wheelchair or scooter at Disney
If you go to Indiana Jones Epic Stunt Spectacular, you will be in the last row, with people potentially standing behind you. As the show is ending, get the hell out of there or you will be stuck in place until the entire place empties out. We learned that the hard way. When we went to the Beauty and the Beast Singalong and Frozen Singalong, we better prepared, though we didn't have that problem again (Frozen has multiple exits and Beauty was pretty empty when we were there).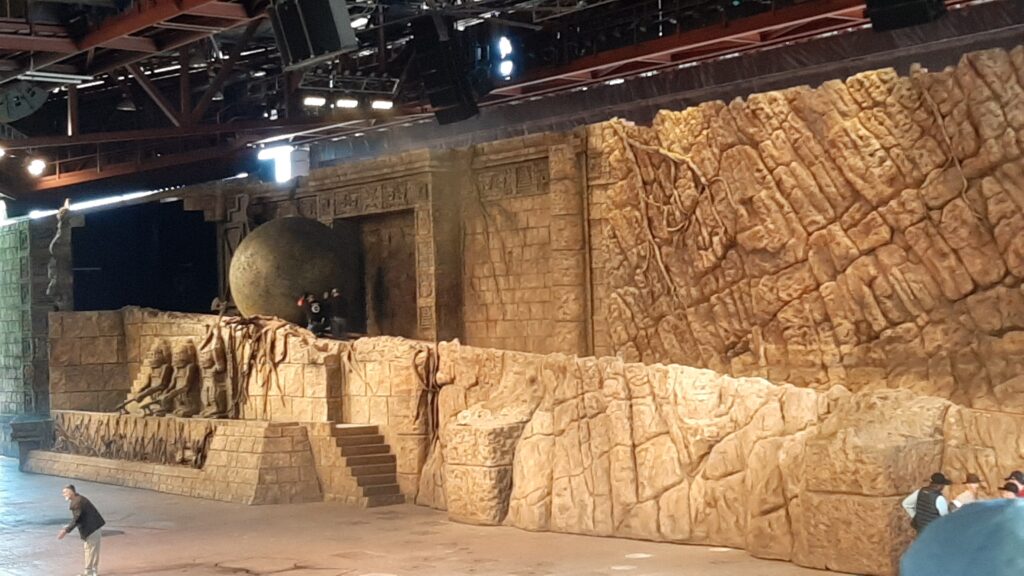 I am not writing a bathroom post, but know that the bathrooms are all accessible, though some are more accessible than others (especially if you're in a scooter), including the single-family-type restrooms. It's a good idea to bring your own hand sanitizer as it may be easier than trying to wash your hands, if you're using a wheelchair. Some of the handicapped restrooms have sinks in the stall.
At restaurants, they will let you bring the scooter to the table, but then someone from the party may need to bring it outside, and then back again when it's time to go. I got pretty good driving the scooter.
The Disney buses were amazing with the scooter. They can fit up to two scooters on the bus, and only once did we have two scooters on the bus. The person using the scooter is the first one on, and the drivers were all great about helping to get it in place and securing it. There is a wheelchair/scooter waiting area at each Disney bus stop. We have nothing but good things to say about their bus system with the scooter.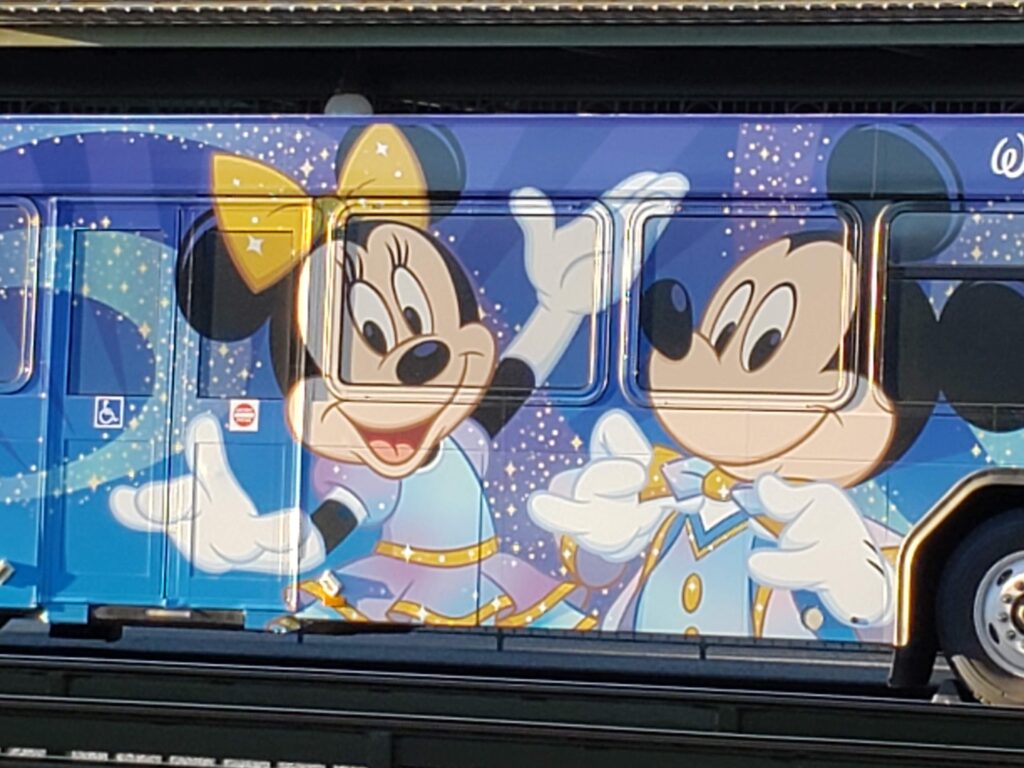 How to get the DAS Disney World
You can register in advance for the DAS pass Disney World between 2 and 30 days before your first day in the park, by calling trying to do the video call with the DAS office (even if your second, third days etc are more than 30 days out). Here is the registration link for the DAS at Disney World. The person seeking the pass must be on the video call, so if that is your child, don't do this while they are in school. Getting to the front of the queue is hit or miss. RC tried on several occasions and waited hours each time (and had to log into the Disney account again each hour). Finally on the third try, she got to the front of the queue. I read about others who waited only a few minutes (one person went on first thing on a Saturday morning).
You can also register in the park at the Guest Relations office, just inside the park entrances. All accounts I heard was that it took 5 minutes. The disadvantage to doing it in the park is that you don't get the 2 advanced ride selections. You cannot register at Disney Springs. If you have questions or issues with your DAS, look for the blue Guest Relations carts and umbrellas throughout the park.
Check out our post on Disney World tips to make your trip magical.
Here is information about disability services at Disney World. Have you used a DAS at Disney World? Share your tips in the comments!