We had a ridiculous amount of fun at the Everglades Alligator Farm, in spite of it dumping rain on us an hour after the photo below was taken.
The Everglades Alligator Farm claims to be the oldest alligator farm in South Florida, with 2,000 alligators. They are located near the entrance of Everglades National Park. It was super touristy, but still a good visit.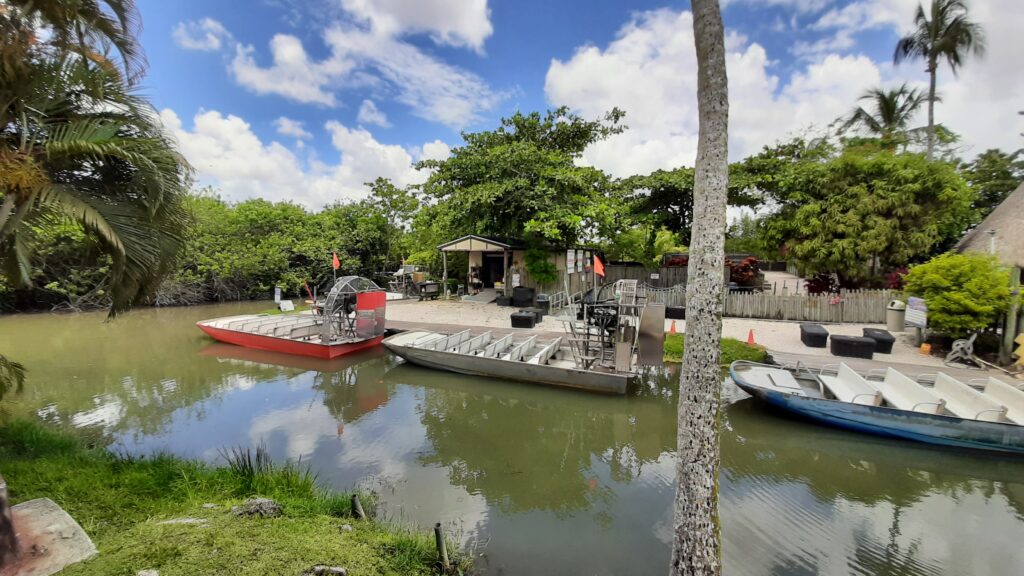 We got there as the hourly airboat ride was getting read to board, so we went straight there. It's a good thing we did because the rides an hour later got delayed/cancelled because it was raining so hard. Our driver told us that when it's raining hard, they worry about the visibility. If a boat is out of commission, it's hard to get another boat out there to rescue it.
The airboat ride was actually fun – I had super low expectations. Those in the front row are told they may get wet, and the water does flow on the floor, so keep your backpacks off the floor. In the second row, our feet got wet, but we weren't too wet otherwise. The boat is really loud – you get headphones to block the noise and it's a good idea to wear them. The boat is propelled by the high intensity fan, and you actually drive over the grass at times. The driver does some 360 turns for fun (and yes, they ask for tips later). The ride is about 20-25 minutes.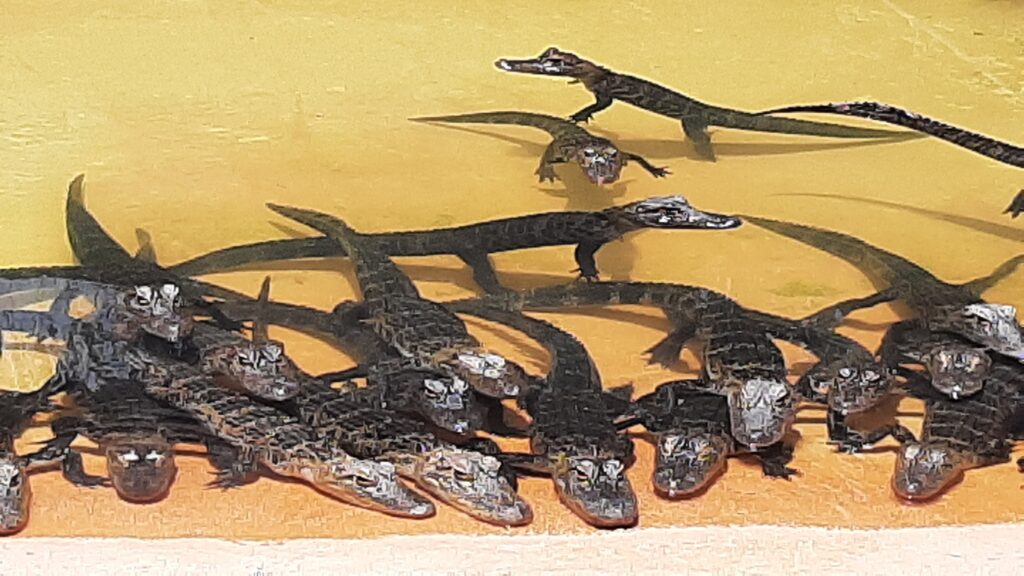 The farm has about 6-8 pens with alligators that are about 2 years old (see above). You can buy food to feed them ($3.50) which I did. Just throw the food into any of the pens and the alligators will climb over each other trying to get the food. It was oddly satisfying. They normally grow a foot a year, but can grow faster with all the food tourists give them.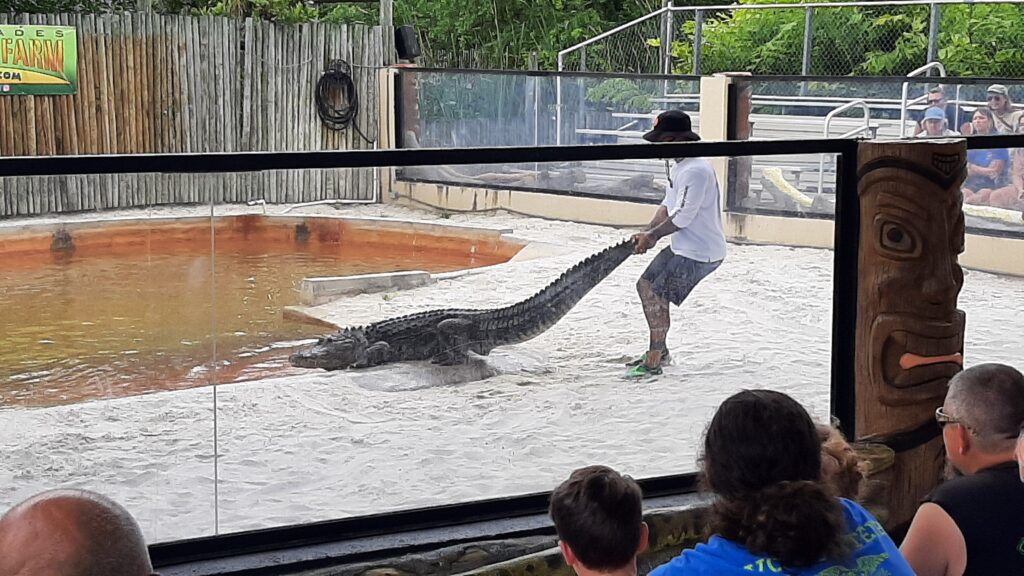 They have an alligator show, where a handler explains about alligators and crocodiles. Crocs live in most tropical areas, and alligators are only in the U.S. (American alligators) and China (Chinese alligators). Florida is the only place with both alligators and crocs. He showed how it is safe (relatively) to pull an alligator by its tail to move it, and then he showed some ninja moves with the hold below, the bulldog technique – and they then tie the jaw. Don't try this at home. Apparently this was a move by the Native Americans. They moved alligators like this for meat, as killing them and transporting them resulted in spoiled meat.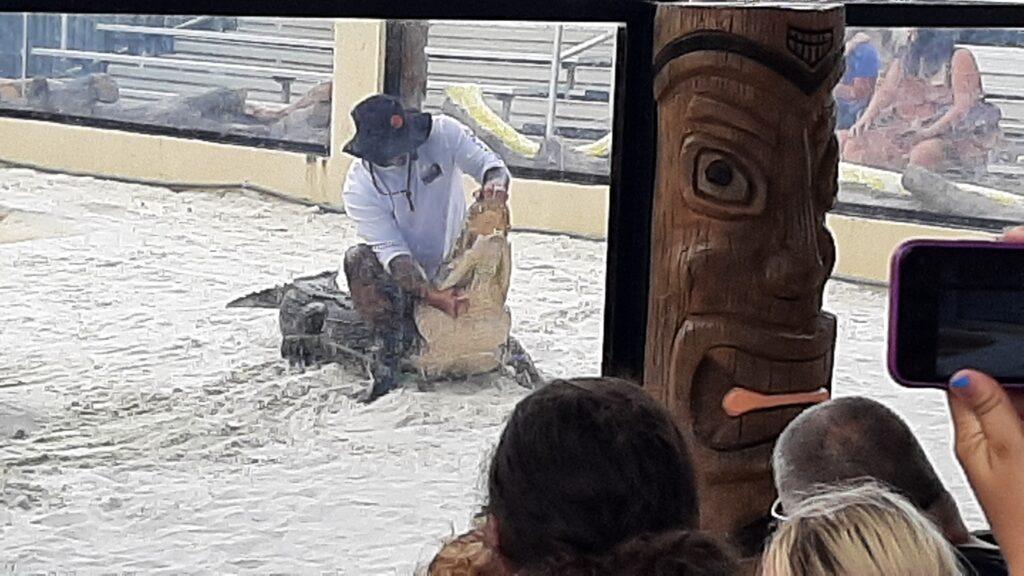 Alligators bite with 3,000 pounds of pressure per square inch. They have 40 teeth on top and 40 on the bottom, and go through 2,000-3,000 sets in their lifetime. The back of their throats can shut down (the glottus), allowing them to drown their prey without drowning themselves. They only breathe through their nostrils. Alligators cannot see directly in front of them, but only to the side. Under the water, they seal their ears. Their brains, on top of their heads, is only the size of a thumbnail.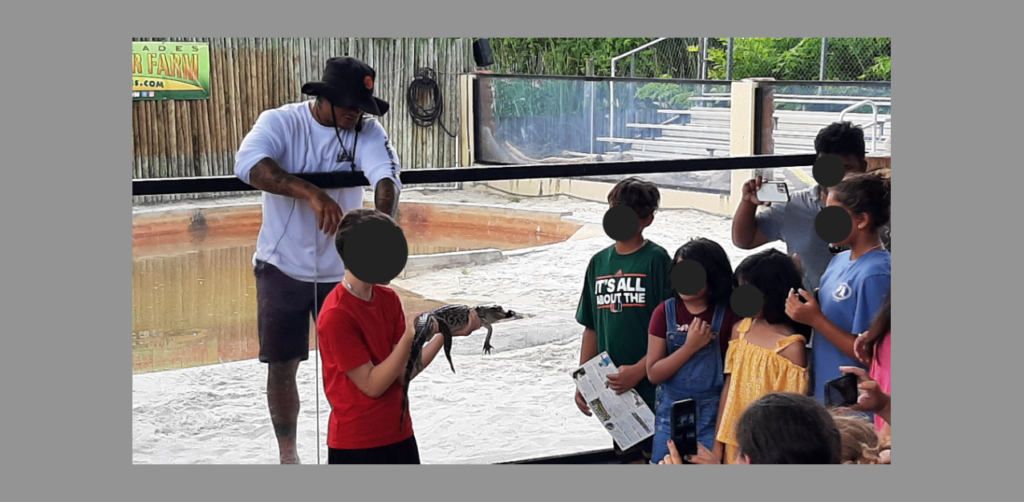 They let you hold a baby alligator after the show. I wanted to do this, but didn't want to wait or push in front of the kids.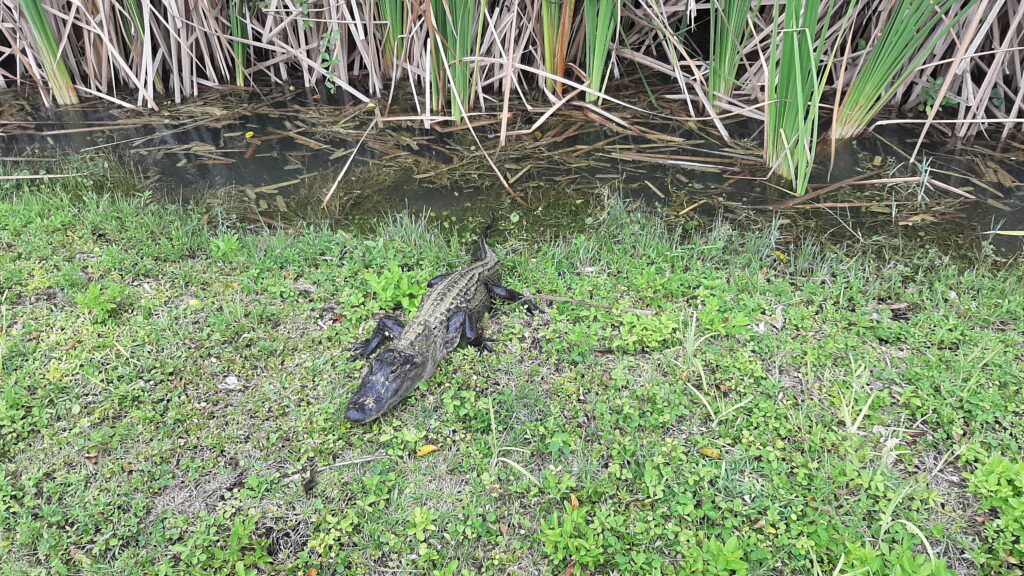 Alligator farming is a strange idea to those of us outside of Florida. According to the Miami New Times, alligator eggs can sell for $60+ each, while skins sell for $40/foot. Florida had 17 active alligator farms in 2015, which sold $6.8 million in hides and $1.7 million in meat.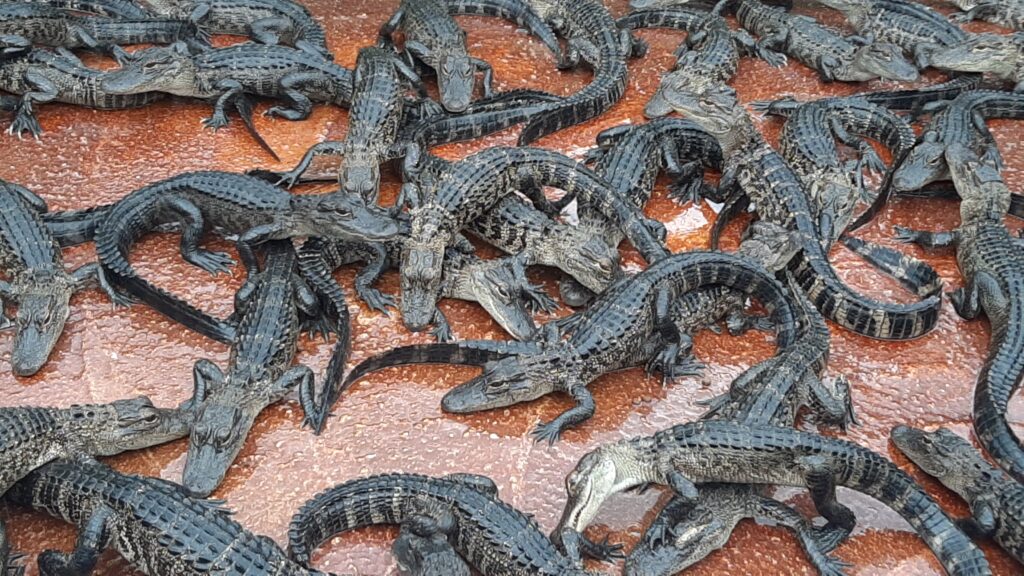 This slightly blurry picture above and below show the alligators eating the food pellets we threw, while it was raining.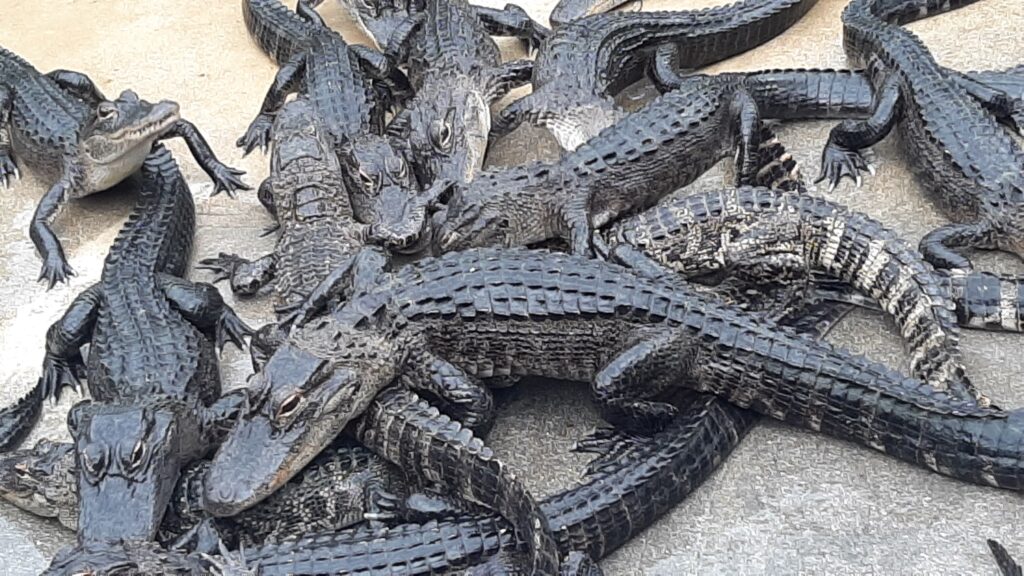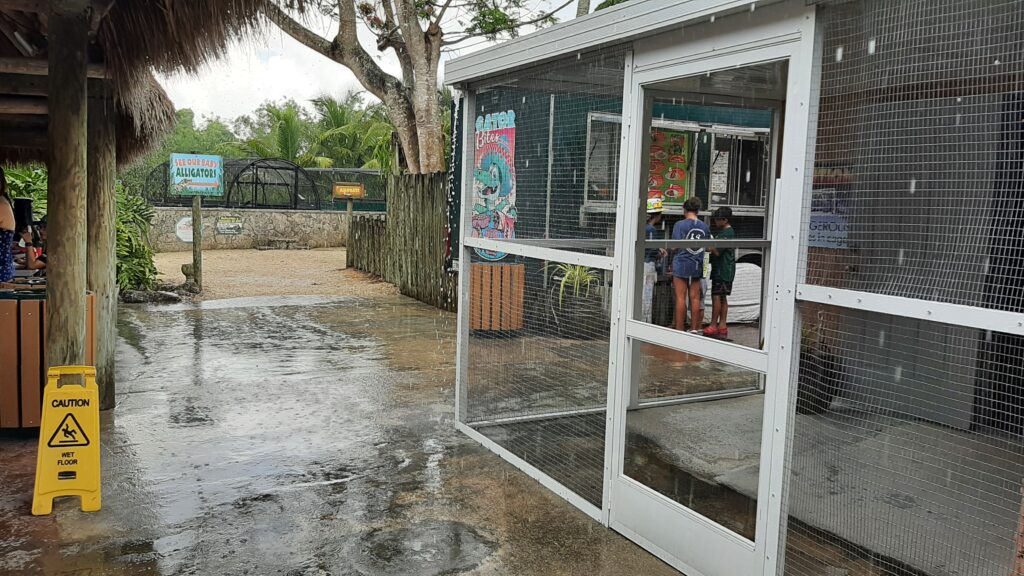 Yes, they sell alligator food humans can eat. The kiosk you see sells "alligator bites" – fried chunks of alligator you can eat plain or in a taco. We got tacos. They tasted like chicken. I think they do sell these alligators for meat, but they do not process them here. As you can see, it was raining – and it did not stop.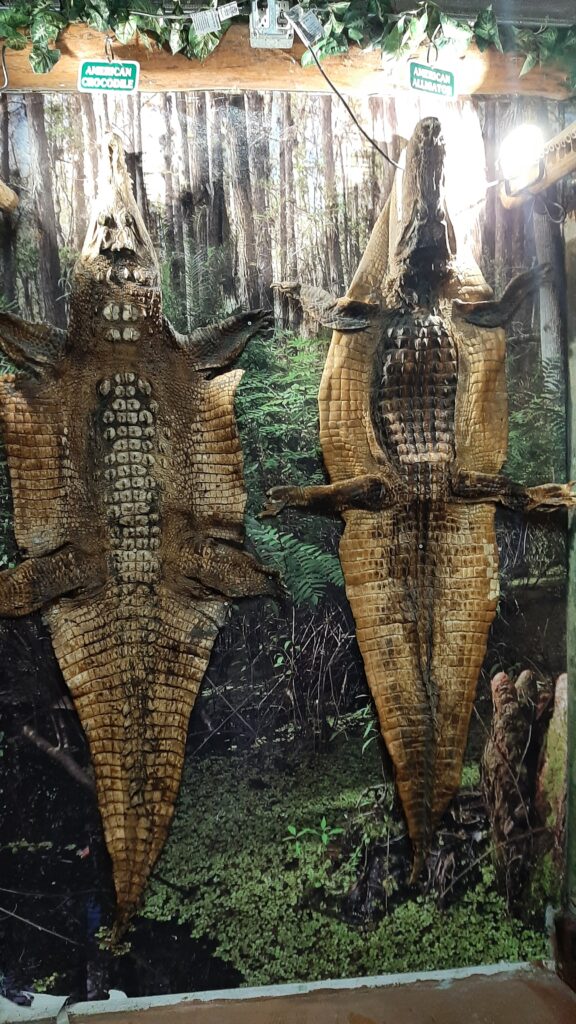 They have an indoor exhibit as well, with these alligator and crocodile skins, as well as other reptiles and snakes (alive). They have other outdoor exhibits of other animals like turtles, a bobcat, birds, and some other animals.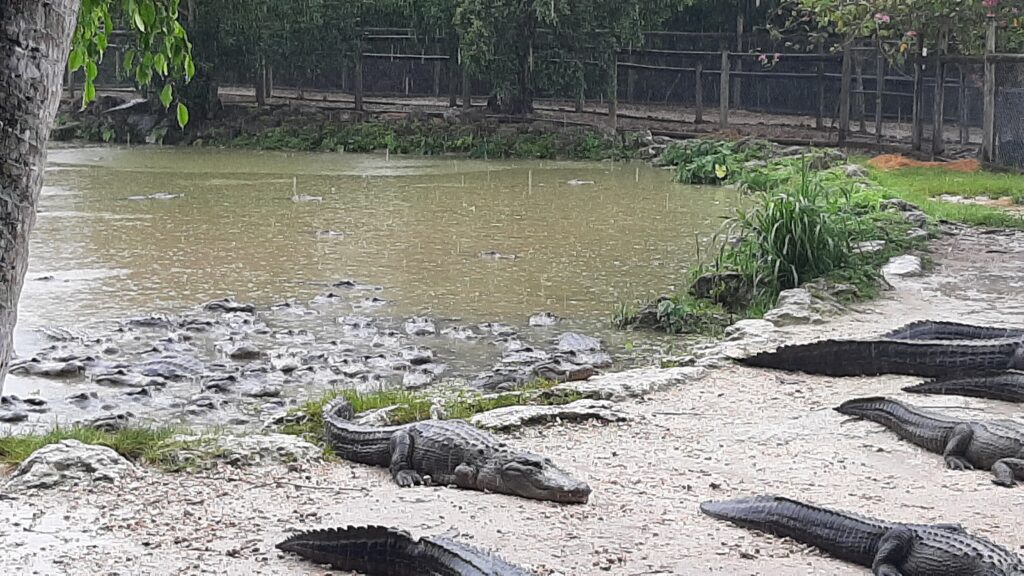 We tried to go to the alligator feeding show at 2:00, but no one showed up except the tourists and alligators. Still, the alligators seemed to know it was that time, and they started crawling onto land and congregating together in the water. Apparently 500 gators live in this pond.
If you to go the Everglades Alligator Farm
Where: The Everglades Alligator Farm is in between Miami and the Florida Keys at 40351 Southwest 192nd Avenue, Homestead, FL.
Cost: Prices vary depending on what you want to do. There is a discount to book online. Plan on at least $22-24 for kids 4-11 (free under 4), and $29-32 for ages 12+. That includes an airboat ride and entrance to see everything.
Amenities: You can buy food at the gater bites kiosk, with hot dogs, ice cream and gater bites. They have a gift shop and you can buy gater food as well.
Also in Florida
Turtle Hospital in the Florida Keys
Fairchild Botanic Garden in Miami
Disney World Tips to make your trip magical