I've been wanting to check out Yotel for some time, and finally made it there when I went to a toy show. One of the nice women working in the information area agreed to take me to see some rooms. I didn't realize how generous she was going to be, as she took me to a lot of rooms to give me a good idea of the various types they have. My kids were in heaven and wanted to stay there.
Yotel is at 10th Avenue and 42nd Street, an easy walk from Times Square (and Port Authority). The hotel is more economical than many, with rooms starting at $149 (in winter, for the smallest room for 2) and going up from there.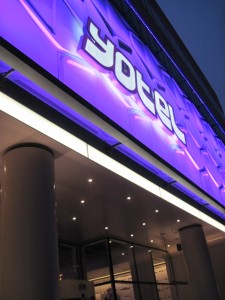 Yotel is a very funky hotel with smaller than average rooms (think cruise ship), and they actually call them cabins. The space is well designed though, and you kind of forget about the size when you realize how much else it offers. Like great design! Yotel in NYC is the only actual freestanding hotel in its group – the other three are airport hotels at London's Heathrow and Gatwick airports, and Amsterdam's airport, where you can book by the hour without worrying feeling like you're in a brothel.