When I told my husband we were going ziplining, he said "In WINTER? Don't they offer it in summer?" I started having second thoughts, thinking about the cold wind in our faces and the waiting time in the snow. But it was a little late to cancel. At the worst, I figured we'd have something to laugh about in our holiday letter -how stupid were we to zipline in the winter?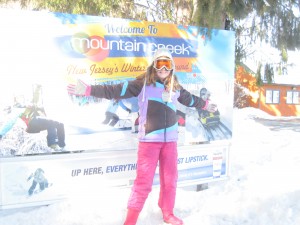 Turns out we had nothing to worry about. The skies were blue, and even with temperatures in the 30s, it could not have been a nicer (winter) day to be "flying."
We arrived at the Zoom Zipline office at Mountain Creek's Cobblestone Village (across the street from the Red Tail Lodge) at our starting time. Inside they had waivers to sign and the harnesses and helmets laid out. They helped us put them on and adjust them, going over a few rules.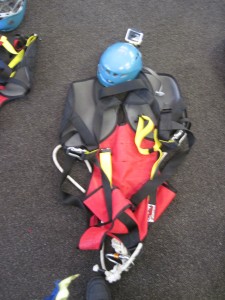 We headed over the pedestrian bridge to the right of the Cab Ride (the lift at the lodge base). The first zip line was a practice one, low to the ground and only 200 feet long. We learned about the correct flying position (seated in our harness, legs straight out, hands wherever you want them) and the landing position (knees pulled in to the chest, hands on the bar above) and we all had a turn. There were 13 of us, so it took awhile.