As I posted earlier this week, we went ziplining at Mountain Creek Resort in Vernon, New Jersey. As part of the package, we also went tubing at Mountain Creek. Last time we went tubing was probably 3 years ago, so we were quite excited to go.
Mountain Creek apparently has the largest tubing space in the United States, if all 30 lanes are open. They weren't all open when we were there (I think I counted 15 open, but don't hold me to that).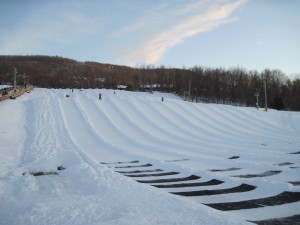 You book a 2 hour window for tubing. Reservations are highly recommended because apparently they sell out. But if you make a reservation and show up late, you still only get your reserved 2 hours. Just so you know.
Unfortunately we missed tubing with Juicy Joe and Teresa Guidice and family, who were there about a week before us. Bummer! I would have LOVED that photo op. Continue reading "Review: Mountain Creek Tubing"