I went to the Sterling Hill Mine and Museum as part of a school field trip, but you can go on your own as a family.
ROCKS
We learned that there are 3 types of rocks.
-metamorphic (created by pressure – heat turned it into something else). Examples: slate, which used to be shale. Marble, which used to be limestone
-sedimentary (silt, sand). Examples: coal, sandstone
-igneous (magma, lava). Examples: basalt
The mountain that's mined is a marble hill, with white and gray stone.
Mine is a marble hill with white/gray stone.
————————————————
[ad name="Google Adsense"]
————————————————
MUSEUM (exhibition hall)
The Zobel exhibit hall, which now is the museum, used to be the changing room for miners. The miners each had a locker with a chain and pulley and basket attached. Each night they'd hang their dirty/wet clothes and pull the chain up, so it would dry overnight.
The kids did a scavenger hunt, looking for five things:
Dinosaur tracks (because there were dinosaurs in NJ WAYYYY before the mining days)
Gold – up until a few years ago there was six pounds on display. Plus fool's gold. But $400,000 of the real gold was stolen in 2011).
Look for the magnetic rock, called magnetite. There's a magnet on top.
While you'll visit a zinc mine, the mine also had Franklinite, Willemite.
And the trick question – 5,000 aluminum cans in plain sight. This was harder – it was a rock that could be melted to get cans for aluminum.
STERLING HILL FACTS AND MORE:
–What rocks are heavy to pick up but small enough to put on your face? You'll find out there.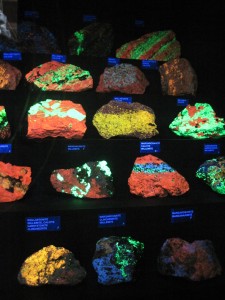 –This mine is known for fluorescent minerals
–They have an awesome periodic table of elements, which shows things made with that element.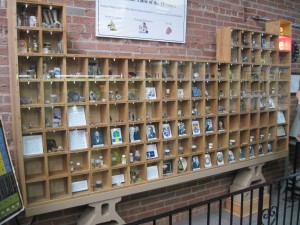 –You'll see the toilet car – 2 seater used in the mine for business.
–If you hit gold with a hammer to flatten it and it breaks, it's not real gold.
–Only 20% of diamonds are clear and used for jewelry. Most common ones are black – used for industrial use.
–They mined zinc here for 140 years, outside and inside the mountain. Zinc helps the immune system, and protects other minerals. It's used to coat steel so it won't rust. A penny is 95% zinc. It's cheaper than copper. It used to cost three cents to make one cent penny out of copper; now they just use a copper coating.
–Rubber tires have 25% zinc oxide. It spreads heat over entire tire so the rubber doesn't melt.
–There's a sister zinc mine in Franklin. This is the last underground mine in New Jersey. It closed in 1986.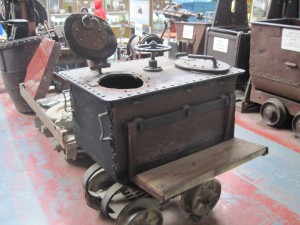 OUTSIDE
Outside you'll see a big structure called a conveyor way. It's 4 feet wide. The other end is brick building, a mill. It crushes rock into sand over a belt and puts in storage tanks to go by train to Pennsylvania by train for processing  (smelting).
INSIDE THE MINE
It's always 55-56 degrees in mine year round. You'll go into an "adit," a tunnel to the outside. The mine has 34 miles of tunnels.  Some have mine shafts. There are vertical and slanted entrances for the workers. The vertical ones have a "man cage" with 4 sides and top and bottom. The slanted entrances have a "man car" when the men can sit or stand, three to a step, like a staircase.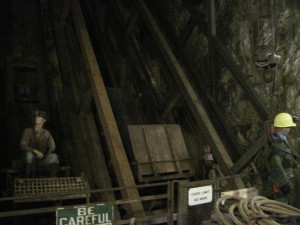 It's wet inside, and water  comes out from pipes. There are three underground pump stations because the mine is flooded at the bottom. Without pump stations, the whole mine would flood. The mine has water in it all the time. It's not toxic, but also not potable.
You'll see stalactites, which show its age. A boy used to guard the mine door. If dad got hurt, his eldest son would take his place in the mine. The rock inside is Franklin marble, which used to be limestone, but under pressure it changes to marble. You'll see bands of light and dark rock. The mine dips easterly which is like a road map to the miners.  You'll see concrete/steel areas which strengthen the mine, where the rocks aren't as solid.
It's 400 feet from our entrance to the lamp room, where the men had lockers and charged their lamps. They used Edison rechargeable lamps. Edison had a mine in Sparta. Before Edison, they used torch lighting, and previously oil lamps and candles. Edison's lamps were safest. If properly charged, they are double insulated. A few wore them around their necks, others wore them on their helmets. Each had 10-12 hours of electric energy. .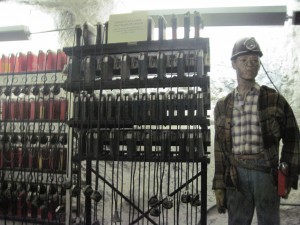 The mine is a half mile deep – like two Empire State Buildings.
We saw the hoisting signals – bells which were run a certain number of times depending on the use. We saw ore cars which are easy to tip, in spite of the size.
We all liked the Rainbow Room, where you chose a rock in regular light and then saw what fluorescent colors it turned when the regular lights went out and the fluorescent lights went on. Don't try exchanging rocks after they do this – the guide will yell at you.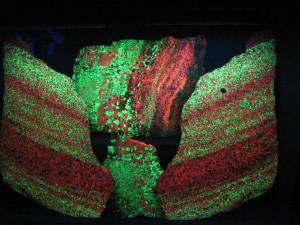 Outside there you'll see a mine pit. The guide explained the colors in the rocks. The red/orange is calcite. Green is willamite (which can be many colors). Black is Franklinite (in fluorescence).
HOW LONG WILL YOU SPEND THERE?
The guided tour is about two  hours, including an hour in the underground zinc mine, 30 minutes in the exhibit hall (museum) and 10 minutes in the museum of fluorescence. There is also outdoor mining equipment you can view.
IF YOU GO:
What: The Sterling Hill Mining Museum
Where: 30 Plant Street, Ogdensburg, NJ
Tour information here. No self-guided tours allowed.
Cost: $10/adult, $8/kids ages 12 and under
Additional Information: Bring a sweater – the mine is about 56 degrees year round.
You can call them at 973-209-6463