**This is the last in our series on Chicago. In this series are our reviews of the Shedd Aquarium, the Willis (Sears) Tower and the Museum of Science and Industry). **
When we stay in a hotel, our preference is a suite – that includes breakfast (and even better for one that includes happy hour). We really enjoy having our kids sleep in a separate area, but not necessarily next door. We often end up at the Embassy Suites in downtown Chicago (600 N. State Street). (While we sometimes get rooms to review for the blog, we paid for this one ourselves).
We were very happy with the rooms, though we did pay the $10/night extra for the city view and weren't impressed with the view. Next time we won't pony up for the extra. Not worth it, even being on the 9th floor.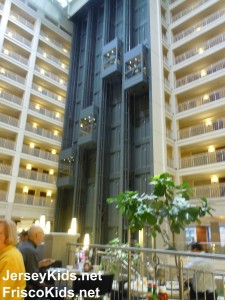 We missed the happy hour two of the three nights we were there, which is a huge wasted opportunity in my opinion. I love a free happy hour (we really enjoyed the one at the Embassy Suites in Philadelphia). Turns out that happy hour is quite the crowd, and people arrive early to grab seats (see below). There were other seating areas as well. As soon as they started lifting the curtains of the bar, the line formed instantly. Would have been nice to sit back and relax, but we had a busy night ahead.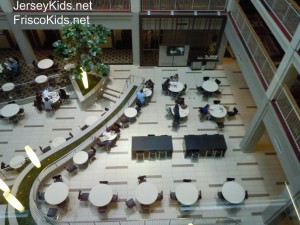 As for the location, you're a few blocks north of the loop, and walking distance of many of the tourist attractions (especially if you don't mind walking). There's a subway stop a block away plus a lot of bars and restaurants.
We had friends come in from Wisconsin for dinner, and the restaurant my friend chose (she lived in Chicago for many years) was the one in our hotel, not just because it was convenient, but because she loves their food. I can't believe how much I ate that night. The restaurant is Osteria Via Stato (Italian) and the portions were immense (we did the 3 course meal). I took food back to the room (there's a mini fridge) so I could eat it on the plane. It was that good. Make reservations ahead of time for Osteria Via Stato – it booked up for Saturday night.
My son was tired after a day of touring, and stayed in the room. We ordered him a pizza ahead of time from the desk outside the restaurant (they have a more casual pizzeria as well), in the lobby, and just brought it up to him – that worked out well!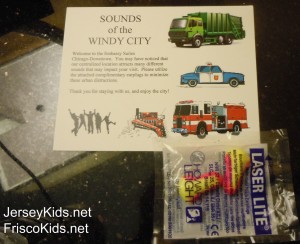 The pool and hot tub were great too. It's a bit loud in there if kids are making noise in the pool, but I stayed in the hot tub. They have towels down there for you to use.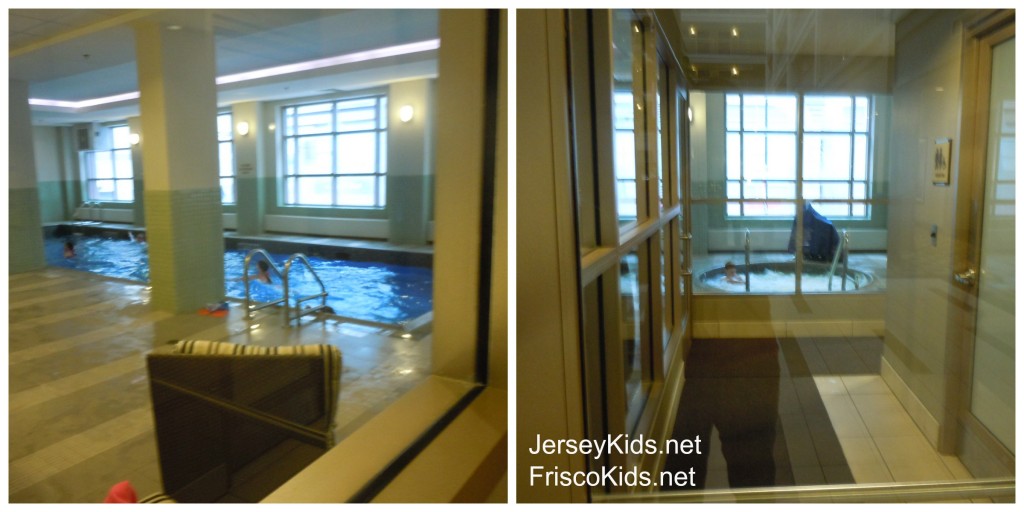 While we didn't need their computers, they have some available in the upper lobby area, the same area as the pool and breakfast/happy hour area.
We were surprised how nice the breakfast was. They had international offerings, like ramen soup, cheese and meat platters with chorizo and fig bars (Scandinavia), tortillas filled with spinach, eggs, cheese and mushrooms (those were awesome), dried and whole fruits, pastries, made to order eggs/omlettes, syrups for coffee, and my favorite – muesli with "warm milk from an American cow." I couldn't tell if they were trying to be funny with the American cow, or just pretentious, but it cracked me up. The seating area was lovely as well.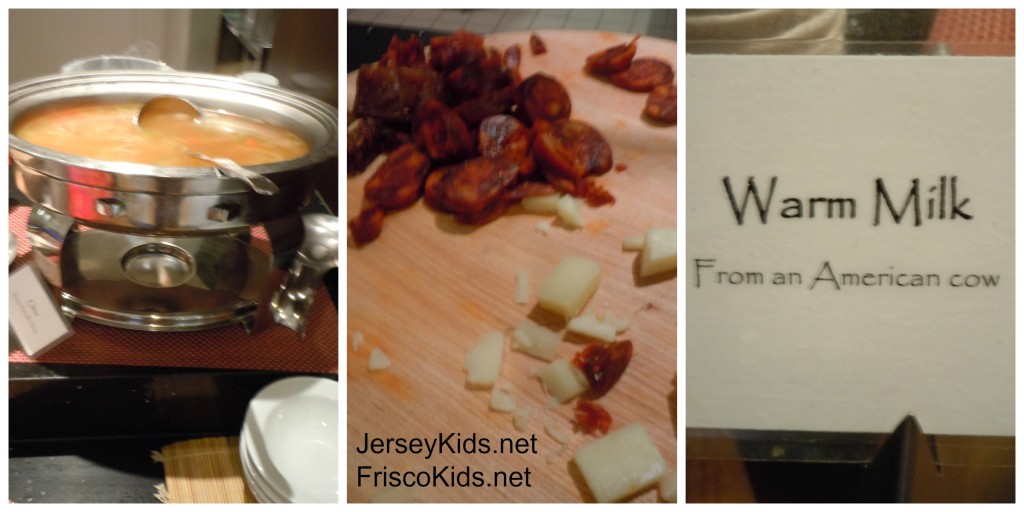 The hotel is conveniently located on State Street, very close to a ton of restaurants and shopping.
Did you know that Groupon is headquartered in Chicago? I've done a ton of posts in the past about their offerings for our sister site, and I still buy and use Groupons (which are a great way to save money when visiting another city too!). They just branched out to Groupon Coupons, using a traditional coupon model (you don't have to spend first, just use the coupon). And no registration is needed. One good offering on Groupon Coupons is Hotels.com, a site I use frequently to book my hotels. Check on the left side of the web page to narrow down by sales or promo codes, and you can probably get a good deal on an Embassy Suites room, or many others in Chicago.
Thank you to Groupon Coupons for sponsoring this post.