We were looking to raft in the Adirondacks near Lake George, and came across the Glen Lodge and Market when researching. Their rafting/lodging special was too good to pass up ($199/person for 2 nights' lodging, breakfasts, rafting day and dinner). We came with 2 families, booking three of the lodge's seven rooms.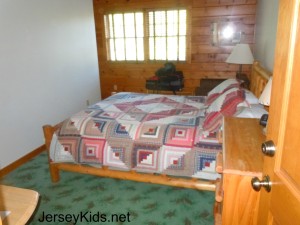 The rooms were all upstairs. They had plenty of space and were stocked with tables, chairs, toiletries and a hair dryer. While not fancy, it was quite comfortable and warm. One treat was Lake Champlain chocolates on the nightstand.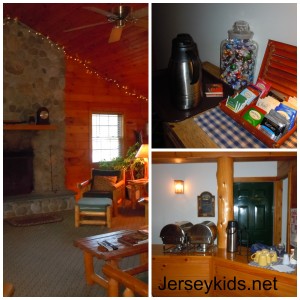 Owners Douglas and Aimee could not have been more welcoming and friendly. The downstairs common areas consisted of a check-in area, dining area for breakfast, great room (only complaint was that it was kind of dark – could use more lighting), a small stocked game room. They had a jar of Lindt truffles you can see in the picture above that we took advantage of! Breakfast was home cooked and served buffet style. When Doug asked us when we checked in if we ate sausage and bacon. When we said we didn't, he offered to make us vegetarian sausage, which was served both mornings. Breakfast was scrambled eggs, French toast or pancakes, fruit and sausage. Plus coffee and juice. In the evenings they also had dessert out (brownies/cookies).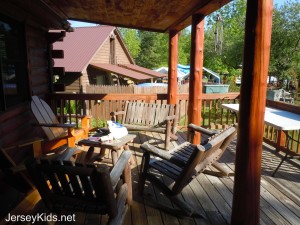 The back porch was a great place to hang out, overlooking the farm animal enclosure and the rafting area.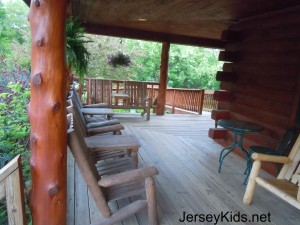 One of the most enjoyable parts about staying at Glen Lodge was the animal area. My son went out there a few times to play with the friendly goats, chickens (less friendly but not mean), and sometimes dogs.  Have you ever had a goat lick your knee? It was a first for me.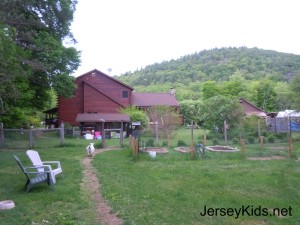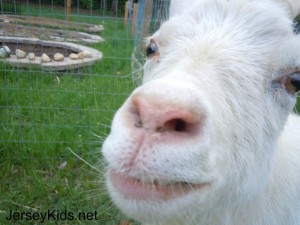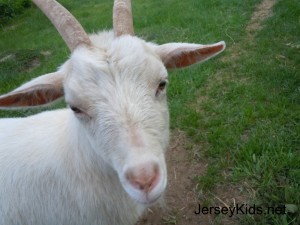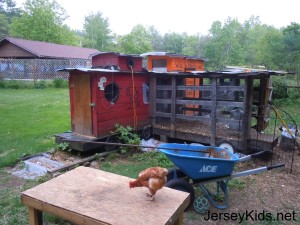 The original lodge burned down around 2001 and was rebuilt. The new lodge is comfortable and had more than enough space.
Doug has run Wild Waters Rafting for 32 years, and it's connected to the lodge, which made it HUGELY convenient. We'll cover the rafting trip in a separate post.
In all, we would totally go back to the Glen Lodge and raft again with Wild Waters. Our stay was comfortable and we enjoyed spending our afternoons/evenings on the porch with our friends. My 12 year old son was thrilled with everything – especially being able to hang out wit the animals, and with the Lindt treats. We took advantage of the game room as well.
Read our review of White Water Rafting on the Hudson River here.
Try the aerial treetops adventure course at Adirondack Extreme. Review here.