This is Mark, Debbie's husband, with a special guest post about a quick Chicago weekend with kids. This was with our son, Zack. First let me say that it amazes me (as a native Chicagoan) how many people have not visited, or only barely visited, one of our country's (actually world's) great cities, when it's just a two hour flight away. Okay, five hours if your flight is delayed like ours.
Chicago Hotels with Kids
Chicago certainly does not lack for hotel options. We've been often, and have stayed at the Chicago Embassy Suites: a good value with clean, spacious rooms, plus breakfast and free happy hour included. FYI – the downtown State Street one is more convenient than the Navy Pier Embassy Suites.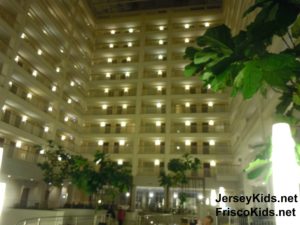 I've also stayed at the newer Virgin Hotel, smack in the Loop, which has a funky vibe, reasonable prices, an even better happy hour, and not outrageous room service prices.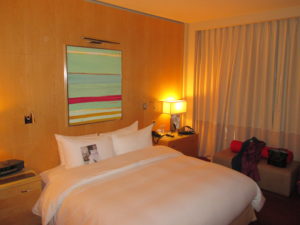 However, this Chicago weekend with kids, it was the Sofitel. While far from budget accommodations, the level of comfort, convenient location to visit my dad, and the delicious breakfasts, made it a good base of operations in the Gold Coast. My only complaint is all the "bonjours" – yes, you're a French chain, but come on, you're in the Midwest. You're not fooling anyone.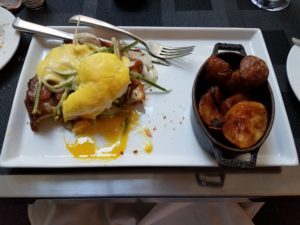 Running in Chicago
I'm an avid runner, albeit not a particularly fast, runner, but Chicago is one of my favorite places to run.  The Lakefront path goes for 18 miles, both north and south of downtown, right along Lake Michigan (you would hope so with a name like that). You lose the path a bit around Navy Pier but otherwise it's easy to navigate.  There's also an enjoyable spur route along the Chicago River, and the people-watching is good, too.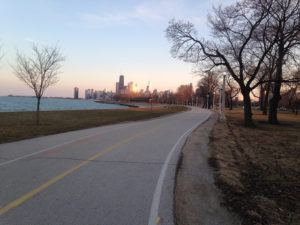 I don't think non-Midwesterners truly appreciate how big the Great Lakes are. If you're motivated enough, it's awe-inspiring to see the sun rise over the lake.
Food in the Gold Coast Chicago
In the Gold Coast area area stopped at a Chicago fave, Do-Rite Donuts, which were delicious, and my son had a hamburger from Epic Burger, which the chain bills as "a more mindful burger." Think: higher end fast food.
Here in the Gold Coast, you're also close to the original Gino's East, my favorite of the many deep dish options in Chicago. Although we did not partake this trip (my NJ son is actually not a deep dish fan), it is a must-try while in Chicago, as I have not seen it done well anywhere else. Admittedly I am biased, and some say deep dish pizza isn't really pizza, like Scott from Scott's pizza tour in NYC. Just be sure to call an hour ahead of when you want to pick it up – yes, it takes that long to bake. And the lines for the restaurant…prepare to wait.
Chicago geography and architecture
Geography trivia time! Chicago is an almost perfect grid (one advantage of being free of any topography), with "0 N/S, 0 E/W" being the intersection of State and Madison. Every "800" is equal to a mile, so 650 North Michigan Avenue (which itself is 150 East), would be exactly one mile from State and Madison. A good time killer if your children are math-oriented. And trivia like this is a good way to drive my wife crazy.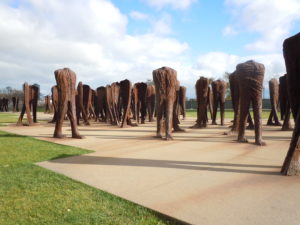 Chicago is an amazing city for architecture.  The Chicago Architecture Foundation has excellent walking tours and river cruises, but that would have been too didactic for Zack.
A new sculptural addition to the scene, on Michigan Avenue next to the Tribune building and opposite the Wrigley building, is Return Visit by Seward Johnson.  It certainly grabs your attention if nothing else, and is a fine example of the artistic vision that can be achieved by inheriting a billion dollars. Luckily for you, dear New Jersey and New York readers, you can experience a lot more Seward Johnson at The Grounds for Sculpture in Hamilton NJ (Jersey Kids review in the link).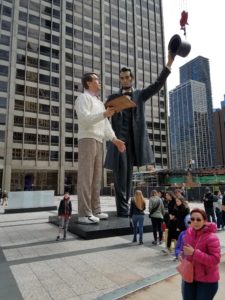 Chicago weekend with kids: what to do
While there's plenty to do in Chicago (as reviewed by Jersey Kids in the past), we went bowling at Marina City, an icon of 1960s architecture in its own right. Like Newark's Terminal C (see below), the 10pin bowling alley went through a big upgrade a few years ago, so now you can drink craft beer and have better (not great, but better, it's still a bowling alley) food options.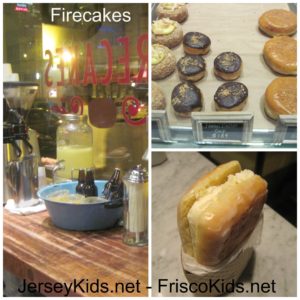 While in this part of Chicago, if we hadn't already gone to Do-Rite Donuts, I would have stopped at Firecakes Donuts, which I must plug because they are exceptional. We also stopped at Marshall Field's….sorry, it's now Macy's (sigh) for Frango mints, which made my wife very happy. Yes, you can get them on the internet, but there's nothing like going to the Mothership. And for the record, it will always be the Sears Tower, not Willis Tower.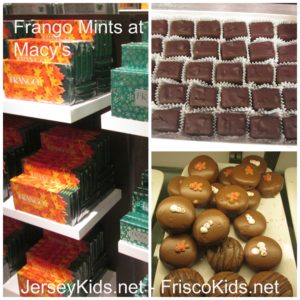 A quick cab ride later, we're at the United Center to watch the Chicago Bulls play the Atlanta Hawks. The game was very exciting – the Bulls pulled ahead to win with two seconds left in the game – which was made even more exciting after halftime when a stranger handed us his row A tickets. This put us super close to the action, just behind the floor seats.  It also put us super close to Olivia Harlan, the Fox (and foxy) reporter for the Atlanta Hawks. Ah Zack, you were on the wrong side of puberty that day.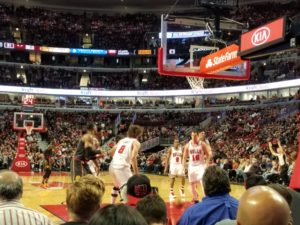 More Chicago Food
Following the game, my friend wanted to eat at Swift and Sons, as he had done some trademark work for the owner. The place was beautifully decorated and quite the scene. The scallops were delicious and the bartender made an excellent dark and stormy, but I confess the porterhouse was good but not outstanding. Not wanting to ruin our streak of vitamin-free eating, it was then back to the hotel to call it a day.
On the way to the airport on Sunday on the way home, we stopped for lunch at Portillos, another Chicago institution. Although you can find them all over Chicago, with a wide-ranging menu, they started with hot dogs, and Zack certainly loves hot dogs. We washed down our dogs with their chocolate cake shake, which is exactly, and exactly as tasty as, what it sounds like.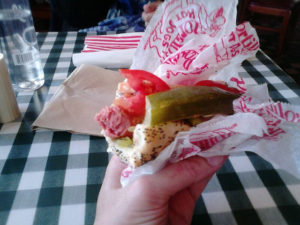 Last, but not least:  Terminal 1 at O'Hare. In terms of amenities, it falls between terminals A and C at Newark, closer to C than A (see below).  Rather than risking airline food, I bought a chipotle chicken sandwich from Tortas. Rick Bayless is the king of upscale Mexican Chicago dining, and Tortas is a welcome addition to airport dining (it's also at terminals 3 and 5).
We also had the time to get the Chicago mix popcorn from Garrett's (50/50 cheese corn and caramel corn – yum!), though technically they can't call it Chicago mix, because that is trademarked (and not to them) so they call it Garrett's mix. Whatever. The popcorn also made my wife very happy. Did I mention I like making my wife happy?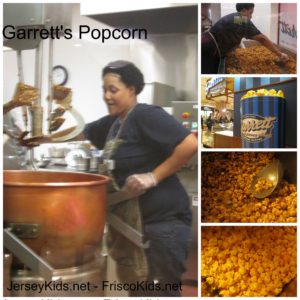 Newark Airport Dining
This should have come at the beginning of our Chicago weekend with kids, but since it was a Chicago post, I started with Chicago instead of Newark. I mentioned that long delay getting out, so we had plenty of time to explore Newark's terminal C.  Compared to terminal A, which has all the charm of the New Jersey Turnpike, terminal C is a delight. Terminal C has recently undergone a massive upgrade and has lots of upscale dining options. Me being a craft beer guy, and both of us liking sushi, we killed some time (and lightened my wallet) at Caps Beer garden.
It was novel and fun to order from the iPads located at each chair. The Ommegang on tap was delicious, the sushi was good, and the Shirley Temple was appropriately red. It was also not cheap – that order set us back $80 – but it was a great start to the trip, which as you saw, was filled with lots of tasty (and not particularly healthful) dining.
Newark parking tip
Final expert tip: when parking at Newark, park at P4 if you're flying out of terminal C. P4 is more expensive (although it's covered, so potentially worth the trade off) but it will save you a couple of stops on the AirTrain. Conversely, park at P3 when flying out of Terminal A.