**This is part of a series on Philadelphia with kids. Please see all the posts in the series here, or check the bottom for individual links.**
The two times we've visited Philly with the kids we stayed at the Embassy Suites in Center City Philadelphia. As I mentioned in my intro Philadelphia post, our ideal hotel is one offering economical suites (so we don't have to share the bedroom with the kids), one with a free happy hour, free breakfast and a hotel that's convenient to the sites or public transportation. The Embassy Suites is all that in Philadelphia (and FYI – we are not receiving any compensation for posting this, and we paid full freight for our room).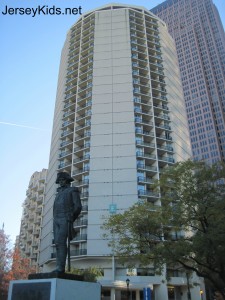 The hotel is on the Ben Franklin Parkway, in close walking distance to everything we did on the trip. It's close to the Franklin Institute (kids' hands-on science museum), Barnes Foundation and Rodin Museum. It was walkable to Independence Mall (about 20 minutes at a good pace), the Eastern State Penitentiary (maybe 20 minutes? We stopped en route at the Rodin Museum) and if you like walking (we do), you can walk to South Philly from there too.
The building is noticeable because it's round. Its interesting history. It used to be an apartment building, where Wilt Chamberlin, and Jack Kelly (Olympic rower, and brother of Grace Kelly) once lived. Architect Oskar Stonorov designed it. He, along with famed architect Louis Kahn formed the Philadelphia School of Architecture, aka the "International Style."
What's most important to you, however, is probably the room. Our room (both times) was quite spacious. What you can't see in the photo above is the long entryway (which I guess you need since it's a wedge-shaped room, the hotel being like a pie). You can see the sofa which turns into a bed, a desk, table with 4 chairs, and another comfie chair. The balcony looks out onto the city. It was a little chilly to hang out on the balcony this trip.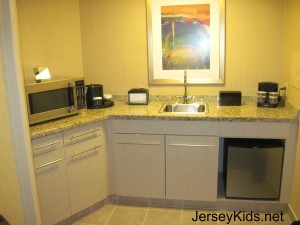 The room also has a kitchenette, which we didn't use.
————————————————
[ad name="Google Adsense"]
————————————————
The bedroom has a HUGE closet, bed, side tables and TV. There was plenty of room in there.
Obligatory shot of the toiletries. They're Crabtree & Evelyn.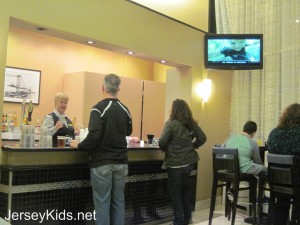 Best part is the happy hour. Yes, that's a stocked bar with bartender. I encourage you to arrive early to stake out a table/chairs if you want to spend any time there. It was CROWDED. The first night (a Thursday) was full of families, probably all from New Jersey and also there for the teachers' convention break. We saw one family we knew, who we didn't expect to see. They served mini Philly pretzels with mustard, snack mix, chips/salsa and maybe something else. Combined with being full (still) from our Reading Terminal Market lunch, this consisted of a perfect dinner for me. Snacks plus cocktails.
The Friday next night they had a different selection of snacks, and clientele seemed to be people there on a reunion. No more families. Unfortunately we missed happy hour on Saturday night. Big bummer for me.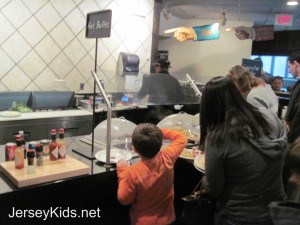 Breakfast is served at the TGIF restaurant in the building. You get breakfast coupons when you check in, for each day. The restaurant had several breakfast bars including an eggs/omelette station, and a few areas where you could serve yourselves scrambled eggs, bacon/sausage, oatmeal, fresh fruit, oatmeal, cold cereal, pancakes/French toast, and other items. They had danish and various breads for toast (bagels, English muffins, sliced bread), a juice machine, coffee, milk and hot chocolate. Part of the fun was finding a place to sit, since it could get crowded. But it was an impressive breakfast – especially for one that was included.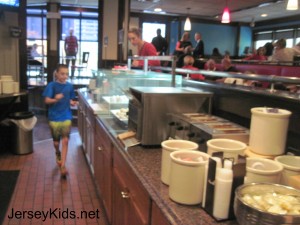 The other "best part" of the hotel, which I put in quotes because it's a dubious honor, is figuring out which elevator in the well will come first (choice of three). We placed bets each time we had to wait for the elevator, and it was a crapshoot. One morning we waited so long for the elevator that my family took the stairs 10+ flights down, while I waited, convinced it would come soon. They beat me down. The elevator was incredibly packed, but I shoved myself in anyway. Ironically, it's the same elevator that previously opened once and was fully packed, so I hadn't gotten in. Not sure what happened to the other two.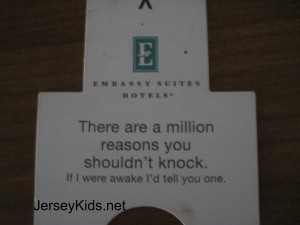 The Embassy Suites has free wi-fi in the hotel lobby, but you have to pay for it in the room. There's a fitness center (didn't see it). It's walking distance to a SEPTA (subway) station, and close to 30th Street station, which is home to Amtrak and New Jersey Transit.
They have expensive valet car service ($48/day). We parked in a private lot just behind the hotel (they likely won't tell you about it). It was on Cherry and 18th (1717 Cherry Street). If you pull into the driveway for the hotel to drop your things off, make a right onto Benjamin Franklin Parkway when leaving, and make an immediate right, which is Cherry. The parking lot is just on your left. You can park on the weekend, though be warned that on weekdays it's very crowded with the business set. We had a hard time finding a spot, but when we picked up our car on Sunday, the lot was empty. If you're willing to walk further, you can find a cheaper spot. I think we paid about $90 for Thursday morning to Sunday morning parking – not moving the car. Find Philadelphia parking lots here.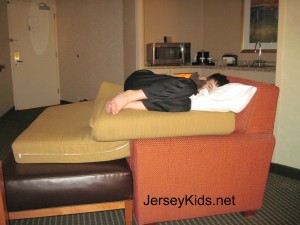 Where: 1776 Benjamin Franklin Parkway, Philadelphia. Reserve your hotel at the Embassy Suites website. You may want to look through the hotel booking sites to make sure you got the best deal available. I can't recall why we used a hotel booking site instead of the hotel website, but I know there was a reason.
What's your favorite hotel in Philly?