Let me start off by saying you should not do a 2 hour boat tour with kids who can't sit still for several hours. Lesson learned the hard way.
Normally a slow boat tour is not something I'd sign up to do – especially with kids. However, a friend was visiting from California, and she wanted to find something her husband hadn't done in New York City before. .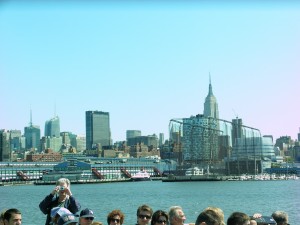 If you try searching for Circle Line boat tours, you might find that there are two locations – Circle Line at the 42nd Street pier, and Circle Line Downtown, at South Street Seaport. In spite of having the same name and similar cruises, these are different companies. Go figure. If someone could tell me how they can run the same type of business with the same name, and not be hit with trademark issues, I'm all ears!