We've been busy zoo hopping during the past year – the Philly Zoo, Prospect Park Zoo (reviewing coming soon) and more. We finally made the trek to the Bronx Zoo, and didn't even make it through the whole thing. But here's what we saw.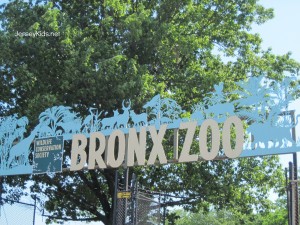 We started off checking out the winged friends. The flamingos are a favorite. You may not know that what we think is their knee joint is actually their ankle.  The knee part is under the wings. And you probably do know that they get their feather coloring from the food they eat. The flamingos eat by putting their beak in the water and straining out fish, vegetation and tiny invertebrates. Their tongues pump the water in and out.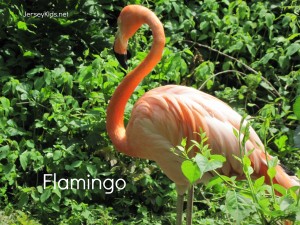 These vultures have a six foot wing span. The exhibit said that September 5th is International Vulture Awareness Day, so plan ahead. Or do it on September 1, which what the actual website said. Vultures provide the valuable service of picking clean carcasses of decaying flesh that otherwise might spread disease. They have a lot of acid in their stomachs that kill the germs.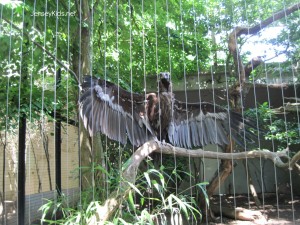 These are not baby flamingos, but rather scarlet ibises. The babies (nestlings) are born with dark grey down, and they get adult feathers a few weeks later. They don't  get the orange feathers, though, until 4-8 months of age. They use their long beaks to poke the mud for crabs, insects, mollusks and other food.
We love the California Sea Lions who were swimming around in their pond.
The Madagascar exhibit was fun. Here we watched the lemurs hanging out on the branches and jumping about. The baby lemur was adorable, and spent some time on one of the adult's backs.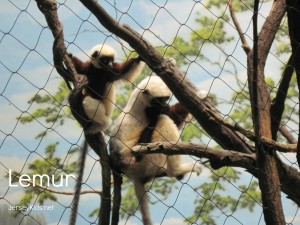 This is a red lemur. When we entered the room, there was the loudest screaming sound coming from their exhibit. I'm not sure what they were doing, but it sounded like they were all yelling about something. It was unreal. Some of them lazed around on their backs, paws in the air lying on a branch. Other groomed each other.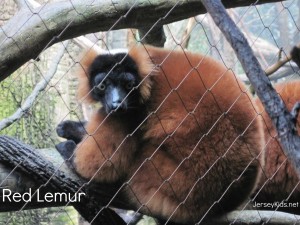 ————————————————
[ad name="Google Adsense"]
————————————————
This is one of the historic buildings in the zoo. It was beautiful. Inside we saw a few frogs (see below), as well as two rhinos.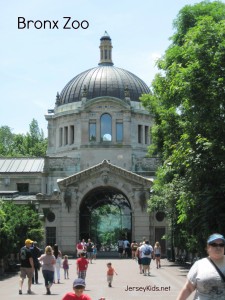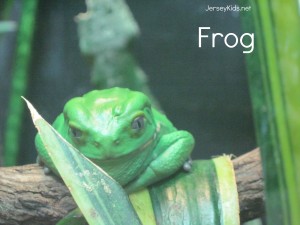 The Congo Gorilla Forest was my favorite part. There is a separate admission fee, and the money goes for conservation activities. Inside we saw a few adorable colobus (not sure of the plural!. It was picking leaves on our side of the fence, and eating them in front of us.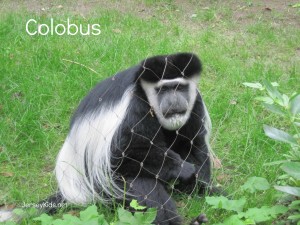 I'd never seen an okapi before, but here it is (face covered). It looked like it had zebra legs and a horse body, and what looks like a giraffe head (sorry it's hidden in the picture below!). It's actually the only living relative to the giraffe. There's some information about the okapi on the San Diego Zoo site as well as the Bronx Zoo site. The Bronx Zoo had a live okapi birth in 2011 – captive breeding (and pregnant for 14.5 months!).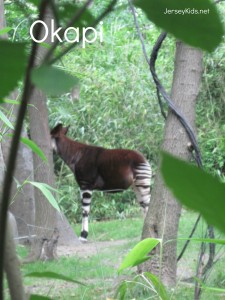 The gorillas were fabulous to watch. The romped around, eating (up to 40 pounds of vegetation a day) and playing (and lazing) in front of us.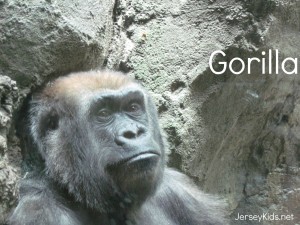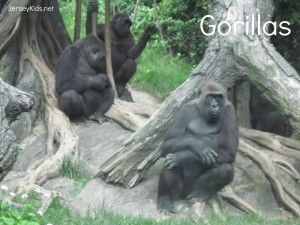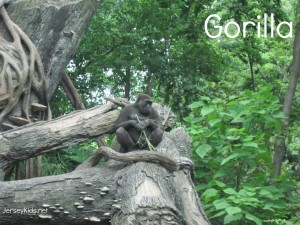 While we didn't participate in the activities, there is a big schedule of performances and animal feedings. We saw a parade of bugs/characters going through the zoo. Plus character appearances. There's also a family-friendly performance Animal Zoo (a performance by the cast of Avenue Q (which is decidedly NOT appropriate for kids). Check out the Bronx Zoo calendar before you go, so you can make your plans. The schedule changes frequently.
IF YOU GO:
Tickets: They offer an array of ticket prices depending on your needs. The basic ticket is $16/adult, $12/kid,  but they make it very difficult to find these prices (they're not on the website), and even the ticket booth sign pushes for the all-inclusive ticket price. Just so you know. If you go for the all-inclusive package, you can save 10% (a few bucks) by buying your tickets online. All-inclusive tickets are basically $30/adults, $20/kids, and you'll save $3 buying them online. All-inclusive tickets include the train shuttle, the Congo gorilla forest, the 4-D movie (currently Dora the Explorer), butterfly garden, children's zoo and more.
Extras: Camel rides are $6. The carousel is $3 (included in the all-inclusive ticket).
Discount Bronx Zoo tickets: Each Wednesday is suggested donation. They suggest $16/adult, $12/kids, and you'll pay extra for some exhibits/shuttle ride. They offer special discounts for some programs, like Boy Scouts, Girl Scouts, Bright Horizons daycare families, and some others. They also have a coupon in the Entertainment Book with zoo discounts, though it's very specific on which days you can use it (not the weekends).
Membership: get a membership to the Wildlife Conservation Society, and you get free entrance to the Bronx Zoo, Prospect Park Zoo, Central Park Zoo, Queens Zoo and New York Aquarium. Membership includes other perks, like free admission to some paid exhibits/attractions, free parking passes, a t-shirt, and discounts at the stores. Plus you can avoid the ticket line.
Food: You can bring your own and eat at their picnic tables. There are a variety of restaurants and snack stands as well.