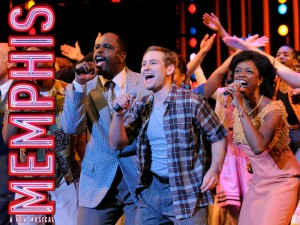 We took advantage of Kids Night On Broadway (still going on this week!) and got tickets to Memphis the Musical, one of the few shows still available (on Super Bowl Sunday) that we hadn't seen AND that was appropriate for a 10 year old. 
We heard rave reviews about it, plus Memphis won the Tony for Best Musical (and a few others as well) in 2010. The plot is relatively simple. Poor, white high school drop-out has pluck and personality. He "discovers" a female black singer in a black club he's not supposed to go into. He falls in love with her voice (and then with her), vowing to get her on the radio. He does so, and romance ensues. Of course this is the south in the 1950s, when the racial divide mean that black/white marriage is illegal (and romance is dangerous). He becomes the first white DJ in Memphis to play black music, and helps start a U.S. movement. Will their love survive? Will she make it to the big time? You'll find out in the show.
My daughter and I really enjoyed the show. The frequent dance numbers were fabulous. Montego Glover, who played Felicia, had a beautiful voice. She sounded better, more powerful, however, when the band wasn't playing. When the band played, it drowned her out and did not showcase her voice.
I always get concerned when I find out the understudy is playing the lead. I've never been disappointed before, though, and wasn't this time either – with Kevin Massey playing the male lead of Huey Calhoun. He was awesome and you'd never know he wasn't the guy meant to play that role
BEST PARTS: The dancing and the staging. Tons of dance numbers and they were great to watch. The staging and set were creative and inventive, with radio DJ booths dropping from the ceiling, multipurpose columns moving around the stage, a below-ground club (with a the raised street shown through a 'window,' where you could see views of people's feet/calves walking by) and people rising from below stage to the stage level on small platforms, like in a dream.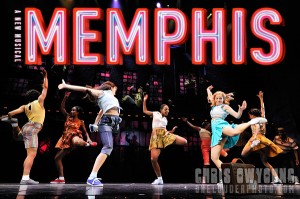 APPROPRIATE FOR KIDS? Yes. It's a good lesson in the racial divide from the 60s, and how those changes are made in small measures. There was only one sexually suggestive scene, where the characters were seen in undergarments (not too revealing) and talk about them being lovers. A little uncomfortable when sitting next to your kid, but nothing terrible. There were also a few bad words that made my daughter giggle.
Other Jersey Kids Broadway reviews:
Imaginocean (off-Broadway)