Our recent trip to Glassworks in Morristown was a resounding success, and now we can't wait to go back. We went as a Girl Scout activity, and saw lots of families making crafts together. They have a party room set up as well.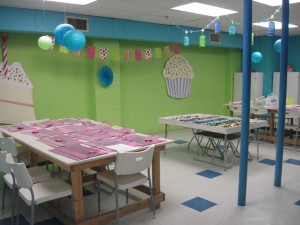 The space was quite large, with several tables seating 10 set up. We had a choice of three projects (set up with our troop leader ahead of time), so we all chose which item we wanted to make, and the staff person explained how to do it.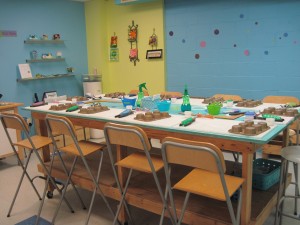 These were our choices: a votive candle holder, a magnet (the item on the top left), an ornament (top right), a barrette or a charm necklace. These cost $15-20 each.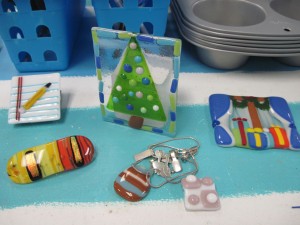 ————————————————
[ad name="Google Adsense"]
————————————————
Each person got their own muffin tin to gather the right glass supplies. All glass we used was included, though the little balls on the bottom right were limited to 15 (or was it 10?) per person.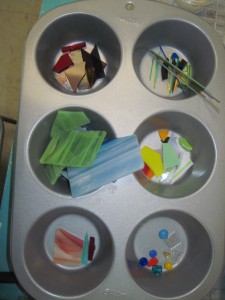 The shop had two areas to gather glass – one had larger pieces of glass and one had smaller pieces, sorted by color. You need to dig through the assortment using a piece of glass as the scooper. It's easy to get cut here.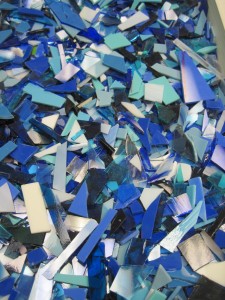 These were the glass beads which were around the same size, but slightly different shapes. You can ask that hey be fired flat or left as textured for a different result.
While we didn't touch these larger pieces of glass, you could see them in the studio.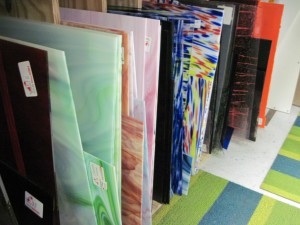 More of the studio, below. The table of small glass pieces is in the center, along with the glass sticks and beads. The area in the back is for use by employees.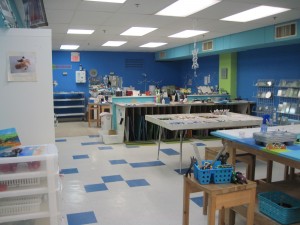 The studio helper showed us how to cut and break the glass. We had a special tool that scored the glass, where we wanted the break made. We then used this tool to clasp the glass and press hard, making it break along the scored line. That was fun!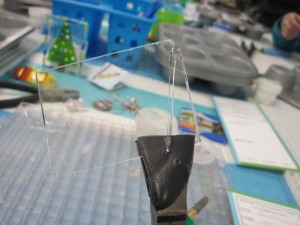 There are plenty of samples around the studio to give you ideas for what you might want to make. The sample below was my inspiration.
My daughter made a votive candle holder. The piece below will be fired, and then glued onto the candle holder.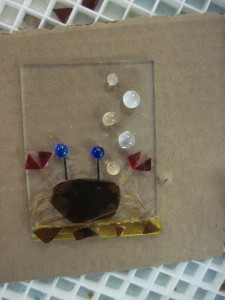 In addition to the glass provided, the studio sells glass items you can add on to your piece, like little penguins, and other items.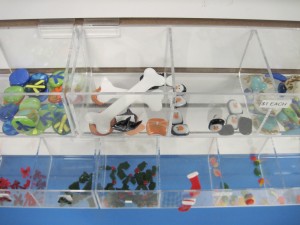 We loved the slice of pizza!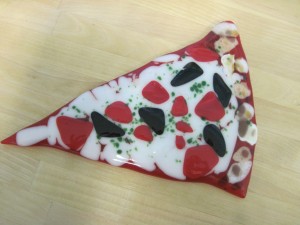 Unfortunately it takes up to a week for your glass fused item to be ready, since it has to go into the kiln. Here are items ready for pick-up. I believe they will ship your item if it's not easy for you to pick up, though you'll pay extra for that. Here are completed pieces ready to take home.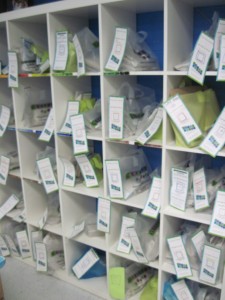 The bathroom was a lot of fun, done in a mosaic under the sea theme.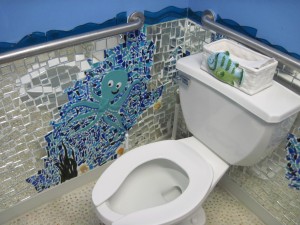 The scoop:
Parties – Prices start at $360 for 12 kids and goes up from there. You get use of the party room for at least 90 minutes, paper goods, use of a staff member, instruction, goody bags and materials for a project for each guest.
They also do team building events, field trips, group classes, etc.
Every Wednesday from 5-10 is adult night. Not sure what the cost is for that.
Take a class (kids or adults) and make a specific special project, many seasonally or holiday related. Prices and times vary.