It seems like there are two state fairs in New Jersey. There's the
State Fair at the Meadowlands
, and the
New Jersey State Fair Sussex County Farm & Horse Show.
The latter is August 6-15, 2010. It has the stuff you might expect from a state fair, like a demolition derby, home arts, baking competitions, artistry using a chain-saw and wood, animal shows, lots of 4-H activities, lawnmower racing, a farm tractor pull, taxidermy, model trains, robotics, cyclocross bike racing, quilts and more. Oddly, there's nothing on the website about rides and games.
We went to the  State Fair at the Meadowlands. It's open until July 5, 2010. It has rides, entertainment and games. We did a daytime excursion, as part of a company summer event. It was so hot we spent a fortune on drinks. This was our first State Fair in New Jersey, and to be honest – it was really small! I've been to county fairs that were much bigger. And I really missed the 4-H kids and their animals, the hobbyists and the vendors inside their own building, hawking all kinds of dishwares and housewares. Apparently, though, it's the largest fair in the New Jersey, New York metro area. (Note: the reader who commented so politely below points out that this is actually not the REAL state fair – this one is actually a for-profit carnival).
Okay, then. Here's my review of the State Fair Meadowlands – with kids.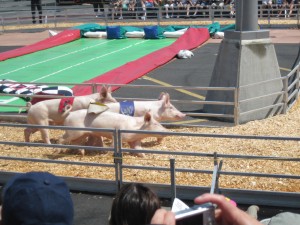 LIVE SHOWS – the shows are all free with admission. We saw the Sea Lion Splash – very cute. They have three sea lions who jump, dance and do other tricks for you. The show is about 15 minutes long and kids can stand up front to watch. We missed the BMX Stunt Show, which looks like fun. It goes through the end of the fair. Hypnotist, Steve Bayner is funny. The Batcopter aerial show runs daily, and you can get a 2 minute ride for $30. The racing pigs were a lot of fun, also about a 15 mintue show. Check the schedule before going – the shows change daily. Continue reading "The New Jersey State Fair – with Kids"