I went to Sojo Spa a few times before Covid, and finally got back this spring. Some was the same, but like all things with Covid, some was different. Here's what to expect if you go to Sojo Spa after Covid!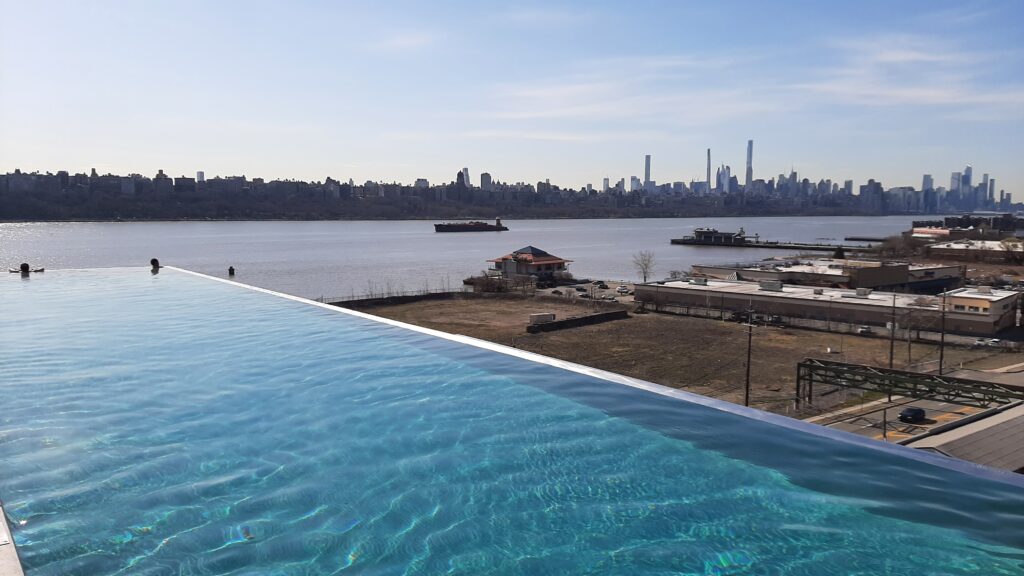 Reservations for Sojo Spa
First, and I cannot stress this enough, MAKE A RESERVATION. Like many things with Covid these days, reservations are essential. A friend came in town so we could visit Sojo together. I'm so grateful she made a massage appointment. I looked at the site and considered making a day pass reservation but didn't think it would matter. We planned to arrive around opening time on a Monday. So if they filled up, we would not be affected.
I did not expect to bring the car to the Sojo valet that morning and find out that they were not accepting walk-ins. The website says "reservations are highly recommended. Walk ins are not guaranteed and on high volume days are not permitted." Lesson learned. It was super crowded that day – on a Monday in March! ON A MONDAY. Fortunately they let me in.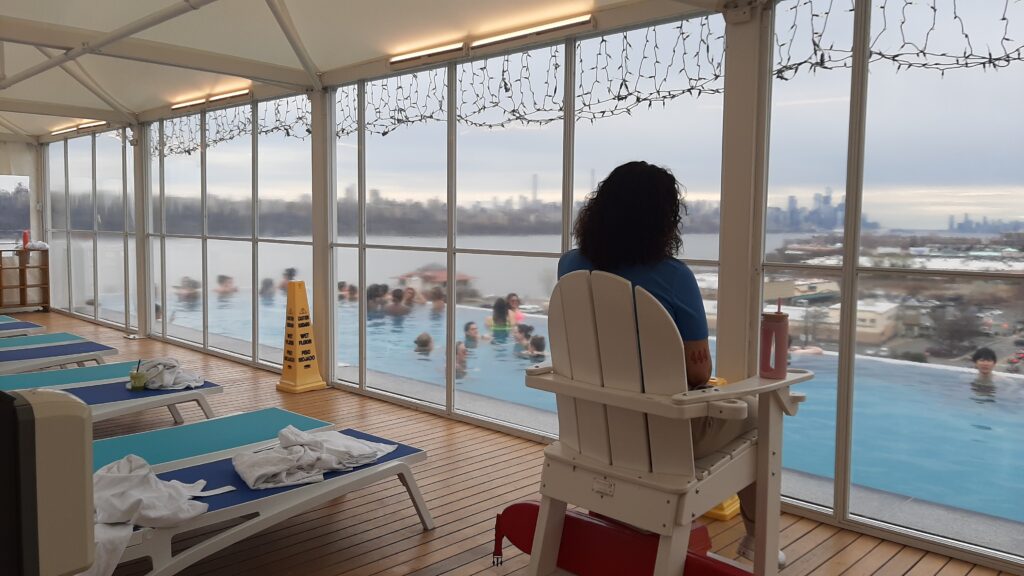 After checking in and getting settled we headed to the infinity pool. First thing in the morning it was not crowded. Yes, it was cool outside (hence the temporary enclosures). The infinity pool is around 94 degrees. So warm, but not hot. We enjoyed the quietness and the view. The early part of the day was at the top photo – the one directly above was later in the day.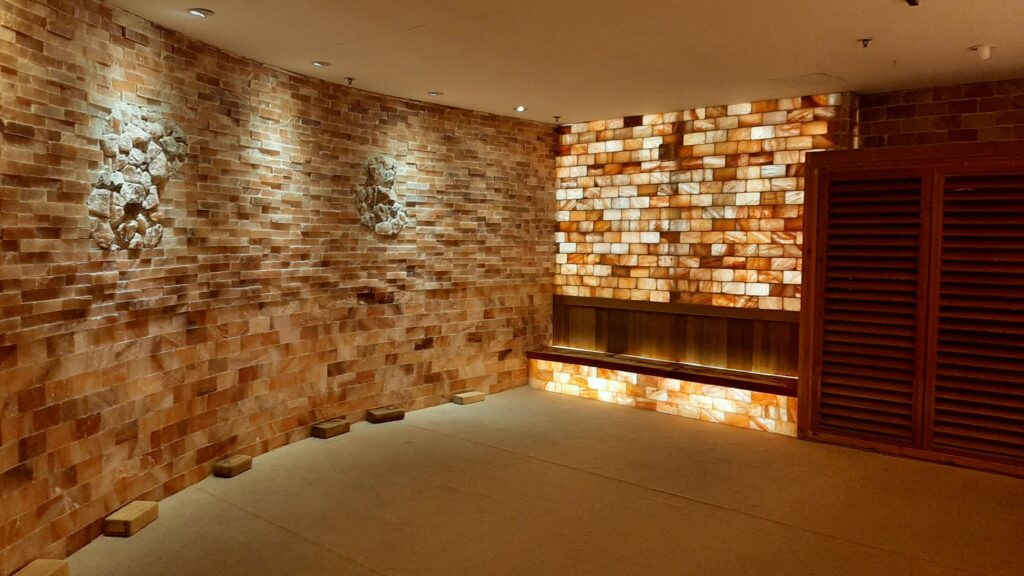 The saunas at Sojo Spa
By the afternoon, the saunas were quite crowded. On a Monday. I managed to get pictures in the morning when we were walking around. By afternoon, people were sitting on the bench in the photo above, waiting for a floor spot to open up.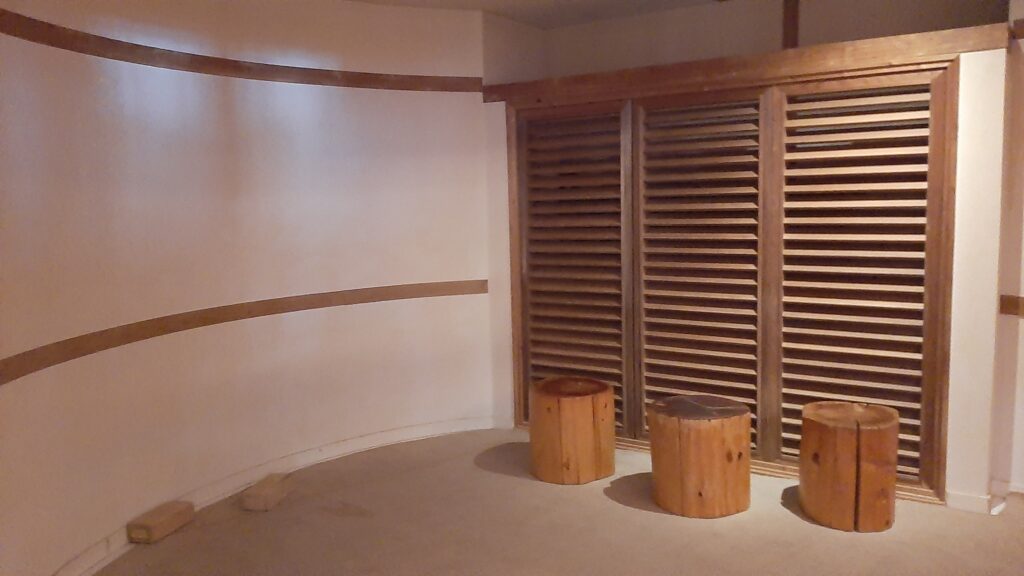 Again, the picture of the white clay spa was taken early. By afternoon, we didn't go in because it was jam packed with people.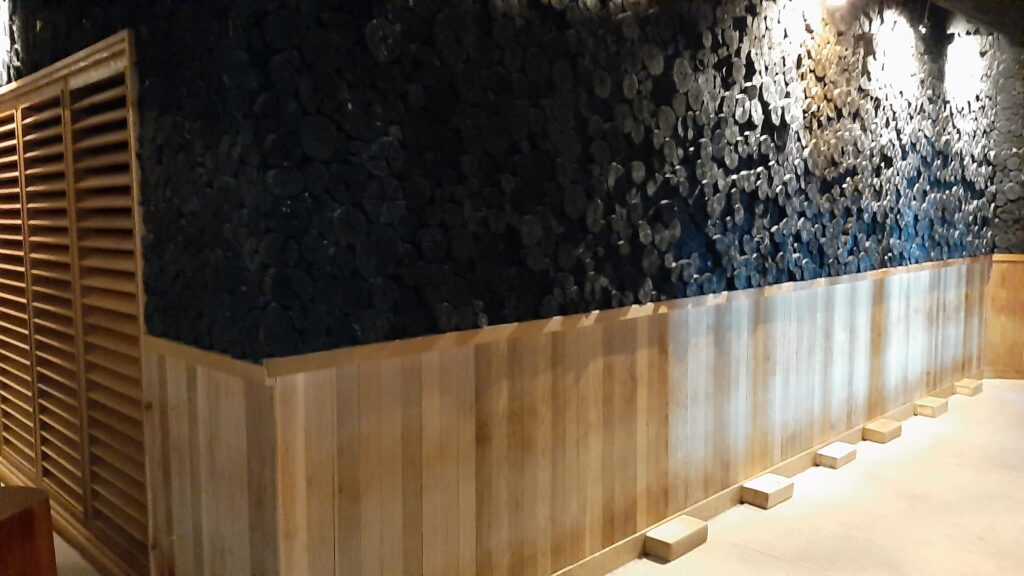 The charcoal sauna is a lot darker than the others. The light you see in there is because I had the door open.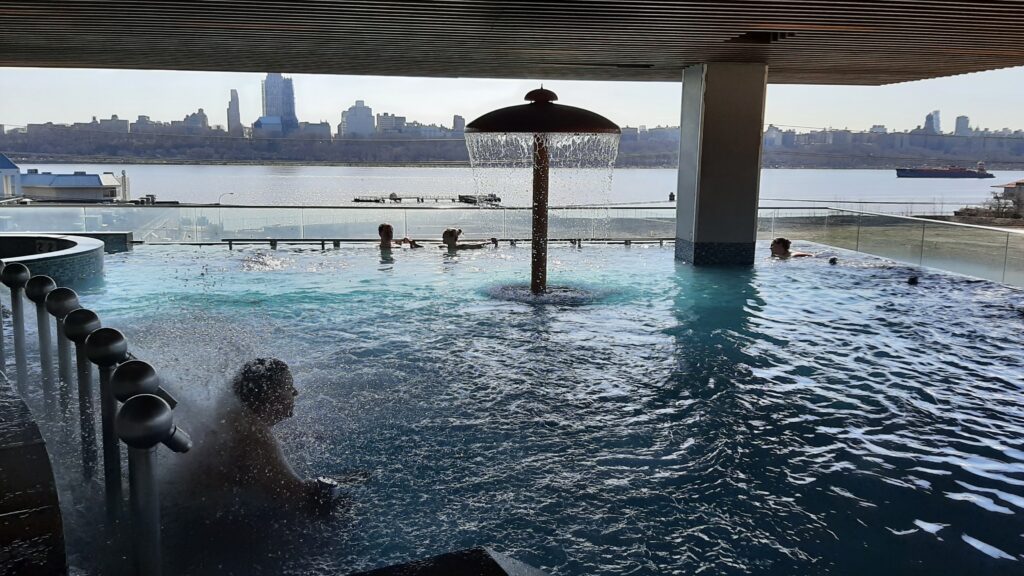 Water amenities at Sojo Spa
The hydrotherapy area is lovely and there are a lot of jets to choose from. On the left, they are super powerful. They have enclosures to sit in on the far side and the right, where you have individual jets and a little seating area to yourself.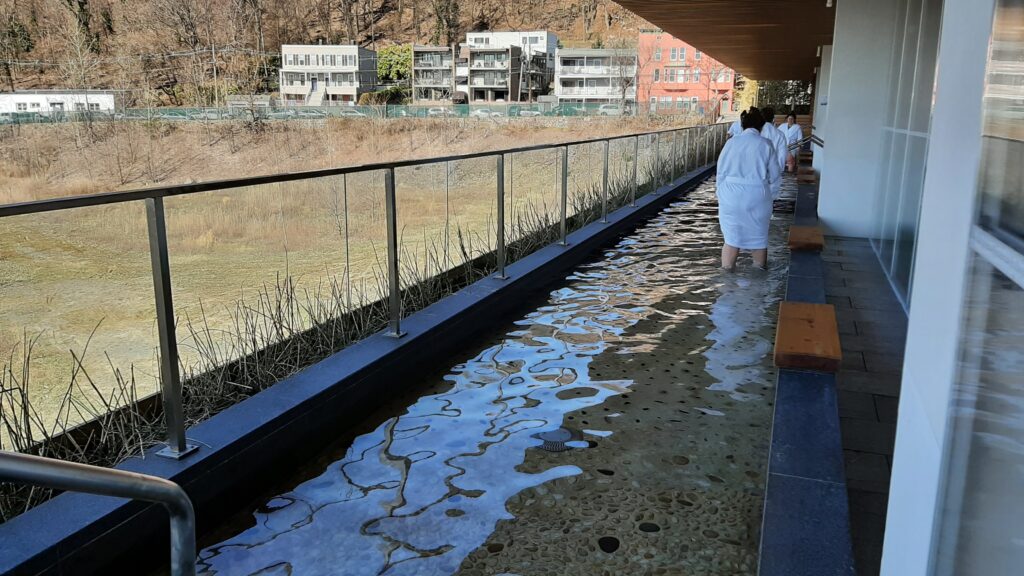 We're not big fans of the foot massage path because we think it kind of hurts and is not comfortable. But many people like it. There are rocks on the bottom that can massage your feet as you walk. There are two parts – one is less painful that the other.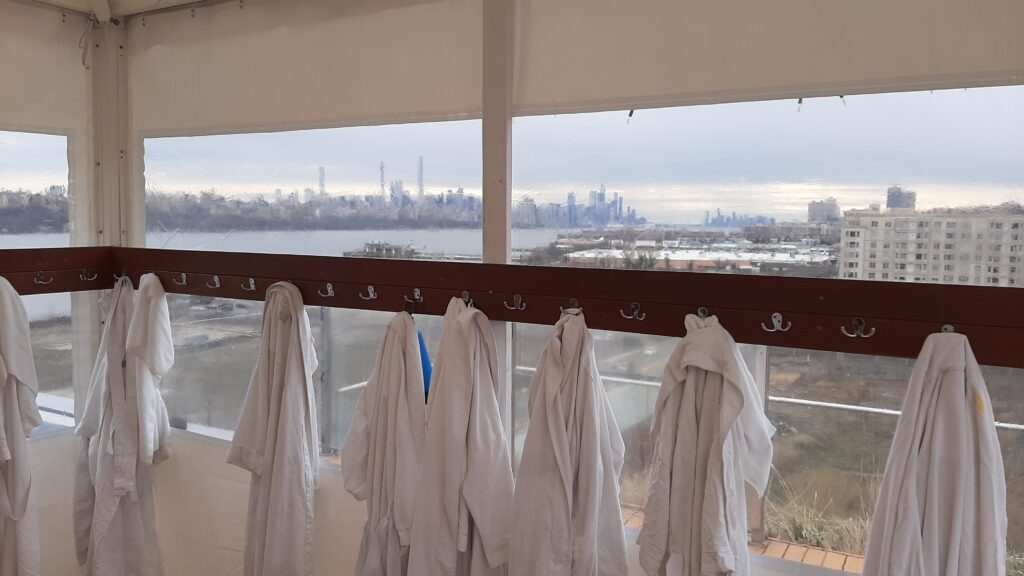 Sojo Spa has many places to hang your robes. The robes all look the same. We brought ribbons to attach to ours so they could be easily identifiable to us and to others. Also I don't recommend leaving your phone in your pocket for that reason. They have a lot of phone lockers scattered around, though sometimes it's hard to find an empty one. Unless you plan to take pictures (it is very scenic), leave your phone in your regular locker.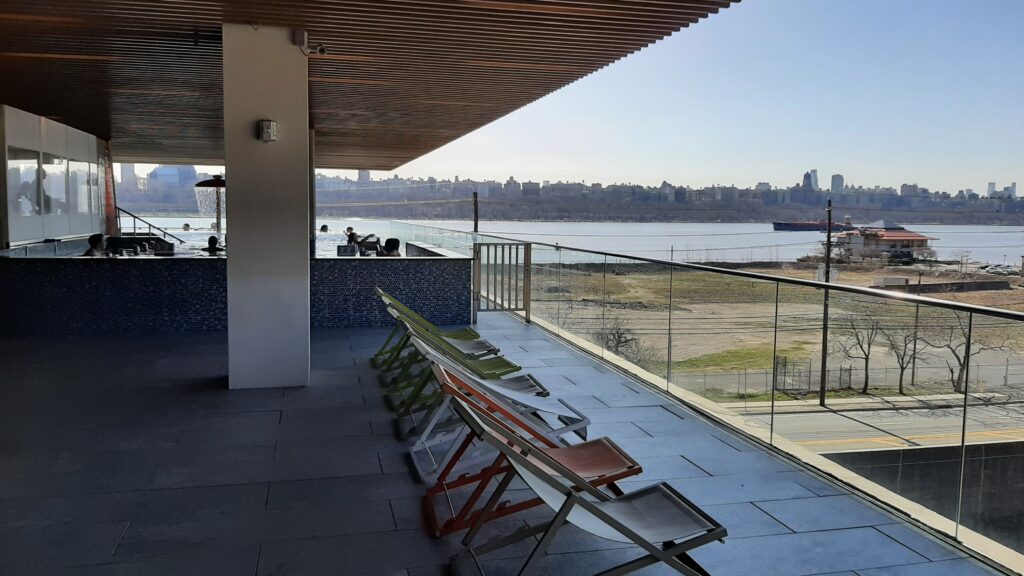 Dining at Sojo Spa
In spite of the crowds that day, we did not have to wait too long for our food and there is a separate dining area behind this room on the left with additional seating. You are not allowed to bring in outside food, and the food here is kind of pricey.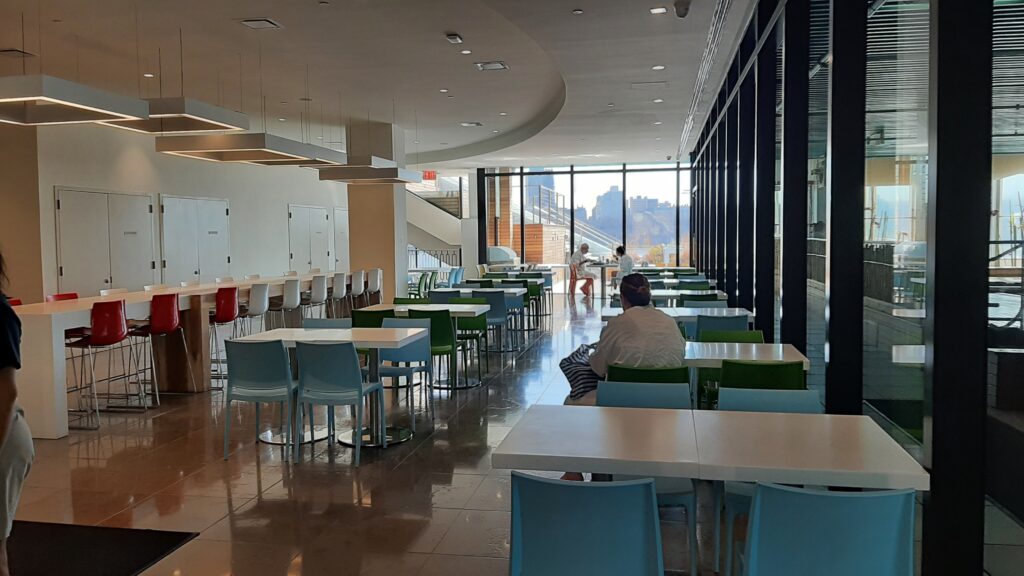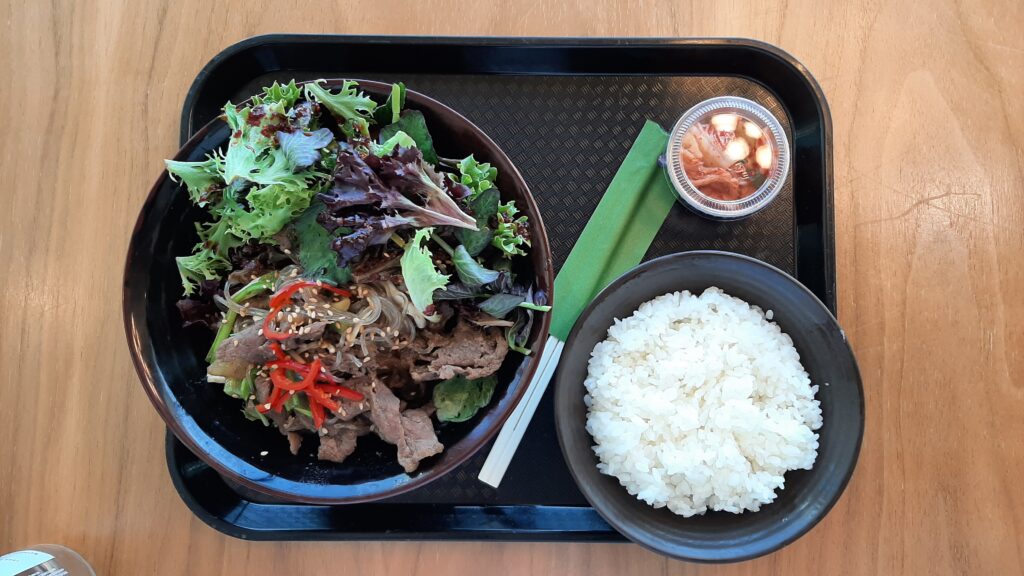 We got "Asian-inspired" dishes, but they also have pizza, salads, sandwiches, burgers, smoothies and sides.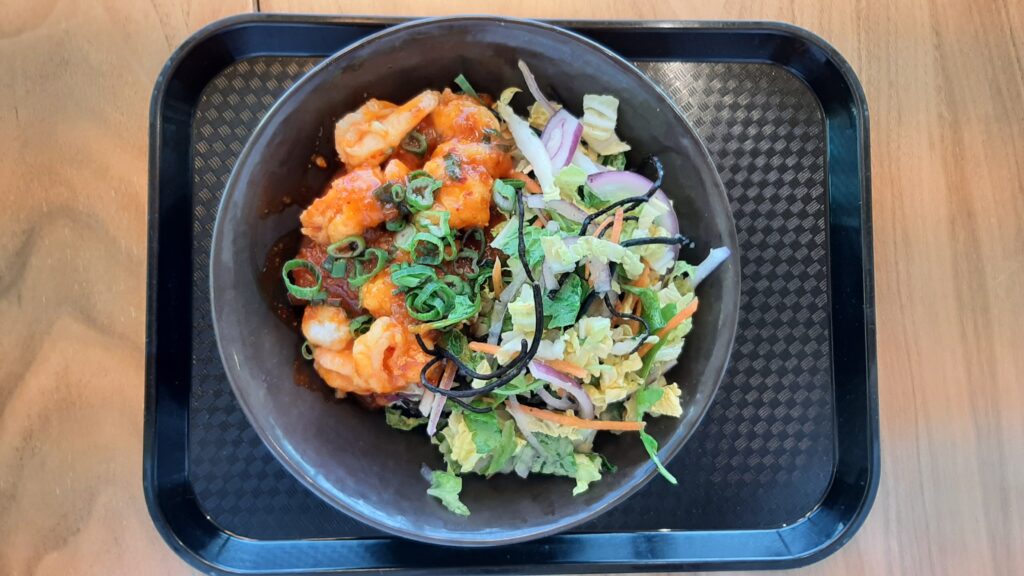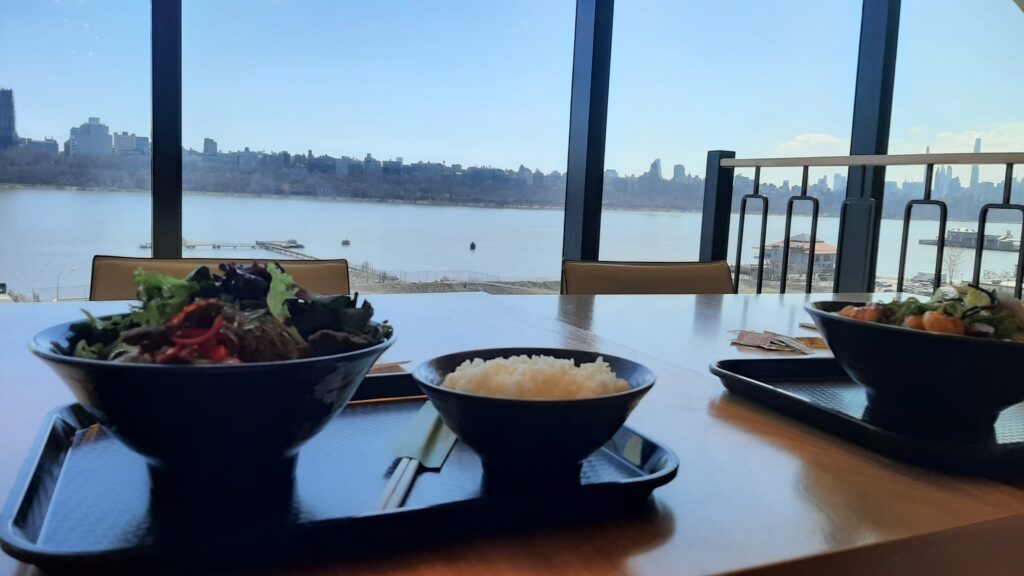 More water amenities and covered walkways
We went in March, and it was still cold out. Sojo had a network of temporary walkways to protect people from the weather (it rained later in the day, so this was especially good). The towel hanging areas are in there, so you can have a dry tower when you get out They are also heated. It is less pretty with the tenting but more practical.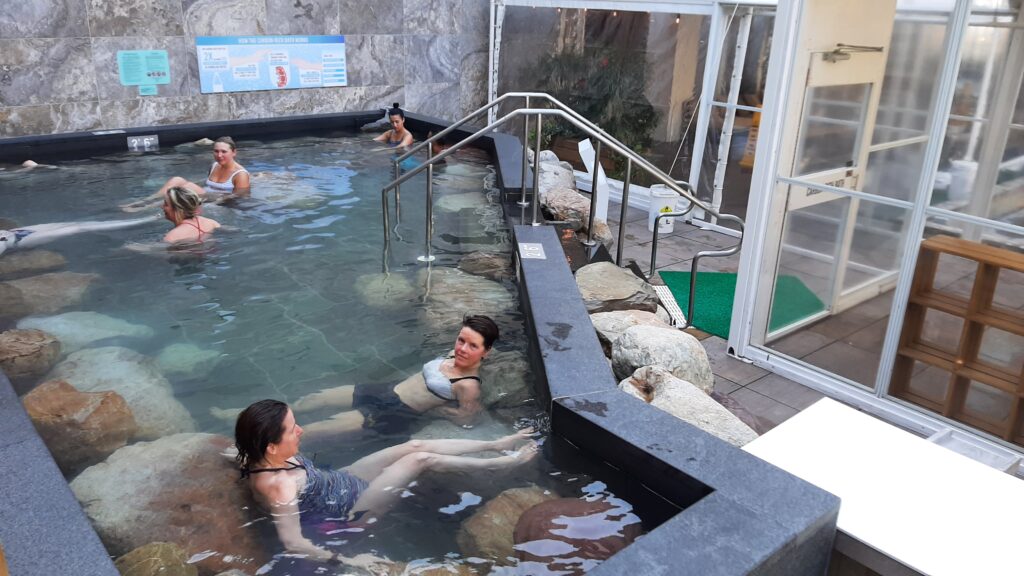 We hopped around between all the heated pools. It is hard to pick a favorite as they all feel a bit different and look different too. Several, including the Hinoki, Silk and Carbon-rich baths are in the same courtyard. The Hydrotherapy pool is on the same level but in a different area. They also have a waterfall that is scenic but was undergoing renovation.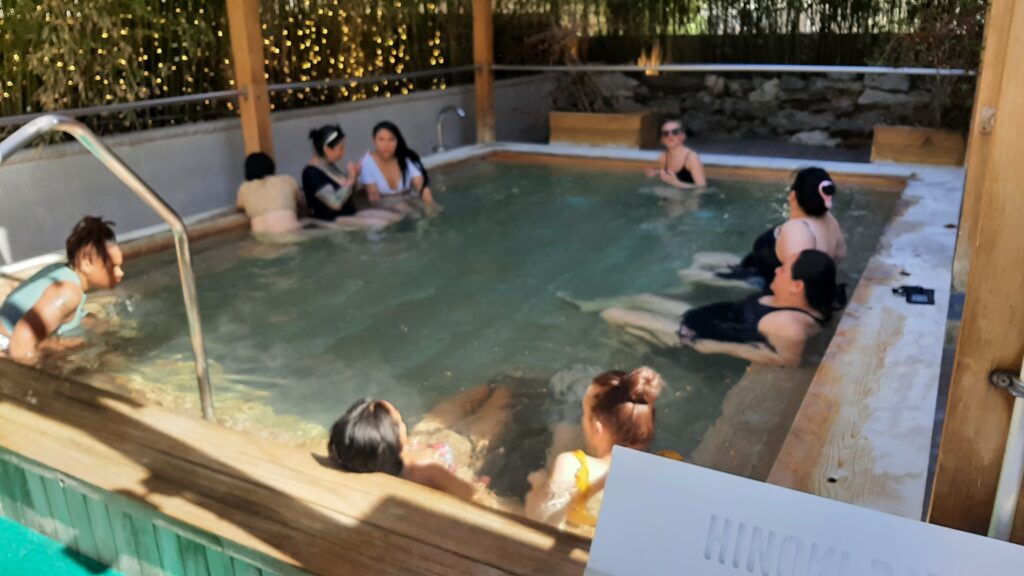 You can see where the waterfall is, to the left of the white tent in the photo below. We saw people working on it.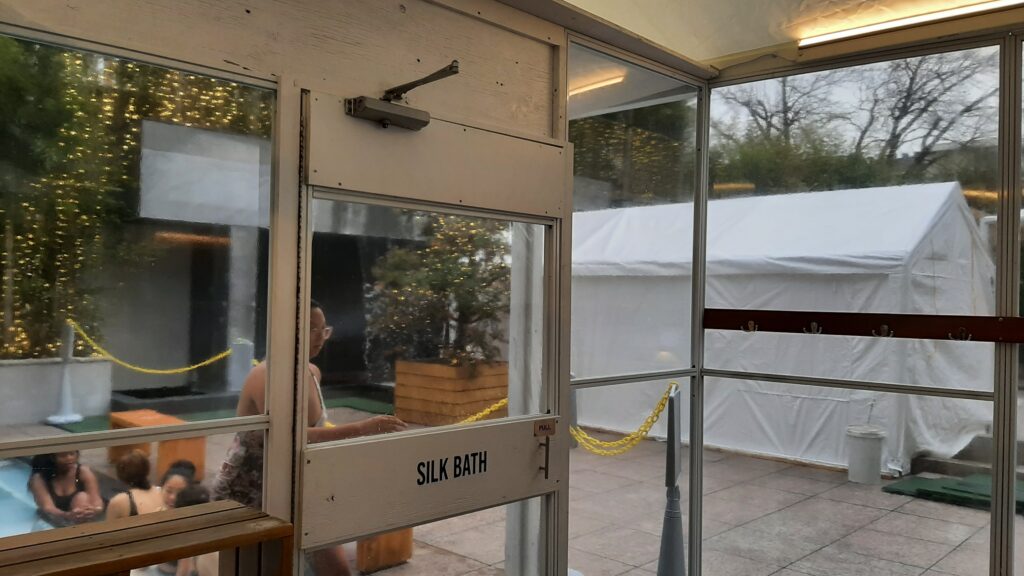 The Silk Bath is below.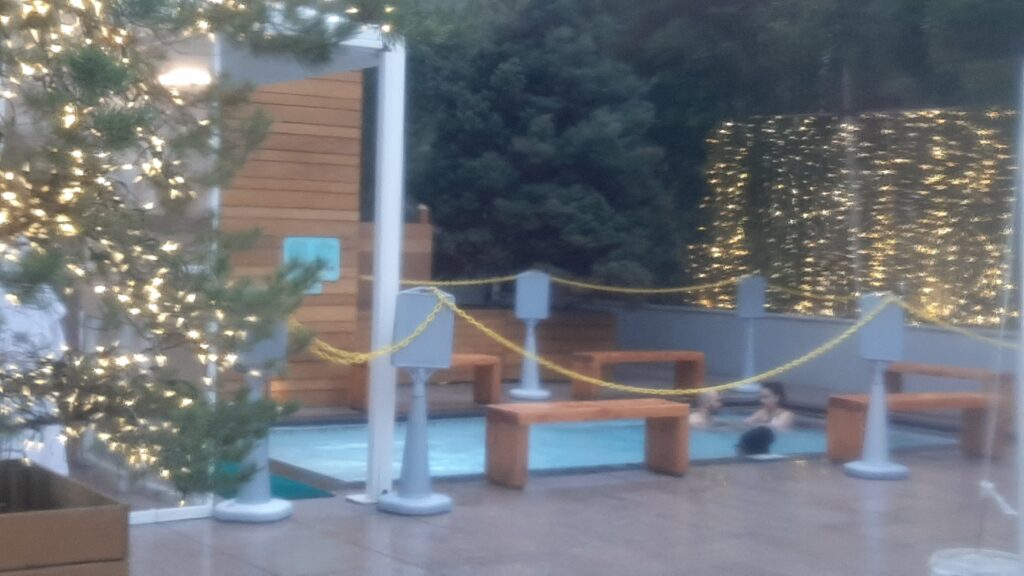 Cell phone lockers at lounges at Sojo Spa
You can see one of the cell phone lockers below. You put in your own code. There is no charging capabilities in there. Remember the locker number – it's easy to forget which one yours is in!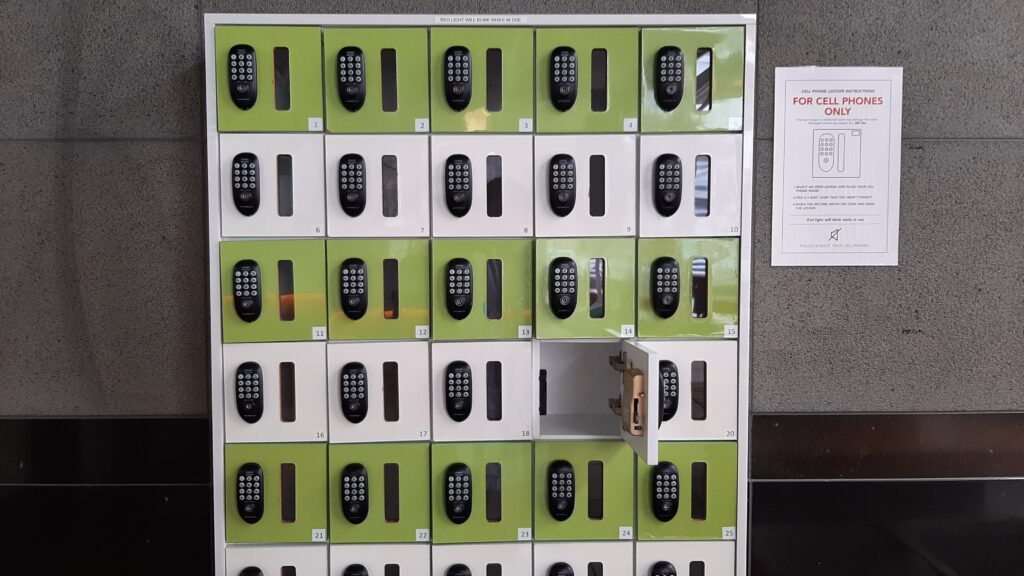 There are a number of lounge areas. This one below is on the top floor by the infinity pool. There is an upper deck above the infinity pool but it was not open when we were there. You can see photos of it from the last Jersey Kids post. There is a large indoor lounging area on the sauna floor (a few different lounges actually).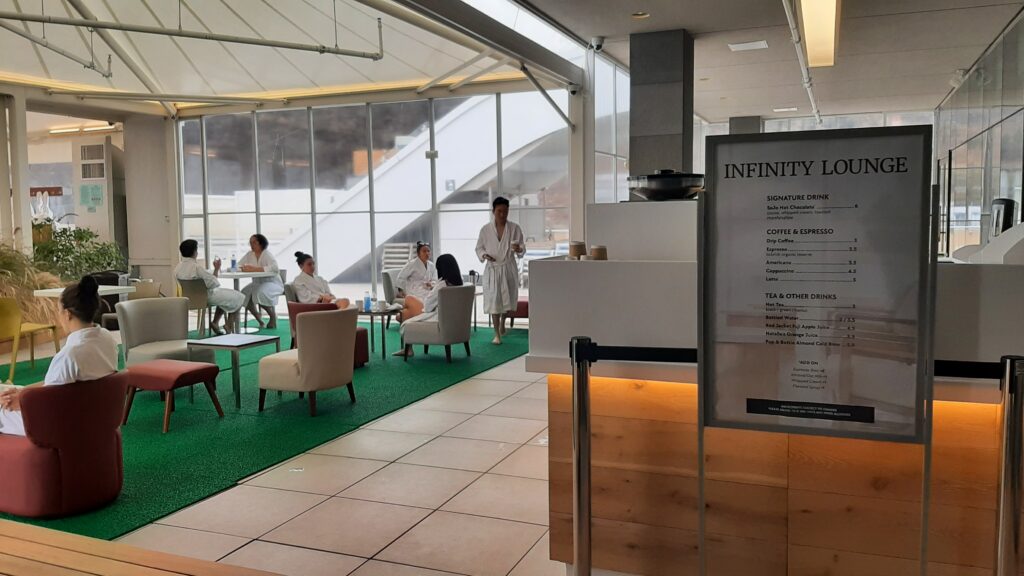 The Volcanic Sand Bath at Sojo Spa
The Volcanic Sand Bath opened up since we were there the last time. We were excited to try it out. There is an extra charge for this – we paid $30 for it. You need a reservation – we made one once it opened at 11:00 am.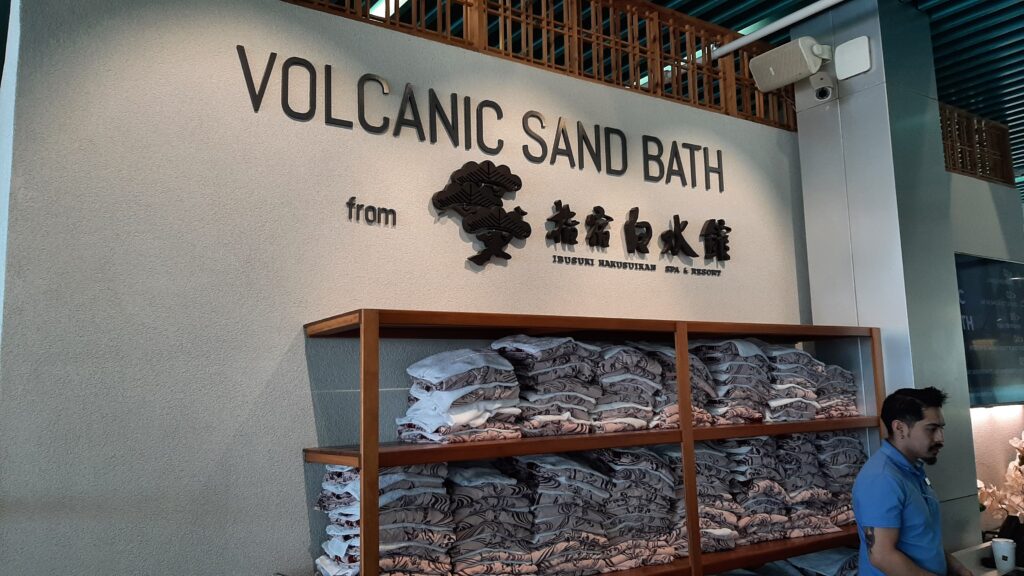 For the sand bath, they give you a kimono to wear and recommend putting it on without a bathing suit. They have a changing room behind this wall, with showers. In the summer, the temporary walls are removed and it is open to the elements. They do have parasols they can put over your head so you don't get sun in your eyes.
They were either cleaning the sand with hot water or just heating up the sand on the photo above. Not sure which. The water drained while we were changing. When we came out, the people working there made bed shapes with hoes. We were asked to lie down and they literally shoveled hot sand on us. It felt like Plants vs. Zombies. The sand is heavy and hot, but not unbearable. If you want to get up early, you can.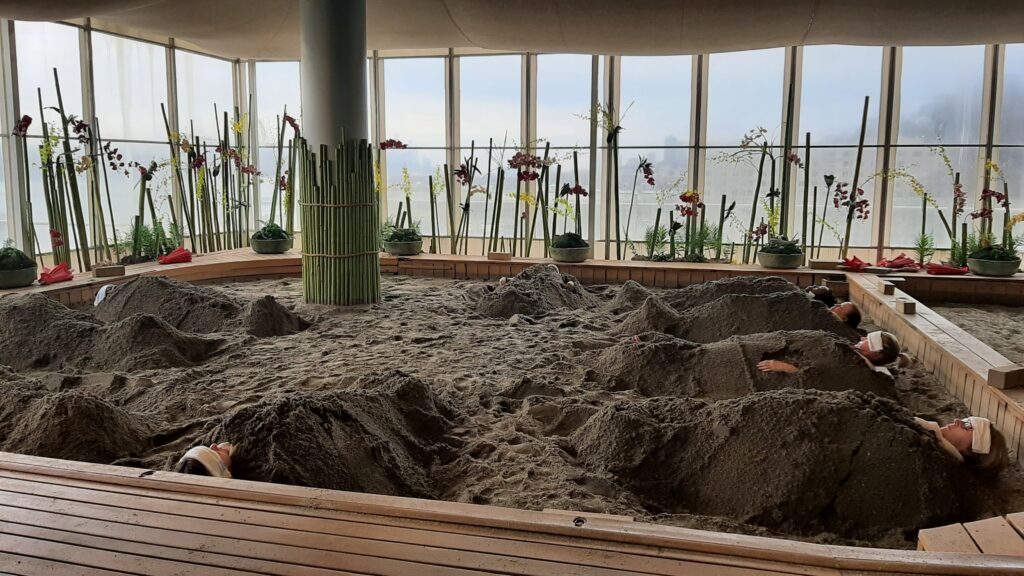 The workers came by at some point and put towels on our faces to keep them cool. That felt good! It was relaxing. We stayed in there for maybe 15 minutes. Then it was time to shower and get the sand out of the various crevices!
My friend had a wonderful 60-minute massage I opted for a 30-minute chair massage which I booked once there. They actually offered the option of the massage chair (where you sit down leaning forward), or a table. it was lovely, except for the patron whose phone kept going off at that time! We were all in one room (with clothes on). The other massages are private and traditional.
If You Go to Sojo Spa After Covid
Sojo Spa: Sojo Spa is in Edgewater, NJ – 660 River Road. There is a wealth of information on their website and I recommend looking through it before you go.
Hours: Sojo Spa is open 9 am to 9:30 pm. When reserving a spot, you will choose your admission time. You can stay until closing no matter what time you choose, but you are not allowed in/out privileges.
Cost: Daily admission at this time costs $125 on weekends and $100 on weekdays. If you get some massages/treatments costing $195/more, your daily admission may be cut in half.
What to bring: Bring a swimsuit (nothing too racy – they reserve the right to not accept your swimsuit. They do have them for sale there and the prices were quite reasonable. If you want flip-flops, bring them. They are not mandatory. I recommend bringing a water bottle. They have water dispensers and paper cups, but it's nice to have your own bottle to fill. You'll want to stay hydrated. I recommend bringing a ribbon for your robe to help you identify it.
What do they provide: Lots of towels. They provide one robe, which you must wear in public areas. You will get scolded if it's not on and you will need to put it on. The locker room has showers with shampoo and body wash, and there are hair dryers. They have paper slippers if you want for the toilet area. You do not need a lock for your locker.
What is included: Daily admission includes entrance to all pools and baths, saunas, locker rooms and a coworking space!
What is not included: Spa treatments, food, Volcanic Sand Bath, Sojo Spa hotel rooms.
Parking: Sojo Spa offers complimentary parking at the corner of River Road and Archer Street, 1 block away. They have valet parking for $12 at the entrance. It is comped with some massages.