The largest indoor water park in North America (according to DreamWorks; not independently verified) didn't disappoint.
We've been wanting to try the DreamWorks Water Park at the American Dream Mall in Rutherford, NJ for a while, as it met several vital criteria: 
Our swim-obsessed kids could paddle happily and burn off energy despite the winter cold
We could take advantage of entertainment found only in the tri-state area
Both our 5-year-old and our 11-year-old had plenty to do
The water park is centered around a massive wave pool. A splash pad and jungle gym, along with a set of smaller waterslides, caters to the under-8 set. That end of the pool also has a graduated incline to enter, perfect for toddlers. Around and above are taller, faster, more adventurous waterslides. On the other end of the pool, the most daring slides beckon.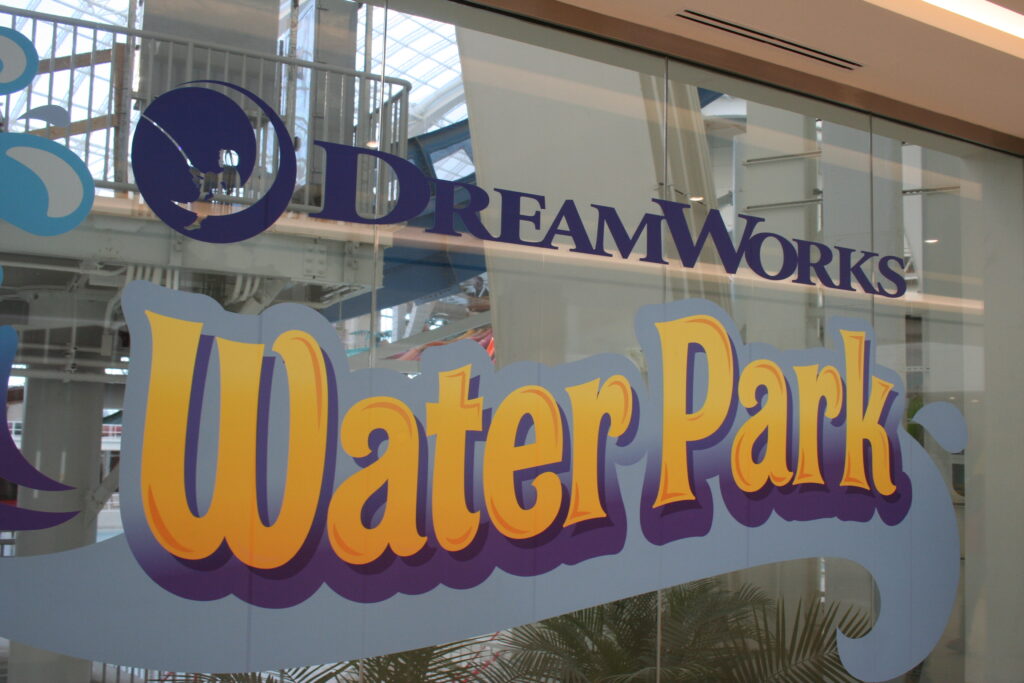 Both ends have lounge chairs and tables. Along the sides of the big pool sit cabanas, and some private rooms, with curtains for privacy and furniture for more comfortable lounging. There's also a lazy river, a series of hot tubs, and one long water coaster that runs the perimeter of the park, just under the roof. And there's a snack bar and changing rooms. 
A high glass roof gives the space a bright, airy feel, and the kids spent the first hour just playing in the wave pool. Our 5-year-old is especially fearless in the water and loved feeling like she could "go deep," much further than we let her in an ocean. I appreciated the life jackets available. In fact, there were plenty of them, compared to outdoor summer parks we've visited, where sometimes they ran out.
She – and I – also appreciated the slides that catered to her. While many outdoor parks have a splash pad and climbing space, many then jump to big slides for older kids and adults, with little in between. Here, she had a bay of slides that felt adventurous to her, but not overwhelming. A size cap meant older kids couldn't mob the space, either.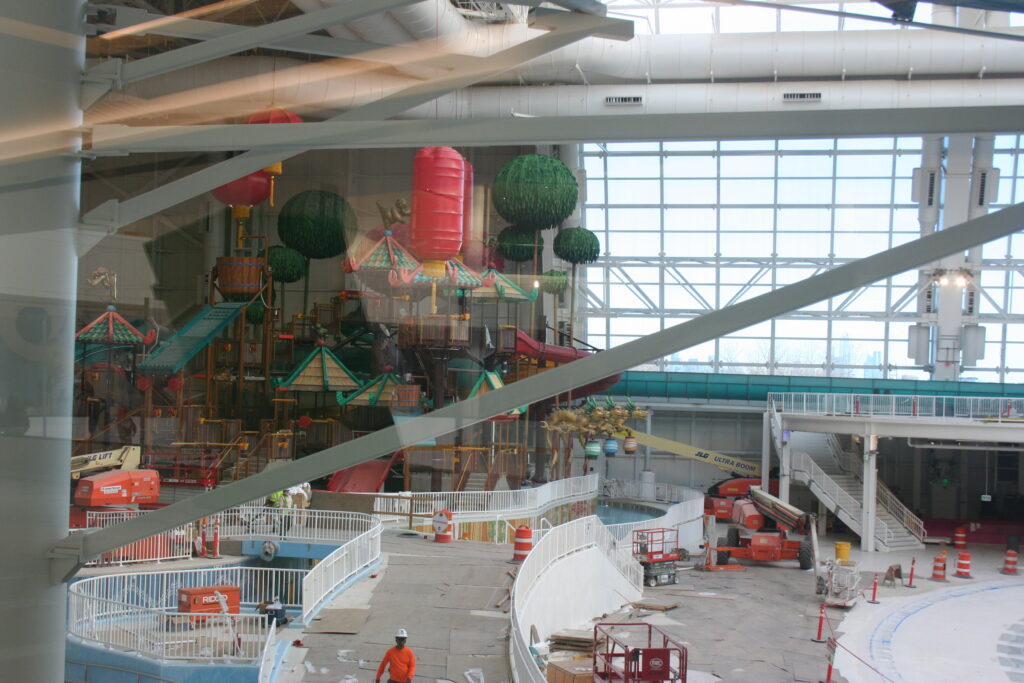 Meanwhile, our 5th grader and her dad hit the big rides. The slide descriptions aren't kidding when they say a few are for good swimmers only, plunging into 10-foot-deep pools. Thankfully, she swims 2,000 meters a week, regularly. But heed those warnings. Most of the slides spat them out in shallower pools after twists and rocketing through funnels. When she took a break – let's be honest, when her dad needed a break – she happily swam lazy laps across the wave pool. 
At one point, a belt that hauled heavy rafts up to the start of a slide stopped working, and dad and kid had to carry a heavy four-person raft up about 6 flights of stairs. They only did that once, because the weight was just too much for them. They also lost out on the water coaster, as that was the one ride where the wait was over an hour, and they didn't want to invest that much time.
As a family, we all hopped into the lazy river. In some sections, you could choose a path with more soaking fountains (the big kid gleefully decided to steer me there, as she "needed" to get mom as soaking wet as possible) or one with less, preferred by our younger daughter. We all enjoyed it so we went around twice, without stopping.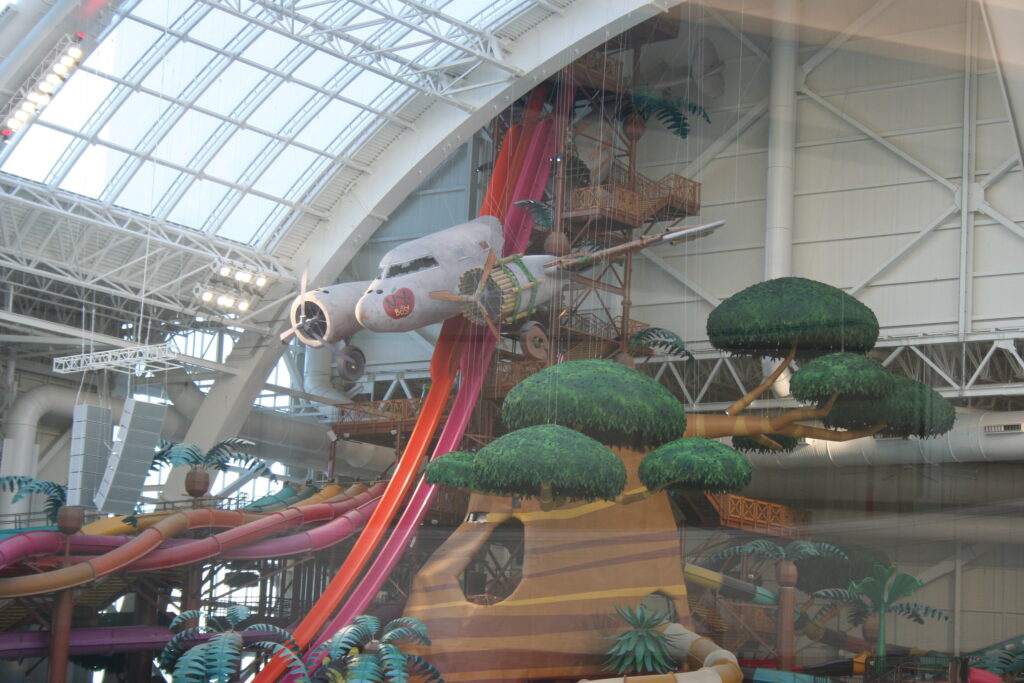 Lunchtime was a little challenging. Water park visitors can come and go all day, and the mall outside has a food court. But you have to navigate clothing, shoes, and winding through changing rooms and escalators to get there, which feels far. The water park has a snack stand with basic sandwiches and pizza. Is the food good? No. Does it feel as overpriced as Times Square? Also no. It's a place to improve, but then, no one's coming for the food.
We arrived when the park opened, promptly at 11 am. We had little company and plenty of easy parking by the entrance. By 4 pm, crowds had arrived, and we had some wait times for the slides – not much, maybe 10 or 15 minutes, but earlier we had none. My advice: Go early. Stay long. Also, if you plan to stay all day, bring water shoes – walking in water on concrete for hours can irritate your feet.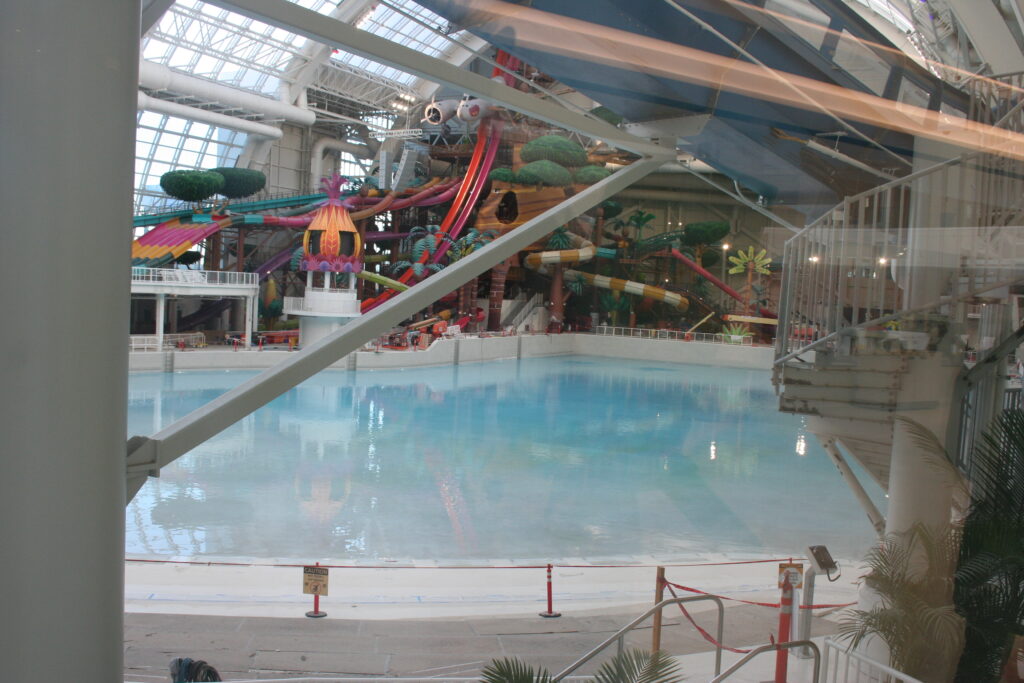 By 5 pm we called it a day. The kids' fingers had pruned. Everyone was exhausted – we had only left the water for lunch and a couple of snacks. We changed, grabbed a food court dinner, and headed home, worn out but happy. 
By Anne Miller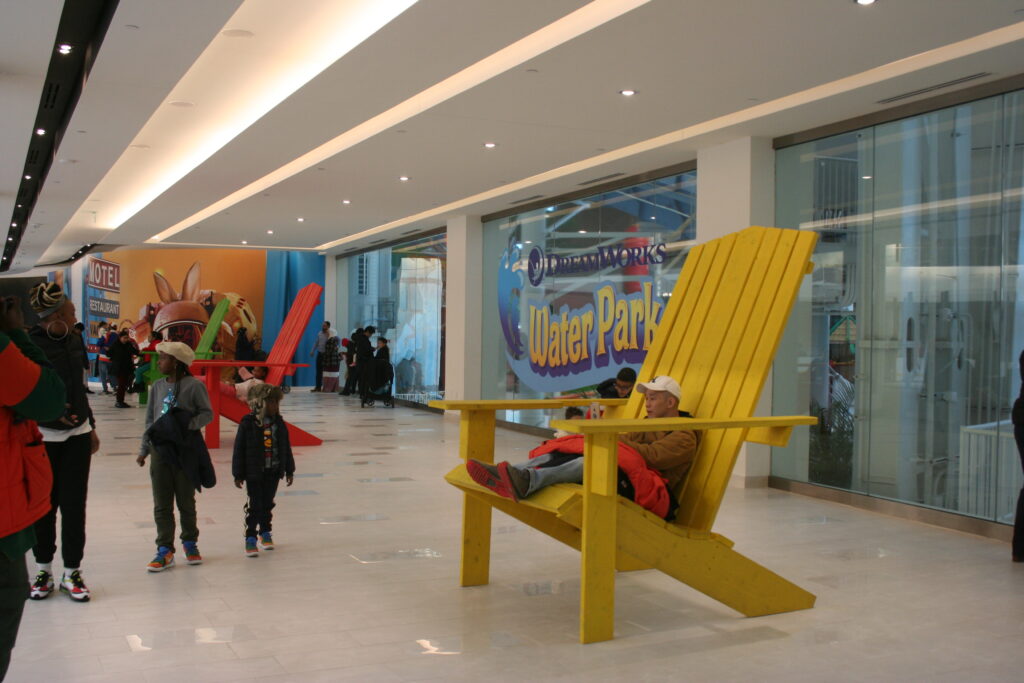 If you go to DreamWorks Water Park at American Dream 
Location: DreamWorks Water Park, in the American Dream Mall in East Rutherford, N.J. (right by Metlife Stadium)
Cost: $89 to $99 per person peak (usually weekends); $79 off-peak ; Twilight ticket: Last 2 hours of park operations, $49-$59 (price varies by date).
Hours: Variable. Slower weekdays 12 pm to 5 pm, busy weekends 11 am to 8 pm. Check before going. 
Disclosure: Our reviewer received press tickets to facilitate a review.
Interested in other water park reviews in the New Jersey area? See our reviews:
Great Wolf Lodge in Pennsylvania
Six Flags Hurricane Harbor in New Jersey