I love Korean spas, and have visited and reviewed traditional Korean spas King Spa and Island Spa in Edison. A new upscale and less traditional Korean spa opened up last year, Sojo Spa in Edgewater. I brought a friend and our teen daughters. Given all the nakedness in the hot tub rooms/locker rooms in traditional Korean spas and for scrubs, we were a bit nervous – naked spa-ing with our kids was no one's idea of fun. But that worry was for naught. Here's our review Sojo Spa in Edgewater!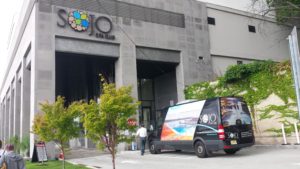 Check-in
When you arrive, you can check in via kiosk or at the register. You'll pay your entrance fee and get a slip with your locker number on it. You have to be 16 to go to this spa, and if you're under 18, you must arrive with and stay with an adult. They check ID, so if you bring your teen, make sure they have ID.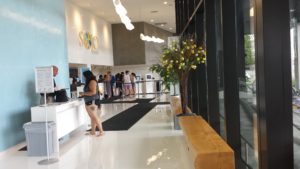 They have A LOT of rules. No shoes. You must wear your robe. No outside food (they check your bag when you enter!). No revealing swimwear. No loud noise. No cell phone use in the locker rooms (even phone calls). No in/out privileges. They're all good rules (well, I would like to have brought in some snacks…) but it does feel a little rigid at times!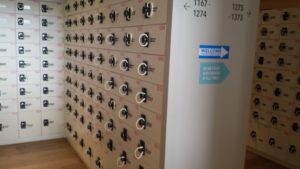 After your bag check (the security guy looks like he is a nightclub bouncer as well), you'll put your shoes in a small locker. The key is a wristband and has RFID in it, which you'll use the whole day. You can charge your food and services, and open your locker room locker with it as well. Don't lose it – apparently there's a $50 charge. But it can get wet.
What to do
There's a lot to do at Sojo Spa! After check-in, go to the fourth floor locker room, where you'll get your uniform or robe. You only get one. I'm not sure why anyone got the uniforms (a formless shorts/shirt set that is made of medical scrubs material), unless they only planned to go in the saunas. You'll need/want your robe for the water areas. After changing, take the elevator or stairs to the top floor and walk up to the rooftop lounge (the elevator looks like it goes there, but it doesn't). It's gorgeous and we saw hardly anyone up there.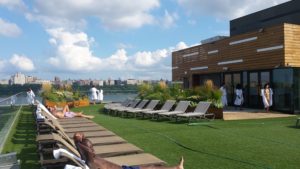 The 7th floor has the infinity pool, with its city views. It's about 92 degrees. That level has lots of loungers, plus a cabana area (that wasn't open when we were there). There's also a gym you can pay extra to use ($5-10).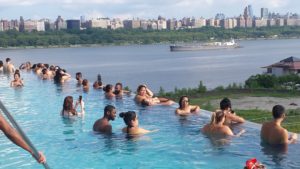 Don't forget to walk around the side to look down over the fourth floor water area – the view is stunning.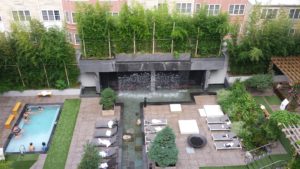 The 6th floor holds the café (a more casual restaurant), a nicer restaurant (not open when we were there), an outdoor terrace, a volcanic sand bath (coming soon – sand was there but we couldn't go in – it looked like a big sand box and not very inviting – photo below), and the water slide (not open when we were there in spite of being August).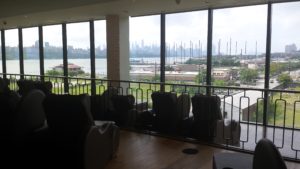 The 5th floor is one of the main floors you'll use. It has the spa, where you can get a mani/pedi, a 30 minute chair massage, shiatsu massage, reflexology, and longer massages. They have a relaxation room in the area, with chairs that recline, but unfortunately don't massage you, though they look like they do! You can check out the great views.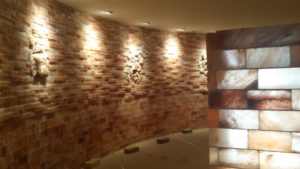 This is the floor with the many saunas. Each sauna has a different temperature and theme, like the salt room, charcoal room, white clay room, red clay room etc. There's a cold room, but this was only in the 50s, and not as cold as we would have liked. Other Korean spas have rooms much colder, with ice on the walls. So that was disappointing. You wear your bathing suit and robe into these rooms but can take off the robe inside. If you haven't been to a Korean spa before, you'll notice the wooden blocks on the floor you can rest your head on.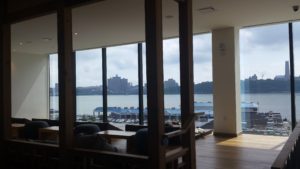 One thing we liked on the 5th floor was the Ganbanyoku beds, marble type slabs you lie on which are heated. They were surprisingly relaxing.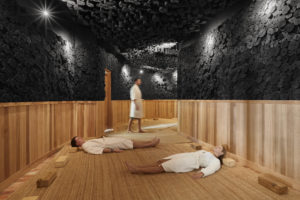 The floor also has an infrared sauna (not sure how that worked – it wasn't that hot when we were in there, though you can turn on a set of three heaters – we did sweat) and another relaxation area with some bean bags (photo above).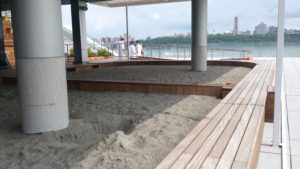 The 4th floor has the locker rooms, but also the fabulous water elements. There's also a foot massage path, which is in the water and you walk on rocks. I thought that was overrated. It hurt my feet, but one teen in our group loved it.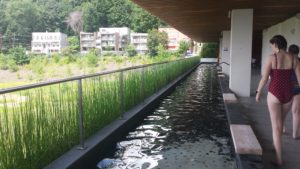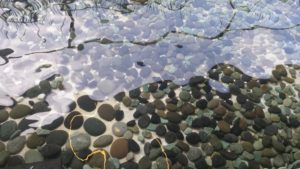 The hydrotherapy pool is really big, with lots of different jet types. It overlooks the city and lights up, the nighttime pictures were dramatic. We didn't stay late enough for the full effect.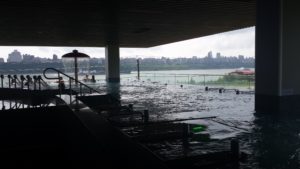 The other outdoor water area was stunning. They have a silk bath, with lots of tiny bubbles that makes the water feel silky. There's a carbon rich bath, which isn't as warm and apparently has more carbon in the water. And there's a Hinoki bath, a cedar lined tub.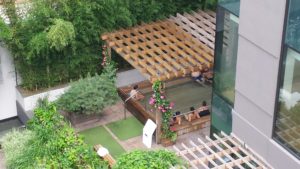 Also, a waterfall and foot path that's cooler and a good photo spot. They have a dry sauna as well, and inside each locker room (but outside) is another hot tub. Inside the locker room there are several more hot tubs, a cold plunge, a cold pool, a sauna and a steam room. Unfortunately I couldn't get photos inside.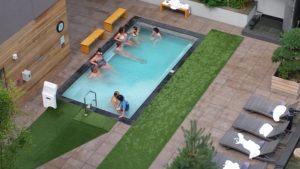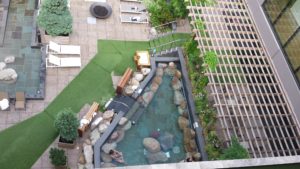 If you like yoga, look for the class. There's a noon to 1 class, which is free on Saturdays and Sundays (for a limited time). We missed it.
Scrubs
If you're up for it, get a Korean scrub. I highly recommend them (though I didn't get one here – I'll get one on my next visit. Too much to do on the first visit!). You can read about a Korean scrub here.
Food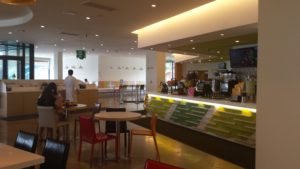 The cafe had a nice selection of foods, from burgers and fries (which seems weird to eat at the spa, but plenty were), to Korean bulgogi, to sushi, to smoothies ($10 – expensive), to udon soup, to salads, to ice cream. The prices were a bit steep but the food was beautifully presented. It looked a little better than it tasted, but our food tasted pretty good and there was plenty of it. Oddly they have a children's menu, though the youngest allowed at the spa is 16 – and if you're 16, you're not eating off the children's menu. So I'm not sure what's up with that.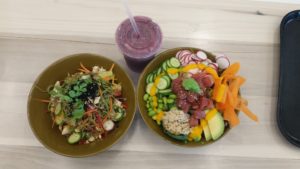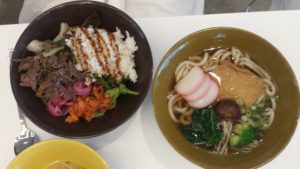 Crowds
I read a lot on Yelp before going about the huge crowds at the spa, which made me nervous since we were going on a weekend. But our experience was that going early (we arrived at 10:30, which is still later than I wanted) meant we had no crowds until about 1:30. Even eating lunch at 1, there was plenty of seating in the cafeteria. Though it was much more crowded in the afternoon, the water areas still had room, though some of the saunas got too crowded. The morning was definitely more relaxing though.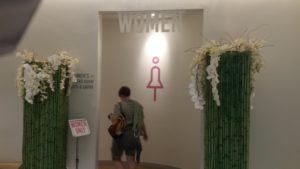 Prices and what's included
The entrance fee on weekends is $75/person, and on weekdays is $60. That allows you to do almost everything, except the spa services, food, gym and the halotherapy room (salt therapy is $10/session). There's no in/out privileges. The price is steep, but you get a lot for that. They give you robe or uniform, plus unlimited towels. They have shampoo, conditioner, body wash, lotion and hair gel, plus hair dryers. They have other free toiletries on request.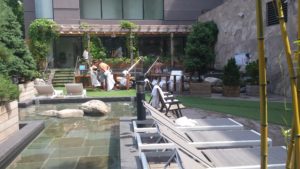 Nakedness
Unlike other Korean spas, this one has very little nakedness. The locker rooms have changing areas if you want. The shower area is more open, but there are some small partitions so you can find an area that's a little more private (or just wear your bathing suit). The indoor single-sex hot tubs and sauna/steam rooms allow you to go naked, but everyone was wearing bathing suits. The Korean scrub area was in the shower area, but there were partitions for some privacy (unlike the other Korean spas I've been to, where the tables are next to each other with no dividers) and it's set back. You can wear a bikini bottom for the scrub if you like.
Tips for going to Sojo Spa
—Bring a colorful ribbon or colorful tape or something to tie onto your robe. They robes are all the same, and it's hard to find yours. My daughter's robe was taken more than once – fortunately she didn't have a phone or anything in the pocket. She also took someone else's by accident, though put it back.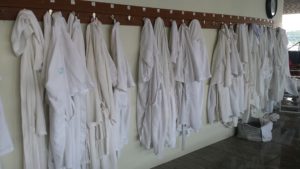 –Use the cell phone lockers on the various floors so yours doesn't get taken accidentally. You can leave your cell phone in your main locker as well. I brought mine with me to take photos and stashed it in the locker while at the saunas (no phones allowed in there).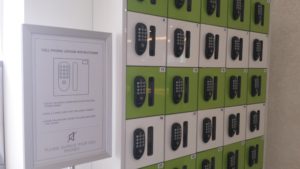 —In the hydrotherapy pool, when you see a round button that looks like you have to push it to get the jets going, you actually use your RFID wristband to activate it. Just press the band on it.
—Bring a bottle of water so you don't have to always look for the water fountain. You'll get dehydrated easily there with all the saunas and whirlpools.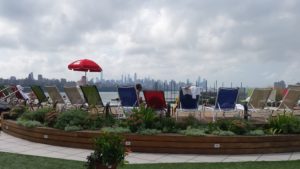 –Make sure your bathing suit is somewhat modest. They will kick you out or make you buy another bathing suit if you wear a G-string, thong or revealing bottoms or tops. I did see a lot of revealing tops while I was there, but there are several comments on Yelp about women getting called out for their bathing suits. You'll be in your suit all day, so make sure it's comfortable.
—Wear your robe everywhere in the facility when not in the water. I was wearing my towel over my bathing suit at one point when in the indoor hallways, and security told me to put my robe on (they were polite).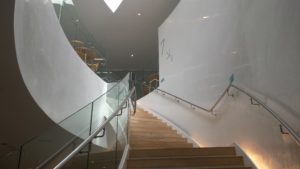 –When you check out before leaving, EVERYONE must check out on a kiosk before getting your shoes. Even if you charged nothing, you must still check out or the gates to the shoe area won't open for you. They have kiosks outside the locker room, or downstairs near the exit.
Getting there
We drove to Sojo Spa and there's not much street parking. It was Sunday and we parked at the post office a block away (we were just going to turn around to get to the valet parking but then saw the empty lot). We did not get a ticket and there were no signs about restrictions, other than no overnight parking. Otherwise we would have valet parked it at Sojo. I read that valet parking is free, with a suggested $3-5 tip. The one downside is the lines. When we were leaving, there was a line of cars to get in, which probably meant a holdup to get out.
The spa runs free shuttles to and from Manhattan. You can find details on their site. It's first come first served, though when you check in, make a reservation for your return trip.
All in all, we loved the spa. It was a first for the teens and they had a great time too. We saw a huge assortment of people, including singles, couples, friends, all ages and all races. It was a really nice mix. I don't think I saw any other teens though! They do have a family locker room, which I thought about in case I brought my son. I didn't go in there to see it.