My son and I have been to aerial treetop adventure rope/obstacle courses in Arizona and New York, and I had no idea that one existed in New Jersey. Fortunately TreEscape Aerial Adventure Park in Vernon Township reached out and invited us to be their guests, and we went last weekend. They opened in 2017.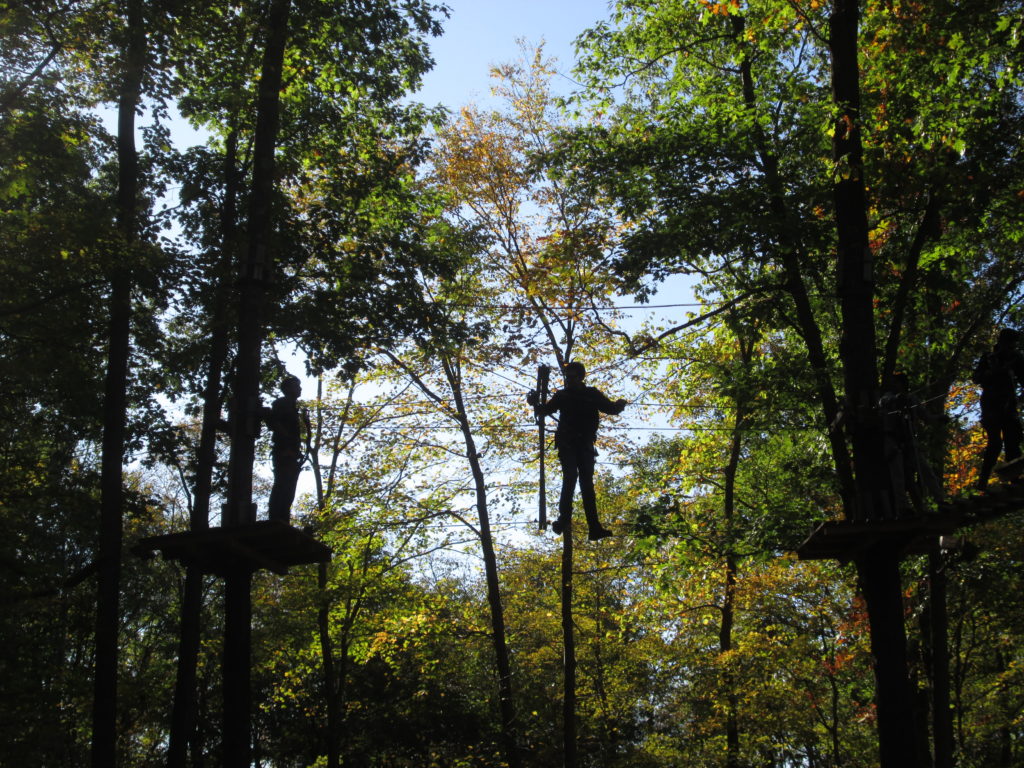 TreEscape with Kids
For those who haven't been to an aerial adventure park like TreEscape with kids, let me set the scene. You traverse between trees (above the ground, hence "aerial") on various "elements" (obstacles). These may be wooden planks in many configurations, ropes, metal cables, or even ziplines. Each tree has a platform where you wait your turn until the element is clear for you to go. You wear a harness and at all times you are double clipped into the cables, so if you fall, you're not going more than a foot or two and the cables and harness will hold you.
That said, I don't recommend aerial adventures for those afraid of heights or those who are terrible at balancing. You can go and watch your friends or family from the forest floor. I read somewhere that it was $20 for nonparticipants, but I can't find evidence of that now online.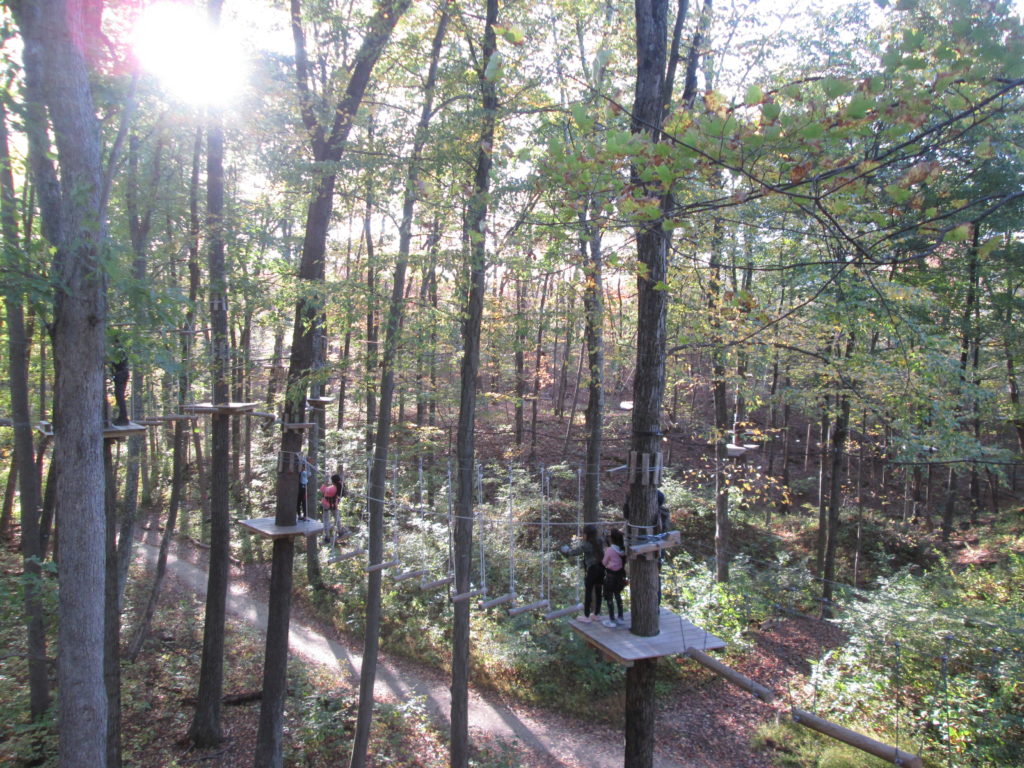 Here's what happens when you go to TreEscape
You'll want to book a time slot ahead of time – don't just show up. According to their website sales page, there are 60 slots per hour. Plan to be there 2-3 hours. Yes, that means 120-180 people on the course at a time. More on that later. Park in the large parking lot where the golfers park at Great Gorge Golf Course. Then walk a few minutes on the road with no sidewalk to the clubhouse, dodging vans and golf carts. Yes, my son almost got hit by a golf cart in the main parking lot.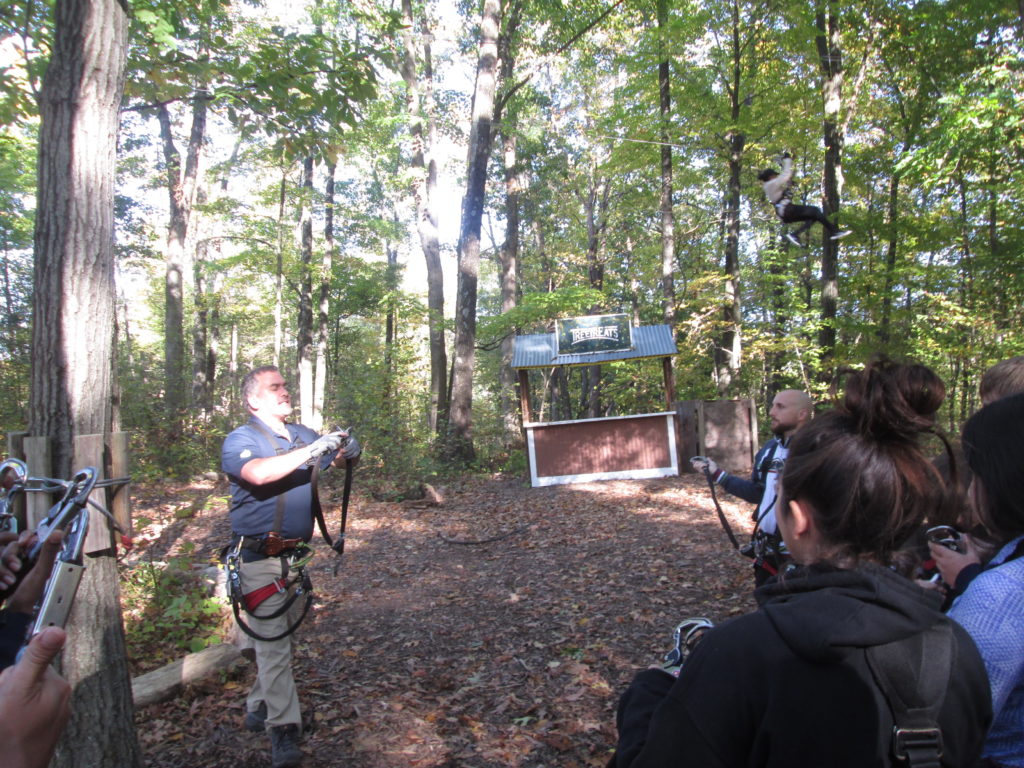 Check in at the clubhouse desk. Get there very early for your time slot (reservations are on the hour), as when we were there, only one woman was behind the desk, and she looked stressed out juggling golfers and aerial adventurers. Also, you have to fill out consent forms on their tablets, and that takes time (here's a great idea – allow people to bring them in already signed). If you are using a Groupon (no longer available – I just checked) you'll need to also scan that in, which people were having difficulty doing. They give you a scannable bracelet to wear.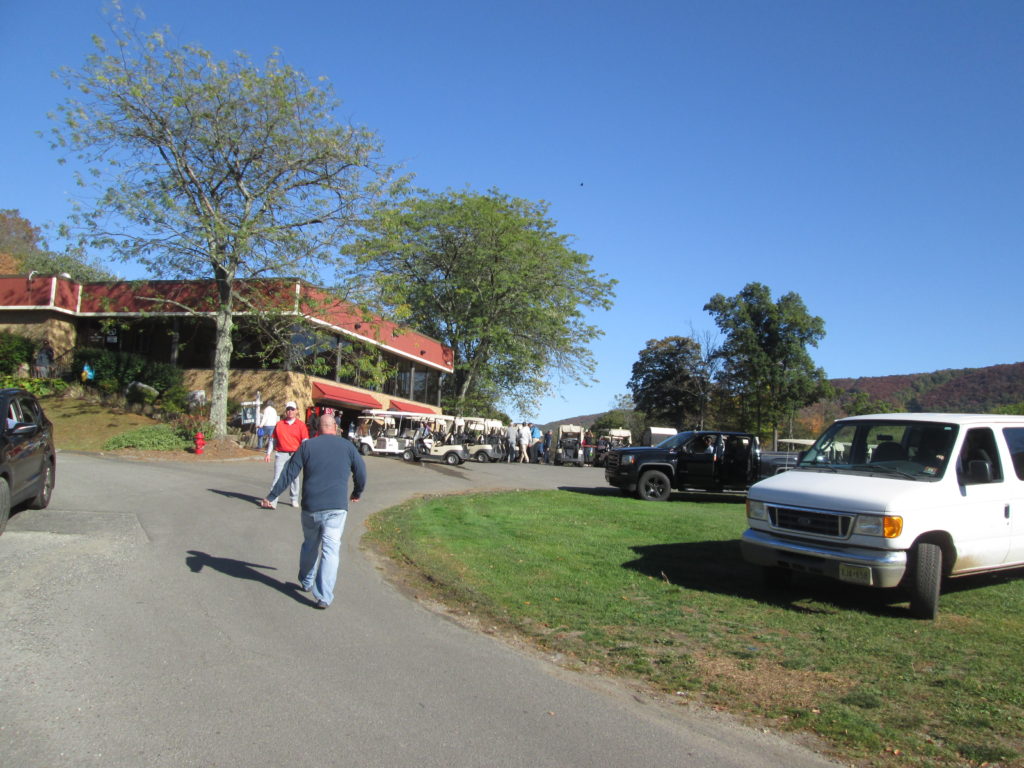 After you're checked in, you'll wait for the van outside the clubhouse. Likely there will be more people waiting for the van than there is space in the van. The driver scanned our bracelets and said they'd check it at the park as well (they didn't). The van driver let us squeeze more in the van than was legal, for the 5-10 minute ride to the course. Part of that ride (after driving through the golf course) was on an unpaved dirt road on their property, so not super comfortable when squeezing people in a van without enough seats. But better that then waiting for another van (I think there's just one van). They did tell us we'd have to wait until our time slot to begin, but the employees at the park said nothing about that, so we didn't end up having to wait there, which is good.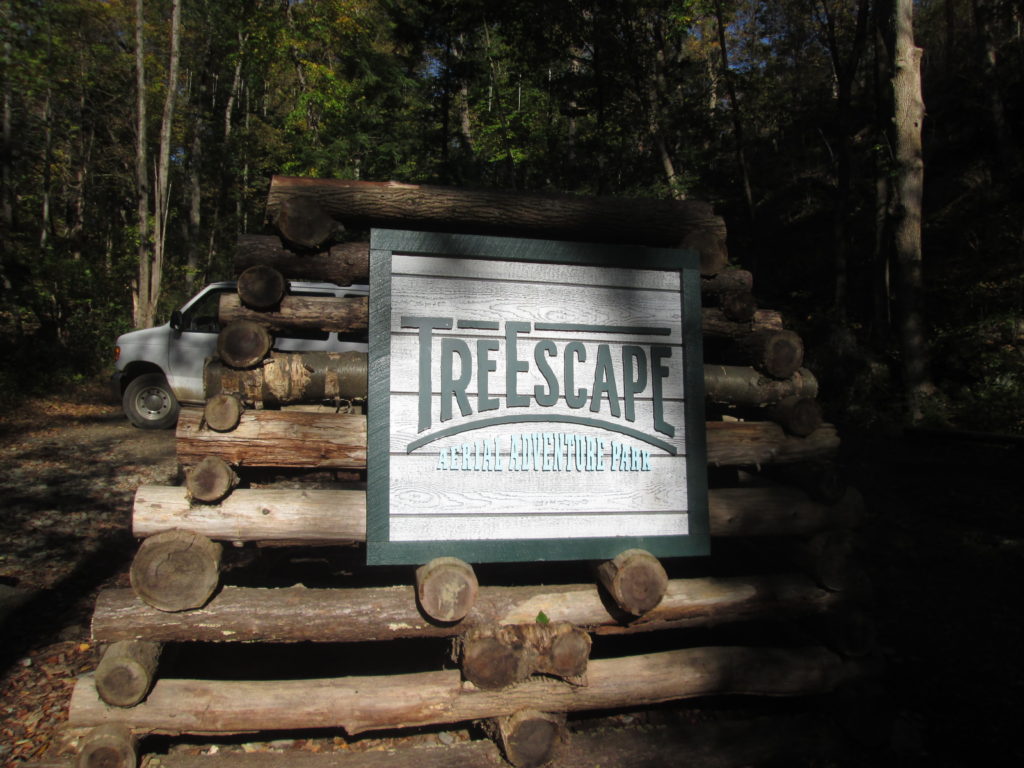 Note that flush toilets are available at the clubhouse. At the aerial treetop park, there are porta-potties. They allow you to bring water to the park, but no outside food (not that they checked). They did not have food/drink available for purchase (or any water fountains) at the aerial park, though they say they do on the website. I saw a big jug cooler of water, but that looked like it was for staff. They do have a vacant farm type stand which I heard one employee say used to be used to sell beer! That's interesting, given that you're wisely not allowed to be under the influence of drugs/alcohol on the course.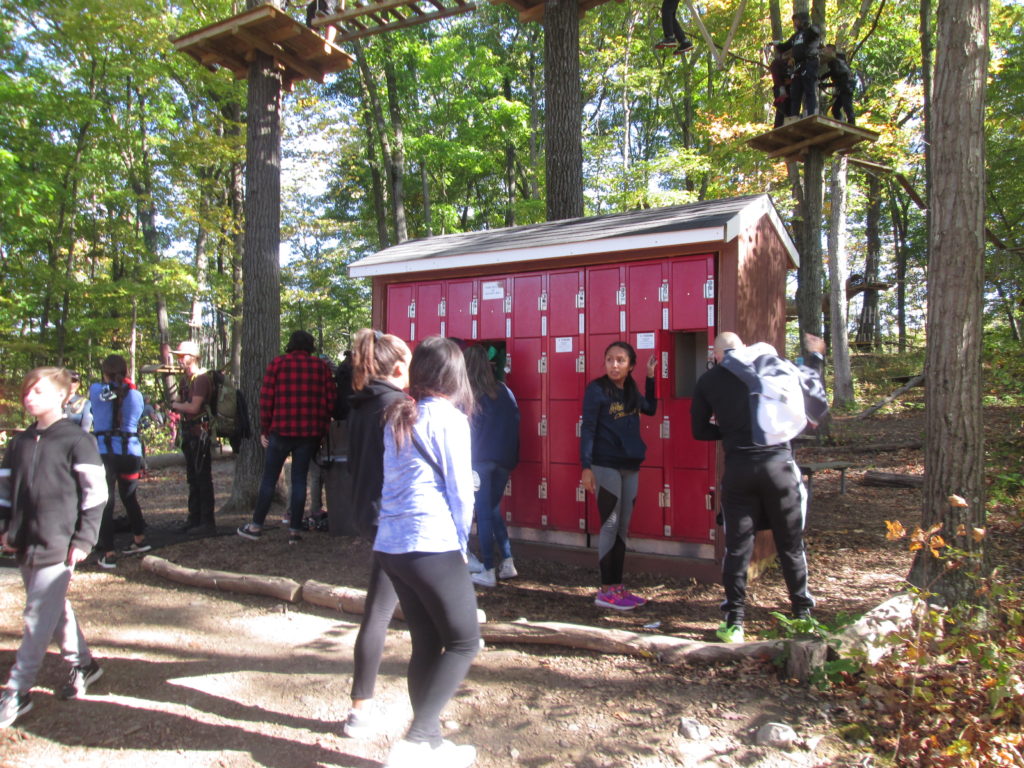 I was wearing a fanny pack to bring my camera/phone and water with me (which I've done at the two other parks we've visited). This one does not allow a fanny pack (they were very nice about it – they don't want it to catch on anything). You can bring a phone/camera with you, but it's best if you have a zipper pocket and a really good strap, so it doesn't fall while you're on the course. They have lockers with a sign saying tokens are nearby. That's not true. You get free tokens from an employee, who keeps your car key in a giant tool box, so you won't forget to return the locker key, but you have to ask staff members first where to get the tokens (hint to staff: put up a sign on the lockers – it's not hard to do). There were enough lockers while we were there, but the website says that it's first come, first served.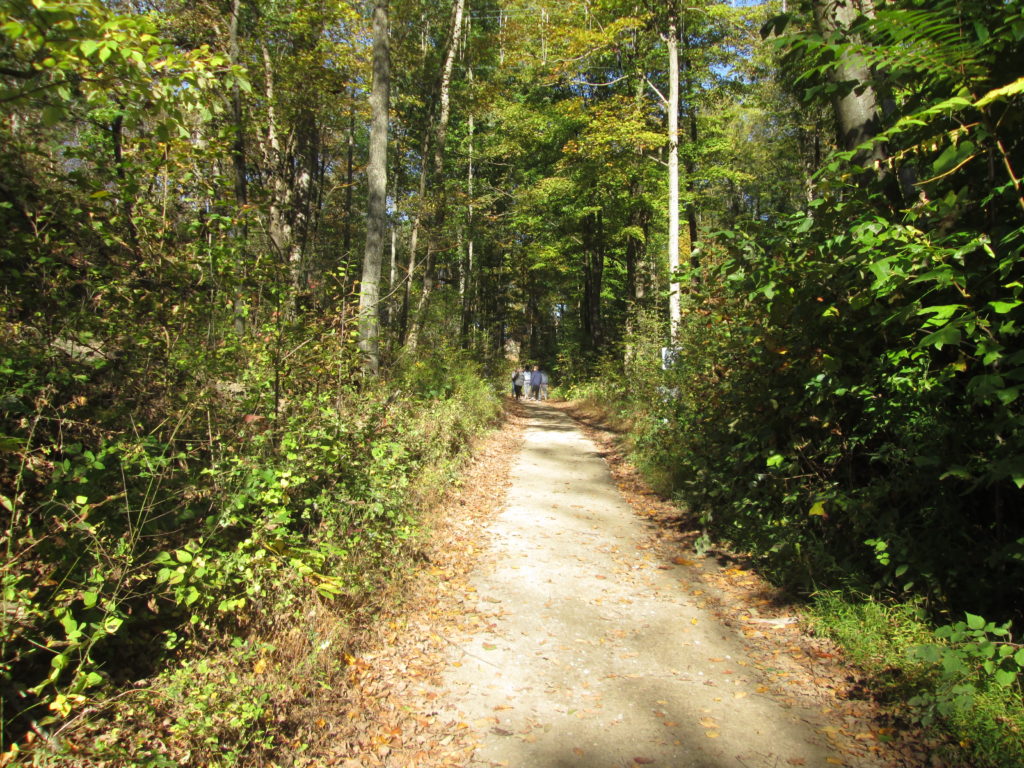 The employees – who were all super nice – have the harnesses laid out on the ground. They'll have you step into them, and then they'll adjust them for you. Then they have a short instruction course to show you how to work the clips you're carrying to use on the course, and the zipline apparatus. They have gloves for you to use, and you practice clipping and unclipping (it takes some time to get used to, as they have a magnetic component and one has to be clipped in at a time or the other clip won't unlock).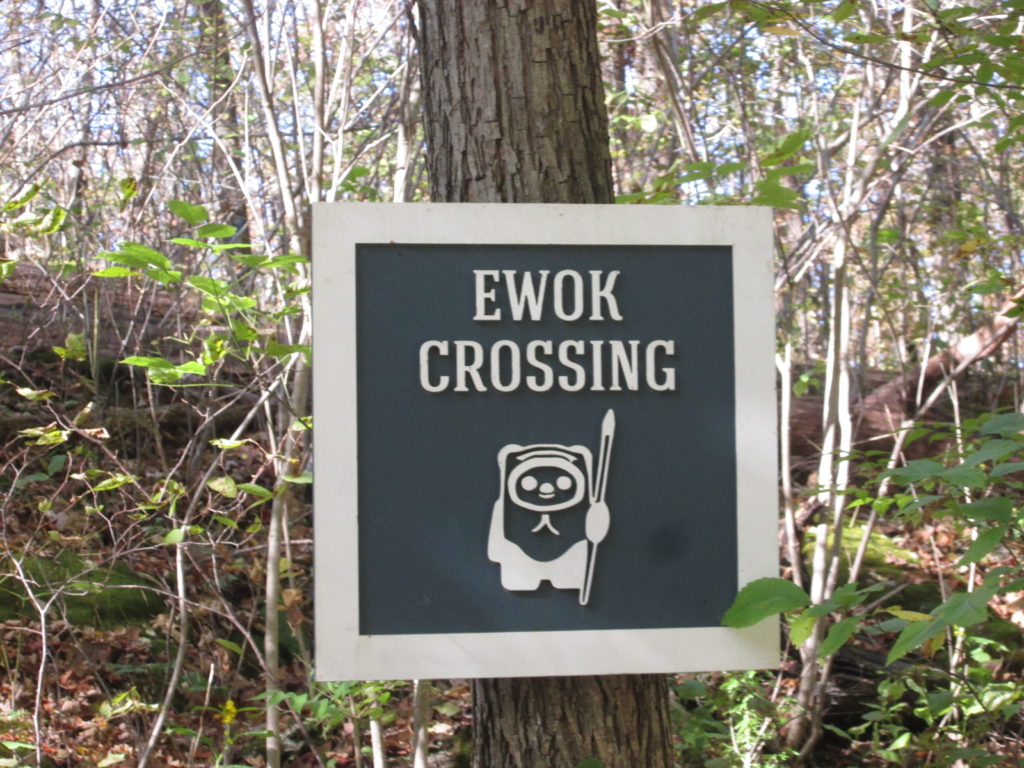 They have I believe at least 6 or 7 courses plus a kids' course for ages 4-6. The previous adventure parks we've been to check your height before allowing you on the "adult" course. This one does it by age, which is great for families with younger kids, and not so great for those of us with older kids, as the younger kids can be really really slow, clogging up the lines (some adults are slow too). We did not see any kids on the kid course.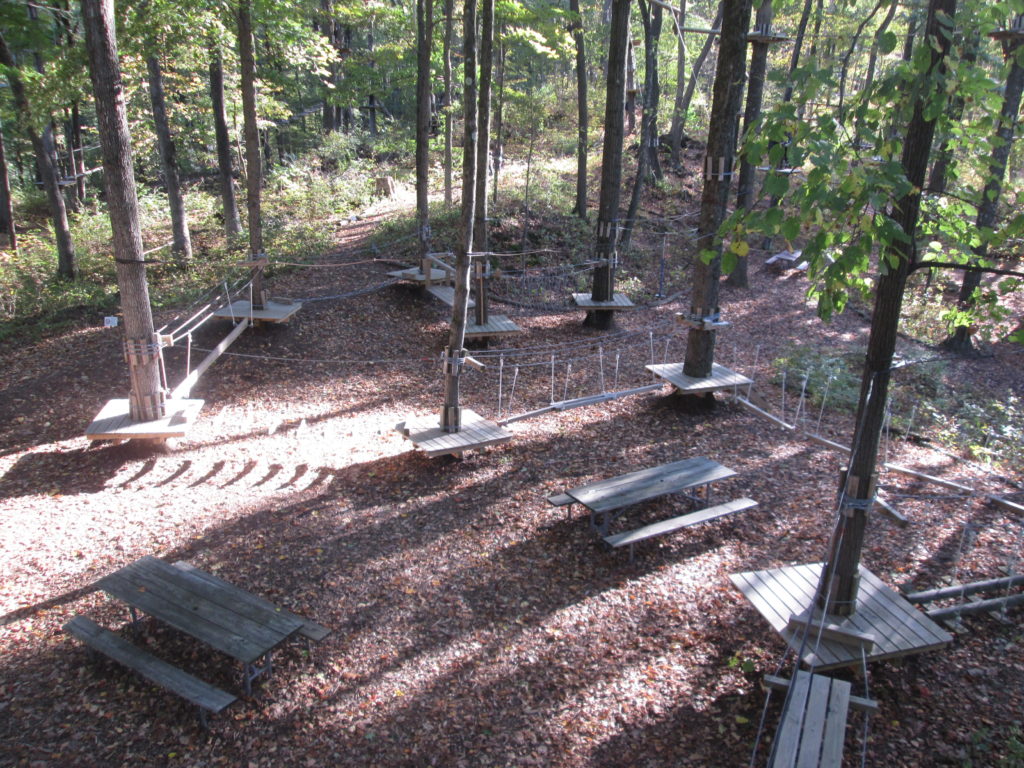 The other parks we've been to (like Flagstaff Extreme and Adirondack Extreme) have the courses strung out sequentially. Instead of this approach, TreEscape has the courses centralized. There is one starting deck/point for all courses, and they fan out like a hub and spokes. Everyone must climb the wooden ramp (practicing clipping skills along the way) to the starting deck before starting each course, You have to first start on the yellow (easy) course. The website says once you've done a yellow or green (next easiest), you can do a blue (intermediate) course. However when we tried to go to the blue course after only doing a yellow (blue was less crowded than green), the employee said we had to do a green course first. Not that she would have known if we said we already did one.
We arrived at the clubhouse about 3:15, and were put in the 4:00 group (as guests, we were told to come anytime during the day and did not have an assigned time). We got to the aerial park about 3:45, and by the time we got situated (locker, harnessing, instructions) we got on the course around 4:00. My husband did 2 courses (yellow, green) and had enough. It's not his thing. My son and I continued and did a blue course – which apparently is just as hard as the black course, but we didn't have to climb the hanging rope to get up to the black course (that rope looked scary and hard). The blue course had several elements that were definitely much harder than the easier courses, and the first element strained a thigh muscle that still bothers me a little bit a week later. I'm getting old!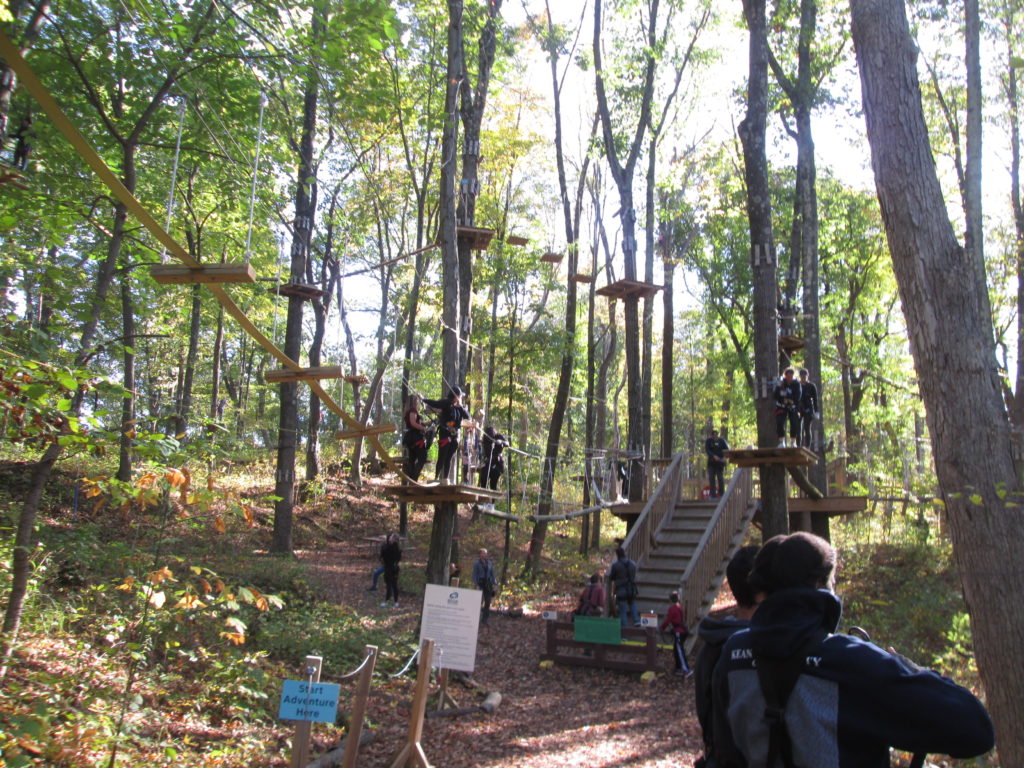 By this time it's 6:15, and getting darker. They have awesome lighting above the courses, though they had to shut down one blue course because the lighting didn't work. And they shut down all but the green/yellow courses by then as well, as it was getting dark. That meant everyone was shuffled onto the easier courses. We should have zipped through, right? Nope. That green course took us 45 minutes with A LOT of waiting, which really sucks when the park is open until 7:00 (the younger kids were gone by now, so I can't blame them). And once you're on, you can't go backwards to get off (especially if there's a zipline).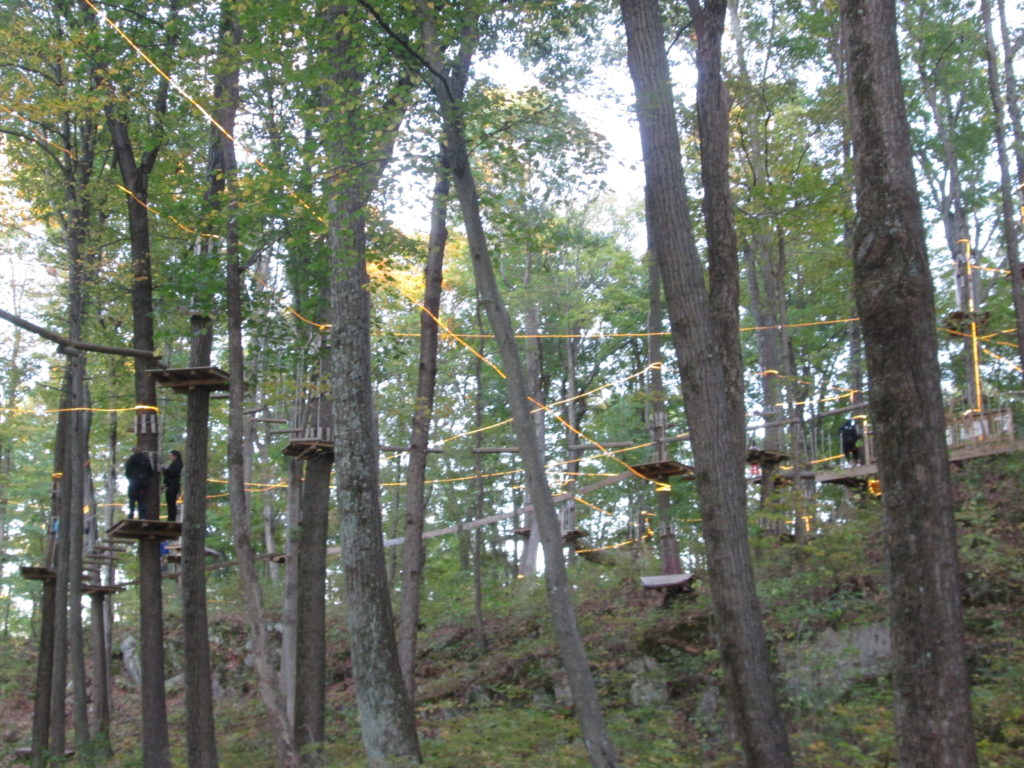 When you're done for the day, get your key from the toolbox, clear out your locker and head to the shuttle stop, where there is no line-up system, just a mass of people who swarm the van when it arrives. By the time we left, it was a little after 7:00, and very dark outside. We shoved as many people as possible into the van for the uncomfortable ride back (thank you, son, for letting me sit on your lap). We were hungry and planned to eat at the clubhouse, which the website said was open until 8:00 on weekends. It was not open. The van driver told us that the clubhouse closes when the golfers leave.
What we liked about TreEscape
There was a lot we liked about TreEscape.
—They took safety seriously, with many opportunities to learn how to use the clips and reinforcement about how many people could be on an element at a time (1) or a platform (3 at a time).
—The staff overall was very friendly, helpful and nice.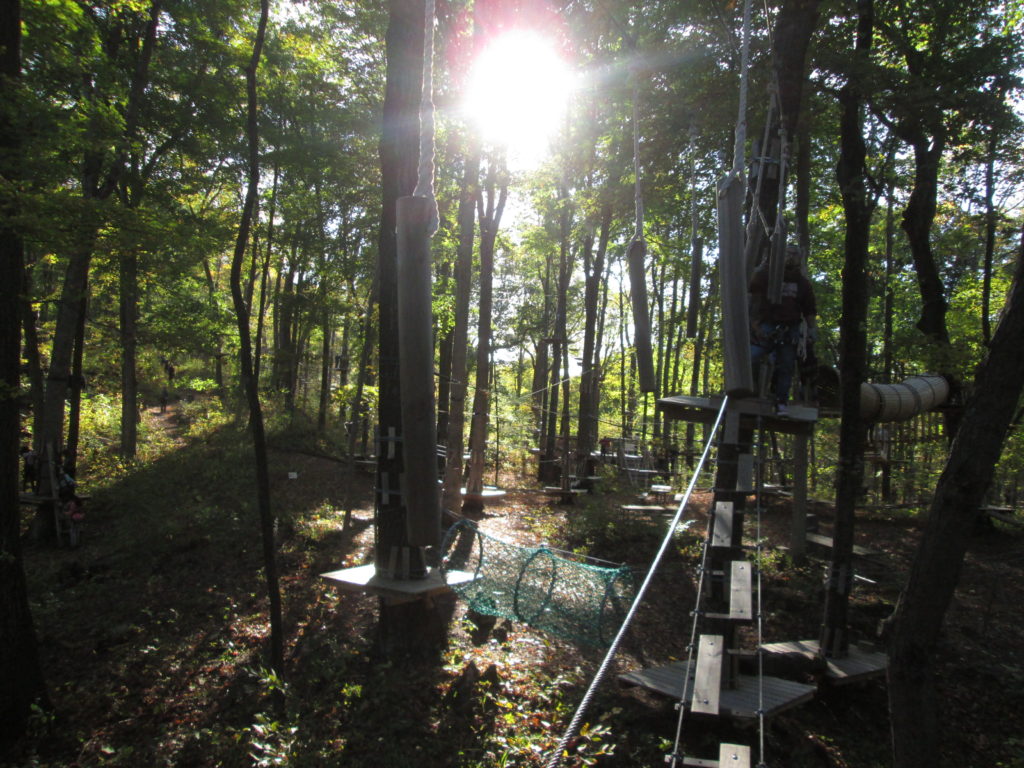 —The lighting was lovely – we were interested in doing a night adventure (mentioned on their website, but not actually available). But as we were there after dark, we got to experience that night atmosphere.
—Those not participating could walk underneath and around most of the courses to follow their friends/family members. At some parks, you can't do this because a stream gets in the way that you can't cross (Adirondack Extreme).
—There was a big variety of elements.
What we didn't like about TreEscape
There were some downsides to this park.
—The check-in was inefficient. It would have been nice to have check-in at the site itself.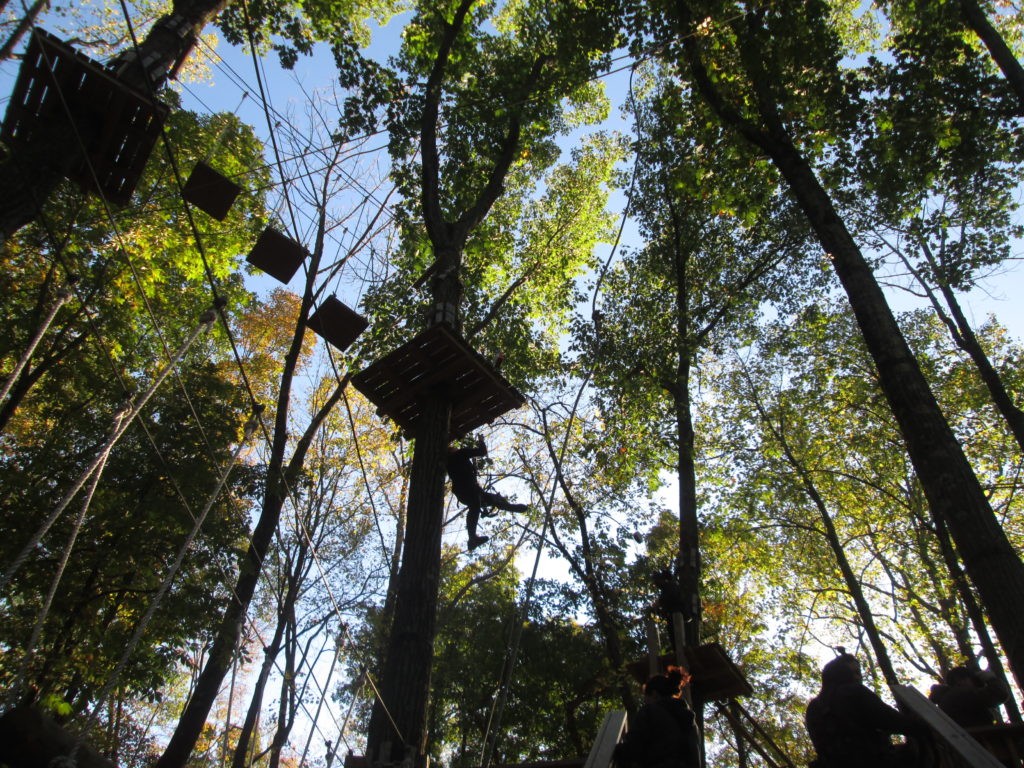 —The van service was annoying. There were not enough vans to safely and comfortably transport people in a timely manner.
—The park was way too crowded. We spent a lot of time just waiting on the platforms for the clog to clear. Like waiting 10 minutes or more to get on one element (this happened on multiple courses, multiple times). And trying not to get annoyed at the family with 3 cute little girls having a hard time crossing a difficult element. It's not their fault – it was hard. Places like Flagstaff Extreme and Adirondack Extreme have a height requirement for the adult course. It's a bummer for the families who want to bring younger kids to be relegated to the kids' course, but for the adults, it's a better experience. We were told that if we went later, it would be less crowded. I don't know how bad it was earlier in the day, but the crowds were frustrating between 4:00 and 7:00, especially when they shut down half the courses after 6:00.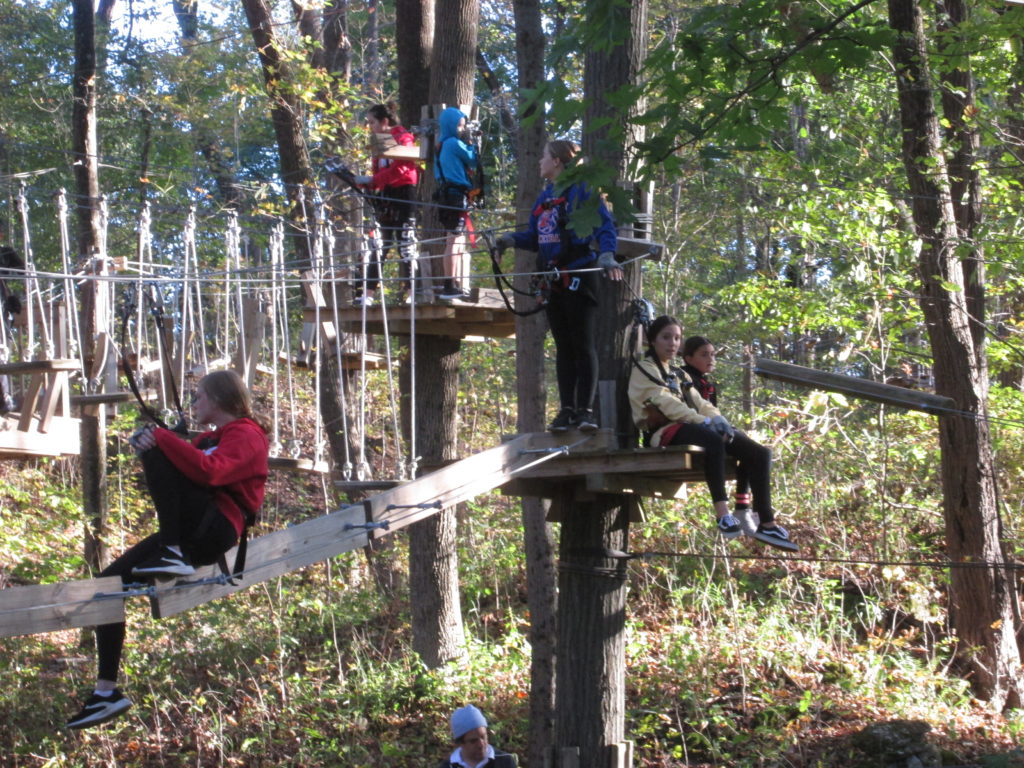 —There was not enough supervision below the elements. We were told if we needed help, to yell "STAFF!" and someone would come. On our first course, my son's clips were both locked and he couldn't get one unlocked to move off the element onto the platform. They should not both have been locked (that's not how they work). We yelled STAFF multiple times – and not just my. The 2 men behind me yelled. My 6'3" husband yelled. My teen son yelled. No one came. And we weren't even far from the base. Fortunately someone had the idea that he should backtrack across the element to trigger the magnets there, which would unlock his clip. That worked. But otherwise, someone was going to have to finish the course and leave him there while seeking assistance.
—Unfortunately that wasn't the only time the clips misfired. It happened at least 3 more times. In between courses, he went to the staff and told them, and they banged the clips together a few times and said he should be good. But it continued happening. Several times he had to backtrack on the element to retrigger the magnet.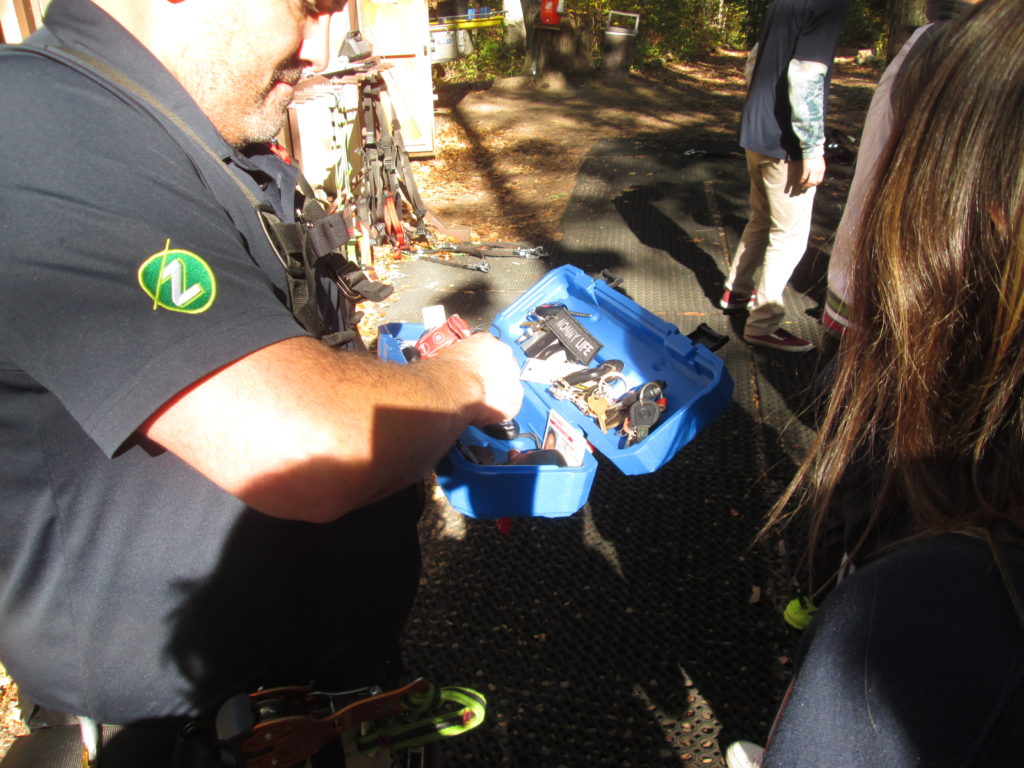 —There should have been better night lighting when leaving TreEscape, like in the shuttle area. There was no lighting, other than that provided by the courses.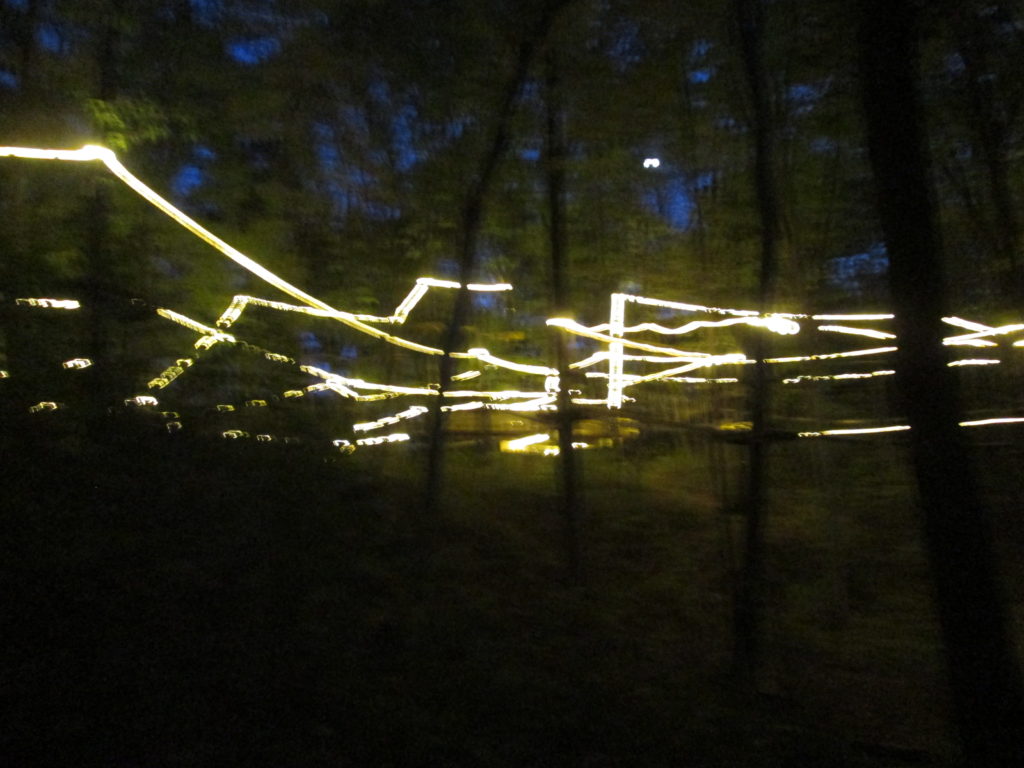 TreEscape is part of Mountain Creek Resort. You can go there for ziplining and tubing, in addition to golfing and skiing.
If you go to TreEscape
Dates/times: Last day for the 2019 season is November 30. Open weekends through October 12:00-7:00, and weekends in November 12:00-5:00. Last admission time for October dates is 4:00, last admission time for November dates is 2:00. Reopens around May 4, 2020
Where: TreEscape: 414 County Road 517, Vernon Township, (go to the Great Gorge Golf Course/Clubhouse
Cost: Rack rate is $40/general admission, $25/kids. I assume the $25 rate is for the kids' course and the $40 is for all admissions to the main courses, but it doesn't say who is eligible for which admission price on the website. Groupon had offers for $29/general admission on its site as of last weekend, so check there as well.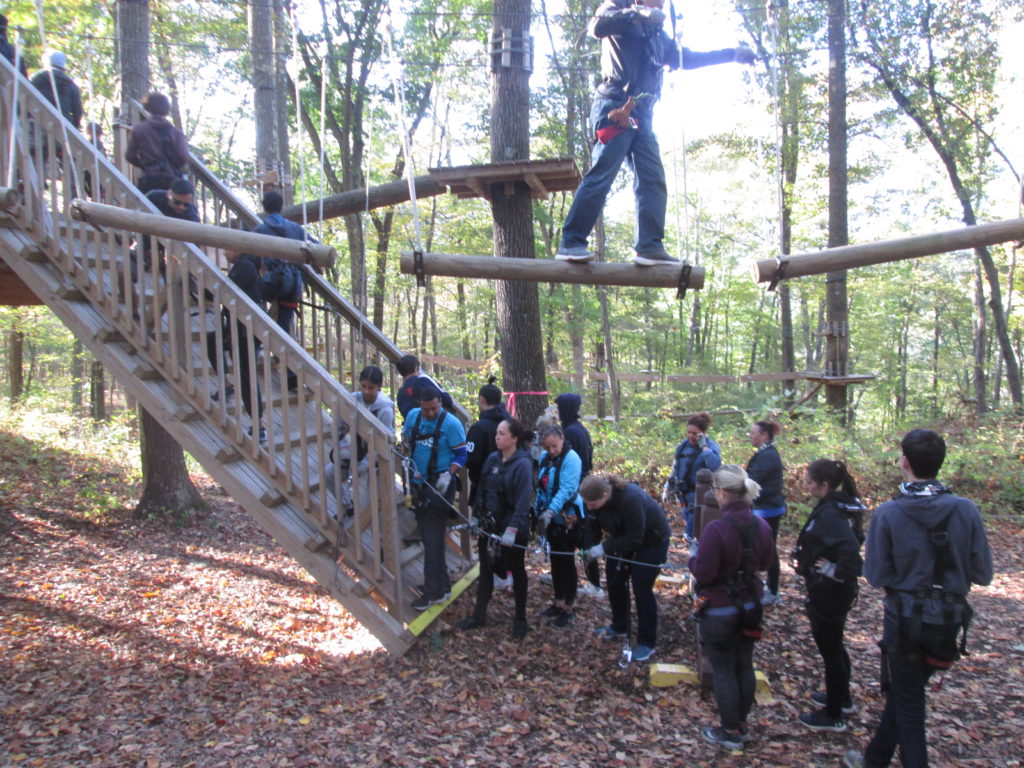 Disclosure: We were guests of TreEscape for purposes of this review. As you can probably tell, all opinions are my own.