Ever since I went to Flagstaff Extreme a few years back with my family, my kids and I were dying to do it again. Especially since my son was now tall enough to do the full course (in Flagstaff he was too short/young). And my husband missed out on that experience and wanted to try as well. This "aerial treetop adventure course" has multiple courses of ropes obstacles and ziplines. On our recent trip to the Adirondacks, we booked some time at Adirondack Extreme near Lake George.
This adventure course (built by the same company as the Flagstaff one) has five adult courses that you do in order, and an optional extra hard "black" course you can pay extra to do. You can quit at the end of any course, and if you have problems while up there, you can call for a guide's help.
Those not quite ready for the full adult run (ages 9-11) can do the junior adult course, which is the first three courses, and kids ages 7+ have their own dedicated course (adults can hang out and watch from below, but the kids have to do it on their own).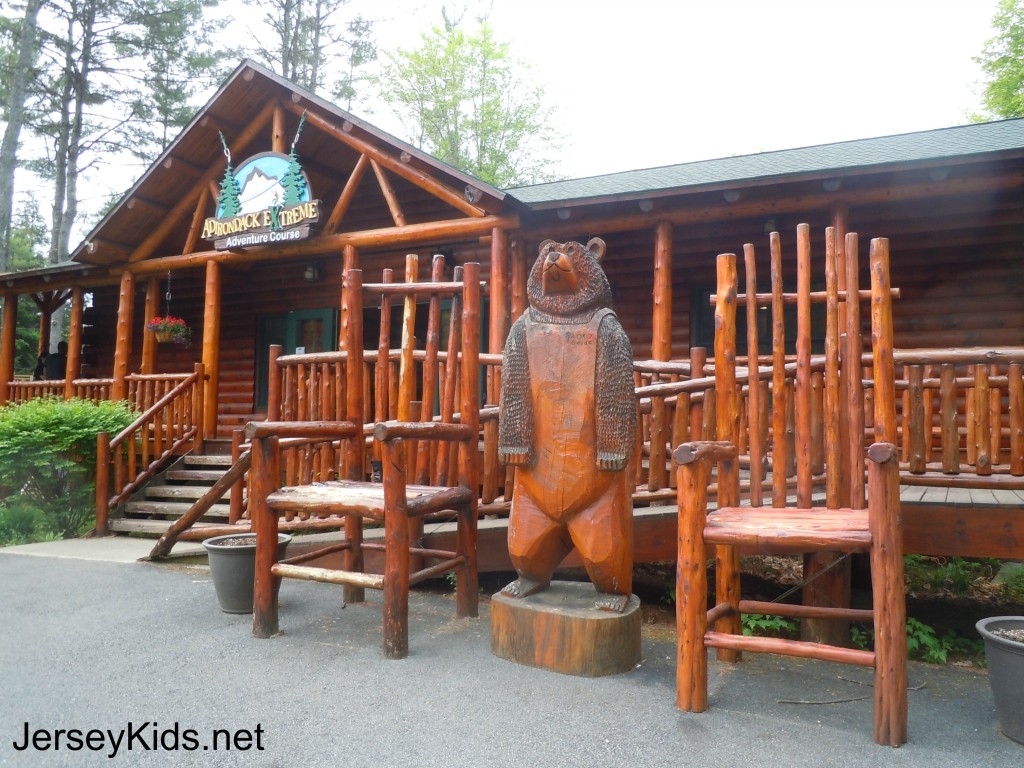 Before you start, you'll get professional help putting on your harness and you'll get a lesson on how to do the course, complete with a mini course you do with professional supervision. They're strict with safety, as they should be, so they watch to make sure you're always hooked onto the cables with at least clip, that your clips are put on in opposite sides, and that when you're ziplining, you're not holding the apparatus. They do watch, and if you mess up more than once while you're out there (not on the practice one), you're off the course.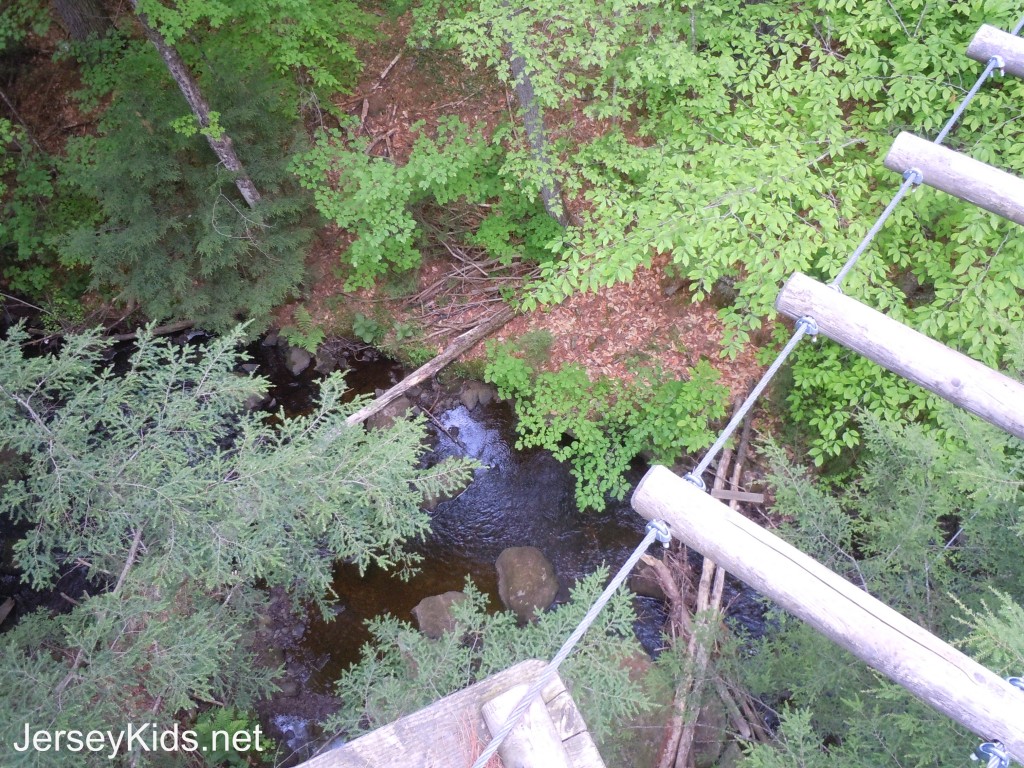 Each course gets progressively more challenging, whether the steps  are further apart, or you have to climb around something more difficult, or it's higher in the tree. This course was beautiful because it crossed streams a number of times, including two ziplines over the creek.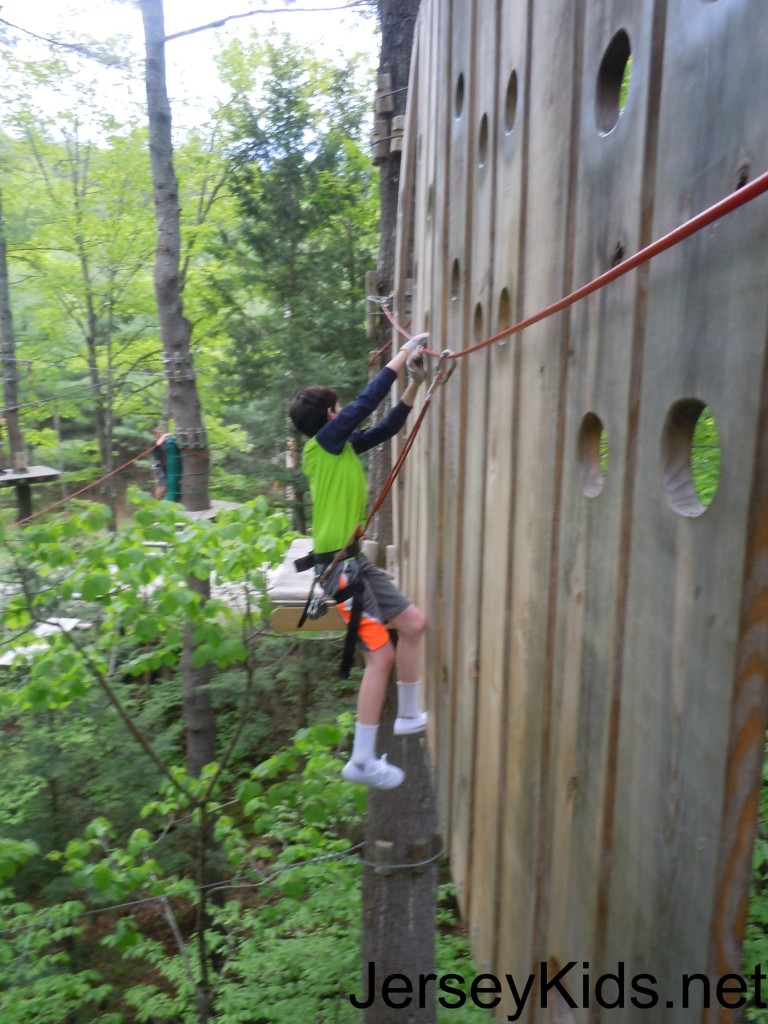 If you're afraid of heights, this is probably not the activity for you. You need to have good mobility. You are always hooked onto a cable, so if you fall, you won't fall far and you won't hurt yourself. You can get back to your correct position pretty easily. That said, do remember to lift your legs up when ziplining toward a platform, so you don't end up with a knot on your shin that lasts a really long time. You're welcome.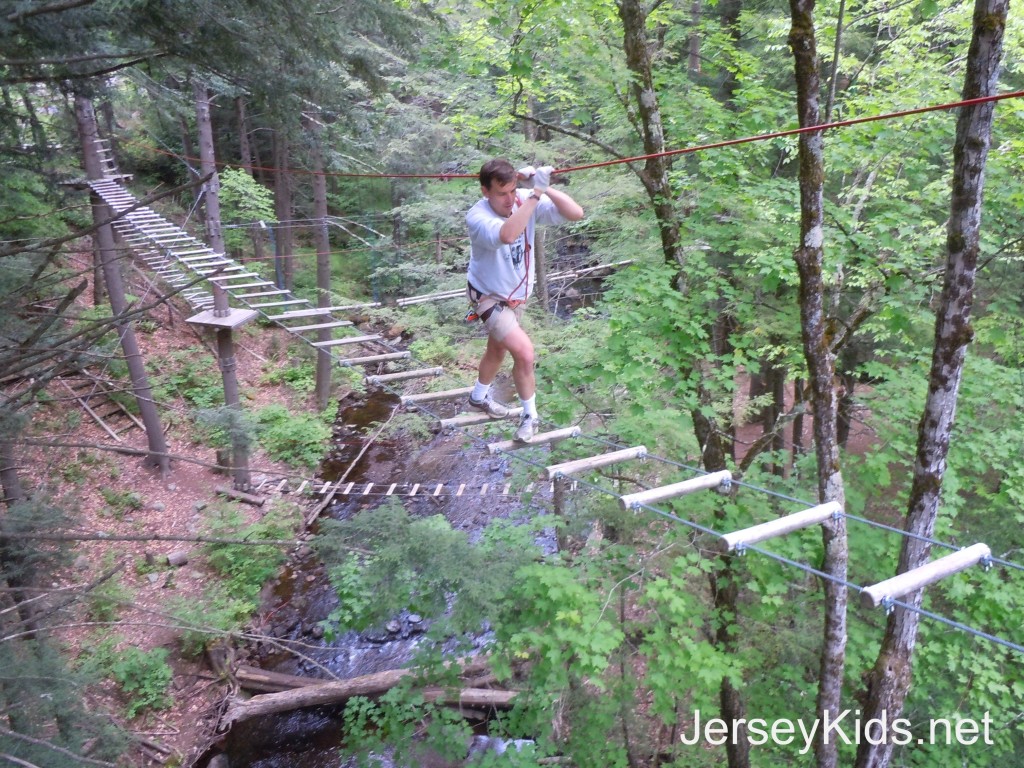 A lot of your success has to do with your balance and your ability to just go. Strength matters less than you might think. I was surprised that I went further and faster than my husband (above), who is a regular runner (he did his first marathon this year) and has thighs of steel. I am good at Zumba, but no one is giving me any awards for my fitness level, and my upper body strength is lacking. He finished four of the courses and was exhausted, and I did the last one with my kids with not much effort.
Some of the fun is just figuring out the best ways to get across, whether it's swinging logs or continually switching sides of a log, or deciding whether to crawl or walk across something.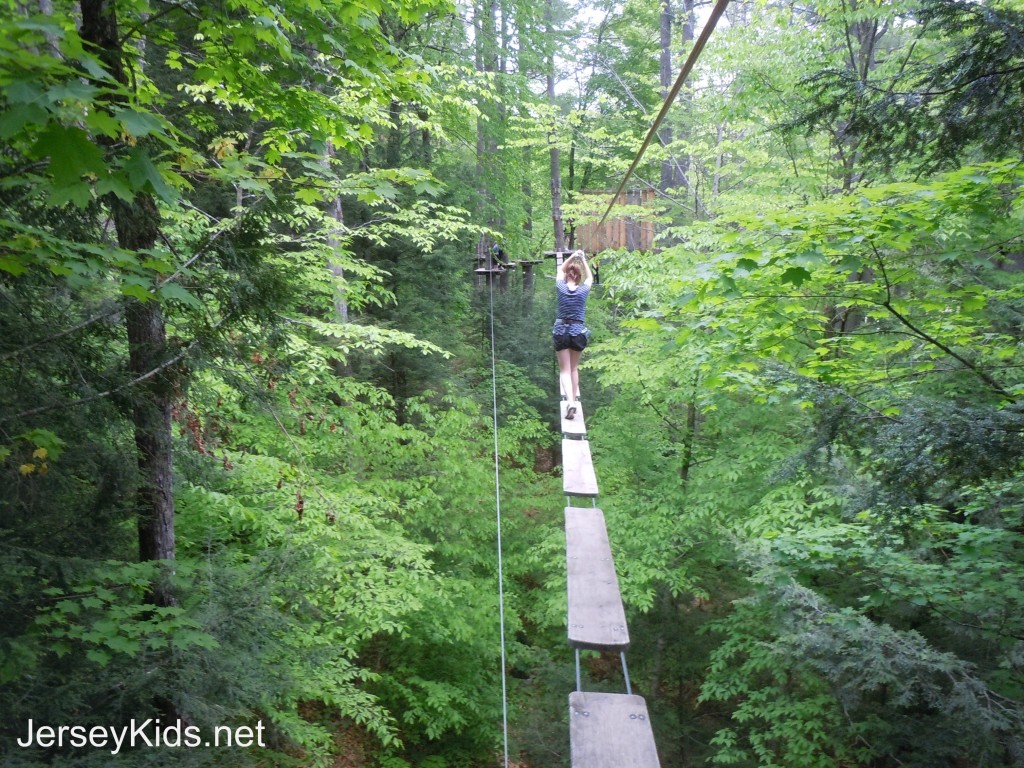 You'll be there a few hours, if you want to complete all the courses. It's nice and cool in the trees, and if it's raining, the place usually remains open (unless there's lightening). You can bring food to eat on site – there are some picnic tables and lots of benches for those just watching. And they're not checking their watches to see how long you're taking, so relax!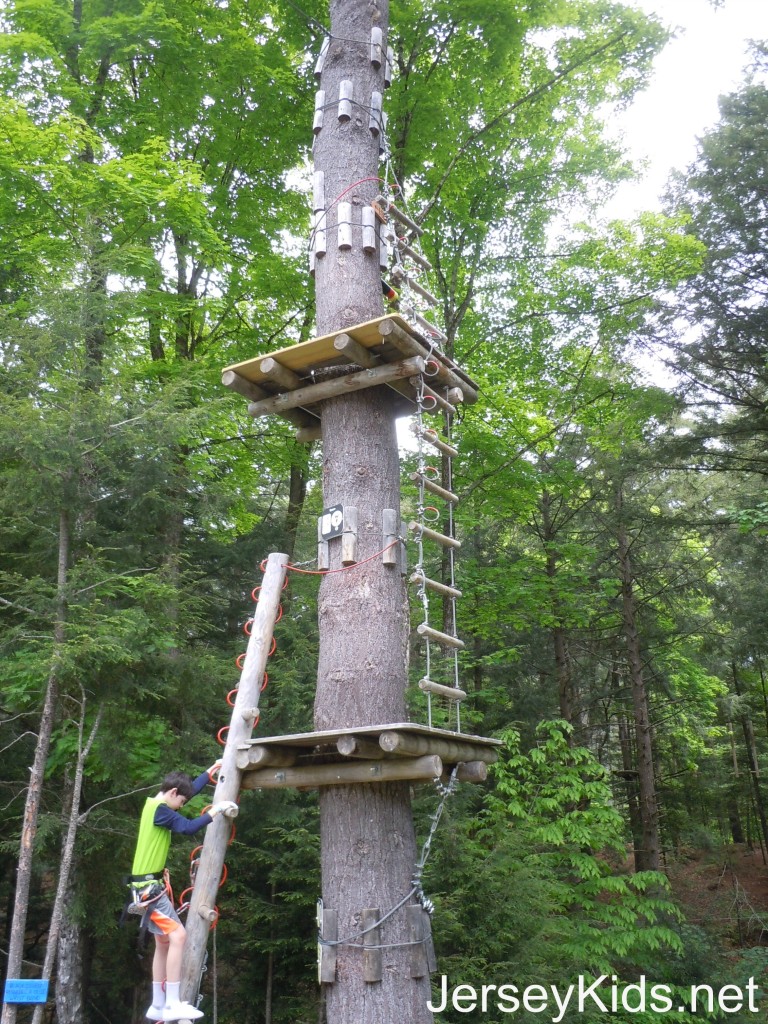 When we finished the adult course, my son was begging to do the black (expert) course. It's $5 extra and he was old enough and tall enough, though they do usually say that kids under a certain age must be accompanied by an adult on the course (I forget the details), he went alone on the black course. Given that he did great earlier (he was so far ahead of us we couldn't even see him), and that he was safely clipped in, I was not worried.
The frustrating part is that we couldn't follow along below him during the course, because of the streams. That's the same for the other adult courses – once you cross the river, those watching can't necessarily follow you closely. In any event, we saw him hanging from the cable a few times, and having difficulty on one of the lines because the obstacles were too far apart for his five foot body. Finally he called a guide, who offered to help him through the rest of that section, or lower him. He realized he was too small to make it across so he asked to be lowered. It was interesting watching that happen from a distance, and we left a nice tip in the jar for the guides! We were proud of him for knowing his limits and making the decision to come down when he did.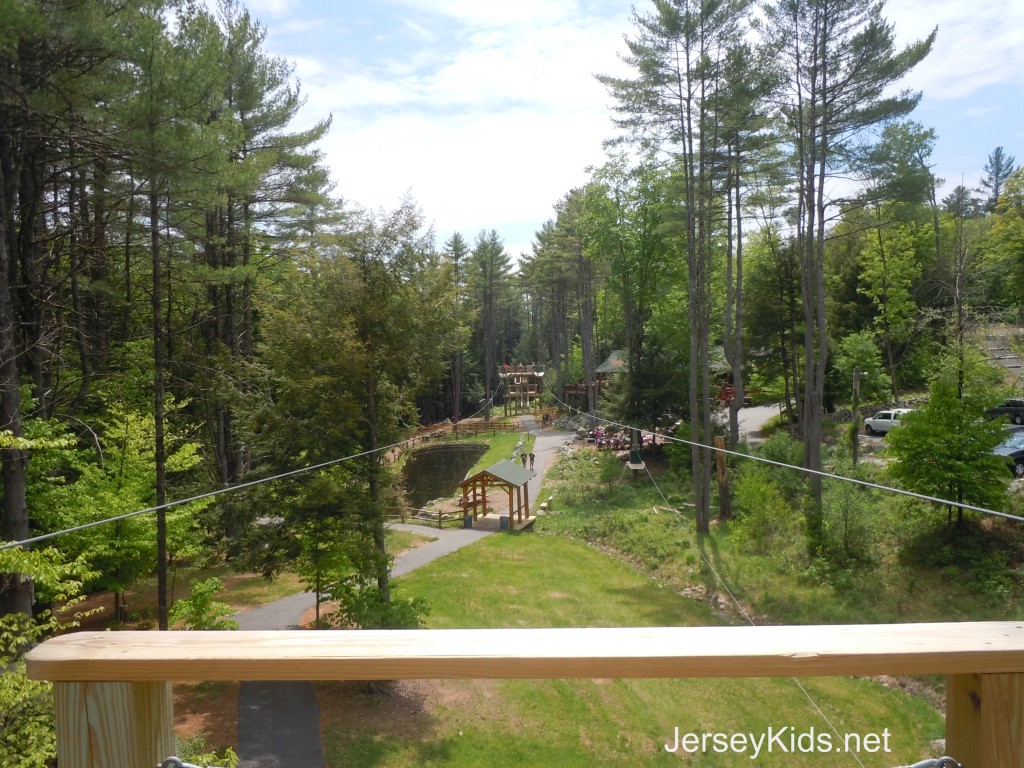 The big zipline is near the start area, and you can go on it as many times as you want. My daughter and I raced a few times. By the end, though, we were physically tired and getting hungry for lunch. We look forward to going back again. But we were very sore for a few days.
If you go:
Adirondack Extreme is in Bolton Landing, very close to Lake George.
Make sure to read all the information on their website, like the need for closed toe shoes, hair ties and non-loose clothing. They also recommend reservations ahead of time (we made them but they didn't charge our card ahead of time, which is good because part of our group had to cancel).
Prices vary, but it's $45/adult course, $40/juniors, $25/kids' course. They have some Adirondack Extreme discounts and specials you can check out too.
If you're looking for other Adirondack posts, check out:
White water rafting in the Hudson River Gorge in the Adirondacks
A review of the Glen Lodge and Market in the Adriondacks near Lake George