The idea of driving 30 minutes to ski instead of 90+ minutes is appealing. The idea of skiing indoors is novel enough to want to try it. So when Big Snow at American Dream invited my family for a visit as their guests, we said yes. But it's indoors! It's in a mall! What about COVID-19? I have an entire section on how they're handling COVID-19 below. Because it's a huge topic.
What is Big Snow?
Big Snow at American Dream is an indoor ski area that's finally opened in East Rutherford. Yes, the massive mall and former Xanadu eye sore that was sitting vacant forever! Big Snow at American Dream is one of several large experiences you can do indoors there, in addition to the Nickelodeon Universe theme park (currently open), DreamWorks Water Park (currently open), and the Sea Life Aquarium (opening spring 2021). Big Snow opened late 2019, closed in March 2020 because of the pandemic, and reopened in October.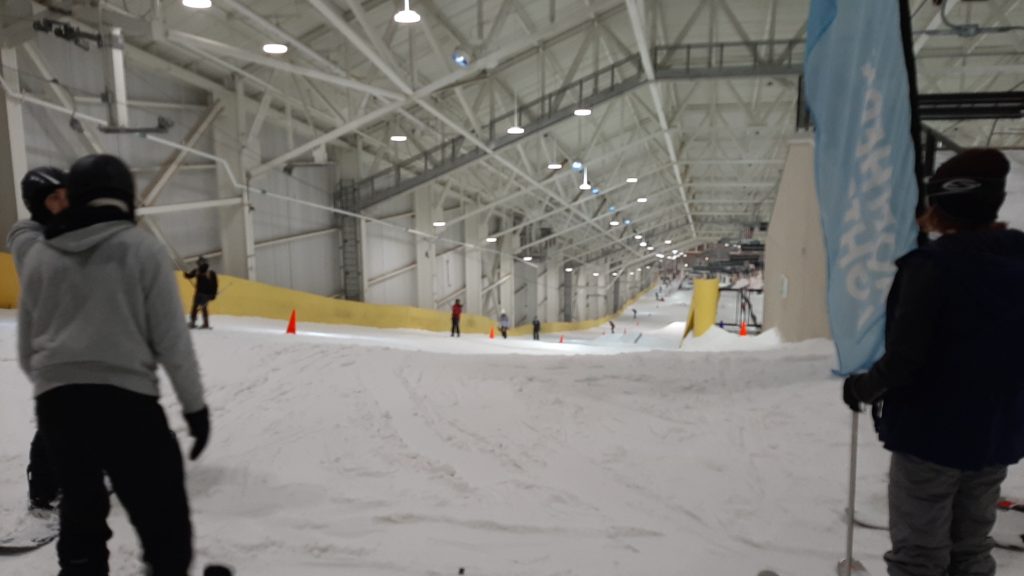 What do they have at Big Snow at American Dream?
Here's an overview: Big Snow has 3 ski areas: a bunny hill (terrain-based learning area) with 2 magic carpet lifts, an intermediate (blue) ski slope with a quad lift, and an expert (black diamond but not really) slope and terrain park, which you can access with the quad or poma lift (t-bar between your legs that pulls you up the hill). You can bring your own equipment or get a package with outerwear and equipment. They have free lockers as well. You can ski, snowboard, or rent a snow-bike, but there's no area to just play in the snow (no sleds etc. allowed). You can observe for a lower fee. The indoor ski area is not big compared to a ski resort, and the runs are kind of short in comparison as well. But they're duplicated the basic ski experience indoors, and you can ski indoors year-round in 2-hour chunks.
Our experience at Big Snow at American Dream, in depth
We signed up for a time slot online – mandatory during the pandemic. There's no walk-up tickets. You sign up for slope access (lift ticket) or a package with rentals, all are good for 2 hours on the slope. We got a full package for a Saturday afternoon in December. It was super crowded (more on how to find a less crowded time later) and most of the day was sold out by that day. At the mall entrance, the staff scanned our ticket barcode on my phone, and we waited in line to get in with everyone else who was renting. Those with their own equipment just walked in after getting scanned.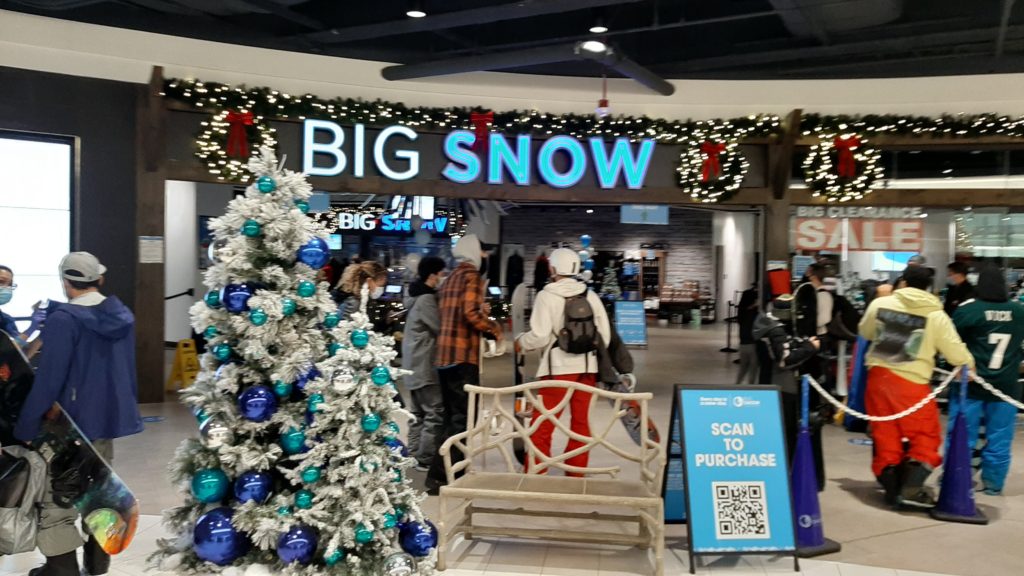 In spite of the social distancing markers on the floor, there was little social distancing in line, which was so stressful we almost left. We waited in line about 15 minutes, and figured if we got COVID-19, this was where it happened. The 15 minutes gave us plenty of time people watch, and observe the many mallgoers (the entrance is literally in the mall) wearing their masks below their noses. My recommendation to Big Snow is to let people in on an ongoing basis to keep the line moving, and ensure people are spaced out.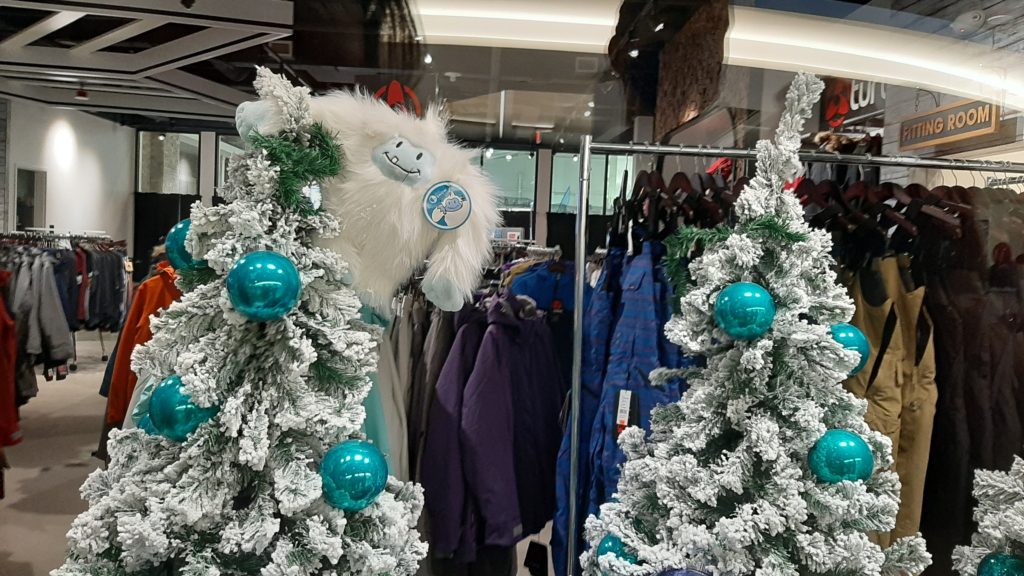 Inside the facility: After 15 minutes, our group was admitted. We walked through the middle of the store (which seemed nice and well stocked), to wait in line in front of the babysitting area (empty) before we were called to the desk for our wristbands. Because we registered online, they already had our names and rental information.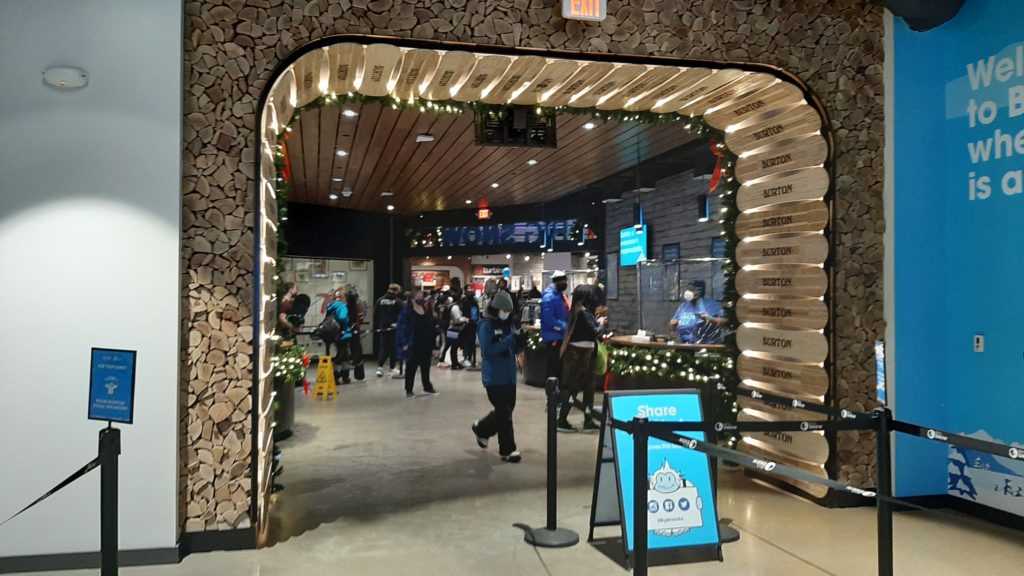 We were given RFID wristbands, and we walked through what looked like a gondola to get to the rental area. (A pre-pandemic article noted that the gondola is for a video tutorial about the process of getting ready to ski or snowboard). By now, the line was better spaced out.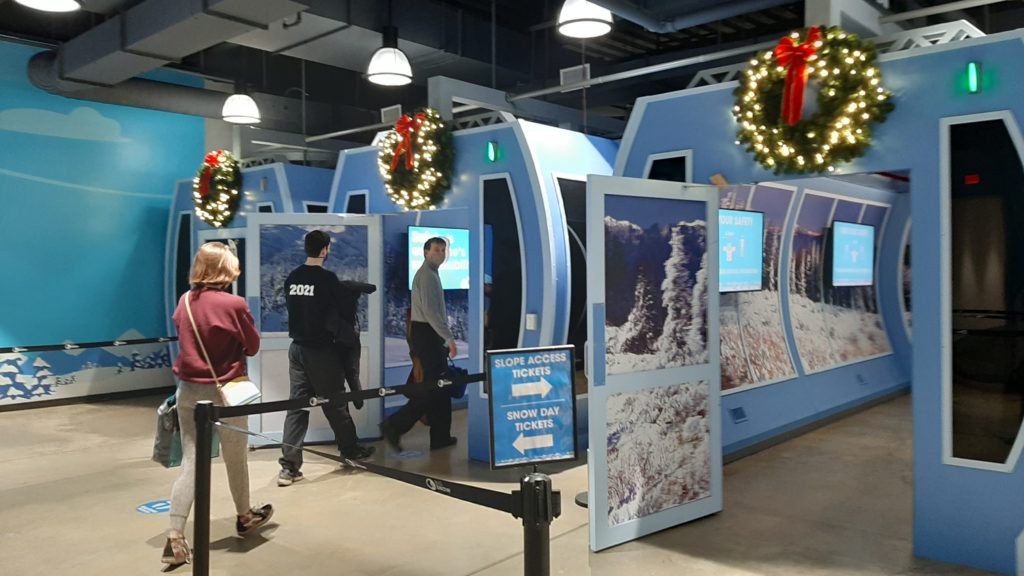 Rentals: The first rental area was for outerwear. The package comes with a ski jacket and pants (we had our own) and they encourage you to wear something below them – and you have to bring your own socks and gloves. The outerwear area looked well organized, with bins of clothes and employees inside a booth, with barriers.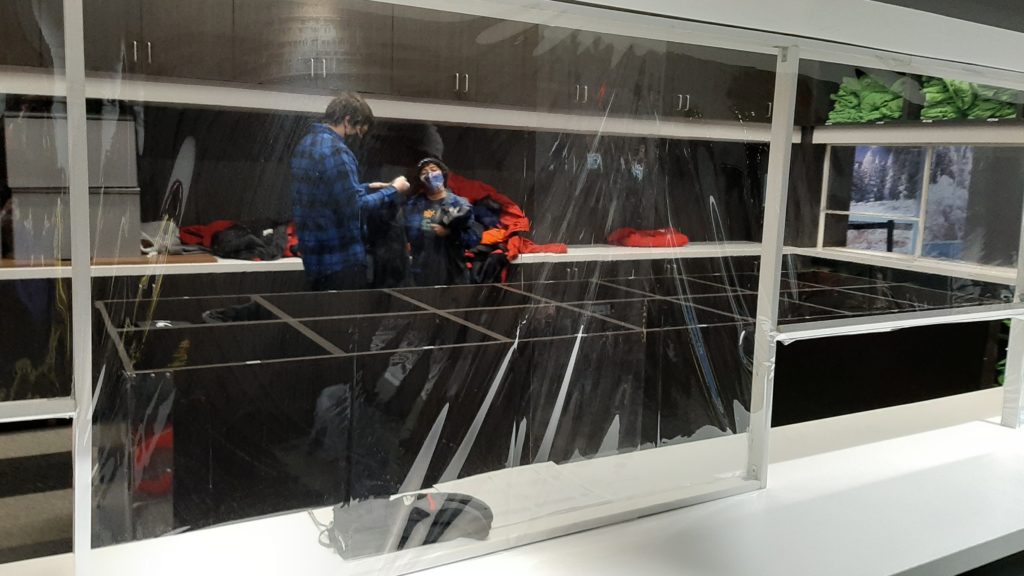 We then went to the boot rental area, and I have to say this was a highlight of the visit. I've rented ski equipment many times and it takes forever. Boot fitting at Big Snow was so efficient! We climbed the stairs and there were individual boot areas separated by a small barrier. I saw a picture from late 2019, and there were no barriers. The downside was that it was hard to see from the stairs if a booth was available. You scan your tag on a railing scanner and the employee can see your registration information and shoe size. They will confirm that before getting the boots, which is good because I wasn't actually sure of my son and husband's shoe sizes when I registered them at home and they needed different sizes.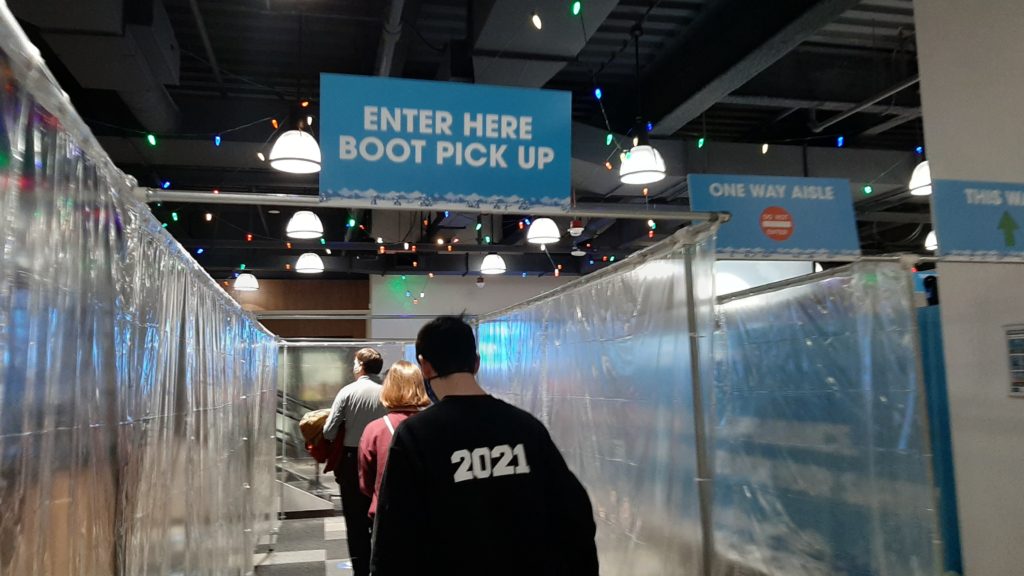 The employees are standing at a lower level in the rental area, and they literally put your boots on for you and adjust them, to make sure they fit and so you don't have to do it yourself. It was so fast and easy! A recommendation: have your ski socks and pants on before you get into the boot line (there is a bathroom right before if you need to change). If you aren't prepared, you'll have to put your boots on again by yourself in the crowded locker area. Also, if you want a helmet for the slopes, ASK THEM AT THE BOOT RENTAL.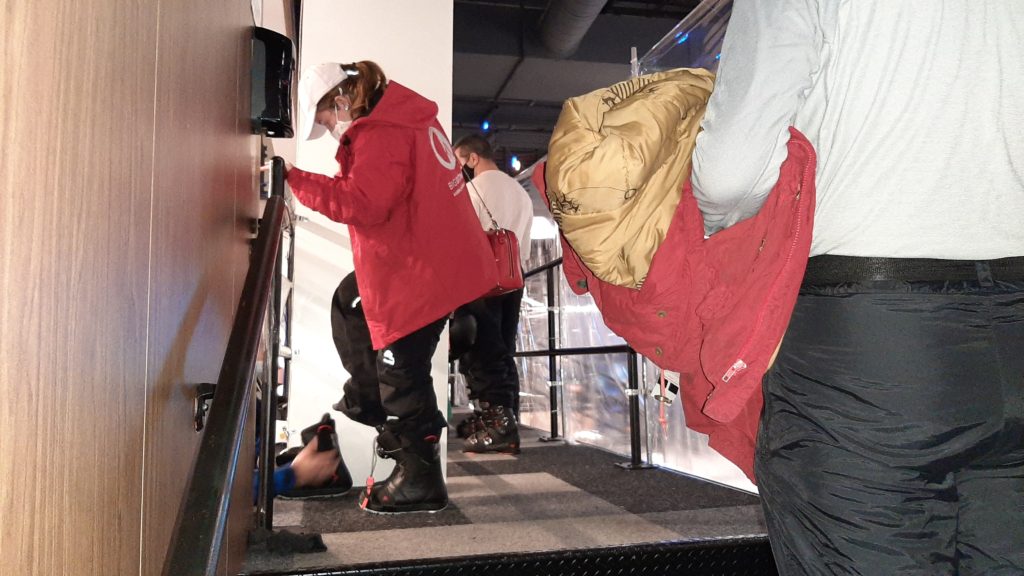 There was no sign for helmets, and the boot guy didn't offer a helmet, which comes with the rental. I assumed they'd hand them out later, but they don't (my son asked when getting his skis and they brought him one).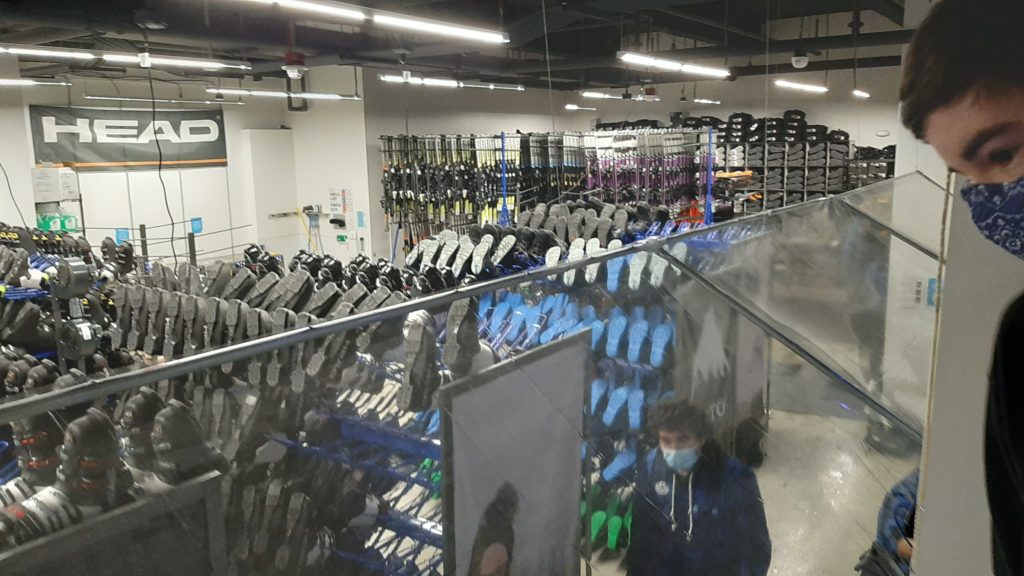 Lockers: So now you have your outerwear and ski boots, and you are at the locker area. It was CROWDED and very stressful. Locker rooms in ski resorts are always crowded, but at least when it's not a pandemic, the crowds matter less. There was no way to stay 6 feet apart from people in that area. The lockers are free and you choose one with a button that's pushed out. There are no signs for how to operate the lockers. After putting your things inside, close the locker door, and push the button in and hold it with your RFID bracelet. When it flashes green, it's locked. To unlock it, just push again with the RFID badge.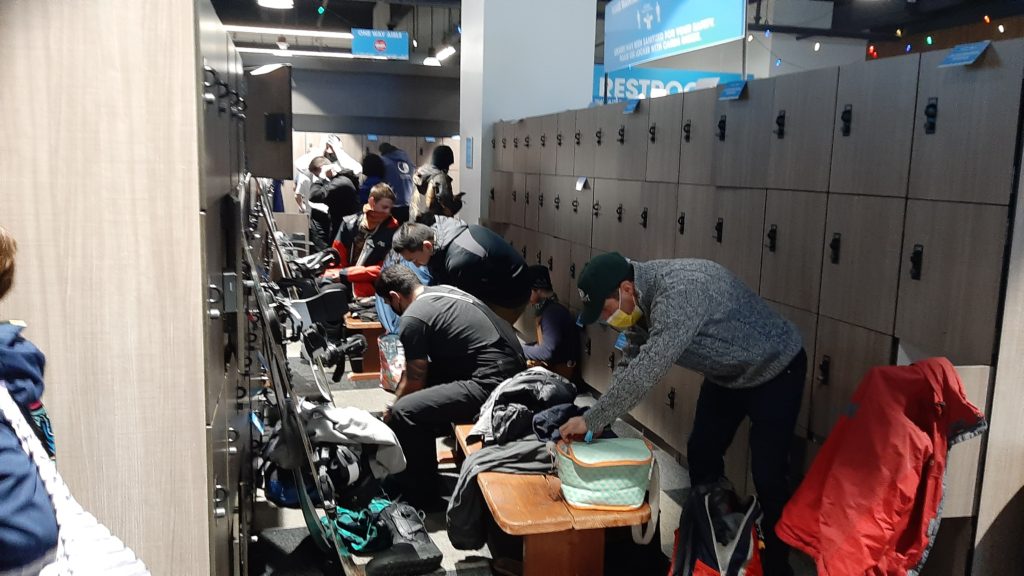 Entrance to the slopes: The slope entrance is right there, and you swipe in again with your badge, which I think starts the 2-hour access. Don't plan skiing for a day when you have to get in/out in 2 hours, because you'll need time to wait in line for rentals and to get in, as well as locker time. For us it was at least 30 minutes, plus we had to find the Big Snow mall entrance. When you exit onto the slopes, which are a constant 28 degrees, you can pick up your rental skis or board on the left. Again, they know who you are and adjust your skis for your level and your boots. The employees will come outside with your skis and call your name, so you don't have to wait in line, even though there may actually be a line. Grab poles that are the size you want from the rack, self-serve.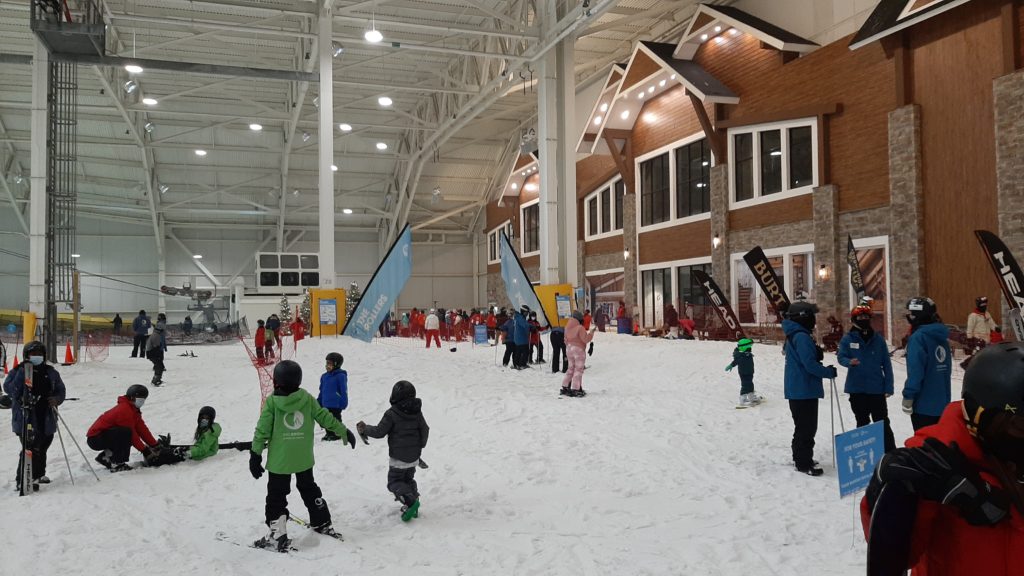 Skiing: The first area you'll see is the bunny slope, with magic carpets. We did not check out this beginner area. They will offer private lessons at some point, but the website said they're not currently doing that. The package apparently comes with access to instructors (not formal classes) and we did see a group of instructors in that area. It's hard to figure out who the staff is versus the skiers, as the red rental jackets and black pants have the Big Snow logo on them. The staff seemed to be mostly wearing blue logo Big Snow jackets (though I also saw a kid wearing the same blue jacket, and I saw an instructor wearing a red jacket with a lot of other equipment on him).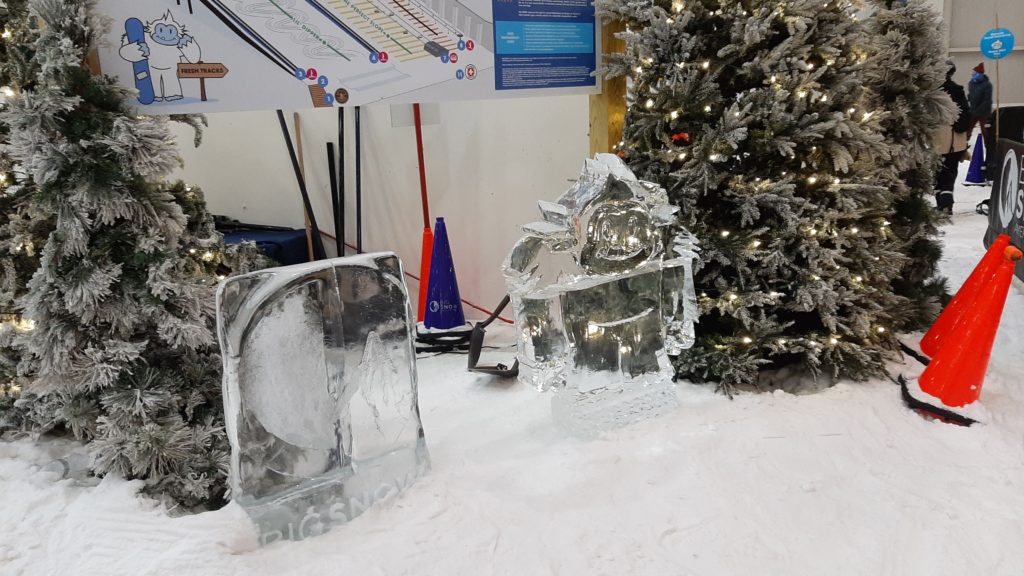 We went straight for the quad lift. They are not putting people on the lift together unless they are part of the same group. There are 3 lines to get on the quad lift (the right line was usually the least crowded). The far-right line was for the poma lift. The lift takes a few minutes and at the top you can go right to the terrain park hill (though the very top is just flat snow) or to the left for the intermediate run. There is a barrier between the two, with an opening about 20% of the way down so you can crossover.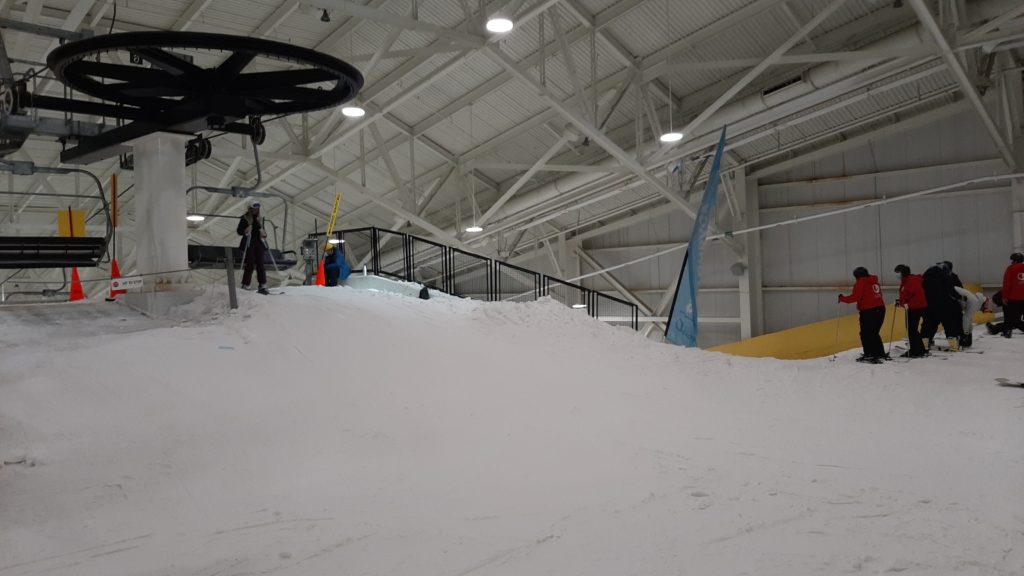 When you're finished skiing: I did not see a clock on the lift or the walls, so bring a watch or look at your phone if you're concerned about your 2 hours running out. We skied about an hour, and that was enough for us. After you're done skiing, hang up your skis/boards on the rack where you picked up your equipment, and put your poles in a bin (separate bin from pick-up). They'll clean those for you and bring them inside. Go back inside and tap your badge again into the system. Inside they have racks for your boots and helmets. Get your stuff from the locker and leave!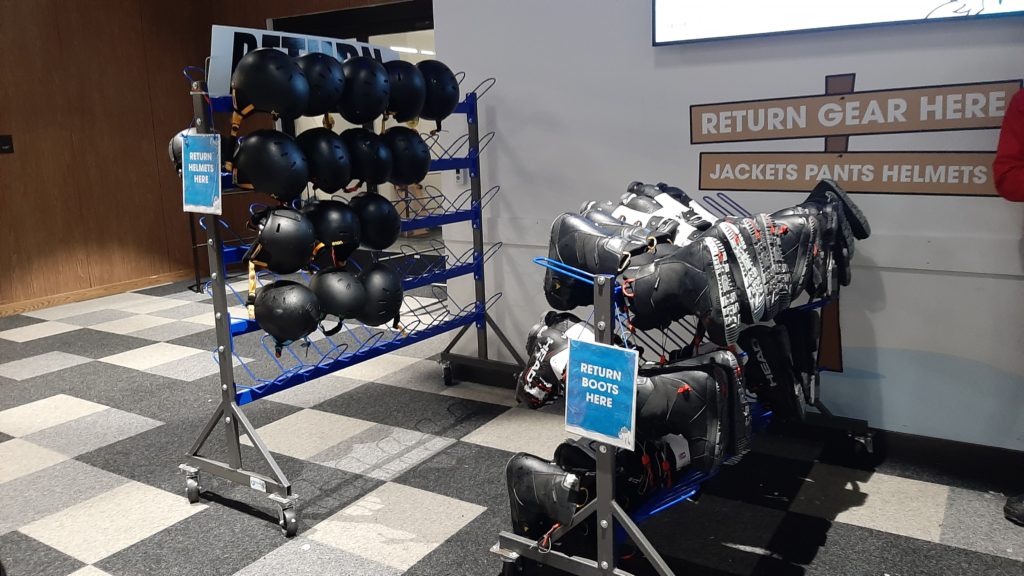 What did we think about Big Snow at American Dream?
Our experience at Big Snow was a mixed bag. It was a novel thing to do and we were excited to try it. The COVID-19 issues (see below) were really stressful and I would not return on a sold-out day during the pandemic. Too many people who were not responsible with mask wearing. The ski slopes were short (no surprise) and for us, a lot of the enjoyment of skiing is being out in nature looking at the trees while we ski. Obviously this is not the place to do that! We were impressed with the facility overall, especially the efficiency of the rentals. I think ski resorts should look at this boot rental model. It really was a pleasure!
Who is Big Snow at American Dream good for?
If you have your own equipment and want to hit the slopes for a few hours (and live close by), Big Snow is a place I can see going to more frequently. If you are learning, it would be a good place to go for the bunny slope and intermediate run, to really work on your turns and feeling comfortable. If you like terrain parks, this seems like a good place for that. The black run was the terrain park run. You can ski down it and avoid the terrain elements, and that would be a little more challenging than the blue run. If you're an intermediate or advanced skier, the slopes hold less of an appeal. We did about 6 runs in an hour (and we took our time). The runs are really short and straight.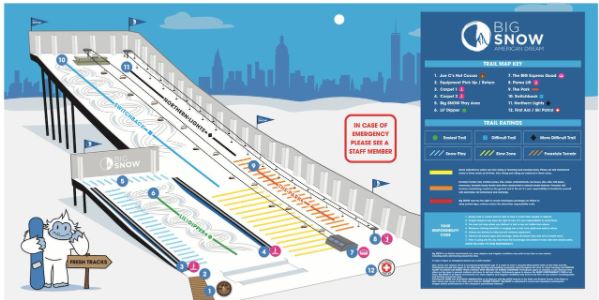 Big Snow at American Dream and COVID-19
Big Snow has a whole page about their COVID-19 precautions. I'll go through some of them here.
"Masks or face coverings will be required at all times during your visit. Masks must be made of tightly knitted material with no mesh or ventilation holes in the nose or mouth area, and fit snuggly around the nose and face…" I was happy to see that rule before I went. And I saw signs about face coverings being required throughout the facility. Enforcing it, however, is difficult, and the facility did not do a good job at enforcement. When we were in the 15-minute line to get in, we saw a guy cover his mouth with a mask that rolled down from his knit hat (e.g. not appropriate face mask). He then took it off in line. I told an employee and he quickly they the guy to put a mask on. However the guy did not put the mask on over his nose (maybe he did when asked, and then changed it after, I couldn't see). For the entire time we were there, I felt like the mask police. I asked another skier in the locker room to put a mask on. I told people in the lift lines to put their masks over their noses. Yes, I was that guy and I didn't like it one bit. I asked the employee managing the lift line to enforce the mask rule, as there were numerous people in line wearing masks under their noses that he just waved through to get on the lift. And that violated their own rules. Plus, there were plenty of people wearing ski masks with ventilation holes, which are also against their rules.
"Rental gear is sanitized." We didn't use their clothing, but I assume they are sanitizing the clothing and the rental gear as stated. You're required to bring your own gloves and they announced that before we got our badges – several people left the lines to buy gloves. The gloves are required when entering the snow, and we didn't see anyone glove-less.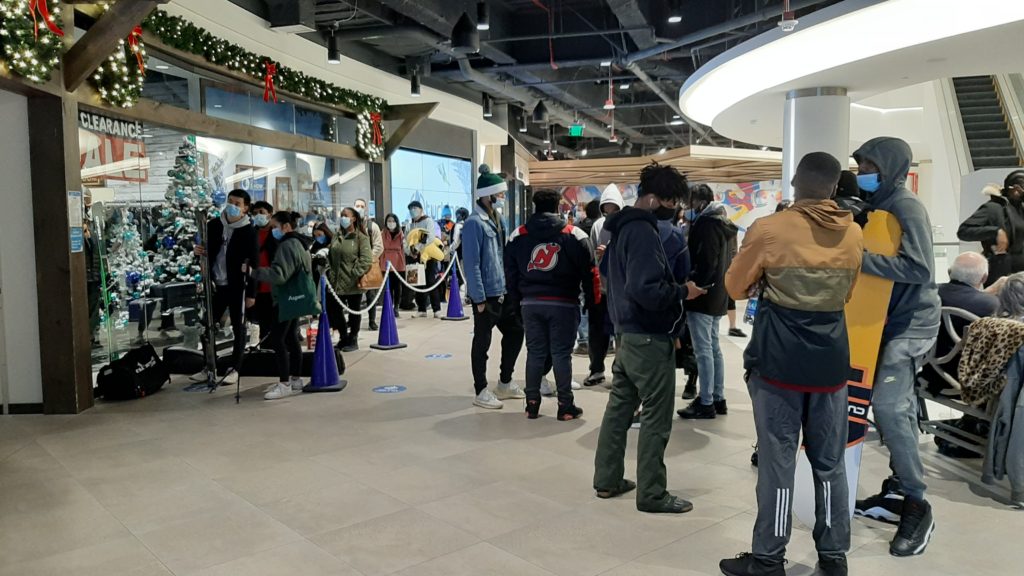 "We will be limiting the amount of face-to-face interactions you will need to have with our team onsite and we are requiring advanced online purchase for all snow park visits." This was done well. They had barriers in between employees and guests in the appropriate areas. They had barriers between the lines inside the rental area as well.
"To better allow for social distancing we will be limiting the number of guests allowed in the park and Shop at Big SNOW at any one time. We will also be limiting the amount of tickets sold per arrival session and ask that you arrive no earlier than 5 minutes before your scheduled arrival time." The maximum number of guests before COVID-19 is 500 at any given time, and during the pandemic (according to my count on the ticket site) the max is 240. On the slopes, 240 was appropriate. The runs were not too crowded and the lift lines took up to 5 minutes, which was reasonable, and people were better about social distancing (I'm sure that wearing skis helped with that). That said, we waited in line for 15 minutes in the mall entrance of Big Snow, and that was not socially distanced get in.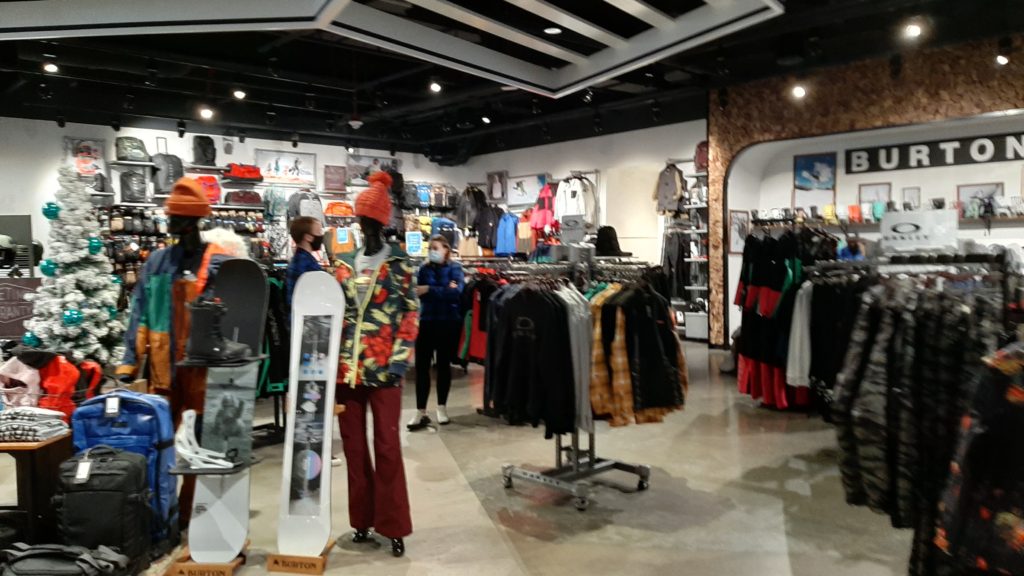 "We will be adhering to strict social distancing precautions. Please keep a minimum of 6 feet of distance between yourself and others and follow the guide signs we have placed throughout the facility to assist you in keeping good distance." Um, yeah. Mall entrance of Big Snow. The line to get ski boots was better, and they had plastic barriers in the walkways to get to/from the bathroom, inside the locker room.
"To better assist with social distancing and sanitization we are limiting the amount of lockers in use at any one time, and encouraging guests to sit only where directed on our benches. Please look for and use only the lockers with a sanitization card inside them, and please dispose of this card upon use." The locker area was a shitshow. There is no way on a sold-out day to get to your locker without breathing all over other people. If there were markings about where to sit, I didn't see it because the benches were either covered in clothing or people's butts. Plus some stupid people were just hanging out on the benches waiting for their friends and family instead of getting in and getting out of the locker area. The benches are in between the lockers. I did see sanitation cards on some the lockers, but to be honest, I was more concerned with aerosols, not surface areas. That said, I did use the hand sanitizer containers on the walls nearby.
"For the safety of our guests we are limiting the grouping of guests on our chair lift to only those guests who have arrived together." This was followed.
Some details about visiting Big Snow at American Dream
Reserving a time slot
With the pandemic, all spots must be reserved in advance online. You choose which package you want (e.g. just a lift ticket, or a rental package). They offer kids' camps too. They have timed entries every 15 minutes, so you choose your time. We got there late for our time slot (by 15 minutes) and they didn't care. If you're renting, after getting scanned in at the entrance, you line up with everyone else from that time slot and wait. If you're not renting, you can avoid all the lines and just go in after getting your barcode scanned. I think the 2 hours on the slope starts when you clock into the slope entrance.
How much does it cost to ski at Big Snow at American Dream?
Prices at Big Snow vary, but here are some examples:
Single visit package (ski/board rentals, outerwear, some informal instruction): $70-80
Slope/lift access: $35-45
Children's program: 3 hours: $150
Spectator tickets: $15
Prices for the first people who book a time slot are cheaper than those who book later.
Prices seem to have gone up from when they opened. Last winter prices were $50 for the full package booked online (compared to $70 minimum now), and $30 for slope access – $5 less than the current minimum. Given that they have to decrease the numbers of visitors due to the pandemic, it makes sense.
When can I go to Big Snow at American Dream when it's less crowded?
If you want to go when it's less crowded, I have a couple of recommendations.
Avoid weekends and holidays.
Book at the last minute, like the day of, so you can see which sessions have the most availability, and thus there should be fewer people.
Book late in the day. The later slots generally have more availability, and likely will be less crowded. If they're open til 9:00, the last ticket slot is 6:45.
Big Snow at American Dream by the numbers
4 acres of skiable area

5,500 tons of snow

1,000 feet of slope (about 3 football fields)

160 feet of vertical drop

26% maximum pitch, with a 3% minimum and 10% average

2 feet deep snow

28 degrees on the slopes

4.4 tons per hour of snowmaking capacity (it was not snowing on us while we were there)

180,000 total square feet of Big Snow, 150,000 SF of slopes

1 – the only indoor skiing in the US/Canada
Big Snow is run by SNOW Operating, which owns/operates Mountain Creek Resort in Vernon, NJ (see our Mountain Creek tubing review, Mountain Creek ziplining review, and TreEscape Aerial Adventure Park review.
Joe C's hot cocoa and other ski activities
When it opened last winter, I kept reading about their insane Joe C's gourmet hot cocoa. Must be closed due to COVID-19, because I did not see it on this visit. It looks amazing though. Due to the pandemic, not all of Big Snow's offerings are available. In the future, you can take lessons, get private coaching, hold private events including birthday parties, and do corporate team building.
Big Snow at American Dream Parking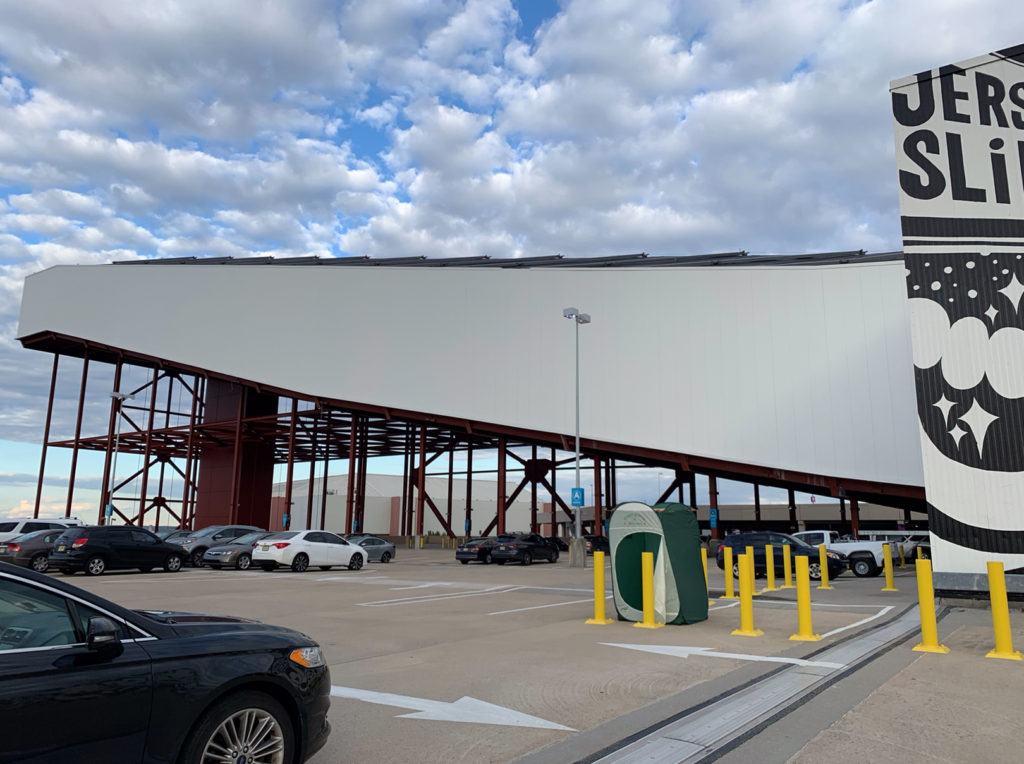 Parking is free, use the A lot. You'll literally park under the ski slope. Here is parking information for Big Snow. The Big Snow entrance is on the 2nd floor and you'll need to go into the mall to get there. We entered on the 1st floor and didn't see signs immediately, but looked for people walking by with snowboards and followed them. Though you may feel silly walking into the mall in ski clothes and carrying equipment, that's what people were doing. I recommend showing up in your gear if at all possible, to minimize the time you spend in the facility getting ready. If you bring your own gear, you're not supposed to wear your boots in the mall.
Have you visited Big Snow? What did you think?