*This is part of our series this week on San Francisco.*  We've been to two cat cafés, so we wanted to try KitTea Cat Café in San Francisco. I learned not to go late afternoon like we did – the cats are tired and don't feel like playing. So it was disappointing. Even my son, who begs me to visit other cat cafes, got bored 20 minutes in and asked how much longer we were staying. Given that we paid $20/person for the hour, I was disappointed. It was crowded with people and the cats ignored us. No cats wanted to play!
KitTea was the first cat café in the U.S. They adopt cats out who are staying there. They have a café inside, which you can visit even if you're not visiting the cats – there's a window to watch what's happening in the room. They sell waffles and other snacks, as well as various teas.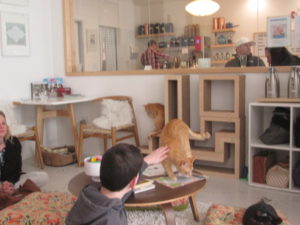 The admission to the cat play area includes a cup with unlimited tea. They have four carafes inside with different green teas. So that was nice.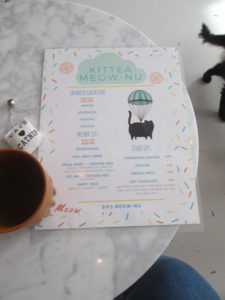 The highlight for me was the bathroom just outside the café area. They have a Japanese toilet, with a dryer, spray and seat warmer. I was cracking up in the bathroom the whole time.
Where: 96 Gough, San Francisco
Hours: check the website for hours. They have some special events, like Thursdays is yoga at 7:30, and Friday night is "mewvie" night at 7:30.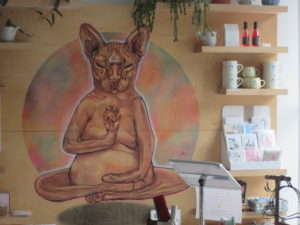 Reservations recommended, as they have a limit in the room. You can reserve and pay online.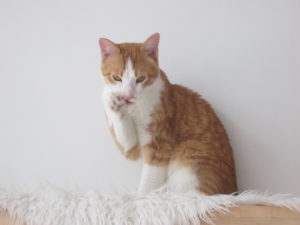 Also see:
Review: Meow Parlour Cat Café in NYC
This is part of our San Francisco series:
Dandelion Chocolate Factory and Cafe