This is the first article in our series this week on San Francisco.
If you're visiting San Francisco, you're going to want to spend a day at Fisherman's Wharf. It's kind of like Times Square in the touristy factor, but it is a fun place to spend a day – and there is some authentic San Francisco there.  My son and I were in San Francisco for spring break, so we are sharing our knowledge with you – as former San Francisco and Bay Area residents (I lived in SF for 7 years – and another 7 outside the city).
We started off taking the trolley from Union Square. But before you hop on, check out the Walgreens on Powell Street between Market and Ellis? Wow! It's really nice and they sell fresh foods like sushi.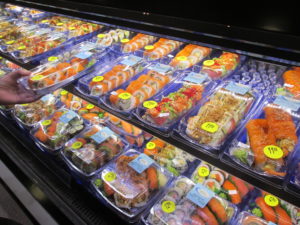 Cable Car
Here's a SF cable car trick we learned the hard way. After waiting in line for 30 minutes (on a spring break weekday morning, no less), we saw that the cable cars were only filled halfway at the starting point. Get on a block or two later (or anywhere on the route) and you could hop right on with no wait. Literally a block away, at Ellis Street, people got on with no line. Granted, the open air seats in the front were already taken, but there were standing spots open. Personally I think those standing spots are the best ones for the trolley, yet we were among the only ones standing the whole time. I thought this trolley was going to take us by Lombard Street, and to Ghirardelli Square, but it didn't – we went to Beach Street instead. I hadn't done my homework, evidently. I guess you have to look at the signs on the cable car (which I see now looking at my photos). Not an issue, I was just surprised.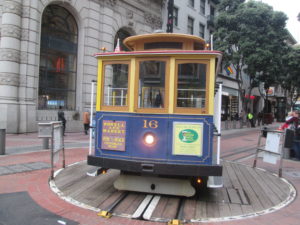 Fisherman's Wharf
Yes, it's touristy but there's a ton to do at Fisherman's Wharf. We started off with seafood snacks at the open air stalls by the big Fisherman's Wharf sign. If you're planning to take a boat ride, either to Alcatraz or a bay cruise, get your tickets early. For Alcatraz during high season, get them as far in advance as you can, since they sell out. We decided to skip the boats that day, and headed over to Pier 39. First stop of course was to see the sea lions, who did not disappoint.
Aquarium of the Bay
We've been here before and enjoyed it, but it's not a large aquarium, so keep that in mind. We had a CityPASS, which includes admission. We spent about an hour here, and my favorite part was the jellyfish exhibit. They have a touch tank and are known for their shark tunnel. It has a moving walkway, which was not operational when we were there. I also really liked the large crabs and the octopus.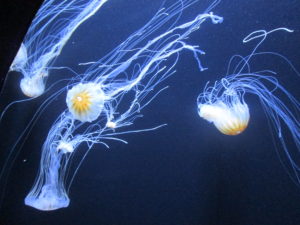 Boudin's
A trip to Fisherman's Wharf is not complete without a trip to Boudin's. Yes, it's crowded. But it's so good. We got soup in a bread bowl and a sandwich, as well as a crab sourdough to eat at a friend's house. They have spots to eat outside, with heaters. That was helpful.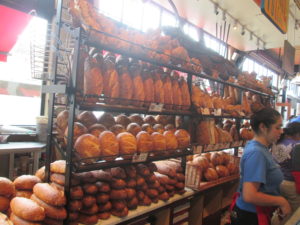 Ghirardelli
A trip to Fisherman's Wharf is not complete without a trip to Ghirardelli Square. We got our sundae and fortunately had no problem finding seating. They give away sample squares in the chocolate store entrance area, so don't forget to go through there on your way in or out. And Ghirardelli Square has cornhole sets, so it was mother versus son. Mother won. Of course!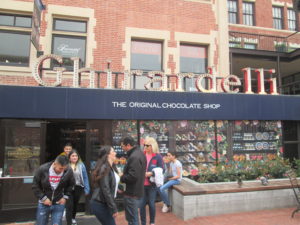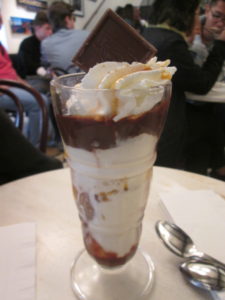 Shopping
There are some fun stores in the Wharf area, some with SF tourist stuff, some with candy. We spend some time (but not money) in the IT'SUGAR store, and checked out some of the art galleries. We missed the Candy Baron store, which is one of my favorites, as an old-fashioned candy store.
What we didn't see
We skipped a whole lot at Fisherman's Wharf, including the Musee Mechanique, which we stopped by when we first arrived, but it wasn't yet open. And then in our excitement to eat ice cream, we totally forgot to go. We skipped the Maritime National Historical Park, including the museum and the ship. And of course visitors can rent bikes at Fisherman's Wharf and bike across the Golden Gate Bridge to Sausalito. We didn't have time for that, but we thought about it.
This is part of our San Francisco series:
3 cheap Fisherman's Wharf attractions
 Ghirardelli Square and Ghirardelli Ice Cream
Four fun things to see in Japantown
Dandelion Chocolate Factory and Cafe
Smitten Ice Cream (there's one in walking distance of Japantown)