We don't have any pets at our house (unless you count fish), but I do like dogs and cats. I first heard about cat cafes while watching the Amazing Race. And then I found out there was one in New York City – it's called Meow Parlour. My kids freaked out and couldn't wait to go.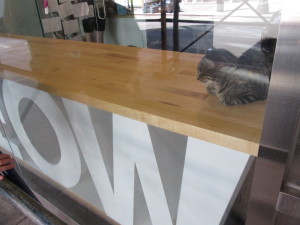 What is a cat cafe? Basically it's a store front with adoptable free-roaming cats (from a shelter). You can play with them.
As for the cafe part, Meow Parlour has a bakery nearby where you can get baked treats (you can't bring in outside food), or you can order the treats while there, and they deliver.
[ad name="Google Adsense"]
We got lucky when we went – it happened to be a kitten weekend, and they were fostering a handful of kitties. Usually they don't have kittens because they are more adoptable. They were also super cute and a lot of fun.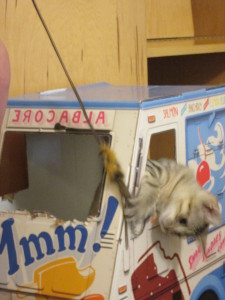 What do you do at a cat cafe? When you enter the Meow Parlour, you register at the desk (do yourself a favor and fill out the waiver online before you go). You'll get buzzed in, removing your shoes and leaving jackets/backpacks in the front. You have to use hand sanitizer and then can then get cat toys and go play. They do have a few rules, like not waking up sleeping cats and not picking any of them up. And a warning that if you go in the bathroom, a cat will likely follow you in and not come out. That makes it tough, since you're not allowed to pick them up. Just tell someone who works there.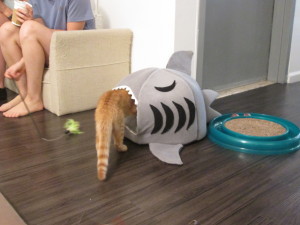 They have a lot of seating on the floor, and some low benches. They also have higher seating and counters, but I didn't see any cats up there. Basically, if you want to play with the cats, you better not have bad knees. The counters had some cat-related board games (for adults) like Exploding Kittens (which we later bought elsewhere), and a book of cat alumni that have gone to their forever homes (people, not graves).
Watch our video of a cat knocking over the Jenga game.
We had an awesome time and can't wait to go back.
Cost: It's $5 for 30 minutes, or $10/hour per person. If you pay for 30 minutes up front, you can stay longer and just pay the extra when you leave.
Reservations: You really should make a reservation – and know that they book up in advance. Seriously! They do take some walk-ins, but unless you live in the area or don't know your schedule, you may not want to risk it. The space isn't large and when fully booked it's a little crowded.
Events: The Meow Parlour has special times for kids 10 and under, and a yoga and kitties class.
Location: Meow Parlour is at 46 Hester Street in the Lower East Side.