The Grounds for Sculpture had been on our bucket list for the past few years, and we finally made it there this summer (on a very hot, muggy day – with a rain interlude while we were eating lunch). If you haven't been, you must go. This is a place you could go to multiple times and not see everything. Why? There are more than 260 sculptures spread out over 42 landscaped acres.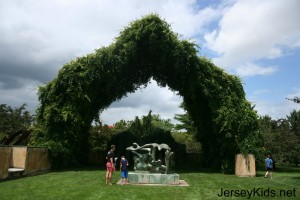 It's located on former New Jersey State Fairgrounds land, and was started by J. Seward Johnson, whose work you will see prominently. More to come on him. It was Seward's idea to make a sculpture garden open to the public, to introduce and make others comfortable with modern sculpture. The Grounds opened in 1992, financed by public bonds, private institutions and Johnson's foundation. It transitioned to a nonprofit organization in 2000. Read more of the history of the Grounds for Sculpture here.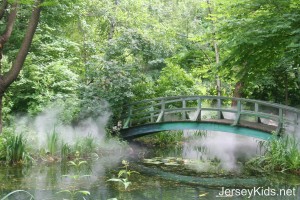 The name "Johnson" certainly rings a bell in Central New Jersey. For good reason. J. Seward Johnson is one of Robert Wood Johnson's grandsons. Random fact: Seward Johnson is Michael Douglas' first cousin. His personal life has the makings of a good soap opera, with his father marrying the chamber maid and leaving her his J&J fortune (with Seward and siblings successfully suing for a 12% stake). Seward's own marital history, mental health and paternity issues add to the drama.
————————————————
[ad name="Google Adsense"]
————————————————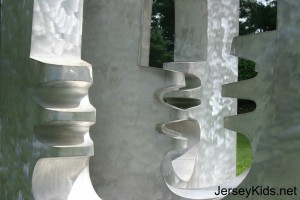 None of that really matters when it comes to what you'll see at the Grounds for Sculpture, other than his name and sculptures making you wonder who he is and more about his work.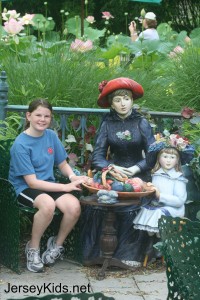 Johnson's sculptures are in the trompe l'oeil painted bronze style – life size and lifelike because they're castings of real people. His work has been criticized as "kitch" – something I do think applies to his work. But it's still fun, and thought-provoking.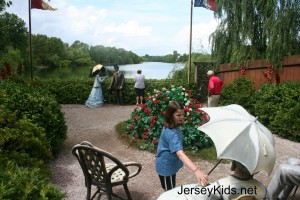 The Johnson sculptures are by no means the only ones there, even though I've included a lot of photos of them here – basically because they're fun and sprinkled throughout the landscape in surprising ways. They fit in and you don't expect them. And it made the place more fun for the kids.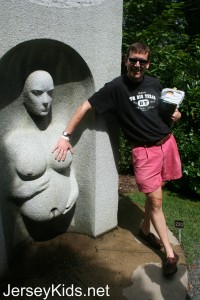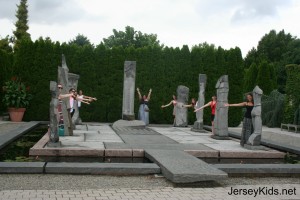 There are a few buildings you can go in, including the main building at the entrance where tours start. There's a rotating art exhibit there as well, and we saw a program going on for young kids. One of the sculptors whose work was featured in the rotating exhibits museum gave a talk while we were there. .
Gardens: One of our favorite spots was the Gazebo area, with the most beautiful water lilies that I've ever seen. Anyone know what they are?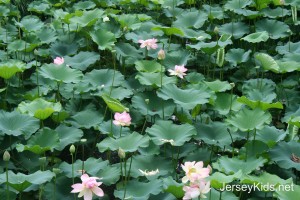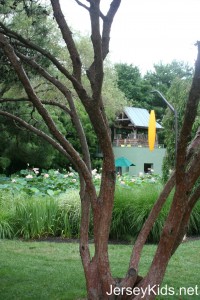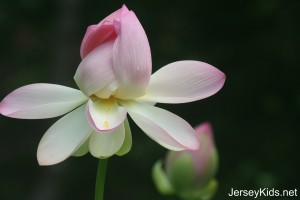 Peacocks: Admittedly I did no research prior to going to the grounds. So we were surprised to see peacocks roaming free, including a white one (no, it's not albino), as well as peahens (the less colorful females) and peachicks (babies). There's an area for them to climb on outside the Acer Courtyard.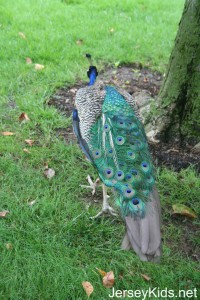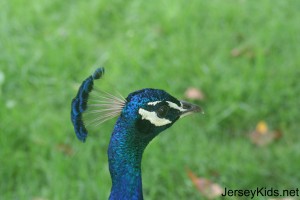 Interacting with the sculptures:
The sculptures are marked as to whether you can touch them. Some are interactive, including the Johnson sculptures. While the grounds has a lot of rules, they're reasonable. Don't bring your pets. Don't bring Frisbees or balls. Don't chase the peacocks. No outside food or drinks are allowed. Here are the rules.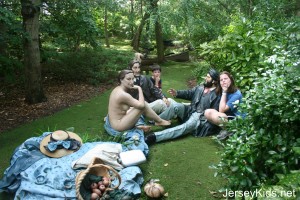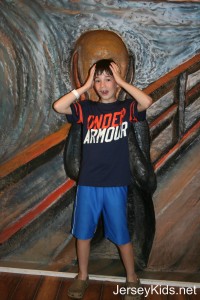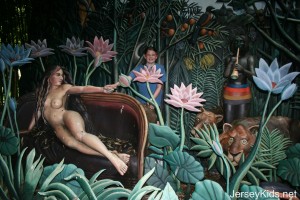 Food: The Grounds for Sculpture has several restaurants on site. The most famous is Rat's, an upscale restaurant with an excellent reputation. We walked around the outside (and peeked in) but haven't eaten there yet. The setting is gorgeous, and if you want to visit the sculpture gardens after, you can enter and pay your fee near the restaurant at a separate entrance.
The Gazebo is where the gorgeous lily garden is, and is open Saturdays and Sundays 12-4, though not all months. You can get ice cream and drinks (including beer) here. Just make sure to go when it's open (unlike us) or your kids will be disappointed!
We had lunch at the Peacock Cafe, which took awhile to serve us (order at the counter and then you get buzzed when your food is ready), but the food was good and plentiful.  They had sandwiches, salads, pizza, kids' food, drinks and snacks.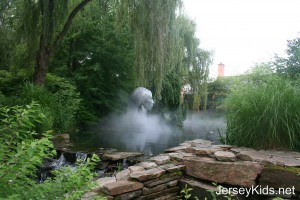 If You Go:
Where: 18 Fairgrounds Road, Hamilton, New Jersey
When: Tuesday through Sunday, 10-6; see site for details on holidays. Through Labor Day, they'll have the exterior open through 9 p.m. on some days for a reduced fee. More here.
Cost: $12/adult, $10/senior, $8/kids ages 6-17, free under that age
Tours: The facility offers self-guided and guided tours. Check the schedule for times. 
More: you can see an orientation video for the Grounds for Sculpture here