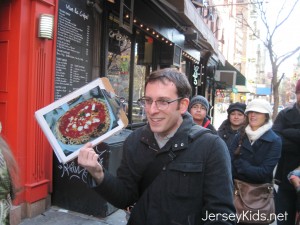 We were looking for something fun to do with the kids and my in-laws, the Friday after Thanksgiving. Having just "won" two tickets to Scott's Pizza Tour in a silent auction, we signed up and bought four more tickets to bring my Chicago in-laws and our kids.
Let's start off by saying that Scott is PASSIONATE about pizza. That comes through loud and clear. This is a man who loves pizza, loves sharing his information and learning everything he can. He's also hilarious and great with adults and kids. For those reasons alone, the tour was a delight. It takes a special tour for my kids not to complain or fight with each other for three hours – especially when at least half of the tour time is outside. And it was in the 30s that day – brrrrr!!!!
A few fun pizza facts:
–There are 2,000 pizzerias in New York City
–There are 71,000 pizzerias in the U.S.
–The first pizza place in the U.S. was Lombardi's in NYC, and you will go there!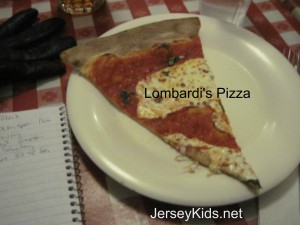 As part of our pizza primer, we learned all about the building blocks of pizza: cheese, sauce and crust. And then with each slice, our guide dissected the various ingredients and methods of preparation to show why it tastes and looks like it does. You don't have to be a pizza fanatic to find it interesting. There's food chemistry, mechanics, physics and agriculture involved here!
During our tour (there are three tour types – read more at the bottom), we visited visit two sit-down restaurants and one stand-up pizzeria. One had a coal oven. One had a gas oven. One had a wood-burning oven. I assume you visit at least one of each oven-type on every tour.
You'll get a slice at each. We were worried we'd be stuffed by the time we left, and all of us (including my 10 year old son) starved ourselves beforehand. Not to worry. We were sated, but not stuffed at the end of the tour. Two of the slices were thin or on the smaller side, and one was really thick and big.
We started out in front of the original location of Lombardi's, which is now Gatsby's (long story, but the pizza oven collapsed after many years, and Lombard's closed. And then reopened 10 years later down the street).
PIZZA HISTORY
Pizza was born in Naples (hence, Neopolitan style). At the time there were Greek settlers. They had brick ovens they used to cook their bread. They threw down some dough on the oven floor in the morning to soak up some of the heat. If there were no toppings on the dough, it would inflate when they pulled it out of the oven. It would form a pocket. A pita. Pizza is a mispronunciation of pita. The pita was small and eaten by hand, just as pizza was – a street food you ate while walking. They started throwing other ingredients on to weigh down the dough so it didn't form the big bubble. Tomatoes came much later (they were thought to be poisonous, since they were from the nightshade family). One of the first ingredients used was pig fat.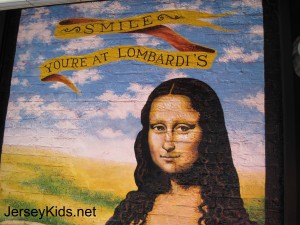 AMERICAN PIZZA
Pizza came to New York early in the 1900s. Lombardi's Pizza started in 1905, at 53 Spring Street. At the time, wood was expensive to burn, and they had an athrocite coal oven. Coal ovens are huge – maybe 10-12 feet across and very deep. The ovens were outside the buildings, in the back yard. In 1904 the #6 train started running below ground, and the vibrations eventually damaged the oven (read this article if you want a thorough history of Lombardi's Pizzeria). The restaurant closed, only to reopen a decade later at 32 Spring Street.
We wandered over to Lombardi's  which uses a previous bakery's rebuilt coal oven. As we made our way through the restaurant and some of its 290 seats, we went past what it turns out was the oven (I hadn't even noticed it) and went into the back room. On the bus tour, apparently also you go upstairs and feel the heat from the oven below.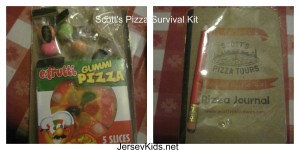 Here we learned about our Pizza Survival Kit sitting on the table, which includes a small notebook and pencil with a Scott's Pizza Tours insignia, so we could take notes on each pizza slice. It included an "emergency pizza" (gummy candy pizza), two British lemon candies as palate cleansers, two packets of chocolate mints "because I like them," said Scott, and a moist toilette "in case you get schmutz on your face."
In small groups we visited the oven, and I guess they're used to having Scott there, because he was like one of the guys behind the counter, moving things around and opening the coal oven door.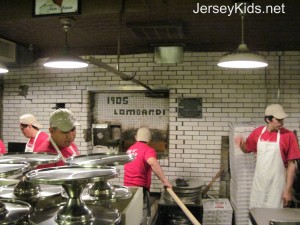 The oven takes up that entire brick wall, extending even further than in the photo. Behind the stack of pizza boxes is the burning coal (he showed us). The small opening where you see the big stick (the peel) is the oven opening. The man moving the pizzas around is the fornaio. Now I understand what restaurant Il Fornaio in San Francisco means. The baker. D'oh! He has to move the pizzas around constantly since the temperature inside ranges from 747-934 degrees, the hotter side closer to the coal. The pizzaiolo makes the pizza.
By the way, given the oven's depth, that peel is so long that when they rest it upright, they have a hole cut into the ceiling to hold the spatula part. You can see the silver thing sticking down from the ceiling. That's where it goes. Scott times our pizzas, which take about 3 1/2 minutes each to cook. He also uses a heat gun to measure the temperature in different parts of the oven.
We saw the unfortunate act of them dumping a pizza in the trash. If it's left in one spot too long, it might burn in one spot, or it gets a hole in it and they throw the pizza out. I asked why they didn't donate the pizza, and he said they initially tried, but there's some sanitation law that a cooked item must be tossed and not donated. Not sure why, since food is donated to shelters by restaurants.
After eating our pizza, it was time to discuss. The Lombardi's pizza was not greasy, and we found out that was because they use a fresh sliced mozzarella that with a higher moisture content. That type doesn't burn. More about the cheese to come.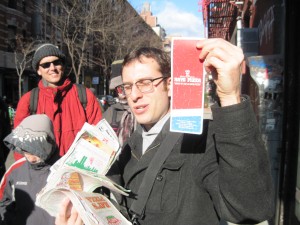 By now we're on the street talking pizza. Scott explained that after World War II, they didn't have access to as much fresh mozzarella, and they used shredded low-moisture cheese that burned more easily because of the oil, which rose to the top, which is why it's greasy. This cheese is more stable and has a longer shelf-life, but the price you pay for that is the oil rises to the top.
We also talked tomatoes. Lombardi's uses crushed tomatoes it gets from cans. That's it for the sauce, and it's not cooked first. The tomatoes are from California (which are apparently better than Italian San Marzano canned tomatoes – go figure). Trader Joe's canned tomatoes ($1.49) topped their list for the best taste.
Lombardi's throws chopped basil on after the pizza comes out. It's cut to let the oils out. The crust texture was crunchy and chewy. The shorter bake time means more moisture stays in the dough. Dough is made from flour, salt, water and yeast. They can play around with the amount of each ingredient to change the dough texture.
My Chicago in-laws asked about deep dish pizza. Long story (you'll hear the story of Pizzeria Uno), but in the 1930s in Chicago the originators of Pizzeria Uno, pushed the dough into the pan with "fillings" and cut in squares. Not so popular at first, but eventually it took off.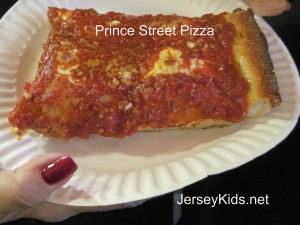 We headed to Prince Street Pizza, which was a small, stand-up type of place with both round flat pizza, and square thick pizza, which is NOT deep dish (long explanation – but it has to do with the way the dough rises and is put in the pan, and how it's topped). As you can see, we got the square pizza that was very bready. Prince Street Pizza uses gas ovens, which are around 500 degrees or so. With this type of oven, you can get pizza reheated by the slice. You can't do that with coal or wood-burning ovens because they cook too quickly.
Here, they bake the cheese on top of the pizza, putting the cooked sauce on top of that. It's more of a bread topped with stuff. They use fresh mozzarella made in house, but  cover it with sauce to protect it from burning since it's in the oven for 15 minutes (the cheese will burn after 12).
Don't forget to ask about Ray's Pizza if you're interested. My son asked, and it turns out that Scott has done extensive research into this topic, and can tell you about business licenses obtained under the first "Ray" names. His conclusion is that the original Ray's opened in 1959 at the site of the current Prince Street Pizza at 27 Prince Street, though they're unaffiliated (you can see an article about it inside Prince Street Pizza). Ray's was the most common pizza joint name in in the 1980s.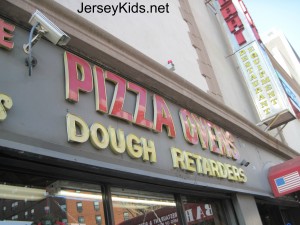 We headed into Bari's, a pizza oven and equipment supply company. They make natural gas ovens. The oven (pictured below) can be covered with brick on the outside to look like a more authentic pizza oven, but the innards are the same. These ovens max out at 650 degrees, and revolutionized the pizza world, making pizza accessible to the masses. These ovens allow you to get pizza by the slice, and use the readily available low moisture cheese. And you don't have to worry about venting with gas ovens, like you do with coal and wood (lots of restrictions on what types of buildings can house those ovens). The inside has a large pizza stone which holds the heat. "They are the hero of the history of pizza," Scott said.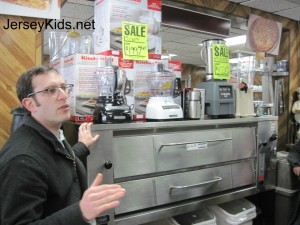 This is the only company to currently make pizza ovens in Manhattan. The Bari ovens cost around $6,000 and are made in this building, by hand, and are not the most expensive gas pizza ovens out there.
While there, Scott gave us an optional tutorial on how to make pizza at home. He has a dough recipe on the back of his notebook, but it's in metric, so that's difficult for those of us IN THE UNITED STATES to convert. Make it easy for us Scott! In any case, he said that when you make your own dough, you should let is rest for 1-3 nights in the fridge. If you pull on the dough and it bounces back, it needs more rest. It stretches when relaxed. This may explain why our Trader Joe's dough is never as good as we'd like. It's stretchy, no matter how long it rests in the fridge. In any case, you might want to invest in a peel (you can buy a small size one at Bari's for $15) and flour it, otherwise "your pizza turns into a calzone" because it turns over on itself. On the peel, you'll want to shake it side to side a little (not front/back) to get it off the peel onto your pizza stone. When I did this, I ended up with flour spraying out into the oven.
If you want to grill a pizza, just put the dough straight on the grill (oil the grill first), and then flip it over and add the toppings. You don't need to cook both sides in the oven.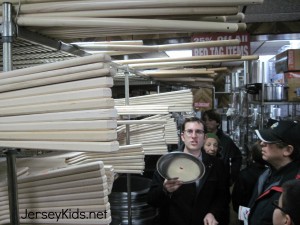 He offered that anyone could set up a time to Skype him when making their pizza and he can walk you through it, though no one has taken him up on it.
As we learned, oven temperatures vary depending on the heat source. Wood fire pizzas bake in about 1 minute and 20 seconds. In the coal oven it was more like 3 minutes and 30 seconds. For gas ovens, it was closer to 8 minutes.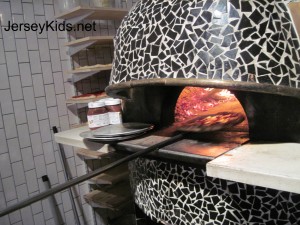 Our last stop was a wood-fired stove pizzeria, Forcella (named after a Naples neighborhood). Their oven was 909 degrees on one reading, and when trying to zap the heat at the dome of the oven, the meter couldn't read it (the meter tops out at 1,000). Interestingly, the smoke doesn't escape through the oven dome, but through a vent in the front of the oven.
We talked more about sauce. Here it was uncooked – just crushed tomatoes. The dough rises two days here. The cheese was stringier, which meant a higher fat content. The cheese is made at the restaurant. He showed us the three knives they have on the table, including a pizza knife, that has a rise to go over the cornichone, because the pizza crust is raised.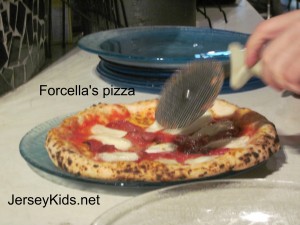 Scott talked about evaluations he and his other tour guides do – find them on his blog. Not just blind taste testing canned tomatoes, but they did a "chain showdown" ordering pizzas from various chains, delivered. He said "Domino's most closely resembled real food," at least for the thin crust pizza. He actually worked at Domino's for 3 weeks, for the experience – making 106 deliveries. He donated the proceeds to the Slow Food America, wanting to donate it to the opposite kind of place as Domino's.
By the way, Scott has a new book out, Viva La Pizza! The Art of the Pizza Box featuring 110 or so of his 600+ pizza boxes. He holds the Guinness World Record for pizza box holdings.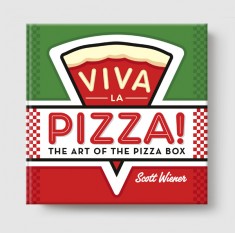 Tours: While I'm sure the other tour guides are excellent too, you can probably guess that Scott actually owns the tour company. They say on the website that you don't find out who your tour guide is until you show up.
They have three different public tours, two walking tours and one Sunday bus tour. You can learn more about the tour types and prices here. They also do private tours and you can organize specialty tours, like for gluten-free people. For the three hour walking tours, the cost is $38, adult or child over age 4.  The bus tour is $60 ($50 ages 4-12) and is 4.5 hours. You go to an extra pizza place and other boroughs. Drinks are on your own. Kid under age 4 are free, but you have to share your pizza with them. One under-4 year old per adult allowed.
Have you gone on Scott's Pizza Tour? What did you think?