We usually do a NJ corn maze every year, and it's often the Stony Hill corn maze. This year was no exception. Why Stony Hill? They have a lot of other activities to do there, many included with the basic admission. The corn maze is well done also.
When we went on a recent Saturday, they had live music, which we could hear inside the maze. They also had a face painter. Not sure if you pay extra for that.
This year's theme is Rutger's 250th anniversary.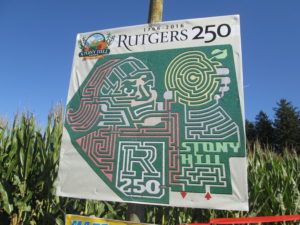 We didn't go last year, but we noticed some changes from two years ago. First, they moved the admission tent closer to the store and cordoned everything off so it's a bit tighter in terms of admission. They put your wristband on for you. Second, they added a trike race area that's fun for adults and kids.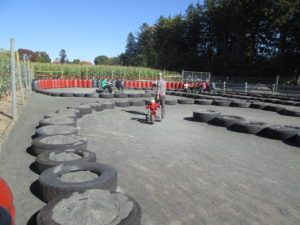 Third, they added a maze tracker option. You register on the site on your phone (anticipate some Stony Hill emails in the future – so far I haven't gotten any, but I think they're coming) and you can see where you are in the maze using GPS. I thought we'd get some kind of map sent to us on email too, in terms of our route, but maybe I read that wrong. In any case, the map tracker was helpful.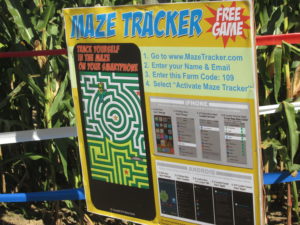 Fourth, they added an additional playground (closer to the road). I think they used to have some farm animals there. Now it's climbing structures. Fifth, they got rid of the maze near the hay ride (with gems) and added some sort of human board game. You can pick up spinners at the admissions area for free. We liked the gem maze, so this was a downgrade for us (though younger kids may like it more).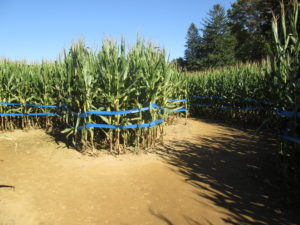 Corn Maze
We tried a new strategy this year – to go right at every turn. It worked for about 3/4 of the maze, and then either our strategy should have changed, or we made a wrong move.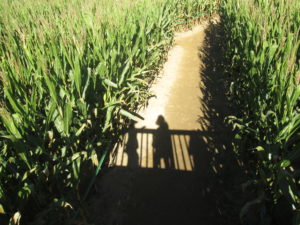 Somehow we ended up back in the round apple at the top right, walking in circles. We talked to one woman whose strategy was to only make lefts. She also got lost. We saw her five times in about 10 minutes.
Like a lot of corn mazes, this one had word jumbles and picture finds. You need to find stations in each of the color sections to access these. We did better than any other time in our corn maze history, actually getting 7 of the 9 pictures (though we missed 5 word stations).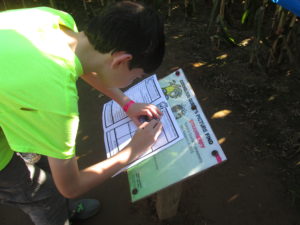 Here are some things we learned about Rutgers:
-They grow (or grew) the leading tomatoes used for Campbell's soup.
-In 1774, Rutgers graduated one student.
-The state legislature picked Rutgers as a state school over Princeton.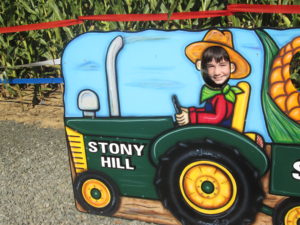 Other activities
When we finished the corn maze we checked out the other activities. The kids can mine for gems, buying a bag of rocks at the tent. We've done this elsewhere, and it's a great activity.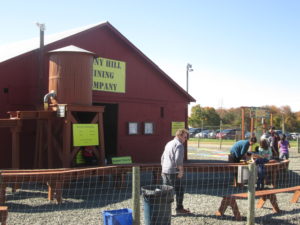 They have two other mazes as well, including the "right turn" maze (below) which I can never do. You're only allowed to make right turns, and you have to end up in the center spot. I always get dizzy, but my son can do it.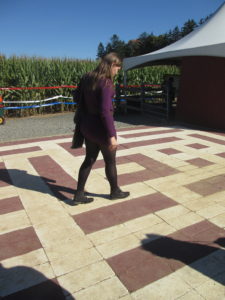 And there's the rope maze (not pictured), which I also struggle with. My son did it (again) in just a couple minutes. We didn't do the hay ride, though you can see it below.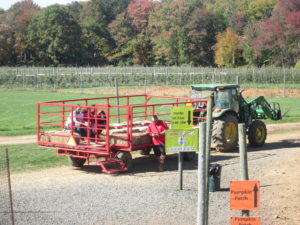 We also didn't go into the pumpkin field, instead getting ours from the store on the way out. We easily spent a few hours at Stony Hill, a I thought it was a good value. And we got lucky with a beautiful day.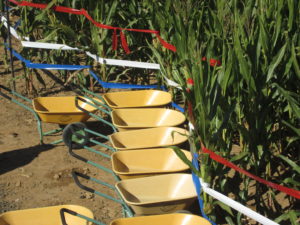 What to know about Stony Hill:
Location: 15 North Road, Chester (take some time before or after to wander through the small, but quaint downtown. They often have sidewalk sales and festivals going on during fall weekends).
Dates: The corn maze is open daily through November 13. All activities are available October 29, but otherwise, check the Stony Hill website to see what is open/when.
Admission: $12.99-$18.99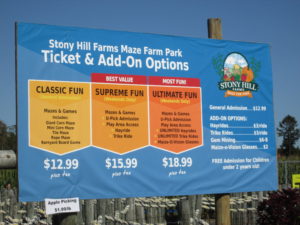 Parking: There's plenty of parking in the fields – don't get freaked out by crowds at the front.
What to buy: They make excellent cider doughnuts. They sometimes run out. They have a snack bar in the maze area, selling hot dogs, nachos, popcorn and soda (and doughnuts). The store sells mums, pumpkins, jams, produce, Griggstown Farm pot pies (our favorite!) and some other items. It's an adorable store.
Other NJ corn mazes: We have a listing of other NJ corn mazes in another post. Check the farms' websites for current information.