I did a corn maze for the first time last year, and am making it a yearly tradition. The kids are now old enough to last in there for more than 10 minutes. We wandered around for probably two hours (maybe an hour longer than was really fun for the kids).  Interestingly, I was dizzy when we got out.  So many twists and turns.  I let them take turns picking the direction.  If it weren't for the staff positioned at one spot in the maze, we never would have made it out.  Even after getting directions out (it was something like – turn right at every turn until after the bridge, then turn left at every turn), it still took us 15 minutes to exit! I look forward to the day when my husband and I go together, and we compete, Survivor style, to see who can make it out first.
Let me share some corn maze tips with you, before giving you a list of New Jersey corn mazes to consider!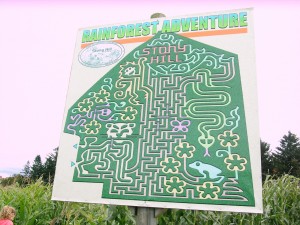 CORN MAZE TIPS WITH KIDS
–Before you go in, use the bathroom. This cannot be stated enough.
–Bring food and water. Your kids will need some nourishment during their breaks. Bring your own, or buy something on site. Most farms sell food too.
–Wear comfortable shoes – that can get muddy.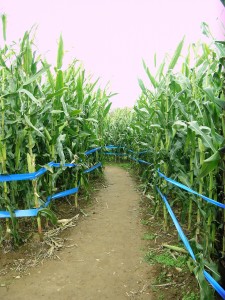 –Put on sunscreen
–Wear layers of clothing. No sense in getting lost…and cold (or being too hot because there's nothing underneath that gorgeous sweater).
–Bring a pair of 3-D glasses with that red film on them. Some corn mazes give you a map that you can decode with the red film (of course they  also sell it). Even with the map, you still may not figure out where you are or how to get out.
–Bring a durable stroller or baby carrier for little ones – though some corn mazes have bridges you need to cross
–Make sure your kids see some of the treats outside – like cider doughnuts or pumpkin pie. Make sure they know that if they're good in the maze, that's what they get when they exit.
–Take allergy medicine before you go – you don't need to sneeze your way through!
–Keep track of landmarks,  usually pieces of garbage (the corn all looks the same) to figure out where you are and if you've been there before.
–Leave yourself enough time
–Ticket sales often close an hour before the maze closes.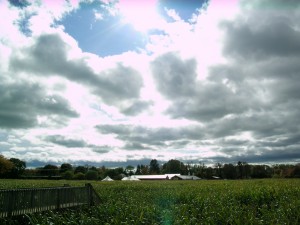 Here's a sampling of corn mazes and pumpkin patches in New Jersey. Please confirm times, locations and prices before you go. Many of the activities are weather-permitting.
Parker Gardens in Scotch Plains
1325 Terrill Road, Scotch Plains
Activities: Hayride weekend: hayrides, huge hayslide, maze, pumpkin slingshot, pumpkin picking. Facility is 14 acres
Dates: Weekends from October 9th to 24th
Hours: 11 a.m .to 4 p.m.
Ort Farms in Long Valley
25 Bartley Road, Long Valley
Activities: corn maze ($4), train rides, Clydesdale horse rides, hay ride ($1), pumpkin picking (55 cents/lb), Monster Truck rides (see dates)
Food: Hot dogs, hamburgers, Funnel cakes
Dates: Weekends. Monster truck rides are on Sundays through 10/24 from noon to 5 p.m., and Columbus Day 10-6. Farm stand is open daily 9-7
Donaldson Farms in Hackettstown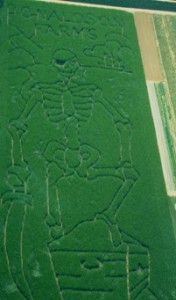 358 Allen Rd., Hackettstown
Activities: corn maze, pumpkin picking, hay rides
Dates: Pumpkin picking (daily); corn maze (daily) hay rides (weekends and Columbus Day)
Details: Corn maze takes 25-45 minutes to complete – stroller accessible
Time: 10-5 on weekends
Von Thun's Country Farm Market in Monmouth Junction
505 Ridge Road, Monmouth Junction
Activities: pumpkin picking (daily), corn maze (daily)
Details: Rutger's Corn Maze – 5+ acres ($8, including free hayride. Lots of puzzles and challenges in this maze. Plus you can get text message clues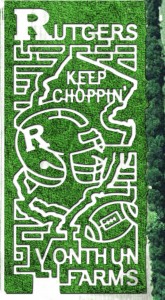 Dates: Daily
Time: Pumpkin picking 9-6 weekdays, 9-5 weekends
Time: Corn maze 1-5 weekdays, 10-5 weekends
Alstede Farms in Chester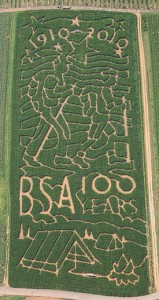 84 Route 513, Chester
Activities: pumpkin picking (daily), hay rides (daily), corn maze, moon bounce, pony rides, additional smaller mazes
Details: Corn maze celebrates 100 years of boy scouting founding – theme is Words to Live By. Corn maze is 10 acres. Maze might have bridges
Dates: pumpkins and hayrides (daily)
Corn Maze: open until Thanksgiving
Times: pumpkin picking and hayrides 9-7 daily
Food: cider doughnuts, hot dogs, fruit, store
Costs: a confusing array of payment options. Corn maze starts at $11.95 for kids, $13.95 for adults and goes up from there depending on what other activities you want to do.
Norz-Hill Farm & Market in Monmouth Junction
16 South Branch Road, Monmouth Junction

Activities: pumpkin picking, farm tours, corn maze, pony rides
Details: Creepy Hollow Corn Trail Friday and Saturday nights (7-10) during October. $12/person. Kids 13 and under not permitted without adults.
Costs: Corn maze alone is $6/adult, $3/kid age 5 and under. Farm tour plus maze is $10/adult, $5 kids 5 and under. $4 for pony rides
Dates: Weekends
Time: 10 a.m. to 6 p.m. (last hayride is at 5 p.m.)
Tranquility Farms in Allamuchy
Route 517, Allamuchy
Activities: hay ride ($1), petting zoo, corn maze, train ride, bounce house
Details: can buy wristband which includes bounce house, train ride and more.
Dates: Weekends through October 31 (plus Columbus Day)
Cost: Can buy wristbands (include bounce house, train ride and more)
Food: cider doughnuts, BBQ, pies
Stony Hill Gardens in Chester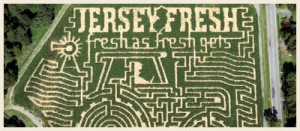 15 North Road, Chester
Activities: large corn maze, 4 smaller mazes, flashlight maze nights, hay rides ($1), pumpkin picking (59 cents/lb), gemstone mining ($4-$6 plus maze ticket)
Details: corn maze is 10 acres – it has bridges. Farm has several smaller mazes too.
Dates: Corn maze is weekends and Columbus Day, through November 14. Pumpkin picking is October weekends from 10 to 5
Hours: Friday-Saturday are 10-9 for all activities in October. Sunday-Thursday in October are 10-6, and Nov 1-14.
Cost: Mazes are $12 for anyone age 13+, $10 for ages 3-12
What New Jersey corn mazes do you like? Comment below!
Click here for Jersey Kids' list of apple picking orchards in New Jersey.
And join us on Facebook and Twitter!