What's it like to go to the Corning Museum of Glass with kids? I heard its holdings were extensive and one could easily spend a complete day or two there, exploring the galleries. I thought they might be bored. Turns out they loved it. While others could spend days there, our visit was limited to 3 hours (including the "make your own glass" experience – separate post). And that was enough time to see much of the museum, even though we rushed through the very large 35 Centuries of Glass gallery, as the kids were running out of steam.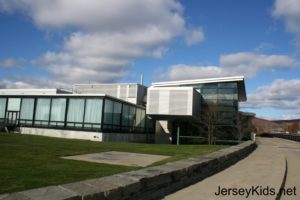 Interactive Fun
The museum has worked hard to make what could be a "don't touch" museum into one that's interactive and interesting (and it's free for kids 17 and under). There were a lot of glass making demonstrations, and an interactive "innovations" area. Plus, some of the glass pieces (especially in the contemporary wings) were quite playful, engaging my kids who kept shouting to us come over to look at various pieces. Going to the Corning Museum of Glass with kids, take advantage of their app that you can download (free wi-fi in the museum) and some television screens throughout the museums with interviews and information. And a few areas had tablets on the benches, so you could sit and explore on your own (my son did this when he needed a break). Of course they also have a studio where you can make your own glass projects.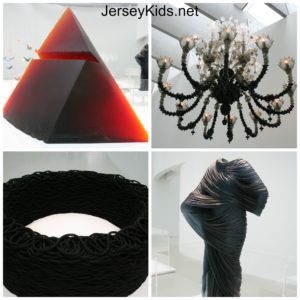 The museum is gorgeous – and stroller friendly. And reading up on its history before you go is part of the fun. Many people (myself included) associate the name "Corning" with Corning Glass Works. It turns out that the town of Corning came first. A company called Brooklyn Flint Glass Works moved to Corning in 1868, making industrial and scientific glass products, mainly, and changing its name to incorporate the town name. You might best know the company for CorningWare (ceramic products) and Pyrex dishes. The company founded the museum in 1951, and it's now a nonprofit which still receives some funds from Corning, but it is independent and nonprofit. They have a research library and studios as well (with artists in residence and week-long classes).
Demonstrations
We were there on a Friday in November and they had a ton of demonstrations. The large amphitheater "hot shop" is a huge studio with bleacher seats, where you can watch several glassmakers working at the same time. They were open 10-12 in the morning, and you can watch them on overhead screens which enlarged what they did and gave you a better angle. You could also see a view from the inside of the oven, as the glass entered. The morning session was not narrated, but it was still interesting. Later in the day they offered six 30 minute narrated sessions, where they were working on the same projects, but with an explanation.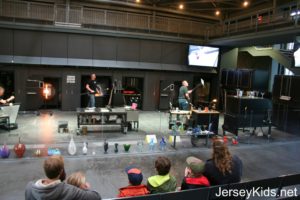 The museum has smaller demonstrations, including a glassbreaking demo (learn about how/why glass breaks and the conditions that cause it to do so), an optical fiber demo and flameworking demo, each of which is about 15 minutes. Those were scattered throughout the morning and afternoon. It's possible to attend each type of demonstration, though we did not do that. We attended the flameworking one in the Innovations area. Here's what we learned: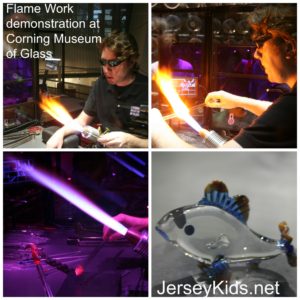 The maximum temperature for the flames is 5,000 degrees, but the optimal temperature for the glass making is around 2,200. They use natural gas. They have purple panels covering parts of the glass booth so you don't hurt your eyes and you can see better. While it's hot working with the glass, the rods the glassmaker uses don't heat up more than a half inch away from the flame. That's because glass is an insulator, holding in the heat. Glass is made by melting soda ash, sand and limestone. Adding metal oxides gives it different colors. There's no such thing as black glass. If it looks black, it's really just dark red, blue, green etc. If you're attaching glass pieces together (to make a handle, for example), both parts need to be the same temperature. The glassworker in the flameworking demonstration made a glass fish with colorful fins, eyes and a mouth. They don't sell the demo products or give them away to viewers (much to my son's chagrin, as he hoped to be the lucky recipient), but rather donate them to auctions and the like, to further their nonprofit educational mission.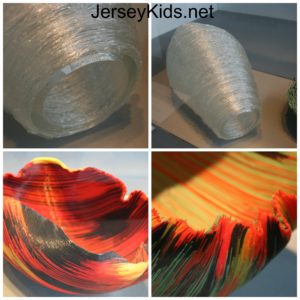 Innovations
The Innovations area is the most hands-on and interactive. They have a giant tower display showing Corning ceramicware and an explanation of how this ceramicware was a new creation, when someone figured out how to make crystals grow in the glass. This improves the durability and makes it a new product: ceramic, not glass. By heating it to different temperatures, they can change the cermaicware from clear to opaque. The tower holds more than 800 ceramics, organized by the temperature required to make it that color.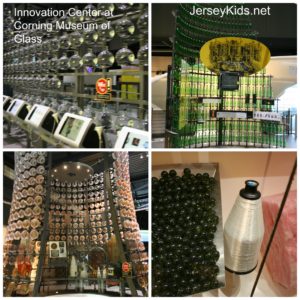 Other displays in this area show how bottles were initially made by hand, and the mechanization process that developed for mass production. Your kids might appreciate that the process involved using boys to place the globs of hot glass into the molds. Reminde them of that when the complain about chores! They also let you explore glass making using the periodic table of elements and a quirky video and touch-screen computer. They ask what types of minerals to add to give various colors.
[ad name="Native ad"]
One other exhibit we liked there showed some of the industrial uses for Corning's glass, including beakers and scientific instruments, as well as fiber cables and fiberglass. The process of making new products often comes from making a mistake, as happened with the glass fibers used for fiberglass. That's a good lesson for us all.
Other Galleries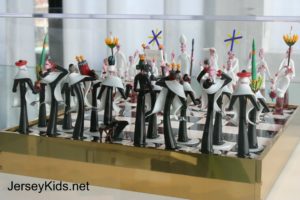 The museum opened a new contemporary wing in 2015, which is light-filled and stunning, with high ceilings and floor-to-ceiling glass exterior walls. The architecture of the entire building is interesting, and the museum has gone through several phases of renovation and addition. There were quite a few pieces in this new wing that the kids loved. As for my least favorite gallery, that was probably the 35 Centuries of Glass, partly because it was toward the end of our visit and we were getting tired, and partly because there was so much to look at and the gallery seemed to go on forever.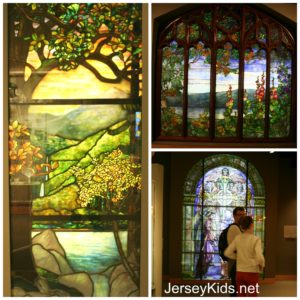 That said, if we were to go back, we'd probably start off in that gallery, to more fully appreciate the cut crystal display (they had models of a crystal cutter and the machine), paperweights from around the world, ancient Roman glass, Tiffany stained glass windows. They also had an exhibit on glass marine animals made in the 1800s, which the kids may like (if they like that, take them to the Harvard Museum of Natural History where they have a huge display of glass flowers that look exactly like real flowers).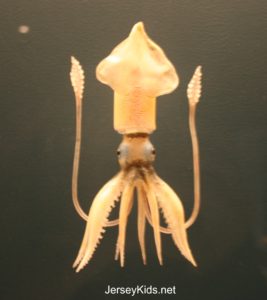 Make Your Own Glass: If you're going to the Corning Museum of Glass with kids, you'll want to try out their glassmaking activities. Check out our separate post on the Make Your Own Glass experience.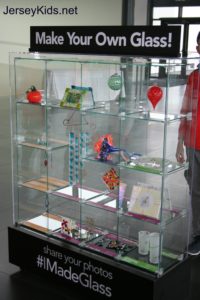 The Gift Shop
They have a huge gift shop with items ranging from marbles (a bag for $3) to artist sculptures (I saw one on display for $6,500 though there might have been higher priced ones as well). They have a great selection including jewelry, lamps, kitchen items (not all are glass) and of course decorative items and holiday ornaments.
So did I buy anything at the gift shop? Yes. I bought a Pyrex dish for $5. Totally unexciting, but totally appropriate. After all, Corning Glass has made these Pyrex dishes since 1913. While I have several of the same size, there are times I could use another (especially with Thanksgiving coming up). Given that we also had four new glass items we made at the museum glass studio that would soon arrive at our house, I held back on buying more.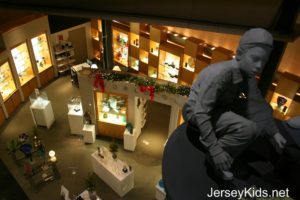 If you go:
Where: Corning Museum of Glass is at One Museum Way in Corning. They have a "welcome center" about a block from the museum, with parking spots and shuttles (unless you have problems walking, you won't need the shuttle).
Hotels: We stayed at the Staybridge Suites in Corning (stay tuned for review) which was about a five minute walk, just past the museum's welcome center. I chose it because it was a suite, with two rooms, breakfast, free wi-fi and it was a good price. The area hotels have deals which combine admission with the hotel.
How long: You can run through the museum in an hour if you don't stop to read anything or look too closely or watch a demonstration. I recommend planning for a few hours, possibly combined with a café stop if you need a break.
What can you do with kids: Going to the Corning Museum of Glass with kids, you'll find many glass demonstrations, from flameworking, to glass blowing to glass breaking. You can find the schedule online before you go to help with planning. They have tablets in certain areas to explore on your own, and an app you can listen to in certain galleries (plus charging stations). Some galleries have activity sheets. Look for family tour times online before you go. Don't miss the glass making experience. They have projects for almost all ages, including toddlers. Not all projects are appropriate for all ages. Sign up in advance, as it can get busy and there are only a certain number of slots. Here's the Corning Museum of Glass family visiting page. They also have seasonal family programming.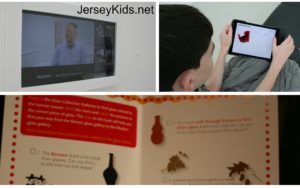 Is there food? Of course! There's a lovely café in the basement, and you can also eat outside in good weather.
Can you bring a stroller? Yes.
Are backpacks allowed? We couldn't find the answer to this question online, but I'll tell you from personal experience that we brought backpacks and no one blinked an eye. They had coat racks in the front entryway, but no formal coat check area.
Disclosure: The Corning Museum of Glass hosted our visit, which included two adult tickets (kids 17 and under are free) and the glassmaking experience. All opinions are my own.
All photos are copyrighted to Deborah Abrams Kaplan and may not be used without written permission.