Did you know that October 12 is National Fossil Day? With a few days off this week, and fall break/teachers' convention coming up next month, you may be looking for day trip ideas. Think about going fossil hunting in New Jersey! Turns out there are a couple of places that are easy to get to, where you can wade through streams looking for sharks' teeth, oyster shells, squid fossils, and other items that are millions of years old. Even though you're not by the ocean, this area was once covered in water.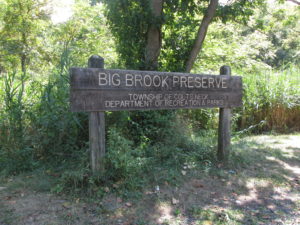 We decided to go to Big Brook Preserve in Colts Neck. It was easily identified with the sign in front, and some parking spots on both sides of the street. There's a short path (2 minute walk) to the stream – it doesn't matter which branch you take to the water).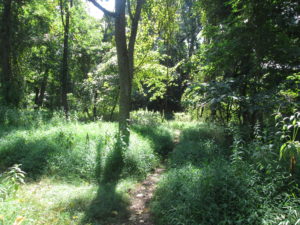 We waded into the stream and scooped out dirt and rocks, to sift through looking for fossils. You're not allowed to dig the banks up, but there's plenty of area to cover, even if there are others in the same vicinity. I did think it would be easier to find fossils. It takes some patience to sift through the debris and a sharp eye to figure out what you're looking at. It's helpful to look at this website ahead of time, so you know what the fossils look like. The bulletin board at the Big Brooke Preserve also has some photos up you can see.  In the hour or so we searched, I found a couple of tiny shark's teeth and squid/cuttlefish fossils.
There was another group of fossil hunters who entered when we did, and they went further downstream. Given their nice equipment, we figured they would have been more successful than us at their hunt. When they came back to the car, and we asked to see what they found. I actually liked what I found a lot better. They didn't find any sharks' teeth. They found some oyster shells (not so interesting to me) and something they thought was a meteor (it was heavy).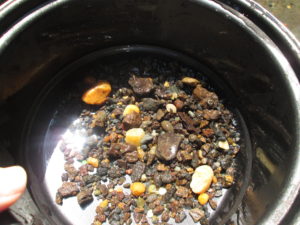 Why it's fun for kids
They get to wade in the stream! They get to play with rocks! They get to play with little shovels!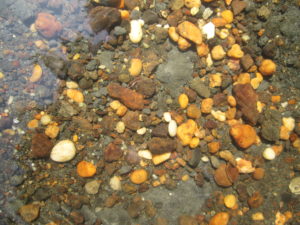 If your kids get bored (as mine did), they can still entertain themselves playing in the water and looking for interesting rocks. Personally I found it to be relaxing, like meditation.
Before you go: The Fossil Guy has great information about Big Brook Preserve and what you'll find there. Take a look so you can better explain to the kids the context behind it. Or let them read it for themselves.
What to wear: Dress in clothes that can get wet, and bring a change of clothes for the car. One kid sat in the water, and all of us got splashed at some point. Also, wear shoes that can get wet. You don't want to go barefoot in the water, as there can be broken glass. Preferably wear something better fitting than flipflops, so they stay on your feet.
What to bring: Bring small trowels and sifters. They can be plastic, but make sure the trowel has enough stiffness to move the rocks/dirt in the water, even though you don't need to dig deep. You're not allowed to use big shovels. We also brought a plastic sand beach sifter that worked well, and a camping pot with holes in it, which can be used as a pasta colander. You can rent equipment at Poricy Park, but we found that the things we had in the garage worked just fine. Also bring some bug spray and sun block if needed.
What to take: You're only allowed to take 5 fossils per person. That turned out not to be an issue for us, as I was the only one who found anything interesting, and we took six fossils between the four of us who went.
Where to go: Big Brook Preserve and Poricy Park.