When you see the Hudson River in New York City, or even the Hudson River in the Hudson River Valley, whitewater rafting is not something you think about. But further upstream just past Lake George, you can raft in the white caps, over 17 miles of class III-V waves. While there are two handfuls of reputable companies, we went with Wild Waters, connected to the Glen River Lodge where we bunked. You can read our review of the Glen River Lodge here.
This outfitter has been around some 30 years, and on a busy Memorial Day weekend, we had several bus loads of eager paddlers joining us on the journey.
The gear shack had everything we needed – wetsuits, booties, helmets and paddles. The gear is all included in the paddling price of about $98/day. Since it wasn't even summer yet, we were told to wear long underwear underneath, which we did, to keep warm. We didn't need hats, but at a few points in the afternoon, the windbreakers came in handy for some in the group.
If you have a GoPro like me, bring your own body mount. They had only one helmet with a mount, and I had forgotten my helmet mount. I had a wrist strap, but that's not the best option for whitewater rafting! Head or chest would have been much better.
The bus ride from our pick-up spot in Warrensburg, NY was about 45 minutes.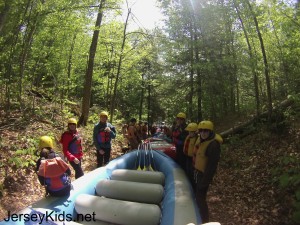 It was a busy day – Sunday of Memorial Day weekend, and we had to wait our turn. Fortunately the rafting companies work things out so it's coordinated chaos. Our company had three buses and 14 rafts running that day.
We had a great day out on the water, paddling through the rapids and enjoying some scenic floats. One highlight was jumping off a big rock in the river, a spot that many boats pull up to, taking turns jump.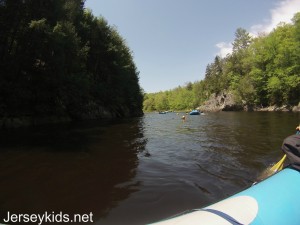 There were a few times you could swim in the river as well. It was still a bit nippy, even with the wetsuits and long johns, but we went in anyway. Getting back up into the boat wasn't pretty, for those of us who lack upper body strength.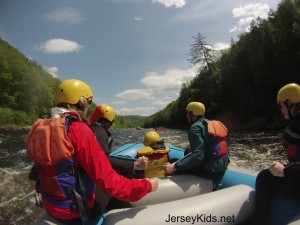 Our guide John let the kids take turns riding the bull, or the bow, during rapids where it was safe. The kids loved doing this, and it provided additional thrills. We also got to "surf" (video below), something I've not done on other rafting trips. You position your boat behind a big rock, with a lot of water coming over. You then stay in place, as you get pounded with water. Given that our boat was self-bailing, we didn't have to worry about drowning.
Lunch was provided as well, sandwiches, crackers, pickles and drinks. When we arrived back at the base area, we had about 30 minutes to change (they have changing rooms, but we just went back to the lodge), and then they provide dinner. That was awesome, even though I'm not used to eating dinner around 4:30. The chef made his own pasta sauce and bread, and we had spaghetti, salad, bread and cookies or brownies. We brought our own wine.
The contract with a photographer who takes photos during one of the rapids. You can buy digital versions of the photos at dinner – they play them on the TV in the left side of the photo.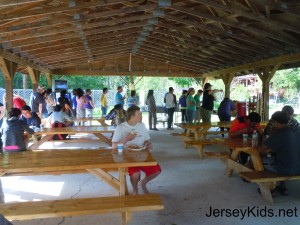 This was a great way to finish the day.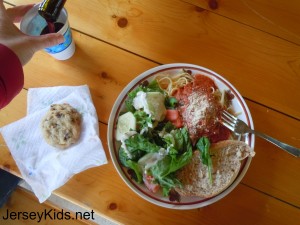 If you go:
Age: the minimum age for this trip is 9, though if they feel the river is running too high, they can change the age.
Rates: Rates depend a bit on season and day, but expect to pay $98/adult, $78-88 a teen, and $72-79 for kids 9-12.
When: They run mid-April through mid-October. I can imagine that in fall, the leaves would look spectacular on the river.
They also offer shorter seven mile trips from mid-April to early June, that obviously cost less and take less time. You can bring 8 year old kids on that trip.
Other things to do in the Adirondacks