My family went to Philadelphia over our fall break (i.e. NJ Teachers Convention break) last November. It was a whirlwind of sightseeing and an awesome trip (I wrote a ton of posts on what to see in Philadelphia with kids here). But when a friend was organizing a girls' weekend in May, I jumped at the chance. Though we had one overlap in activity (the Barnes Foundation), the entire weekend was a different experience than traveling there with kids, and even my visit to the Barnes was completely different.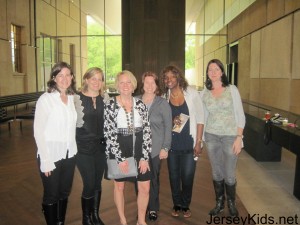 Coming from the Northern NJ area, people here don't think about spending the weekend in Philadelphia, given that the much larger New York City is so close. But Philly is close too – and there is so much to do and see there that you can't cover it all in a weekend – or in a weekend plus the November break. Here's how we spent our almost-48 hours.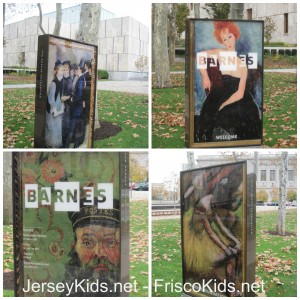 We took a guided tour at the Barnes, with the excellent docent Deena Gerson, who was knowledgeable and funny. I have a comprehensive post about the Barnes here, so I won't cover the same ground. Instead I'll share some interesting tidbits I learned, that you can use to impress your friends at the next evening out. There are more Renoirs in Philadelphia than in Paris. Pierre-Auguste Renoir painted his son's wife's naked butt. Some of the ceramic pots in the collection are made by the painter's son, Jean Renoir, who took up pottery after a wartime leg injury. When artist Amedeo Modigliani died (at the young age of 36), his very pregnant girlfriend jumped out of the window, killing herself and their unborn child. The floor of the foyer leading into the galleries is repurposed Coney Island boardwalk. The LEED certified building has 4″ thick glass to prevent break-ins. The limestone on the wall was chisled by hand by Israelis and Palestinians working together, and is textured to look like a textile or quilt.
You can read about kids' activities and how kids might enjoy the Barnes Foundation here.
On Friday nights the Barnes has free cocktails in the foyer outside the gallery entrance. We were about the only people taking advantage, in this vast hall.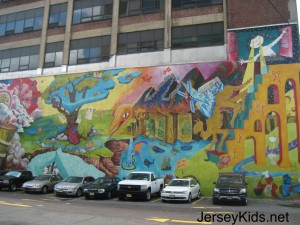 After a mediocre night's sleep in our horrible rental (read the story here), we headed out for our next activity.
Walking around Philadelphia you'll start seeing murals on the buildings. And once you notice one, you'll really start seeing them everywhere. For good reason. There are around 2,000 murals in Philadelphia, started by the Mural Arts Program. What began in 1984 as a city project to clean up graffiti became a project that gave art training and stipends to the young graffiti artists to paint murals representing community themes and interests in their own community. The program has been involved in more than 3,600 mural creations, including those by school children, jailed inmates and mental health patients.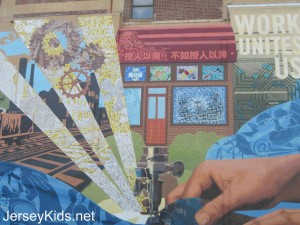 The Mural Arts Program offers a variety of ways to see the art. We did the Mural Mile program, which was more than a mile, and about 2.5 hours long (we had to change our lunch reservation twice during the tour!). The guide Susan was excellent and passionate and we toured the new North side tour with a large group, going from the Independence Mall visitors center, into Chinatown and Center City, learning a lot of Philadelphia history in the process. In addition to the walking tours, they have a trolley tour, a subway tour and free self-guided tours as well.
Finally it was time for a late lunch, and we headed to Jones, a favorite of someone in our group. This is a comfort food restaurant with a hip vibe. You can see what it's like traveling with bloggers in the photo below. Everyone instinctively knows not to touch a drink or item of food before everyone has a chance to photograph it 5 ways, uploading the pictures to Twitter, Instagram and Facebook within minutes.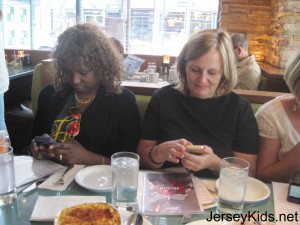 You can see the selection of cocktails we imbibed above. One standout was the Spicy Tom Collins, which had habanero syrup in it. Another specialty is the Rhubarb Mule, which looked like a Christmas drink, with red liquid in a red tin cup (not pictured), garnished with a red and white straw. It has Tito's Handmade Vodka (which we tried at the Barnes), Art in the Age Rhubarb and house made ginger beer. And it did not taste like alcohol in the least. I ordered a version of my standby favorite, the Lemongrass Drop, with Ketel One vodka, Combier Pamplemousse (I had to look that one up – a fruit liqueur) and lemongrass juice. Yum. At lunch/brunch they offer a Bloody Mary menu and you can check off what you want, from bacon salt on the rim, to a sprig of chive, garnish with pepperoni and cheese skewers, garnish with wasabi, or something more traditional.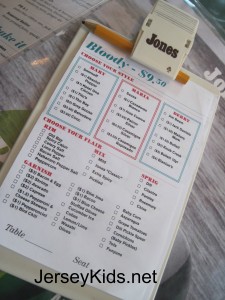 As for food, they had us try mac and cheese, which was delicious and quite fattening, and the monkey bread, which I also loved.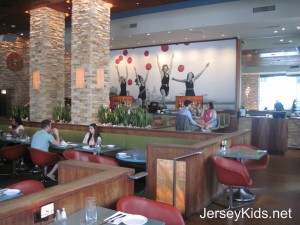 After stuffing ourselves at Jones, we headed to the Franklin Flea, which we passed on the way to the mural tour. This is a weekly indoor winter market at the Strawbridge's building on Market and 8th, though it was still going on in May, which was hardly winter!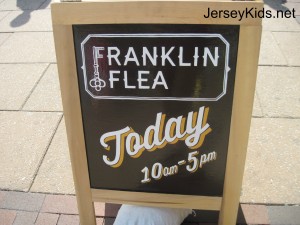 We had fun poking around the assorted vendor shops, with vintage furniture, knick-knack hotel key tags and keys, pharmacy tags, clothes, jewelry, kimonos and some awesome planters with plants (I couldn't carry those bag on the train!).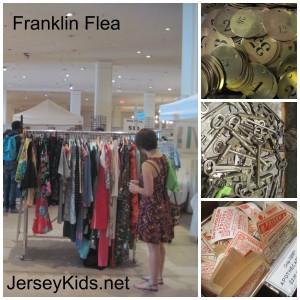 We also left time for just wandering through the Old City, passing by a wedding at Carpenter's Hall (we didn't get to see the bride, unfortunately).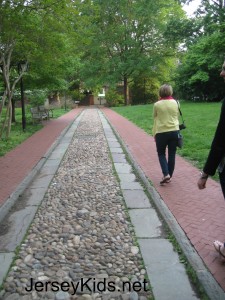 We spent some time in the Midtown Village area, on 13th Street, mostly between Spruce and Chestnut. Lots of trendy restaurants and cute stores, including the soap store Duross and Langel, Marcie Blaine chocolates (see the photo collage below), housewares and lifestyle store Open House, and our favorite stop, Capogiro, where we had scrumptious gelato and affogato (gelato covered in espresso), even though we were still full from lunch. I would have photographed the amazing affogato, only it looks kind of disgusting in the cup, even though it tasted amazing.
I bought some chocolate toffee to share with our group that night, but ended up eating most of it myself!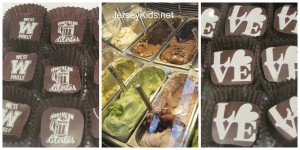 Later we headed to another trendy area with restaurants and design boutiques, 3rd Street between Chestnut and Market. The streets around there have a number of places to check out.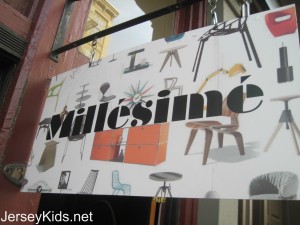 Millesime carries chairs, lighting fixtures, carpets and other high fashion design goods (including raincoats. The woman working there (the owner?) showed us around and then took us across the street to the second location of their store. If I had a lot of money (and space), I would have stocked my house with the goods, even though it was quite modern and our home furnishings are more traditional. That said, next house when I've made a killing financially, I'm going this route.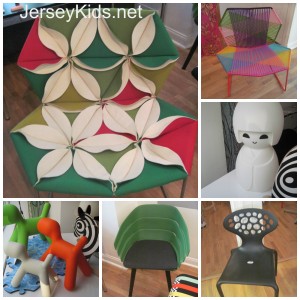 Before we left, the woman told us to eat at Kanella, a Greek Cypriot restaurant nearby, and she even offered to bring us a bottle of wine if we needed! I'm saving that restaurant for my next trip, because we didn't make it there.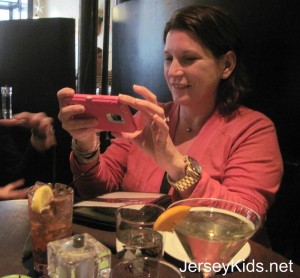 Instead we went to Farmicia where we commandeered a small cocktail table for several hours, ordering small bites and cocktails/"tonics." As usual, they were all photographed before we took part. Tonics are supposed to have healing type powers. You could order a Power Surge for energy, with tea-infused vodka, local honey syrup, cranberry juice, club soda and cinnamon or Sandman for sweet dreams, with Pernod with sage liqueur, violet essence, bitters and club soda. Lots of fun options.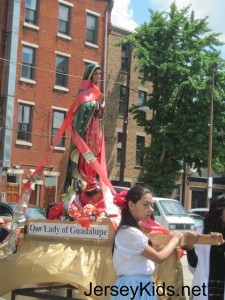 The next day we hit the Italian Market Festival and got there in time for the Procession of Saints going into the market, (which we kept running into over and over again, as they later processed THROUGH the market, which mean the narrow street had to be cleared of tourists like us. This was quite foreign to me, since I'm not Catholic or even Christian. Various saint statues were wheeled through the streets, and people put dollar bills on the ribbons around them. My favorite (pictured) was Our Lady of Guadalupe, because the people with her sang and played instruments the whole time. The saints were blessed at a gathering on the main stage, with all the saints facing the stage.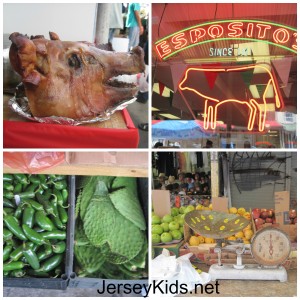 I definitely want to go back to the Italian Market when it wasn't this crowded, but what a fun festival. The stores brought out a variety of goods into the streets, from fruit to whole pigs, grilled mango and corn to Italian pastries like cannoli. We had fun at the famed Di Bruno Brothers cheese store's 75th anniversary tent, where they were selling small bites as a fundraiser, and taking pictures (below left) with fun food props.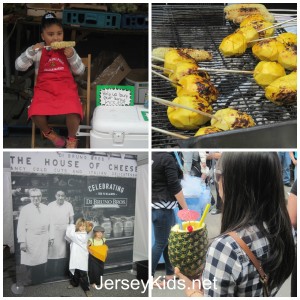 My other favorite tent was the silk scarf dying one, where for $30, you could make your own silk scarf pattern. I think it was a bargain, especially considering how long it took and much they help you. You can hire these people for parties too. They had quite a crowd gathered around. You can see the long trough of water, and you poured paint into it, swirling it around with various tools. The guys working there helped with this.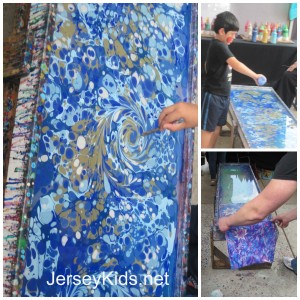 When the paint was ready, they laid the white scarf on top and it soaked up the paint instantly, leaving very little residue in the water. After pulling it out, they rinsed it and put it in a bag so you could take it home to dry. It was quite fun to watch.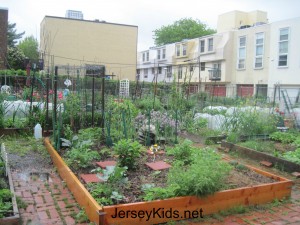 From here it was time to go back home, though not without appreciating one of the many community gardens we saw throughout the weekend. I'm looking forward to going back again soon!
Thank you to the Mural Arts Program and Barnes Foundation for sponsoring our tours. Thank you to Jones Restaurant for two specialty cocktails and appetizers to accompany our self-paid lunch. #momslovephilly