I am super disappointed to miss the press preview of Zumanjaro Drop of Doom tomorrow at Six Flags Great Adventure. It opens to the public on Friday, and to season pass holders on Thursday. My kids are not going to forgive me for missing this one.
This is the world's tallest and fastest drop ride, at 415 feet and 90 miles per hour. It's 41.5 stories high, and is nestled into the middle of Kingda Ka (the world's tallest and fastest roller coaster). Eight riders go up for 30 seconds on three gondolas. The ride down is 10 seconds, and the gondolas descend together as well. In case your little ones are wondering if they can go, the minimum height requirement is 48 inches. And no, you can't wear your mountable GoPro camera on it.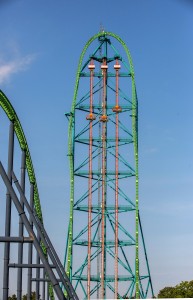 I couldn't get the video they provided to properly upload, but you can see a similar drop of doom ride at Six Flags Magic Mountain here. This one is  a wimpy 400 feet tall, and not in the middle of Kingda Ka. Though it still looks awesome.
————————————————
[ad name="Google Adsense"]
————————————————
Fun facts about Zumanjaro:
-it's twice as tall as the Statue of Liberty
-you'll go down as fast as a cheetah running to get its prey
-on a clear day you can see Philadelphia 52 miles away, from the top
Let me know what you think after you've gone on it!
Six Flags Great Adventure review