–This is part of our series on Philadelphia with kids. See all the posts in the series at the bottom.–
I thought the Barnes Foundation wouldn't be kid-friendly. Surprisingly, it was.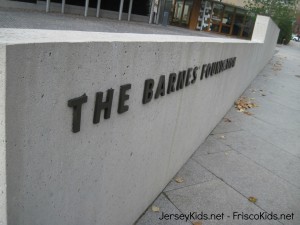 The museum is organized in a different kind of way, with each gallery containing ensembles – groups of pictures and utilitarian metal tools that looked decorative, designed to make you think about the art in unique ways, to see how they relate to each other. You won't find only Renoirs in one room, or paintings from a certain time period displayed together. Plus there are no signs on the walls with the names and artists, nor any explanations at all on the walls. Many of the frames do have the artist's name on them, though, if you look carefully. Find a gallery guide at the benches in each room.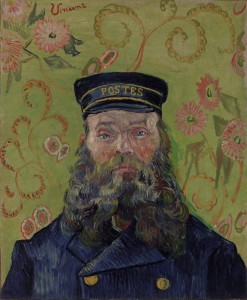 Barnes continually changed his ensembles around, and the displays you see are the same ones (in the   same order) as when he died. He never wrote up explanations as to why they were put in those orders, nor is anyone sure what he hoped viewers would see in them.
As for the utilitarian metal items, he saw them as art equal to the paintings and sculpture. He found a connection between fine art and crafts. He hung up everything from hinges to utensils, to door handles and keys.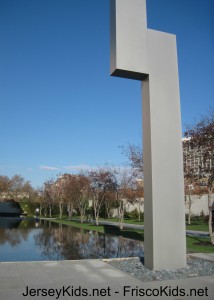 Before you go, you should know there's a long and interesting history behind the museum. I'll try to make it short. It was started by chemist, Dr. Albert Barnes in 1922, to advance art and horticultural education – as a school, not a museum. The original museum is in Merion, PA, and the arboretum is still there. Lawsuits started as early as the 1960s, to allow the public access to Barnes' huge collection of post-impressionist and early modern paintings and sculpture. The lawsuit was successful, allowing in 500 visitors a week, over 2.5 days. You can see more in the movie The Art of the Steal.  Reservations were most definitely required.
The move to Philadelphia was not only hugely controversial, it also went through the court system in the 1990s because Barnes' endowment did not allow for it to move or tour. It limited the number of visitors and days for public admission. Barnes died in 1951, and the controversies started about a decade later.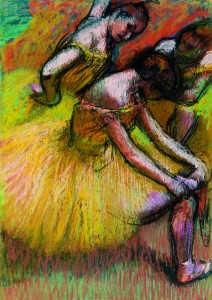 The museum was apparently having financial issues, and some works were sent on tour to raise funds (there was a lawsuit over this). The tours didn't raise enough money for the endowment, and trustees were fighting each other and the foundation finances were called into question. Eventually (I'm skipping over a lot here), the foundation got help from several nonprofits in raising money to move the museum to Center City Philadelphia. Read more of the history here from the Foundation's perspective (which avoids the lawsuits). Wikipedia has a bit more on the Barnes Foundation lawsuits. Some people are so loyal to the initial foundation endowment stipulations, and say that the financial issues were made up in order to move their agenda forward, that they will not visit the Barnes Museum in Philly. The new museum opened in 2012. Since I didn't go to the one in Merion during my college years, I definitely wanted to go now.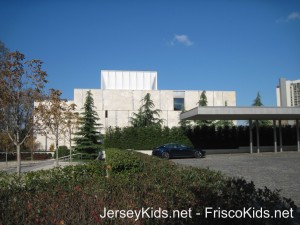 The collection is vast and extensive, containing 181 Renoir paintings, 69 by Cezanne, 59 by Matisse, 46 by Picasso, 21 by Poutine, 18 by Rousseau, 16 by Modigliani, 11 by Degas, 7 by Van Gogh, and 6 by Seurat. You can't take photos inside the galleries.
All right. 5 ways to see the Barnes Foundation with kids. Here we go!
1. Video
They have a 30 minute video about Dr. Barnes that runs continually, I believe. They suggested it as a good place to start. Personally I like seeing the video partway through, when you recognize some of the pictures you've already seen. Plus it's not at the entrance, so you have to walk through a few galleries to get there, and then back track.
In the film we learned how Barnes collected and displayed African masks, which were not considered art at the time and hadn't been displayed before. We didn't see the whole thing, but the kids found it interesting as well.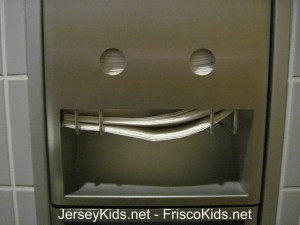 2. Art Kit
Kids get a free art kit at admission, which was well done. It's set up as a riddle game, where you see an artwork and solve a riddle. On the back of each card there's information about the art work and artists to help. Close-up clues let you search for different art pieces in an esemble, and when you find it, you lift up a flap on the game card to check.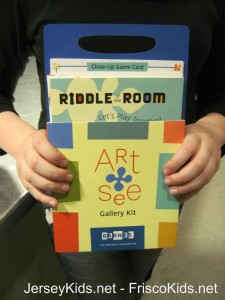 The kits have some at-home activities as well.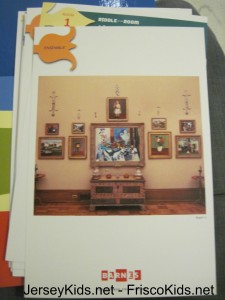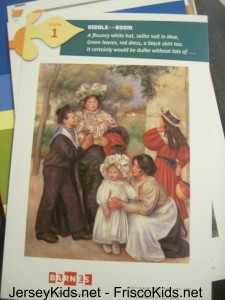 3. Audio tour
Adults and kids get an iPod/phone system before entering. Kids can click on the picture to get the audio, instead of the number like for the adults' system. My daughter said she could put the number in and get the adult version as well. The kids' iPod system features 17 works of art, whereas the adult one has more than 70. They have a Barnes app as well, so you can learn more after you leave the museum or download it on your own phone before coming.  After we turned in our phones, they gave the kids a rubber bracelet from the museum.
4. Other tours
The Barnes Foundation has a lot of kid-friendly tours and programs, including art time story time, kids art workshops, pajama tours, art see activities, family days and others. You will not see everything there in one visit. There's so much there.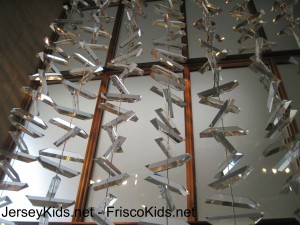 In addition to tours, they also have a ton of art programs (Artsee) that are completely free – you don't even have to pay admission.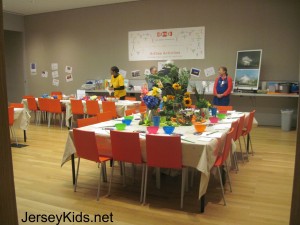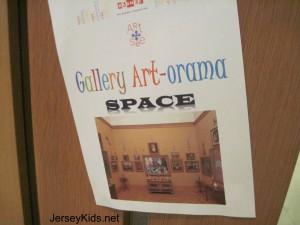 5. Pick favorites
Have your kids pick favorites while exploring. It gives them something to pay attention to if they're not as interested in the art. My favorites were the Degas pastels, the Renoirs. You can look at some of the pictures ahead of time with the kids as well here.
As with any museum, you and the kids will burn out at a certain point. Make sure you see what you want to see within two hours, because that may be all the time you have. Maybe you'll have less time. My kids aren't interested in art museums, so even with all these great activities, my kids were not thrilled to be there. What a shame, since the collection is amazing and the museum does a lot to engage the kids.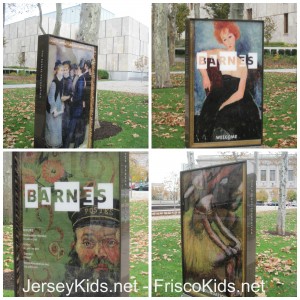 Tickets: Get tickets ahead of time. They do sell out, and weekends are busiest. First Sundays are free. Otherwise, it's free (ages 0-5) to $22 (adults) with other rates in between. Call 215-278-7200
Museum rules: you can read about their rules here – what you can take in, what size strollers, where you can stand, etc. You'll have to check your backpack and larger items. They have a restaurant and cafe on site.
Hours: They're open daily from 10-6, except for Tuesday.
Read the Mother of All Trips' take on seeing the Barnes Foundation with kids here.
Disclosure: I received media tickets for the purposes of review. All opinions are my own.