Recently I spent a girls' weekend in Philadelphia with other travel writers. With six in our group, we wanted a place we could hang out, and a good location. It didn't have to be luxurious, but it should be nice. Instead of going the hotel route, we went the rental by owner route. We hated our rental.
How can you avoid the mistakes we made when renting from an owner? Here's how, using an in-depth review of the Perle Mesta Inn B&B in Philadelphia as our example.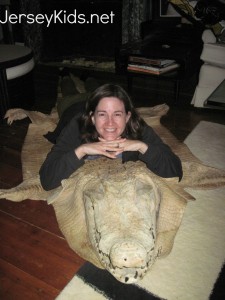 How the services work
Several established companies offer room/home rentals by owner. These companies act as a listing service and do some vetting (but do not manage the properties, nor do they physically see them).
When I looked at how it works on FlipKey (disclosure: they paid for our rental), owners can create a free listing. They upload all the details and photos, and can take payment through the site. They pay FlipKey a 3% charge for each booking. Guests booking pay a 5-10% booking fee.
We've been very happy with our VRBO.com rentals both domestically and internationally. My friend Paige used airbnb.com extensively during her 11 month family trip around the world, and was happy with their services.
The key is to ask lots of questions. Don't assume that the rentals are heavily vetted or inspected personally.
How are the rentals vetted?
On airbnb, owners verify their ID by connecting to social networks and scanning their government ID. Then they rely on user reviews.
I sent an email to the general FlipKey email address to ask how they vet their properties and still haven't received a response almost a month later (they said in the auto-response email that they typically respond in two business days). The PR person who arranged our stay said that issues like ours are extremely rare. She said the "owner/manager also goes through a detailed background check and property authentication process to ensure the listing is true to the owner/manager's claims. Our Trust & Safety team utilizes proprietary techniques and third party tools to confirm and authenticate the property. I hope you can understand that in order to ensure that our authentication process isn't compromised, we can't publicly outline the exact steps that go into that process."
Okay, not super helpful. I understand that even if the owner is 100% accurate with pictures and description when listing, things can later change (like starting renovations on rooms that they already photographed). FlipKey and the other sites depend on user reviews to alert them – and future guests – to what the property is actually like.
The review process: What a hassle. Two of us wrote reviews on the site and had so many problems I can understand why there weren't any reviews posted. For weeks there was a problem with my review showing up because of a glitch in their system.
Not only that, but the first time I posted the review, including 10 of my photos, it was dinged because I included a link to this blog post (my post has more details than I included in the review and I didn't want to reinvent the wheel). I then had to go back and enter the review again. And I uploaded the 10 photos AGAIN, and rewrote the captions. The review was accepted but the photos weren't, because they were watermarked with JerseyKids.net. They are the same photos used here.
They provided me with links to what they allow on their site (no commercial links or watermarks). If I'm writing a review, do I want to take the extra time to read all their links while writing a review? No. I want to write the review and include what I think is pertinent. So not only did I spend a lot of time writing the review and uploading photos, but for weeks you couldn't even even read the review because of technical problems. 
But you should know that she had six or seven individual rooms listed, but our reviews only ended up on one room even though one of my colleagues took the time to copy and paste her review on several of the rooms.  That's time consuming. So if you're reading reviews  and the property has more than one listing, see if there are reviews on the other listings.
Don't believe everything you read
On the listing, the owner called herself "hostess with the mostest." If that means not answering the door when I rang and knocked for 5 minutes at check-in time, smoking in the nonsmoking house and not seeming to clean the bathroom prior to our stay, then I guess she is the hostest with the mostest.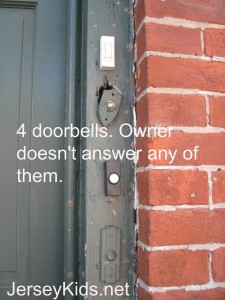 One thing we should have believed on the listing: "I began restorations the first day I spent here, and they are still ongoing, My brother says by the time Im finished I will have to start over again…" (sic).
————————————————
[ad name="Google Adsense"]
————————————————
Here's an example of  what her renovations looked like: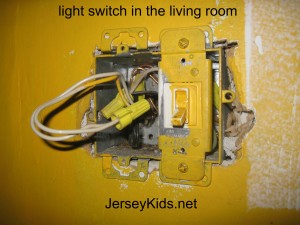 Look at reviews
See above about the review process. The Perle Mesta rental we chose had no reviews on Flipkey. I found one TripAdvisor review (TripAdvisor owns FlipKey), which was positive. She claims to have positive reviews on airbnb, however the listing has been pulled. Not that this helps, but the reviews in the Perle Mesta's guest book inside were glowing. In the future, I'll make sure to find a place with more reviews, and read for details about what they liked or didn't like about the place.
The advertisement may be misleading
We all had a laugh when this ad appeared on my Facebook page after our return.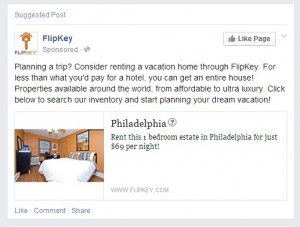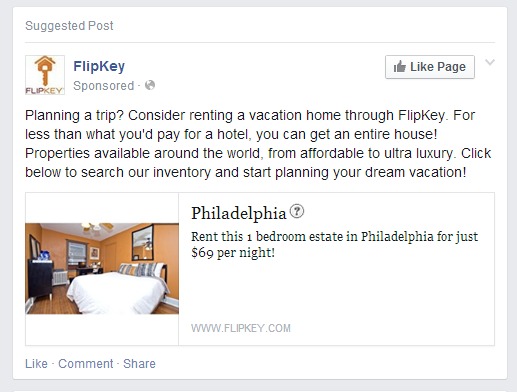 This is one of the rooms we used. It looks lovely on the ad, and it was one of the nicer rooms. We did not get the whole house. We got three rooms with an owner who smoked. And other guests stayed as well, potentially sharing the bathrooms. A 1 bedroom estate??? Here's what one of my friends (who stayed in that room) said: "I believe that is a picture of our "estate" but with no TV on the floor and different art work. Ours featured breasts, of course, since that seemed to be the dominant artistic theme in the estate's artwork."
Know what you get when you book. 
Given that the name of our inn was the Perle Mesta B&B, we thought we'd be getting breakfast. Apparently breakfast is only offered to some. And others pay. The listing said, "When noted that breakfast is served it will be served from 8 am to 10 am." Here's the sign on the front door of the B&B: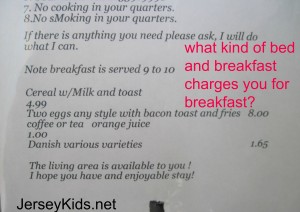 According to Flipkey, "bed and breakfasts must include breakfast in the rental price and each room must have a private bathroom." I won't comment on breakfast, since we didn't actually ASK for it (not that we saw the owner around in the morning), but we shared a Jack-and-Jill bathroom. Two rooms. One bathroom. And the other room our friends shared (estate, above) had a bathroom outside their room, which was accessible to anyone in the house, including at least one other room on that floor that also had no bathroom. That's not private. And someone outside our group took a shower in it at 2 a.m. and woke our friends up. Awesome!
Look at the list of amenities on the site you're considering. Some condo/house rentals don't include linens and towels. This one did, but it did not include toiletries like shampoo or soap, nor a hairdryer. One bathroom had a hairdryer (I brought my own), and I found a bottle of Head and Shoulders below the sink, as well as a full size open bar of soap on our sink. Just be prepared before you go.
Private Bathroom
Since I mentioned it above, do you want a private bathroom? It's more standard in Europe to offer shared bathrooms, and rates tend to be less for those. I did a story for bankrate.com on how to find cheap hotels in expensive cities in the U.S. The hotel managers I spoke with all said that Americans in general don't like sharing a bathroom, but the foreign travelers are more open to it. No judgment on my part. Know what you want and find out before you book.
How is the description?
As a journalist, I'm a sucker for clear language. The listing for the Perle Mesta is not clear, in my professional opinion. It's rambling and rife with misspellings and typos.
This partial sentence is in the listing: "other bedroom , 3rd floor, and kitchen are restricted areas." Now if that's correct, then the 3rd floor (with 2 of the 3 rooms where we stayed) are restricted. Which would be a good thing, because we thought those rooms SUCKED.
Here's another: "The bedrooms are clean , w/hardwood floors, a walk in closets private baths." As mentioned in the next section, we did not have private baths. At least one room has a private bath – the master bedroom, which she didn't give to us. The carriage house out back presumably has a private bath. I don't know about the basement. It was rented out so I didn't go down to look (though the door was wide open to go downstairs). We saw the person who rented that room exiting twice through the garage. The garage!
Does the room have a lock?
If you want to ensure privacy and security, ask if the rooms have a lock. Ours did not. My friends who brought computers with them were nervous to leave them in the rooms. Anyone could walk into our room. Are you a woman traveling alone? Are you with your kids? Do you really want anyone to be able to enter your room without a key?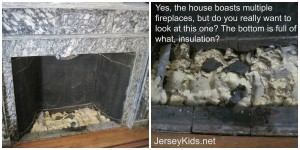 Who else is staying there?
If you want privacy, consider renting a place where you will be the only guests. And the owner won't be there. Of course a B&B does have the owner on site, but make sure you know what you want.
Is parking an issue?
If you're driving, make sure you know the parking situation. Our B&B said there was "plenty of parking," in one part of the listing and "parking ok" in another part. Though the house had 4 parking spots, it did not appear any were for guests. And though it didn't mention on the site, there was only street parking and you had to drive around Christian Street to find the blocks with no parking signs. In a city like Philadelphia, street parking without a permit is rare – incredibly rare. My friends checked the street several times over the weekend to ensure that they hadn't gotten a ticket. If parking is important to you, find out the situation before you book.
If you're charged for cleaning, make sure you get it.
The noted cleaning fee on our rental was $15/stay. We understood there wouldn't be turn-down service. But we did expect that the bathroom would be cleaned BEFORE we arrived.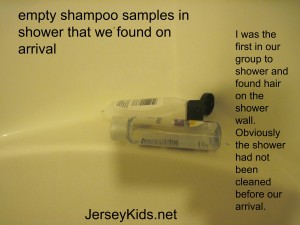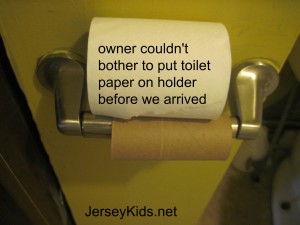 While the beds were made, my pillows were inside shams, and had no pillowcases. It made me wonder if she actually washed the shams in between guests. This then made me wonder if she washed the sheets. If you give the appearance of not cleaning, it leads guests to wonder if anything is clean.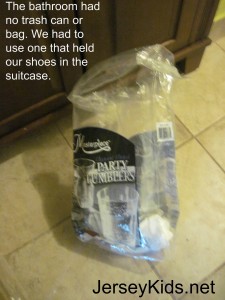 If you have allergies, make sure to ask.
The Perle Mesta is noted to be a non-smoking inn. The owner smoked. She told a few in our group that she only smoked in the solarium (which is in the back of the house, where breakfast is served, and is one of the communal places to hang out). We could smell the smoke two floors up in the front of the large house. That led us to believe that she smoked in her 2nd floor room, the master bedroom right below ours. The smoke bothered several of us. We also found cigarette ashes in the CANDLE by the couch in the living room, which was common space. Yuck.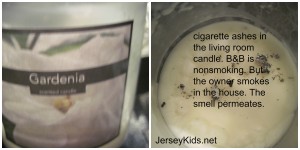 While none of us have dog allergies, the owner also has a dog. Make sure to inquire when booking if you have pet allergies.
Sometimes you can ask and they lie. My friend L (also a veteran travel writer) rented a cottage in California and called ahead of time to ask about mold, since she's allergic. She was reassured there was none. When she arrived she found visible mold on the ceilings, and leaks/rust in the faucets. She brought it up with the owner who shrugged it off and said she needed to renovate. This for a $300/night rental.
The pictures may not be accurate
I was excited to stay at this quirky Perle Mesta inn after looking at the pictures. No, it's not luxurious, but it looked bright and fun. What we found on arrival was that a lot of portions of the house were being renovated – very slowly and seemingly in every room of the 5,000 square foot home. I love Oyster Photo Fakeouts, because they show what the hotel advertises and what it actually looks like. So here's my photo fakeout of the Perla Mesta (sorry it's so small – click on it and it will get bigger).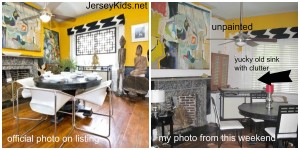 In three bathrooms I used over the weekend, the bathroom floor tile looked fine on part of the floor, but stopped mid-toilet. Or the shower looked good in the official picture, but terrible on personal inspection, after they ripped the tile out. Our bathroom (3rd floor) was awful.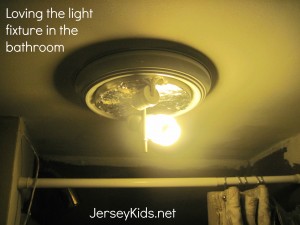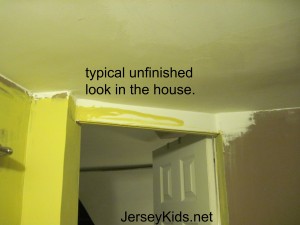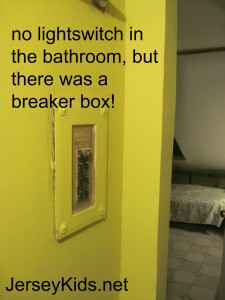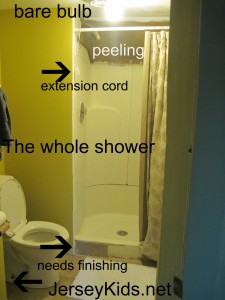 The rooms you get put in may not be listed on the site.
After returning from the trip, I went back to look at the rooms online and found that 2 of the 3 rooms we were booked in weren't even shown in photos on the site (or I didn't recognize them because they looked awful in person). I know why. They're depressing, in my experience. .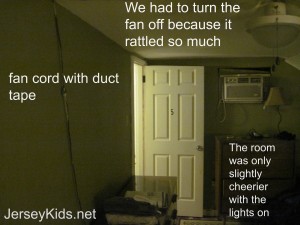 The terrible thing is that one of the more attractive rooms wasn't even offered to us, even though it sat empty all weekend. With a pile of laundry on the floor (that wasn't moved the entire weekend either).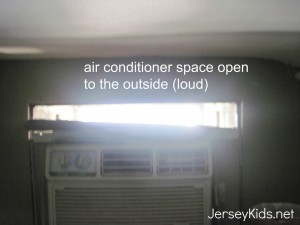 If you're not happy with your rental:
If you're not happy with your rental, first contact the owner and try to work out your dispute. If you booked through a website, file a complaint. They may not be able to do anything about it, but repeat complaints may lead to their delisting. Save all documentation and take pictures if necessary. The FlipKey PR person who arranged our stay said they would deal with the owner and that they take safety issues (like the apparent lack of carbon monoxide and smoke detectors, and wiring issues we detected) seriously. That said, they don't have the manpower  to visit every property on their site. FlipKey offers a Peace of Mind guarantee, which covers internet fraud, inability to access the rental, material representations of the home and wrongful withholding of the security deposit. She said it would also cover safety issues, including the ones we found.
A follow up:  the owner took the opportunity to respond to my review and my friend's review about her place on Flipkey. In her response, she accused us of stealing, entering unauthorized areas, lying, being spies on behalf of Flipkey in order to delist the property, and fraud, just to name a few. She also threatened to sue our Flipkey rep who made the reservation (the lawsuit threat was in her public review response, so I'm not sharing anything confidential), and Flipkey soon after removed her listings from their site. But she's back on the Flipkey site, with a different owner name, and with 6 different property descriptions from the Philly property alone (and a few from a beach house). The basement is listed, as well as another room we didn't stay in and a guest house we didn't see. And she posted new pictures for the renovated living room and the offensive bathroom from above (they look much better). She also lists a place in Brigantine, NJ but the pictures are all from her Philadelphia "estate" and the room is one my friends stayed in. But guess what. The two reviews of her property are terrible (they're not from us) and she disputed one of the reviews as fraudulent.
Manage your expectations
While we found the Perle Mesta property to unsatisfactory, others staying there apparently found it to be just fine (based on the guest book). It depends on your expectation, and also your personal experience. As frequent world travelers, our group of 6 has seen a lot of hotels and privately owned residences. We're not prima donnas, but we clearly felt misled. We thought we were getting 5 rooms for 6 of us, and that we'd have private bathrooms. In reality we got 3 rooms for 6 of us, and only 2 bathrooms. The rooms were unfinished and we felt like we were living in a youth hostel or decrepit college dorm, in spite of the historic building and funky art work (much of which contained breasts). We've been there – done that. We didn't want that for this weekend.