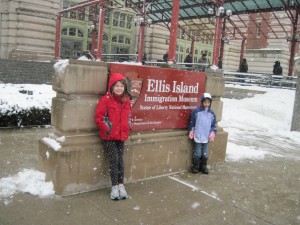 A visit to Ellis Island with kids is emotional no matter where you come from. The facility, which processed 12 million immigrants from 1892-1954, was the first stop for many coming to the U.S. The Statue of Liberty was the symbol of freedom – Ellis Island was the gateway to obtain it. They estimate that more than 100 million Americans have a connection to Ellis Island.
To take advantage of what Ellis Island offers, make sure you have plenty of time to peruse the galleries. The exhibits downstairs are not nearly as interesting as those upstairs. There's plenty to interest even the younger kids.
When you enter Ellis Island, you might even feel like you're an immigrant yourself. After all, those around you speak a multitude of languages and might be wearing outfits traditional to other lands And you come from a crowded boat that you waited in lines to board. Granted, your passage from New Jersey's Liberty Park or New York's Battery Park took only 15-30 minutes (two boat rides from New York, one from New Jersey) and you weren't packed on like sardines, stuck in a dimly lit hold or subjected to motion sickness-inducing waves.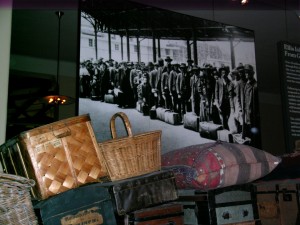 You'll be shuffled inside the building with your fellow boat-mates, unsure where to go and what you'll see. After entering the glass doors, straight-ahead look for the collection of luggage and photos from those early arrivals. It's a perfect teaching moment for the kids – showing how little luggage newcomers brought, and the lines they had to wait in (in heat and cold). Now's a good time to remember your ancestors. Continue reading "Ellis Island with Kids"