Let me start off by saying you should not do a 2 hour boat tour with kids who can't sit still for several hours. Lesson learned the hard way.
Normally a slow boat tour is not something I'd sign up to do – especially with kids. However, a friend was visiting from California, and she wanted to find something her husband hadn't done in New York City before. .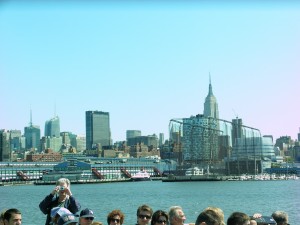 If you try searching for Circle Line boat tours, you might find that there are two locations – Circle Line at the 42nd Street pier, and Circle Line Downtown, at South Street Seaport. In spite of having the same name and similar cruises, these are different companies. Go figure. If someone could tell me how they can run the same type of business with the same name, and not be hit with trademark issues, I'm all ears!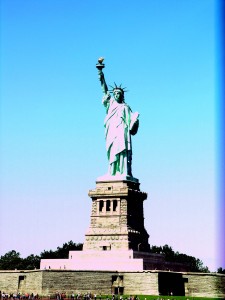 We bought our tickets ahead of time, and here's the second warning (the first was bored kids). When you buy tickets online, you aren't guaranteed to get on a certain cruise. The tickets are good for a year, and you have to get to the pier in time to trade those tickets for boarding passes for the launch you want. You may be stuck with unused tickets if you're schedule is off and the cruise you want is sold out.
So we arrived early and spent the time waiting in line for at least 30 minutes. While you're a captive audience, they try to sell you things, like guidebooks and mugs you can use for all the soda you can drink on board.
Once on board you again get to wait until it's time for the boat to leave. In spite of our Star Wars Mad Libs, my 6 and 8 year old kids quickly got bored and we hadn't left the dock yet.
The 2 hour tour takes you from the Hudson (near where Captain Sullenberger landed the plane in the water at 52nd Street), south, near the Statue of Liberty, and under the Brooklyn Bridge, Manhattan Bridge and Williamsburg Bridges. Our tour guide gave us some interesting facts and since it was a beautiful day, we got great views and photos. It fluctuated between being really hot, and then cold, loud and windy (making it difficult for us to hear the tour guide).
Some fun facts from the trip:
The Empire State Building was the tallest in the world for 30 years. They had to dig 55 feet below ground and remove bedrock to build it. The rock they removed was heavier than the entire building. There's a foot race up the Empire State Building every year, and the fastest record is 9 minutes, 30 seconds up to the 102nd floor.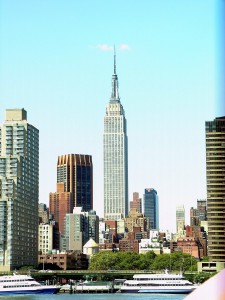 Chelsea Piers was built because a girl didn't like the New York City ice rinks, so her daddy built her two – at Chelsea Piers.
The Colgate Clock on the New Jersey waterfront used to sit atop a factory building,
The Verrazano Bridge is the longest suspension bridge in the United States.
The United Nations has no corner offices and no windows on the water-facing side.
Every day, 2.5 million people come into New York City
The most money paid for a New York City apartment (near Central Park) is $53 million, by a Mexican man. The monthly maintenance fees in that building are $100,000.
The Titanic survivors came into Pier 54.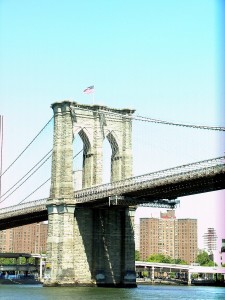 Tips for taking kids on a Circle Line Manhattan Tour:
–Don't buy tickets ahead of time unless your schedule is very flexible.
–Expect lines and waiting
–Bring layers of clothing because it can get cold and windy
–On shore, there are bathrooms nearby – look for the restaurant
–If you buy tickets ahead of time, don't mistake the Circle Line Downtown for the Circle Line 42 tours.
–If bringing kids, consider taking the 75 minute hour tour, or the faster 30 minute speedboat tour (both Circle Lines offer versions of this, called the Beast or the Shark).
For more information on Circle Line boat tours in New York City, check these websites:
Circle Line 42nd Street Pier and Circle Line Downtown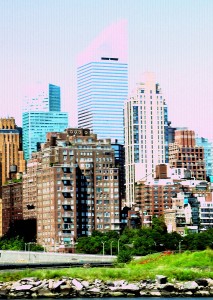 Prices for both Circle Line companies start around $16 for kids, and go as high as $35 for adults. You can get discounted coupons by signing up online at Circle Line 42nd Street's website, and looking through the free coupon books you'll find in the City. They also offer combo packages with the Intrepid, Madame Toussauds and other types of attractions and tours. Try searching for coupons online as well.