It seems like there are two state fairs in New Jersey. There's the
State Fair at the Meadowlands
, and the
New Jersey State Fair Sussex County Farm & Horse Show.
The latter is August 6-15, 2010. It has the stuff you might expect from a state fair, like a demolition derby, home arts, baking competitions, artistry using a chain-saw and wood, animal shows, lots of 4-H activities, lawnmower racing, a farm tractor pull, taxidermy, model trains, robotics, cyclocross bike racing, quilts and more. Oddly, there's nothing on the website about rides and games.
We went to the  State Fair at the Meadowlands. It's open until July 5, 2010. It has rides, entertainment and games. We did a daytime excursion, as part of a company summer event. It was so hot we spent a fortune on drinks. This was our first State Fair in New Jersey, and to be honest – it was really small! I've been to county fairs that were much bigger. And I really missed the 4-H kids and their animals, the hobbyists and the vendors inside their own building, hawking all kinds of dishwares and housewares. Apparently, though, it's the largest fair in the New Jersey, New York metro area. (Note: the reader who commented so politely below points out that this is actually not the REAL state fair – this one is actually a for-profit carnival).
Okay, then. Here's my review of the State Fair Meadowlands – with kids.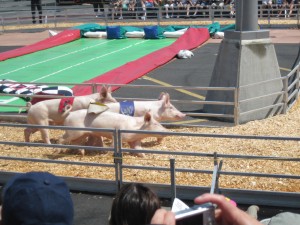 LIVE SHOWS – the shows are all free with admission. We saw the Sea Lion Splash – very cute. They have three sea lions who jump, dance and do other tricks for you. The show is about 15 minutes long and kids can stand up front to watch. We missed the BMX Stunt Show, which looks like fun. It goes through the end of the fair. Hypnotist, Steve Bayner is funny. The Batcopter aerial show runs daily, and you can get a 2 minute ride for $30. The racing pigs were a lot of fun, also about a 15 mintue show. Check the schedule before going – the shows change daily.
———————————————–
[ad name="Google Adsense"]
————————————————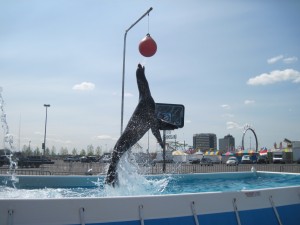 FOR KIDS – The petting zoo is free. You can also ride a camel, elephant or pony for $5. They have a number of kiddie rides and games.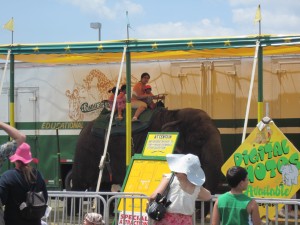 GAMES: If you want your kid to win a prize, head to the duck booth. Every duck is a winner – pay $2 and your kid wins a small stuffed animal. For $4, win a bigger one. You'll also win at the fishing booth. Some game vendors will negotiate with you. That's how we won these animals. Save your money on the ring toss – we didn't see anyone win and we were there awhle. It's possible to win on the basketball hoops, but they're not regulation size rims, so chances are slim. We tried to stack the deck on the water shooting contest, but in spite of us having six on our side, someone on the other side won each time. If you try the "test your strength" game (photo below) you'll win a small prize every time.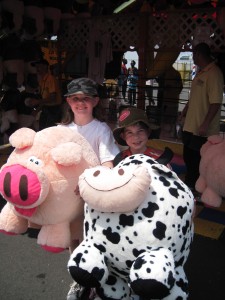 THE RIDES: We always do bumper cars, but we warned the ride was REALLY short. We loved the Crazy Mouse roller coaster, which turned while going up and down. Don't go on with neck issues! We also loved the Avalanche and the Gravitron (which spins you around and the floor drops out). Unfortunately the bumper boats weren't open while we were there  – that would have been refreshing.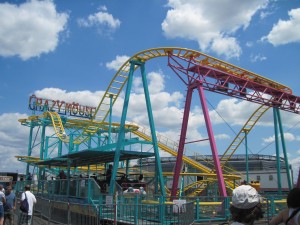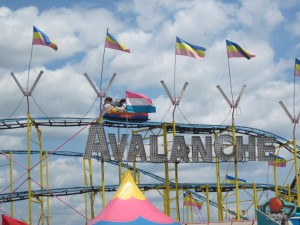 THE FUN HOUSES: to be honest, most of them sucked and some of the moving parts were broken in them. We loved the Jungle Fun House, however. At the end you get into what looks like an elevator, and the seat dumps you out onto a moving slide. If you have neck or back issues, stay off it.
THE STRANGE: Given that we were at the fair in 90+ degree heat, I could not imagine even walking into the booth selling saunas. Did they get any traffic? Any sales? Everyone we talked to there was trying to get OUT of the heat.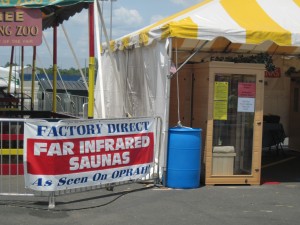 In fact, the Coke booth was very popular. Though not the 37 degrees it claimed on the outside, they were offering cold samples of coke, out of cool, red titanium bottles. And they took pictures of you that you could look up online later.
Stay far, far away from the World of Wonders, with hawkers trying to get you inside for $2 a person. There's a sucker born every minute – and that sucker was me! Apparently it's one of the last freak shows in the country – for good reason! Inside they have examples of two-headed animals, a goat/unicorn, a person with a body sticking out of its stomach, and much more. But it's all fake-looking. Then they tried to pry another dollar from you, promising a view of disturbing, deformed dead babies born by cocaine-addicted moms, and then shown here for the first time after getting by rules of transporting dead bodies across state lines. I'm not kidding! The "donation" is supposed to go toward educating others about drug abuse. Yeah, right. The hawker inside was very rude when we left before their show, trying to tell my kids that I was basically a bad parent who didn't want them to have fun.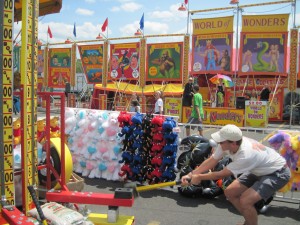 THE FOOD: You can get the usual fried Twinkies, fried Oreos (95 calories each) and cheesecake. The Icee stand was my favorite – after buying a filled cup for $4-8, you get refills for $3. The lemonade vendors offered refills for $2.50 so keep your cups. We actually found a vendor selling $1 hot dogs. Avoid the pizza – it wasn't good. The gyros were yummy, as was the Awesome Onion, the kettle corn and the cotton candy. If you think there are a lot of food vendors, you're right. Try one food vendor for every two attractions.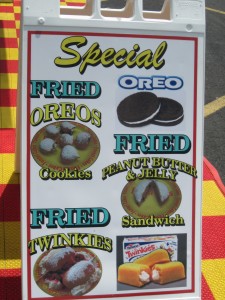 Tickets: general admission is $7-9 for adults, $5-6 for kids over 34″ (free under that). Parking is $3 most days. They have some deals for unlimited rides and admission – click here for details. And they have fireworks on July 4th.  The fair estimates each person spends, on average, $35 at the fair. If you buy individual game tickets, tickets are $1 each (with rides costing 3-5 tickets). Unlimited hand stamps run $18-25/person depending on the day. You can rent a stroller or wagon there.