We're excited at Jersey Kids to feature a Q&A with author Jen A. Miller, whose second edition of Explorer's Guides –  The Jersey Shore: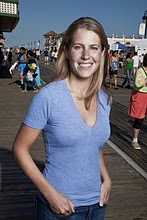 Atlantic City to Cape May, a Great Destination, just came out. Jen also keeps up with the daily shore happenings at her blog, Down the Shore with Jen. We asked her about some family-friendly Shore topics.
Q: What are the best family-friendly shore towns?
A: Ocean City is built for families. It's a completely dry town (not even BYOB!) and its boardwalk is built for people who want to stroll with a stroller or two. The ride piers cater to families, too. Sure, your teenagers will find some thrills and spills, but there's tons of stuff for the littler ones, too.
Q: What are the top 3 fun/unique places on the shore to visit with kids?
A: Take them for a ride on the Carousel at Gillian's Wonderland Pier in Ocean City. This is one of the few places where you can reach out and grab the golden ring from a carousel. It's a gorgeous piece of art, too, that you can ride!
–Silverball Pinball Museum in Asbury Park.  This place is amazing. For a flat fee, you can play the machines inside this pinball museum, which is located right on the boardwalk. VERY popular with parents, too!
-If they're up for it, I'd take them to the top of the Cape May Lighthouse. You can't get better views. And it's an easy way to have them expend some energy 🙂 Continue reading "Jen A. Miller's Family-Friendly Guide to the Jersey Shore"